For an example of timing the trade buy-in can be seen by looking at our latest weekly trade on Teladoc Health Inc (NYSE: TDOC).....
First.....let us look at the recommended trade.....
** OPTION TRADE: Buy TDOC JUN 11 2021 150.000 CALLS at approximately $4.70.
(Some members have asked for the following suggested exit prices.....
Place a pre-determined sell at $9.40.
Include a protective stop loss of $1.90.
Entering the Trade.....
The market opened on a high note but quickly turned into a sea of red, before rebounding about 20 minutes later.
Now this is where it becomes interesting when timing the trade buy-in – by buying at the start of trade the cost of our trade would have been $4.55 – if the trader waited a few minutes it is now a case of finding the bottom price which occurred about 20 minutes later – at a cost of $3.00.  Bear-in-mind, the market could have gone the other way and therefore, timing the trade buy-in becomes a different scenario.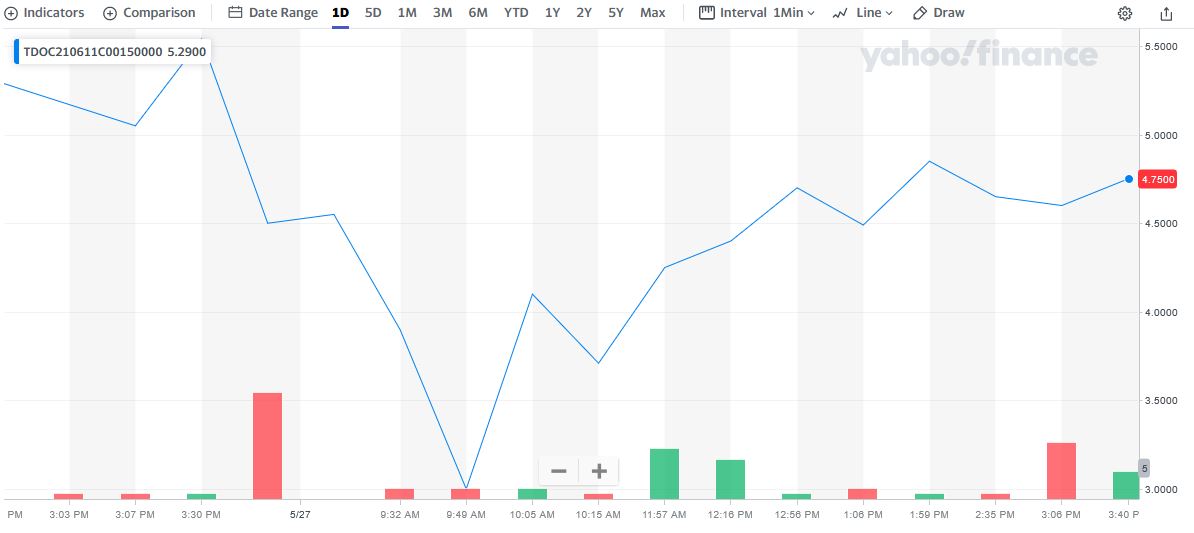 Exiting the Trade.....
Now, it becomes a decision as to when to the exit the trade. Again, there are several factors that will need to be considered – time to expiry, has the catalyst(s) been met, risk tolerance of the individual trader, expected market movement, to mention a few reasons.
Read about the catalysts here..... "Teladoc Weekly Call option Recommendation"

This trade managed to hit a high of $4.85 at 2:00pm – a nice return of 62% in a very short time. This is not the suggested exit price, but, that is exactly what it is – A SUGGESTION, not obligatory.
But, should you wait for higher returns? This is where you need to have your strategy in place and your risk tolerance in-control. Many of the trades recommended by Weekly Options USA far exceed the suggested exit prices, so a difficult decision needs to be made.