Spotify Technology (NYSE:SPOT) price target was raised at both Wells Fargo and KeyBanc in notes on Friday assessing the company's recent performance.
At Wells Fargo, analysts raised the price target to $250 from $180, maintaining an Overweight rating on the stock.
The analysts told investors that it has emerged even more bullish after digging deeper into its SPOT thesis.
"MAU growth, market share, cost cuts and margin drivers are starting to fire on all cylinders. Our new $250 target is a 20% discount to NFLX on EV/GP, and we like the LT margin story," the analysts wrote.
At KeyBanc, analysts raised the price target on Overweight rated Spotify to $205 per share.
They said the firm has raised its Spotify 2024E operating profit forecast from €59 million (€1 = $1.123) to €84 million, reflecting more progress on cost savings and gross margin.
"For 2Q23, we expect subscribers come in at 218M (1M above Street), with gross margin at least 25.5% (in line)," they added. "For 3Q23, we expect subscribers come in at 223M-224M (in line to above Street), with gross margin at least 25.9% (in line)."
For Further Reading "Spotify Shares Are Gaining In Strength!"
 Why the SPOT Weekly Options Trade was Executed?…..
Spotify Technology (NYSE:SPOT) shares gained nearly 3% premarket today after Wolfe Research upgraded the company to Outperform from Peer perform with a price target of $190.00.
The rating change is based on several factors, including
 the potential for accelerated top-line growth,
 a steady expansion of margins, and
 the likelihood of sustained positive revisions to Street estimates over the next 12 months.
Spotify is eying a more expensive subscription option likely to include high-fidelity audio to drive more revenue and appease investors.
Dubbed "Supremium," the new tier will be Spotify's most expensive plan and likely offer a HiFi feature it first announced it was working on in 2021.
To augment its current "Premium" tier, Spotify will offer subscribers expanded access to audiobooks through a specific number of hours free per month or a particular number of titles. There will be an option to purchase more.
The SPOT Weekly Options Trade Explained.....
** OPTION TRADE: Buy SPOT JUL 14 2023 160.000 CALLS - price at last close was $3.80 - adjust accordingly.
Obviously the results will vary from trader to trader depending on entry cost and exit price that was undertaken.
Entered the SPOT Weekly Options (CALL) Trade on Wednesday, June 21, 2023, for $3.03.
Sold Remaining SPOT Weekly Options contracts on Friday, July 14, 2023, for $17.00; a potential profit of 461%.
Don't miss out on further trades – become a member today!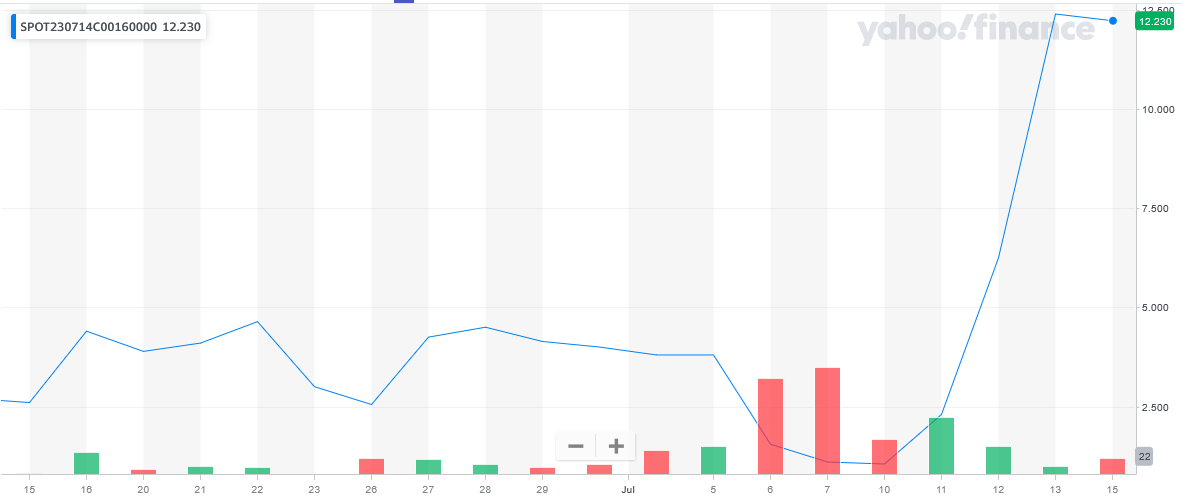 Where To Now?
Tech stocks have made a big comeback in the first half of 2023 after a rough 2022.
Cost cutting has been a theme in tech, and Spotify has announced layoffs to reduce costs and focus on the business. The cuts seem to be both necessary and opportunistic.
All of the tech industry has been helped by an economy that's better than most economists predicted to start the year.
Putting this all together and you get a market that's much more bullish on tech than it was just a few months ago.
Optimism has clearly returned to the market. Spotify has increased revenue by 15% over the past two years, while their stocks were down 35%.
Strong results in the second quarter and improving guidance for the second half of the year is very likely for Spotify.