Why the SPOT Weekly Options Trade was Executed?…..
Spotify Technology (NYSE:SPOT) shares gained nearly 3% premarket today after Wolfe Research upgraded the company to Outperform from Peer perform with a price target of $190.00.
The rating change is based on several factors, including
 the potential for accelerated top-line growth,
 a steady expansion of margins, and
 the likelihood of sustained positive revisions to Street estimates over the next 12 months.
Spotify is eying a more expensive subscription option likely to include high-fidelity audio to drive more revenue and appease investors.
Dubbed "Supremium," the new tier will be Spotify's most expensive plan and likely offer a HiFi feature it first announced it was working on in 2021.
To augment its current "Premium" tier, Spotify will offer subscribers expanded access to audiobooks through a specific number of hours free per month or a particular number of titles. There will be an option to purchase more.
The SPOT Weekly Options Trade Explained.....
** OPTION TRADE: Buy SPOT JUL 14 2023 160.000 CALLS - price at last close was $3.80 - adjust accordingly.
Obviously the results will vary from trader to trader depending on entry cost and exit price that was undertaken.
Entered the SPOT Weekly Options (CALL) Trade on Wednesday, June 21, 2023, for $3.03.
Sold the SPOT Weekly Options contract on Wednesday, June 28, 2023, for $5.20; a potential profit of 72%.
Don't miss out on further trades – become a member today!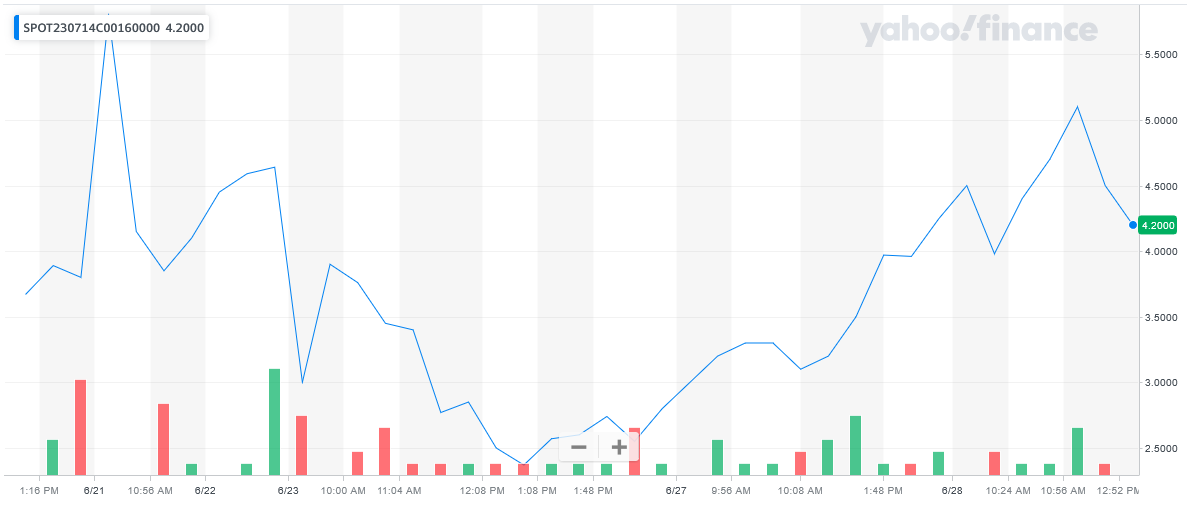 About Spotify Technology.....
Spotify Technology SA is a digital music service offering music fans instant access to a world of music. It operates through the Premium and Ad-Supported segments.
The Premium segment provides subscribers with unlimited online and offline high-quality streaming access of music and podcasts on computers, tablets, and mobile devices. Users can connect through speakers, receivers, televisions, cars, game consoles, and smart watches. It also offers a music listening experience without commercial breaks.
The Ad-Supported segment provides users with limited on-demand online access of music and unlimited online access of podcasts on their computers, tablets, and compatible mobile devices. It also serves both a premium subscriber acquisition channel and a robust option for users who are unable or unwilling to pay a monthly subscription fee but still want to enjoy access to a wide variety of high-quality audio content.
The company was founded by Daniel Ek and Martin Lorentzon in April 2006 and is headquartered in Luxembourg.
Further Catalysts for the SPOT Weekly Options Trade…..
Music streaming platform Spotify Technology is planning to roll out a more premium subscription option that is expected to include high-fidelity audio.
The new tier, called "Supremium" internally, will be the company's most expensive plan and will launch this year in non-US markets first, according to the report.
To bolster its current premium tier, Spotify will give subscribers expanded access to audiobooks, either through a specific number of hours free per month or a specific number of titles, Bloomberg reported.
The company plans to introduce that feature in the United States in October, after first launching in markets abroad, the report added.
In the United States, the company's premium account for individuals is priced at $9.99 per month, while a family account with six users is at $15.99 a month.
Spotify, which competes with rival services from Apple and Amazon.com, has been trying to grow its number of paying subscribers by rolling out a range of audio-focused services such as the HiFi feature, which upgrades the sound quality of the songs to "lossless" CD-quality music.
Other Positive Catalysts.....
Price appreciation has been driven by the company's increasing user base and growing number of subscribers. The company has grown significantly without spending heavily on marketing owing to a healthy conversion rate.
This music-streaming service operator is expected to post quarterly loss of $0.84 per share in its upcoming report, which represents a year-over-year change of +7.7%. Revenues are expected to be $3.52 billion, up 15.3% from the year-ago quarter.
Personalization.....
Personalization is key to driving consumption on music-streaming platforms. Without a powerful recommendation engine, users will simply visit Spotify when they're looking for a specific track or artist, as opposed to using the service as a way to discover music they might like. In the first quarter of 2023 (ended March 31), Spotify released its new artificial intelligence (AI) DJ called DJ X. It uses a software-generated voice to offer a personalized experience for each user, and it recommends songs based on users' listening habits and preferences on the platform.
Spotify said when a user engaged DJ X in Q1, it accounted for 25% of their listening time, which is quite impressive given it's a brand-new feature.
The company also refreshed its home screen during the quarter to incorporate video, which is an increasingly important form of media, especially for younger users.
Users.....
Spotify had 515 million monthly active users at the end of Q1, up 22% year over year. Its free ad-supported tier outperformed, growing by 26% to reach 317 million active users, which isn't surprising in a challenging economic environment where consumers are trying to save money. Overall, the results drove Spotify's revenue to over $3 billion for the quarter, which was a 14% year-over-year increase.
Analysts.....
According to the issued ratings of 21 analysts in the last year, the consensus rating for Spotify Technology stock is Moderate Buy based on the current 7 hold ratings and 14 buy ratings for SPOT. The average twelve-month price prediction for Spotify Technology is $144.38 with a high price target of $180.00 and a low price target of $95.00.
Summary.....
Spotify dominates its industry. It's the world's largest music-streaming and podcasting platform.
Despite a powerful 103% gain in Spotify stock in 2023 so far, it remains down 56% from its all-time high. If the company's new features -- both video and AI-powered -- lead to higher engagement, that could be particularly lucrative for the ad-supported tier, because the more time users spend in the app, the more ads they'll consume. If that results in an uptick in revenue growth, Spotify stock should continue to recover -- especially with the help of a new bull market.