Prelude…..
Cybersecurity is quickly becoming one of the most crucial industries in the world. A broad range of estimates place the value of the sector's opportunity in the trillions of dollars; one calculation by research firm McKinsey & Company suggests organizations are already underinvested in cybersecurity by about $1.8 trillion.
Cybersecurity giant Palo Alto Networks Inc (NASDAQ: PANW) is the world's most valuable cybersecurity company today with a market capitalization of $70 billion. 
Palo Alto Networks has been benefiting from continuous deal wins and the increasing adoption of PANW's next-generation security platforms, attributable to the rise in the remote work environment and the need for stronger security.
Growing traction in Prisma and Cortex offerings is acting as a tailwind. PANW continues to acquire new customers and increase wallet share with existing customers. Estimates suggest that Palo Alto's revenues will witness a CAGR of 21.1% through fiscal 2023-2025.
For further reading.....
"Palo Alto Networks Shares Rally On S&P Inclusion!"
Why the PANW Weekly Options Trade was Executed?
Shares of Palo Alto Networks Inc (NASDAQ: PANW) rallied 7.3% late Friday after S&P Dow Jones promoted the $66 billion cybersecurity company to the S&P 500 index, replacing Dish Network (DISH), in a series of quarterly index adjustments to account for market cap.
PANW stock will join the S&P 500 before the market open on June 20. It's part of a quarterly rebalancing for the S&P indexes.
Over the past three months, the Consensus Estimate for PANW's full-year earnings has moved 21.1% higher. This shows that analyst sentiment has improved and the company's earnings outlook is stronger.
The latest available data shows that PANW has returned about 55.4% since the start of the calendar year.
The PANW Weekly Options Trade Explained.....
** OPTION TRADE: Buy PANW JUN 23 2023 230.000 CALLS - price at last close was $2.88 - adjust accordingly.
Obviously the results will vary from trader to trader depending on entry cost and exit price that was undertaken.
Entered the PANW Weekly Options (CALL) Trade on Monday, June 05, 2023, at 9:55, for $3.71.
Sold half the PANW weekly options contracts on Monday, June 05, 2023, at 12:14 (about 2 hours), for $6.50; a potential profit of 75%.
Total Dollar Profit is $650 - $371 (cost of contract) = $279
Sold the remaining PANW weekly options contracts on Tuesday, June 13, 2023 for $7.55; a potential profit of 104%.
Total Dollar Profit on Tuesday is $755 - $371 (cost of contract) = $384
Thursday + Friday Profits = $463
For any members that missed selling their weekly options contracts there is still time as PANW stock is still performing well.
We may also consider taking another weekly options contract on PANW in the near future!
Don't miss out on further trades – become a member today!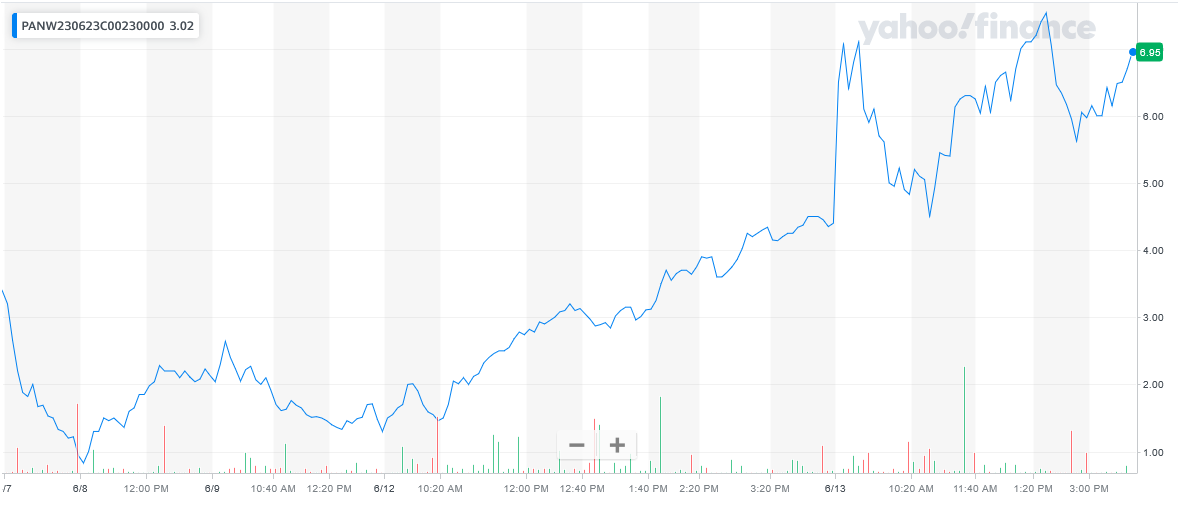 About Palo Alto Networks.....
Palo Alto Networks Inc is a leading cybersecurity company that provides advanced security solutions to businesses, governments and organizations worldwide. Founded in 2005, Palo Alto Networks has become a market leader in next-generation firewall technology and cloud-based security solutions.
The company's mission is to protect its customers from cyber threats by providing innovative security solutions that are easy to use and deploy. Palo Alto Networks offers various products and services to protect networks, endpoints and cloud-based applications from advanced cyber-attacks.
Palo Alto Networks' flagship product is its Next-Generation Firewall (NGFW) which provides advanced security features such as intrusion prevention, application control and threat prevention. The NGFW is designed to provide real-time visibility and control over network traffic, enabling businesses to detect and prevent cyber-attacks before they cause harm.
In addition to its NGFW product line, Palo Alto Networks offers a range of cloud-based security solutions. Its Prisma Cloud platform provides comprehensive security for cloud-based applications and data. Palo Alto Network has also developed the Cortex XDR platform, which provides endpoint detection and response (EDR) capabilities. This platform allows businesses to detect and respond to cyber threats stopping a hacker before they reach critical infrastructure.
Palo Alto Networks' solutions are trusted by some of the world's largest and most security-conscious organizations, including government agencies, financial institutions and healthcare providers. The company has developed a reputation for delivering innovative and effective security solutions and it has been recognized by industry analysts for its leadership in the cybersecurity market.
Moving Ahead With Palo Alto Networks …..
Palo Alto claims to use AI to a greater extent than any of its competitors, and perhaps that's true given that it has the most comprehensive portfolio of cybersecurity products. It's working to embed AI into its three core segments: cloud security, network security, and security operations.
Palo Alto's AI models already block 8.6 billion attacks on behalf of customers each day, the company says, which is a culmination of the learning achieved by ingesting 750 million data points every 24 hours.
According to a Morgan Stanley survey of chief information officers in July, cloud computing and security software remain at the top of priority lists, followed by business intelligence/analytics, digital transformation and artificial intelligence.
In a recent initiation on cybersecurity stocks, Goldman Sachs analyst Gabriela Borges pointed to long-term trends.
"Multi-product platforms have gained momentum and are closer to solving the challenge of staying innovative in subsegments historically defined by boom and bust product cycles," said Borges.
She added: "The industry is less cyclical as mix shifts away from hardware and toward SaaS (software-as-a-service). There are natural extensions for growth for industry incumbents that would otherwise be facing market saturation. They include Secure Access Service Edge   for network security leaders and cloud workload protection platforms."
The company expanded its firewall into a much larger ecosystem. Today, Palo Alto operates three main platforms: Strata for its NGFW and on-site network security tools, Cortex for its artificial intelligence-powered threat detection services, and Prisma for its cloud-native security services.
Palo Alto now serves more than 61,000 active customers worldwide, including all of the Fortune 100 and most of the Global 2000. And, Palo Alto continues to generate double-digit revenue and earnings growth.
For fiscal 2023 (which ends this July), Palo Alto expects its revenue to rise 25% to 28% and for its adjusted EPS to grow 69% to 70%. It has also stayed profitable on a GAAP basis over the past four quarters. It attributes most of its growth to the expansion of Cortex and Prisma, which accounted for 40% of its trailing 12-month revenues.
For fiscal 2024, analysts expect its revenue and adjusted EPS to rise 22% and 16%, respectively. Palo Alto's stock isn't a bargain at 44 times forward earnings, but it is believed its diversification, scale, and rising GAAP profits all make it a promising investment.
Conclusion.....
Palo Alto stock just earned a place in the S&P 500 index, which validates its incredible rise to the top of its field over the last few years. Based on the growing need for cybersecurity, spending should easily run into the trillions of dollars by 2040, and this company is well-positioned to remain at the front of the pack.
Therefore…..
For future trades, join us here at Weekly Options USA, and get the full details on the next trade.