Prelude…..
Cybersecurity giant Palo Alto Networks Inc (NASDAQ: PANW) received a 5.6% lift on news it will be added to the S&P 500 before the market open on June 20. PANW will replace Dish Network (DISH), which fell 1% on the news, while Palo Alto hit an all-time high.
Shares of Palo Alto Networks have outperformed the S&P 500 this year. Palo Alto Networks is up more than 55% this year while the S&P 500 has risen 11.5%; Dish stock has fallen more than 48% over that period.
The rise in Palo Alto Networks stock comes as concerns ebb over spending in areas like cloud computing, which had pressured markets last year. During the company's earnings call on May 23, Palo Alto CEO Nikesh Arora noted that while the macroeconomic environment is "still hard," his company is finding ways to fight through.
"The overall macro trends of cautious spending, deal scrutiny, and cost and value consciousness persist," Arora said on the call.
Why the PANW Weekly Options Trade was Executed?
Shares of Palo Alto Networks Inc (NASDAQ: PANW) rallied 7.3% late Friday after S&P Dow Jones promoted the $66 billion cybersecurity company to the S&P 500 index, replacing Dish Network (DISH), in a series of quarterly index adjustments to account for market cap.
PANW stock will join the S&P 500 before the market open on June 20. It's part of a quarterly rebalancing for the S&P indexes.
Over the past three months, the Consensus Estimate for PANW's full-year earnings has moved 21.1% higher. This shows that analyst sentiment has improved and the company's earnings outlook is stronger.
The latest available data shows that PANW has returned about 55.4% since the start of the calendar year.
The PANW Weekly Options Trade Explained.....
** OPTION TRADE: Buy PANW JUN 23 2023 230.000 CALLS - price at last close was $2.88 - adjust accordingly.
Obviously the results will vary from trader to trader depending on entry cost and exit price that was undertaken.
Entered the PANW Weekly Options (CALL) Trade on Monday, June 05, 2023, at 9:55, for $3.71.
Sold half the PANW weekly options contracts on Monday, June 05, 2023, at 12:14 (about 2 hours), for $6.50; a potential profit of 75%.
Total Dollar Profit is $650 - $371 (cost of contract) = $279
Holding the remaining PANW weekly options contracts for further profit before expiry.
Don't miss out on further trades – become a member today!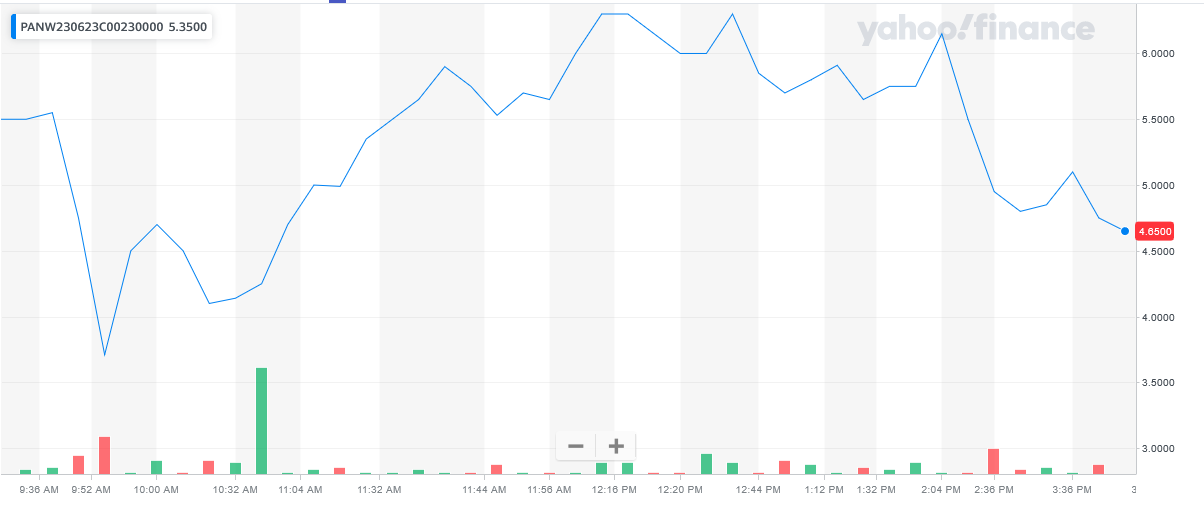 About Palo Alto Networks.....
Palo Alto Networks Inc is a leading cybersecurity company that provides advanced security solutions to businesses, governments and organizations worldwide. Founded in 2005, Palo Alto Networks has become a market leader in next-generation firewall technology and cloud-based security solutions.
The company's mission is to protect its customers from cyber threats by providing innovative security solutions that are easy to use and deploy. Palo Alto Networks offers various products and services to protect networks, endpoints and cloud-based applications from advanced cyber-attacks.
Palo Alto Networks' flagship product is its Next-Generation Firewall (NGFW) which provides advanced security features such as intrusion prevention, application control and threat prevention. The NGFW is designed to provide real-time visibility and control over network traffic, enabling businesses to detect and prevent cyber-attacks before they cause harm.
In addition to its NGFW product line, Palo Alto Networks offers a range of cloud-based security solutions. Its Prisma Cloud platform provides comprehensive security for cloud-based applications and data. Palo Alto Network has also developed the Cortex XDR platform, which provides endpoint detection and response (EDR) capabilities. This platform allows businesses to detect and respond to cyber threats stopping a hacker before they reach critical infrastructure.
Palo Alto Networks' solutions are trusted by some of the world's largest and most security-conscious organizations, including government agencies, financial institutions and healthcare providers. The company has developed a reputation for delivering innovative and effective security solutions and it has been recognized by industry analysts for its leadership in the cybersecurity market.
Further Catalysts for the PANW Weekly Options Trade…..
Palo Alto stock closed up 5.59% to 229.39 in Friday night trading. PANW stock had hit a record high in Friday's regular session. Shares of the cybersecurity giant have cleared a 13-month consolidation, rising in above-average volume for the past seven sessions.
The company has a single operating segment. However, the company announces its revenues from products and services separately. For fiscal 2022, the company reported total revenues of $5.50 billion, which grew 29% year over year.

Palo Alto's fiscal 2022 revenues from its products increased 21.4% year over year to $1.36 billion. Revenues from subscriptions and support grew 31.8% to $4.14 billion.

Further, Palo Alto operates across different geographic regions, including the Americas, Europe, the Middle East, and Africa (EMEA) and the Asia-Pacific and Japan (APAC).
Other Positive Catalysts.....
No Recession Fears.....
As was the case late last year, the story in 2023 remains one of slowing economic growth and fears of recession. Resources, particularly of the financial variety, are being conserved by many businesses in anticipation of tough times. But cybersecurity remains in high-growth mode. 
Palo Alto Networks just proved it. Third quarter fiscal 2023 (the three months ended in April) revenue increased 24% year over year to $1.7 billion, driven once again by its "next-gen" software-based security offerings. With three-quarters of the current fiscal year down, Palo Alto has reported revenue growth of 25% to $4.9 billion.  
This builds on an impressive run that started even before the pandemic-fueled boom, as organizations began migrating en masse to cloud computing and adopting new security tools along the way. 
Sustaining Growth.....
Palo Alto Networks is more than holding its own. The company reported a 38% increase in deferred revenue (money collected for services that have yet to be provided) to $8.1 billion. This helps underpin management's guidance for 25% to 27% year-over-year growth in the final quarter of fiscal 2023 and could be an indication of momentum carryover into 2024.
Key to its growth are the numerous software-based offerings (lumped into the "next-gen security" tag) that PANW has. Customers are looking for simplicity and asset-light services they can pay for over time. With its software offerings still growing at a blistering pace (annualized revenue grew 60% last quarter), Palo Alto Networks looks like it will remain a high-growth player in cybersecurity for the foreseeable future.
Debt Free.....
In July, half of PANW's convertible debt of $3.68 billion will be paid off with cash and equivalents on balance, with the balance paid off in issuance of new shares (which has already been accounted for in guidance). Once this event is complete, this will be a debt-free company. PANW had nearly $4 billion in cash and short-term investments on balance at the end of April and another $2.7 billion in long-term investments.
Analysts.....
BTIG Research boosted their target price on shares of Palo Alto Networks from $240.00 to $253.00 and gave the stock a "buy" rating in a report on Wednesday, May 24th.
JMP Securities increased their price objective on shares of Palo Alto Networks from $230.00 to $255.00 and gave the company an "outperform" rating in a research note on Wednesday, May 24th.
BMO Capital Markets raised their price target on shares of Palo Alto Networks from $228.00 to $235.00 and gave the stock an "outperform" rating in a research note on Wednesday, May 24th.
Finally, Wells Fargo & Company upped their target price on shares of Palo Alto Networks from $250.00 to $265.00 and gave the stock an "overweight" rating in a research report on Wednesday, May 24th.

Palo Alto Networks, Inc. has received a consensus recommendation of "Moderate Buy" from the forty-three research firms that are currently covering the firm. Five equities research analysts have rated the stock with a hold rating and thirty-four have given a buy rating to the company.
The average twelve-month price prediction for Palo Alto Networks is $232.66 with a high price target of $270.00 and a low price target of $165.00.
Summary.....
The cybersecurity pure-play leader has some lofty goals and keeps meeting and exceeding them, as industries of all kinds are in need of PANW's software.
The company has a market capitalization of $66.45 billion, a price-to-earnings ratio of 344.83, and a PEG ratio of 4.92 and a beta of 1.16. Palo Alto Networks has a one year low of $132.22 and a one year high of $219.93. The company's fifty day moving average price is $194.74 and its two-hundred day moving average price is $180.89.
Therefore…..
For future trades, join us here at Weekly Options USA, and get the full details on the next trade.