Following on from our previous article "Palantir Stock Has Reached Its Zenith!"
Palantir Technologies Inc (NYSE: PLTR) shares are traded lower by 18.50% to $13.56 over the past five sessions. The stock is trading lower this week, pulling back following recent AI-optimism, amid overall market weakness following Fed Chair Powell's comments suggesting inflationary pressures have continued and further rate hikes are expected by the end of the year.
During the House Financial Services Committee session on Wednesday, Federal Reserve Chair Jerome Powell emphasized the distinction between the pace of interest rate movements and the prevailing level of interest rates.
Why the Palantir Weekly Options Trade was Originally Executed?
Palantir Technologies Inc (NYSE: PLTR) has made huge gains thanks to the new AI hype surrounding the company and the industry as a whole.
After the stock recently broke through the $15 mark, Danil Sereda decided to update his thesis. Unfortunately for bulls, "I must warn those who wanted to jump on this positive bandwagon: the company is perfectly valued at this point and it'll take many years for PLTR to grow out of its current valuation. I'm downgrading the stock again from Hold to Sell and urge everyone to be extremely cautious."
As excitement over AI has surged, Palantir's stock -- and its valuation -- have doubled so far this year. While the opportunity is massive, the stock will continue to be volatile.
And, members of Weekly Options USA, using CALL Options, have enjoyed some very good returns so far this year – April 17 – 67%; and then June 01, a massive potential profit of 1,144% returns.
Palantir shares surged toward a 17 month high after launching an AI powered data integration offering for manufacturers. And the rally is not showing any signs of stopping. But, buyers beware, blaming the AI hype for driving stock prices to unreasonable levels.
Palantir stock was up 11% on Wednesday, and then gave up all of its gains.
With Palantir shares rallying 11% at one point on Wednesday but down 4.3% on the session at last check, one must ask if the stock has run out of steam.
The PLTR Weekly Options Trade Explained.....
** OPTION TRADE: Buy PLTR JUL 7 2023 15.000 PUTS - price at last close was $1.00 - adjust accordingly.
Obviously the results will vary from trader to trader depending on entry cost and exit price that was undertaken.
Entered the PLTR Weekly Options (PUT) Trade on Friday, June 09, 2023, at 9:52, for $0.80.
Sold half the PLTR weekly options contracts on Friday, June 09, 2023,at 12:28, for $1.20; a potential profit of 50%.
Total Dollar Profit is $120 - $80 (cost of contract) = $40
Holding the remaining PLTR weekly options contracts for further profit before expiry.
Sold the remaining PLTR weekly options contracts on Friday, June 23, 2023, for $1.61; a potential profit of 101%.
Total Dollar Profit is $161 - $80 (cost of contract) = $81
Friday, June 09 + Friday, June 23 = $121
Don't miss out on further trades – become a member today!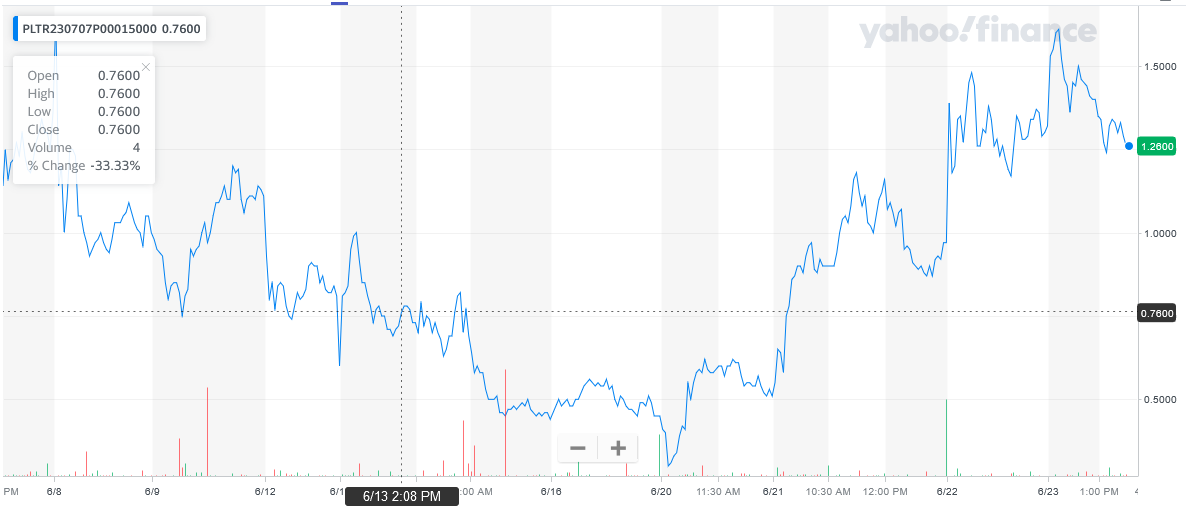 About Palantir Technologies.....
Palantir Technologies Inc. is an SaaS company focused on AI and big data analytics. It was founded in 2003 in Denver, Co by well-known investors Peter Thiel and Stephen Cohen among others. The company's goal is to augment human intelligence with data-gathering and analytic tools that can change the world for the better. As of 2022, Stephen Cohen, co-founder Alexander Karp, and Peter Thiel were president, CEO, and Chairman respectively.
Originally intended as a tool for the Federal Government, the company has since expanded to serve state and local governments as well as private corporations. The company's name is based on J.R.R. Tolkien's Lord of the Rings trilogy. The palanteri are indestructible crystal globes used for seeing across great distances.
Today the company builds and deploys solutions for its clients based on three primary offerings. These are Palantir Gotham, Palantir Apollo, Palantir Foundry, and Palantir Metropolis. The goal is to generate alpha, or a competitive advantage, for its clients so they can succeed in a rapidly changing environment.
The company's core offering is Palantir Gotham. Palantir Gotham was originally intended for the US intelligence community as a counter-terrorism tool but it has since been deployed by state and local governments as well as private enterprises as a global decision-making tool. Users are able to aggregate data from hundreds of inputs and funnel them into a single view for rapid decision-making and execution. The tool, which looks for and analyzes hidden patterns in deep data sets, has been used for "predictive policing" and has drawn some criticism because of it.
Palantir Apollo is an operating system designed to give continuous delivery and deployment of safe, secure Internet access across all operating environments. The system is 1 of 5 recognized by the Department of Defense as a Mission Critical National Security System and used by businesses and organizations for autonomous software deployment. Among its advantages, the system can speed up the development of new software by as much as 50% simply by securing access to sensitive information and networks.
Why The Pullback.....
Already mentioned above Palantir has pulled-back following recent AI-optimism, amid overall market weakness following Fed Chair Powell's comments; also, Raymond James cut shares of Palantir from a strong-buy rating to an outperform rating in a report released on Tuesday morning.
The firm still believes the stock can outperform, but downgraded the shares from a strong buy rating.
The stock has gotten expensive in a short time. It was recently trading at over 16 times trailing-12-month revenue after it doubled in just the last month.
Therefore…..
For future trades, join us here at Weekly Options USA, and get the full details on the next trade.