The meme stock craze has made stocks popular for one of the worst reasons -- popularity. In recent years, stocks like GameStop and AMC Entertainment benefited from a social media-induced feeding frenzy despite uncertain growth prospects.
Nonetheless, other meme stocks are on increasingly been placed in this footing. To this end, stocks such as Palantir Technologies have been bid higher and are looking to be overvalued. Investors have bid the stock higher by about 150% from its December low.
Why the Palantir Weekly Options Trade was Originally Executed?
Palantir Technologies Inc (NYSE: PLTR) has made huge gains thanks to the new AI hype surrounding the company and the industry as a whole.
After the stock recently broke through the $15 mark, Danil Sereda decided to update his thesis. Unfortunately for bulls, "I must warn those who wanted to jump on this positive bandwagon: the company is perfectly valued at this point and it'll take many years for PLTR to grow out of its current valuation. I'm downgrading the stock again from Hold to Sell and urge everyone to be extremely cautious."
As excitement over AI has surged, Palantir's stock -- and its valuation -- have doubled so far this year. While the opportunity is massive, the stock will continue to be volatile.
And, members of Weekly Options USA, using CALL Options, have enjoyed some very good returns so far this year – April 17 – 67%; and then June 01, a massive potential profit of 1,144% returns.
Palantir shares surged toward a 17 month high after launching an AI powered data integration offering for manufacturers. And the rally is not showing any signs of stopping. But, buyers beware, blaming the AI hype for driving stock prices to unreasonable levels.
Palantir stock was up 11% on Wednesday, and then gave up all of its gains.
With Palantir shares rallying 11% at one point on Wednesday but down 4.3% on the session at last check, one must ask if the stock has run out of steam.
The PLTR Weekly Options Trade Explained.....
** OPTION TRADE: Buy PLTR JUL 7 2023 15.000 PUTS - price at last close was $1.00 - adjust accordingly.
Obviously the results will vary from trader to trader depending on entry cost and exit price that was undertaken.
Entered the PLTR Weekly Options (PUT) Trade on Friday, June 09, 2023, at 9:52, for $0.80.
Sold half the PLTR weekly options contracts on Friday, June 09, 2023,at 12:28, for $1.20; a potential profit of 50%.
Total Dollar Profit is $120 - $80 (cost of contract) = $40
Holding the remaining PLTR weekly options contracts for further profit before expiry.
Don't miss out on further trades – become a member today!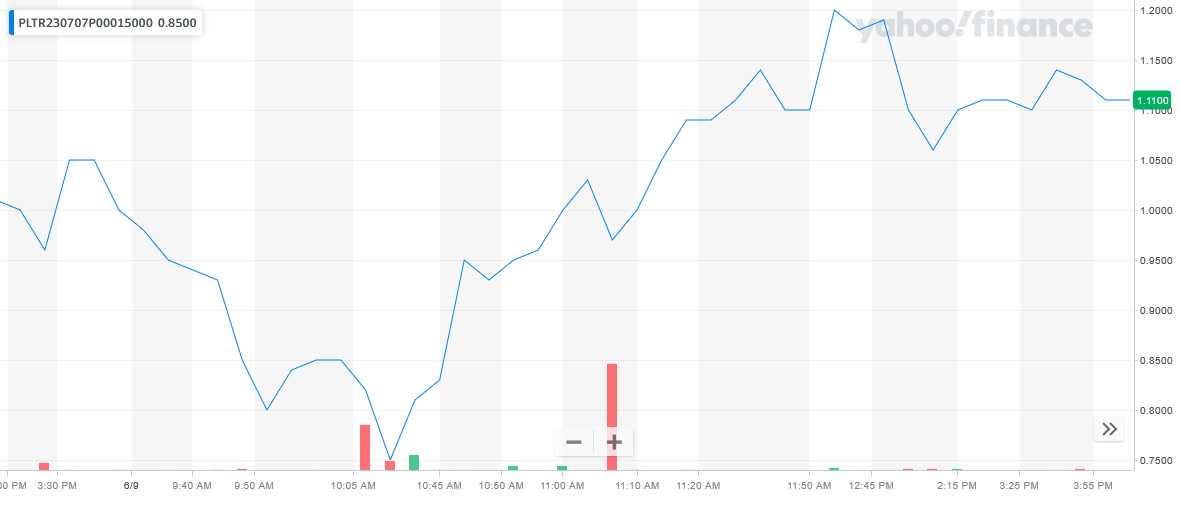 About Palantir Technologies.....
Palantir Technologies Inc. is an SaaS company focused on AI and big data analytics. It was founded in 2003 in Denver, Co by well-known investors Peter Thiel and Stephen Cohen among others. The company's goal is to augment human intelligence with data-gathering and analytic tools that can change the world for the better. As of 2022, Stephen Cohen, co-founder Alexander Karp, and Peter Thiel were president, CEO, and Chairman respectively.
Originally intended as a tool for the Federal Government, the company has since expanded to serve state and local governments as well as private corporations. The company's name is based on J.R.R. Tolkien's Lord of the Rings trilogy. The palanteri are indestructible crystal globes used for seeing across great distances.
Today the company builds and deploys solutions for its clients based on three primary offerings. These are Palantir Gotham, Palantir Apollo, Palantir Foundry, and Palantir Metropolis. The goal is to generate alpha, or a competitive advantage, for its clients so they can succeed in a rapidly changing environment.
The company's core offering is Palantir Gotham. Palantir Gotham was originally intended for the US intelligence community as a counter-terrorism tool but it has since been deployed by state and local governments as well as private enterprises as a global decision-making tool. Users are able to aggregate data from hundreds of inputs and funnel them into a single view for rapid decision-making and execution. The tool, which looks for and analyzes hidden patterns in deep data sets, has been used for "predictive policing" and has drawn some criticism because of it.
Palantir Apollo is an operating system designed to give continuous delivery and deployment of safe, secure Internet access across all operating environments. The system is 1 of 5 recognized by the Department of Defense as a Mission Critical National Security System and used by businesses and organizations for autonomous software deployment. Among its advantages, the system can speed up the development of new software by as much as 50% simply by securing access to sensitive information and networks.
Further Catalysts for the PLTR Weekly Options Trade…..
Palantir develops and sells software platforms to operationalize data for large government and commercial customers. The firm is developing its latest offering, the Artificial Intelligence Platform [AIP], which combines the existing software platforms with large language models [LLMs] to enable customers in commercial and government sectors to leverage the benefits of artificial intelligence breakthroughs. AIP allows users to connect LLMs with their data and operations, aiding decision-making while adhering to legal, ethical, and security requirements.
Unsurprisingly, the mention of AI and LLMs in the same paragraph, as well as the strong Q1 FY2023 numbers, gave the stock a significant boost and allowed speculators to double their investment [so far] on buying PLTR shares ahead of the quarterly report release. However, the company has some problems related to the structure of its business model. And it's not yet clear exactly how these problems will be resolved in the foreseeable future - no matter how many new features are pitched through the marketing campaigns.
Other Catalysts.....
Palantir's software still requires extensive human interaction for coding, and it was expensive and lacked comprehensive features for everyday business users when the company first started as a business intelligence [BI - not AI] company. So due to the proprietary nature of its platform and the need for customization and coding, Palantir became more of a services company rather than a scalable software company. The heavy reliance on employees for implementation hindered growth and scalability - this is why PLTR lost its previous operating growth at some point in its recent past.
While Palantir found success with government contracts and security-related use cases, their software was not the primary driver of their success. The company relied heavily on the expertise of its employees, making it difficult to scale the business, while at the same time, its focus on the federal sector limited its presence in the commercial space.
Competition.....
In the commercial space, competitors are not sleeping. They keep on evolving their platforms, expanding mobile capabilities, and building partner ecosystems to cater to various use cases. Companies were shifting towards more affordable and flexible analytics solutions, making it challenging for Palantir to compete effectively. And at the same time, CEO Alex Karp says that the company probably shouldn't sell its AI offerings to some commercial customers, which limits and deters a potential buyer.
Insider Selling.....
Palantir Technologies insider Alexander C. Karp sold 325,000 shares of the firm's stock in a transaction that occurred on Monday, June 5th. The stock was sold at an average price of $15.40, for a total transaction of $5,005,000.00.
Analysts.....

According to the issued ratings of 14 analysts in the last year, the consensus rating for Palantir Technologies stock is Hold based on the current 5 sell ratings, 7 hold ratings, 1 buy rating and 1 strong buy rating for PLTR. The average twelve-month price prediction for Palantir Technologies is $8.88 with a high price target of $15.00 and a low price target of $4.50.
Summary.....
The company's business model, heavily dependent on expensive resources and a consulting approach, does not align with the strategies of successful software companies today.
Even with relatively optimistic forecasts and a continuation of the break-even trend, PLTR stock is again severely overvalued like in late-2021, and risks losing most [if not all] of its gains once the AI hype subsides.
Palantir has a fifty day moving average of $9.86 and a two-hundred day moving average of $8.34. Palantir Technologies Inc. has a twelve month low of $5.84 and a twelve month high of $17.16. The company has a market cap of $31.11 billion, a price-to-earnings ratio of -129.38, and a P/E/G ratio of 5.36 and a beta of 2.79.
Therefore…..
For future trades, join us here at Weekly Options USA, and get the full details on the next trade.