The Actual Recommended NVIDIA Weekly Options Call Trades…..
** NVIDIA Weekly Options Call 1: Buy NVDA MAY 28 2021 600.000 CALLS at approximately $9.20.
 (actually bought for $4.50)
** NVIDIA Weekly Options Call 2: Buy NVDA MAY 28 2021 580.000 CALLS at approximately $11.00.
(actually bought for $14.45)

Fridays' NVIDIA Weekly Options Call Successes Explained.....
1. Weekly Options Members" entered a NVIDIA weekly options trade on Monday, May 17, 2021 at 1:40pm – the low point for the day due to the pullback - for $4.50.
On Friday, May 21, 2021, our NVIDIA weekly options trade climbed as high as $25.00 – a potential profit of 456% - before closing the day at $17.50, up 57.37%.
2. Weekly Options Members" entered a NVIDIA weekly options trade on Thursday, May 20, 2021 at a cost of $14.45.
This NVIDIA weekly options call trade hit an intra-day high of $37.65 - a potential profit of 161% - before closing the day at $28.80, up 42.08%.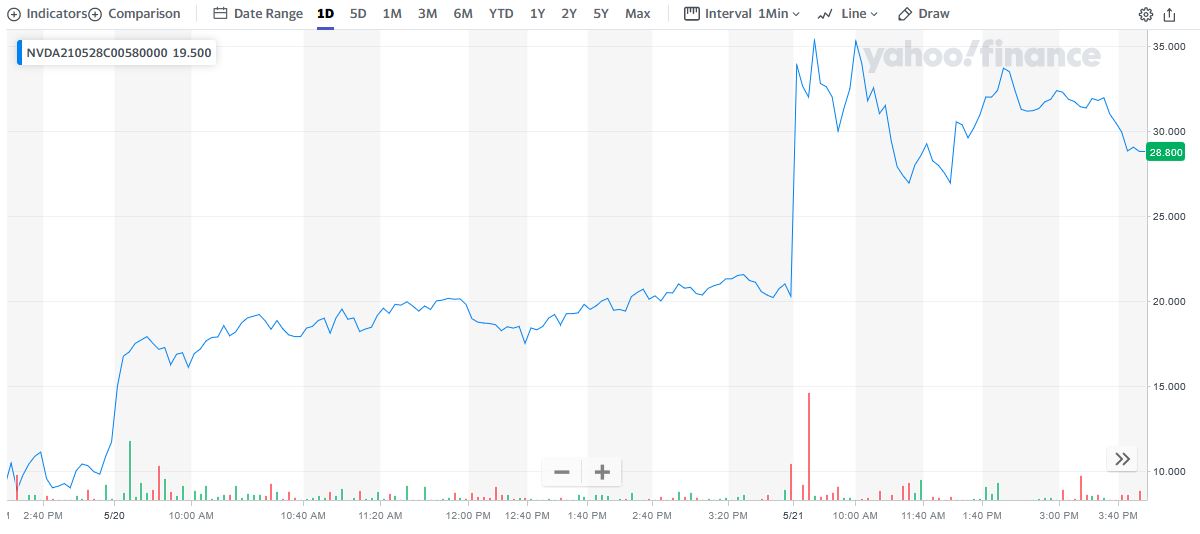 For Further Insight READ…..
"NVIDIA Provides Quick Profits Using Weekly Options!"
"Weekly Options Trade – NVIDIA Corporation (NASDAQ:NVDA) Calls"
 Why The Original NVIDIA Weekly Options Call Trade Recommendation?
The maker of graphics and high-performance computing chips NVIDIA Corporation (NASDAQ:NVDA) reports earnings next Wednesday, May 26, 2021, after the market closes.
NVIDIA is a market-leading provider of graphics processing units (GPUs) and AI solutions. Its brand name has become synonymous with best-in-class graphics in video games and high-performance computing in data centers. In fact, NVIDIA has over 90% market share in the supercomputing accelerator market.
Last year this semiconductor company strengthened its position with the acquisition of Mellanox, a provider of high-performance networking solutions. NVIDIA CEO Jensen Huang noted that this move creates "significant product synergies," allowing the company to take a more holistic approach to data center hardware design.
NVDA stock has had a tumultuous eight months. This year alone, NVDA has gone on several runs, followed by steep drops. Shares have ranged in price; from a low of $462 in March to an all-time high close of over $645 in mid-April. Currently trading in the $560 range — off April's mark by about 13% — and approaching a first-quarter earnings report that's expected to be a blockbuster, seems to be a good time for this options play.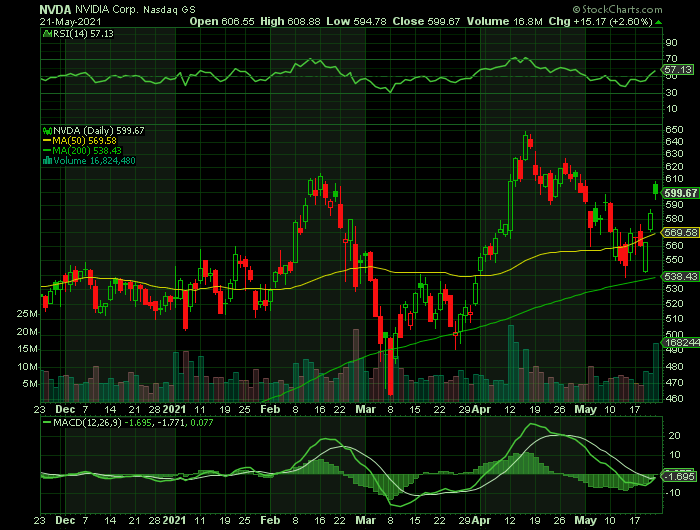 The Major Catalysts for The NVIDIA Weekly Options Call Trade.....
1. Earnings on Wednesday, May 26, 2021.....
Nvidia is expected to release its Q1 fiscal 2022 results on May 26. Previously, though, the company had already issued revenue guidance of $5.3 billion for the quarter, plus or minus 2%.
On Apr. 12, however, Nvidia announced that revenue for the quarter is tracking above those projections. In addition, the company noted that it has sufficient supply on hand to support sequential growth beyond Q1 — no small feat during a global chip shortage.
2. Influence of Nvidia.....
Together, NVIDIA and Mellanox power eight of the top 10 supercomputers in the world. Even more impressive, Italy's CINECA has selected NVIDIA GPUs (and Mellanox networking) to power the world's fastest AI supercomputer, the Leonardo. Once built, the system will deliver 10 exaflops of performance, making it nearly 19 times faster than Japan's Fugaku, which currently tops the list of the world's fastest supercomputers.
According to Cathie Wood's ARK Invest analysis, accelerators like NVIDIA GPUs will displace central processing units (CPUs) as the dominant processors in data centers by 2030, growing at 21% annually over that period. That opens the door to a $41 billion market opportunity for the chipmaker.
Additionally, factoring in other use cases like enterprise and edge AI, management believes its total addressable market in the data center sector will actually hit $100 billion by 2024.
3. Arm-based Tegra.....
NVIDIA's Arm-based Tegra CPUs power infotainment and navigation systems for high-end automakers like Audi and Lamborghini. They also power its Drive onboard computers for autonomous vehicles.
NVIDIA generated 3% of its revenue from automotive chips last quarter. That's just a tiny sliver of its business, and the unit faced severe headwinds last year as the pandemic disrupted the production of new vehicles. The global semiconductor shortage could further delay that recovery.
But after those headwinds wane, NVIDIA's automotive business should recover and gradually account for a larger slice of its revenue. Until then, NVIDIA should continue to generate high double-digit percentage revenue and earnings growth as it sells more gaming and data center GPUs.
4. Cryptocurrency......
Cryptocurrencies are hot once again, which means that demand for graphics processing units (GPUs) for crypto mining rigs is through the roof. Nvidia has been through this cycle before and learned a painful lesson. Crypto miners can be big business, but they compete against NVDA's core customer base for graphics cards. That results in bad PR when stock runs out. Plus, the crypto market can dry up without warning. In 2018, this effect hammered NVDA stock when miners suddenly stopped buying. 
This time, though, the company is doing things differently and managing the crypto market much more carefully. Acknowledging mining as an actual line of business, NVDA created a GPU specifically for that market. Additionally, it took measures to prevent miners from snapping up all its new consumer GPUs. New graphics cards will automatically throttle performance if used for crypto mining.
Nvidia's new RTX 3000 series GPUs are still in short supply, but consumers aren't competing against crypto miners to buy them now. Meanwhile, the new crypto cards are selling better than expected. In its Q1 earnings update, the company noted that it has already sold $150 million worth, compared to the projected $50 million.
Salesforce is in the midst of acquiring enterprise communications platform Slack Technologies in a $27.7 billion cash-and-stock deal. Assuming the deal closes, Slack will provide Salesforce with a jumping-off point to cross-sell its CRM solutions to small-and-medium-sized businesses.
5. Grace.....
This product is a custom designed, Arm-based processor aimed at data centers. NVDA says that its first data center CPU is optimized to deliver 10 times "the performance of today's fastest servers on the most complex AI and high performance computing workloads."
Of course, Nvidia has always been about GPUs, so its first data center CPU is a shot across the bow of PC processor leaders. If Grace lives up to claims, it has the potential to significantly grow Nvidia's data-center market. Back in Q4, that market brought in $1.9 billion.
6. Gaming.....
Nvidia announced new devices across its portfolio and launched a new bit of gaming software. To begin with, the company unveiled a new wave of gaming laptops, flaunting its latest GPUs. This was followed by the reveal of new collaborative laptops with the likes of Dell (NYSE: DELL) and other consumer hardware names. On top of all that, Nvidia GPU owners now have access to GeForce NOW, powering optimal cloud gaming experiences.
Analysts' Opinions.....
Baird analyst Tristan Gerra rates the stock an Outperform (i.e. Buy) along with an $800 price target, which implies ~45% upside. The bull thesis is based on "Nvidia's strong near-term positioning in AI data center markets and longer-term opportunities across many accelerated computing applications."
"As Nvidia increasingly moves to platform solutions targeting and enabling all AI markets, while diversifying its architecture offering, the company is poised to over time dominate data center. Omniverse gives us an early glimpse of a virtual 3D world which Nvidia is at the forefront and ultimately yielding to a matrix computing world. More near term, GTC-announced foray into CPUs will expand Nvidia's computing TAM," Gerra opined.
Overall, no fewer than 27 analysts have put reviews on NVDA on record, and of those, 24 are to Buy against just 3 to Hold. NVDA shares are selling for $550.34; the average price target of $682.20 implies an upside of 24% from that level.