Why the AMD Weekly Options Trade was Executed?…..
Advanced Micro Devices, Inc. (NASDAQ AMD) is a business that supplies the technology upon which AI is built and will likely provide the most profit moving forward.
The chipmaker intends to supply the vital processors that power the massive cloud computers that make AI possible.
Advanced Micro Devices has the potential to profit from the development of multiple industries. The company's chip business has granted it solid positions in a variety of markets, with its hardware powering cloud platforms, AI models, game consoles, PCs, and more. As the tech industry expands, more and more companies will be turning to chipmakers like AMD to take their devices to the next level, bolstering the semiconductor company's stock over the long term.
AMD's stock may have taken a deep dive last year, but those who took advantage of the bear market have benefited from its 72% rise since Jan. 1. Wall Street has grown particularly bullish about AMD this year, thanks to its potential in AI. The company's chips can run and develop AI software, with the market expected to expand at a compound annual growth rate of 37% through 2030.
Additionally, AMD's financials are on a solid growth track. Over the last five years, annual revenue has risen 265%, while operating income has increased 180%. Alongside a swiftly expanding business, AMD is an excellent option at almost any time but especially during a bear market.
The AMD Weekly Options Trade Explained.....
** OPTION TRADE: Buy AMD JUL 14 2023 112.000 CALLS - price at last close was $3.70 - adjust accordingly.
Obviously the results will vary from trader to trader depending on entry cost and exit price that was undertaken.
PREVIOUS TRADE AND PROFITS
Entered the AMD Weekly Options (CALL) Trade on Monday, June 26, 2023, at 9:45, for $3.85.
Sold the AMD Weekly Options contract on Monday, June 26, 2023, at 9:56, for $4.60; a potential profit of 19%.
NEW TRADE
Re-bought the AMD Weekly Options (CALL) Trade on Monday, June 26, 2023, at 3:57, for $2.50.
SOLD half the AMD weekly options contracts on Thursday, June 28, 2023, for $3.90; a potential profit of 56%.
Don't miss out on further trades – become a member today!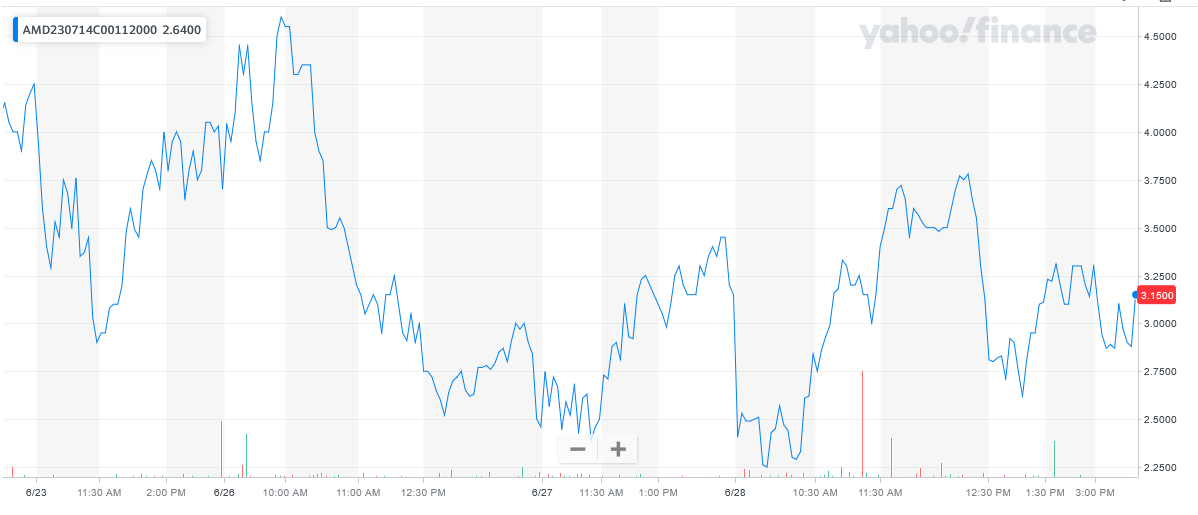 READ the previous article "Advanced Micro Devices (AMD) Provides Quick Profit In 10 Minutes!"
Recent Catalysts Helping the AMD Weekly Options Trade to Profit…..
Advanced Micro Devices recently announced the next iteration of its AMD Versal Premium chip, a unique chip that solves a big problem.
The Versal Premium VP1902 adaptive system-on-chip (SoC) claims the title of the world's largest adaptive SoC. This cutting-edge chiplet-based device offers twice the capacity of its predecessor, empowering designers to streamline the verification process of complex semiconductor designs and accelerate the introduction of next-generation technologies to the market.
Also, the acquisition of Xilinx has helped AMD to consistently push the boundaries of capacity in emulation devices, with each generation nearly doubling its capabilities. The latest VP1902 adaptive SoC offers an impressive 18.5 million logic cells, doubling the programmable logic density of the previous generation Virtex UltraScale+ VU19P FPGA.
As well, to further facilitate development on the VP1902 adaptive SoC, AMD provides the Vivado ML design suite. New features like automated design closure assistance, interactive design tuning, remote multi-user real-time debugging, and enhanced back-end compilation features enable faster iteration of IC designs.
Other Catalysts.....
AMD benefits from a strong product portfolio, such as the Series accelerator family, strengthening its competitive position against NVIDIA in the generative AI space.
AMD also launched the Instinct platform, which combines eight MI300X accelerators into an industry-standard design to address AI inference and training needs.
AMD is adding two new workload-optimized processors to the fourth Gen EPYC CPU portfolio.
Microsoft and Meta Platforms announced support for AMD's fourth Gen EPYC CPU portfolio. AMD also announced the continuation of its relationship with Amazon Web Services.
As well, AMD recently expanded its collaboration with Hewlett Packard to support the new modular and multi-protocol storage solution, HPE Alletra Storage MP, with AMD EPYC Embedded Series processors.
Strong adoption of the EPYC processor is expected to boost top-line growth. AMD expects second-quarter 2023 revenues to be $5.3 billion (+/-$300 million).