Prelude…..
Zoom Video Communications Inc (NASDAQ: ZM) is the leader in modern enterprise video communications, with a cloud platform for video and audio conferencing, chat, and webinars across mobile, desktop, and room systems.
On May 22, Zoom reported that its April-quarter earnings handily beat estimates but weakening trends in its enterprise business spooked ZM stock investors.
Zoom earnings for the company's first quarter rose 13% to $1.16 per adjusted per share amid cost-cutting moves. Also, revenue climbed 3% to $1.105 billion. A year earlier, Zoom earned $1.03 a share on sales of $1.074 billion.
On Friday, Zoom stock was up 4%. Shares are about 50% off their 52-week high.
Why the Original Zoom Video Communications Shares Weekly Options Trade was Executed?
Zoom Video Communications Inc on Monday raised its full-year forecasts for revenue and profit even as growth winds down from a pandemic boom and business spending slows in a tough economy.
Zoom became a household name during lockdowns, but growth has cooled off since then as offices reopen and competition heats up from deep-pocketed rivals including Microsoft Corp's Teams, Cisco's Webex and Salesforce's Slack.
San Jose, California-based Zoom raised its annual revenue forecast to between $4.47 billion and $4.49 billion, representing growth of just about 2% from last year. Its earlier forecast was for $4.44 billion to $4.46 billion.
"Our customers see Zoom as mission-critical in how they collaborate internally and externally across the globe," Chief Executive Officer Eric Yuan said in the statement. "This relationship with our customers helped us to exceed our guidance due to enterprise growth and stabilizing online revenue."
Online revenue fell 8% to $473.4 million for the quarter ended April 30. Zoom expects it to reach nearly $480 million in the second quarter and be relatively flat thereafter in fiscal 2024.
"I think the stock is paring gains on the implied guidance for enterprise, which suggests it will continue to decelerate to ~6% growth," said RBC analyst Rishi Jaluria.
Quarterly sales in its enterprise business rose 13% to $632 million.
Zoom's online customers range from individuals to small- and medium-sized businesses, while enterprise customers consist of bigger businesses.
The company now expects annual adjusted profit per share between $4.25 and $4.31, compared with an earlier estimate of $4.11 to $4.18.
First-quarter revenue beat Wall Street estimates.
On an adjusted basis, the company earned $1.16 per share in the first quarter, above estimates of 99 cents.
The ZM Weekly Options Trade Explained.....
** OPTION TRADE: Buy ZM JUN 09 2023 75.000 CALLS - price at last close was $3.35 - adjust accordingly.
Obviously the results will vary from trader to trader depending on entry cost and exit price that was undertaken.
Entered the ZOOM Weekly Options (CALL) Trade on Tuesday, May 23, 2023 for $0.37.
Sold half the ZOOM weekly options contracts on Friday, May 26, 2023 for $0.68; a potential profit of 71%.
Total Dollar Profit is $68 - $37 (cost of contract) = $31
Holding the remaining ZM weekly options contracts for further profit as the new week progresses.
Don't miss out on further trades – become a member today!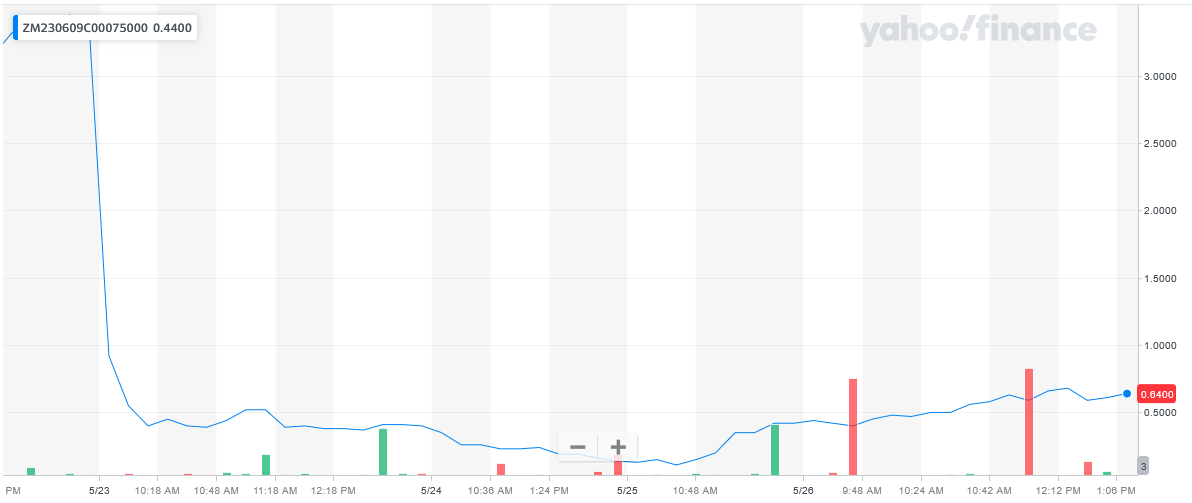 Zoom became a hypergrowth stock during the pandemic as people flocked to its video conferencing platform to attend online classes, work remotely, and stay in touch with their family and friends. Its catchy brand, simple interface, and freemium model also gave it an edge against older enterprise video conferencing platforms.
However, Zoom's massive growth spurt set it up for a tough post-pandemic slowdown. Zoom's explosive pandemic-era growth rates, along with the buying frenzy in growth and meme stocks, propelled its stock to a record high of $568.34 per share on Oct. 19, 2020.
Earnings Report - May 22
Zoom posted its latest earnings report on May 22. For the first quarter of fiscal 2024 (ended on April 30), the cloud-based video conferencing company's revenue grew 3% year over year to $1.11 billion and exceeded analysts' estimates by $30 million. Its adjusted net income increased 12% to $353 million, or $1.16 per share, which also cleared the consensus forecast by $0.17.
In fiscal 2024, Zoom expects its revenue to only rise 2% as its adjusted EPS dips 1%-3%. It attributes that slowdown to its weakness in Europe and Asia, which is offsetting its growth in North America, as well as a strong dollar and macro headwinds in the enterprise market. However, Zoom's revenue and EPS forecasts still topped analysts' expectations.
Conclusion…..
Zoom is stabilizing its margins with aggressive cost-cutting measures -- including layoffs for approximately 15% of its employees earlier this year. That's why its adjusted operating margin expanded 100 basis points year over year to 38.2% in the first quarter of fiscal 2024. It expects to post an adjusted operating margin of 36.5%-36.8% for the full year, compared to its operating margin of 35.9% in fiscal 2023.
Zoom is also still gaining larger customers, which generate more than $100,000 in trailing 12-month revenue, in this tough macroeconomic environment. That higher-value cohort grew 23% year over year to 3,580 customers in the first quarter, which suggests it isn't losing ground to Webex, Messenger, Meet, and other video conferencing platforms.
Therefore…..
For future trades, join us here at Weekly Options USA, and get the full details on the next trade.