The Three Winning Options Trades
1. "Weekly Options Trade" Recommendations…..
Weekly Options Trade – Chewy Inc (NYSE: CHWY)
** OPTION TRADE: Buy CHWY JUN 11 2021 76.000 CALLS at approximately $3.15.
Growth stocks can be some of the most exciting picks in the market and can produce big gains as well. However, they can also lead on the downside when the growth story is over, so it is important to find companies which are still seeing strong growth prospects in their businesses.
One such company that might be well-positioned for future earnings growth is Chewy Inc (NYSE: CHWY). This firm, which is in the Consumer Products - Staples industry, saw EPS growth of 131% last year, and is looking great for this year too.
Chewy, the online pet retailer, is set to report first-quarter earnings on June 10. The company is experiencing surging sales during the pandemic with many folks looking to avoid shopping in stores. 
Sometimes referred to as the Amazon of pet stores, because it sells exclusively online, Chewy also caught a tailwind from increased pet ownership during the pandemic. Many found that furry friends help make passing time at home a bit more pleasant. And unsurprisingly, many of those same folks looked to Chewy.com to deliver things necessary to keep their newfound companions happy and healthy. 
The stock is up over 77% in the last 12 months as investors anticipate some of the customers gained during the pandemic will stick around long term.
The current growth estimate for this year calls for earnings-per-share growth of 123.6%. Furthermore, the long-term growth rate is currently an impressive 20%, suggesting pretty good prospects for the long haul.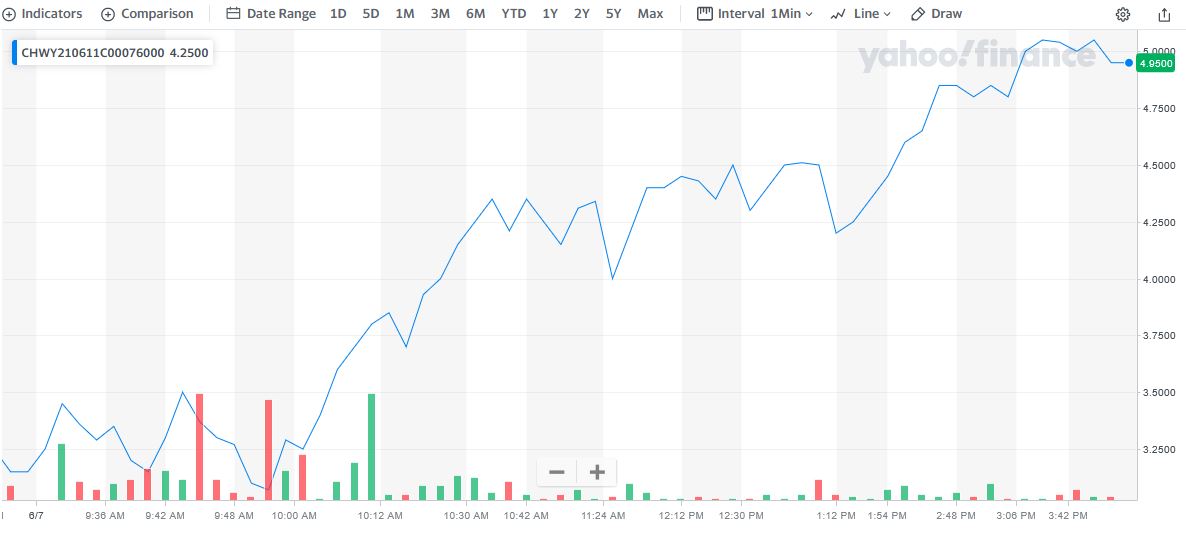 2. "State-of-the-Art" Recommendations…..
 Option Trade – Pinterest Inc (NYSE: PINS)
** OPTION TRADE: Buy PINS JUL 16 2021 65.000 CALLS at approximately $2.90. (Max. $3.50)
The past several weeks of trading were dominated by inflation fears that heated up following April's 4.2% CPI jump. The largest 12-month climb since 2008 came on the back of ramped upped spending, government checks, supply chain setbacks, and comparisons against the coronavirus lows.
Wall Street has, however, seen buyers step in when they felt things were overdone, with the S&P 500 finding support above its 50-day moving average. The Nasdaq, which already suffered a correction in 2021 (down 10% from its highs), has regained its footing after its pullback. The tech-heavy index is once again trading above its 50-day moving average, while the benchmark index pushes back within around 1% of its records.
There appear to be multiple reasons behind the bullishness amid inflation worries. The overall earnings picture for Q1 was impressive and estimates for the second quarter and beyond keep going up. This positive bottom-line outlook helps support the possibility that U.S. GDP grows by 6.5% or more in 2021—its strongest in roughly 35 years.
Along with a booming U.S. economy, driven by the vaccine rollout, some Wall Street bulls might be focused on the likelihood that there is no alternative investing continues even if the central bank is forced to raise rates sooner than originally expected to tamp down rising prices.
But, it is important to consider adding strong, growth-focused stocks as we head into June that are still trading below their highs as the market bounces back…and, one such stock is Pinterest Inc (NYSE: PINS).
PINS is essentially a visual discovery platform. The firm allows users to find and search for products, services, and more, from planning trips and coordinating an outfit to making home-cooked meals, learnings how to remodel or decorate a room, and beyond.
PINS has become a hit with advertisers, small businesses, entrepreneurs, and do-it-yourself enthusiasts. The company has thrived in the e-commerce and digital media age as fewer people flip through magazines or catalogs for purchasing inspiration. Plus, paid content and ads fit seamlessly into Pinterest, which is vital in our digital-heavy ad world where people pay to avoid ads on Netflix NFLX and largely ignore more traditional banner ads.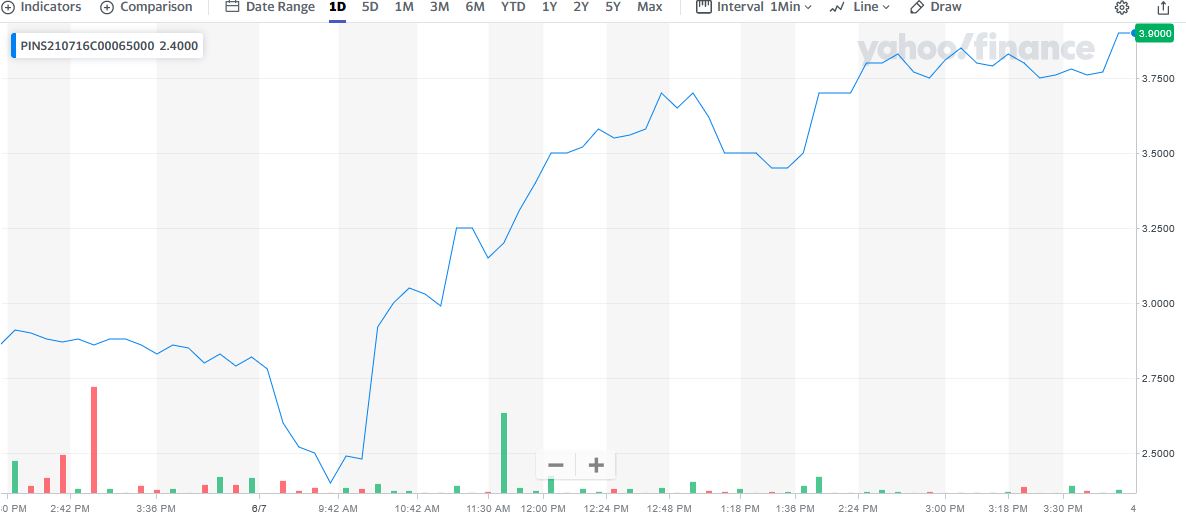 3.  "Up-and-Coming Traders" Recommendation.....
 ChargePoint Holdings Inc (NYSE: CHPT) Calls
** OPTION TRADE: Buy CHPT AUG 20 2021 30.000 CALLS at approximately $2.60. (Max. $3.00)
Biden's ongoing talks with Republican Sen. Shelley Moore Capito of West Virginia may have just pushed his infrastructure plan closer to passage in Congress. Despite their deep disagreements about such a bill's scope and how to pay for it, politicians from both parties can, in the abstract, agree that there's a dire need to rebuild and upgrade much of America's deteriorating infrastructure.
A bipartisan agreement on an infrastructure bill -- even if it's not as big as the one Biden originally proposed -- could therefore be in the cards, which is why it's a great time for this options trade on ChargePoint Holdings Inc (NYSE: CHPT).
The president's infrastructure plan includes a proposal to spend $174 billion to support the growth of the electric vehicle (EV) market, including setting up a network of 500,000 EV chargers across the nation by 2030. Currently, there are only around 42,500 charging station locations in the U.S.
Not surprisingly, ChargePoint sees itself benefiting from Biden's plans.