Why the Initial Weekly Options Call Trade on Walt Disney.....
Prelude.....
Walt Disney Co (NYSE:DIS) stands as one of the most influential businesses in the entertainment world, and the media giant is on track to celebrate its 100th year in operation next fall. Walt Disney sits at or near the top of the streaming, broadcast, film, and theme-park industries despite heavy competition.
The company recently published results for its fiscal 2022 third quarter (which ended July 2), that came in significantly ahead of the market's expectations, prompting a significant jump in its stock price.
While Disney has been putting up strong performance as headwinds from the coronavirus pandemic have eased, the stock has generally seen volatile trading lately.
This week has seen Third Point, a hedge fund run by billionaire investor Daniel Loeb, which has taken a $1 billion stake in Walt Disney Co., pushing for the company to make a slate of changes.
"Our confidence in Disney's current trajectory is such that we have, in recent weeks, repurchased a significant stake in the Company," Loeb wrote to Disney CEO Robert Chapek.
Still, Loeb laid out a list of changes he feels should be pursued in order to improve the company's fortunes.
Those changes include urging Disney to spin off ESPN and integrate streaming service Hulu directly into the Disney+ direct-to-consumer platform.
In a letter to Disney CEO Bob Chapek, Loeb said the ESPN business should be spun off, which would generate significant free cash flow for Disney.
"ESPN would have greater flexibility to pursue business initiatives that may be more difficult as part of Disney, such as sports betting," Loeb said. "We believe that most arrangements between the two companies can be replicated contractually, in the way eBay spun PayPal while continuing to utilize the product to process payments."
Loeb also proposed that Disney buy the remaining stake in Hulu from minority stakeholder Comcast Corp. ahead of the previously agreed upon 2024 timeline. This would allow for Hulu to be integrated into the Disney+ technology platform and cut costs, he said.
In response to Loeb, Disney issued a statement saying it has continued to see financial growth across its business.
"We welcome the views of all our investors," Disney said. "As our third quarter results demonstrate, The Walt Disney Co. continues to deliver strong financial results powered by world-class storytelling and our unique and highly valuable content creation and distribution ecosystem."
"Our independent and experienced board has significant expertise in branded, consumer-facing and technology businesses as well as talent-driven enterprises," Disney added. "The board has also benefited from continuous refreshment with an average tenure of four years."
Disney shares rose 2.2% to close at $124.26 in New York on Tuesday. They were down 22% this year through the Aug. 12 close.
About Walt Disney.....
The Walt Disney Company, together with its subsidiaries, operates as an entertainment company worldwide. It operates through two segments, Disney Media and Entertainment Distribution; and Disney Parks, Experiences and Products.
The company engages in the film and episodic television content production and distribution activities, as well as operates television broadcast networks under the ABC, Disney, ESPN, Freeform, FX, Fox, National Geographic, and Star brands; and studios that produces motion pictures under the Walt Disney Pictures, Twentieth Century Studios, Marvel, Lucasfilm, Pixar, and Searchlight Pictures banners.
It also offers direct-to-consumer streaming services through Disney+, Disney+ Hotstar, ESPN+, Hulu, and Star+; sale/licensing of film and television content to third-party television and subscription video-on-demand services; theatrical, home entertainment, and music distribution services; staging and licensing of live entertainment events; and post-production services by Industrial Light & Magic and Skywalker Sound.
In addition, the company operates theme parks and resorts, such as Walt Disney World Resort in Florida; Disneyland Resort in California; Disneyland Paris; Hong Kong Disneyland Resort; and Shanghai Disney Resort; Disney Cruise Line, Disney Vacation Club, National Geographic Expeditions, and Adventures by Disney as well as Aulani, a Disney resort and spa in Hawaii; licenses its intellectual property to a third party for the operations of the Tokyo Disney Resort; and provides consumer products, which include licensing of trade names, characters, visual, literary, and other IP for use on merchandise, published materials, and games.
Further, it sells branded merchandise through retail, online, and wholesale businesses; and develops and publishes books, comic books, and magazines.
The Walt Disney Company was founded in 1923 and is based in Burbank, California.
Further Catalysts for the DIS Weekly Options Trade…..
Earnings.....
Walt Disney last posted its quarterly earnings results on Wednesday, August 10th. The entertainment giant reported $1.09 earnings per share (EPS) for the quarter, topping the consensus estimate of $0.99 by $0.10. The firm had revenue of $21.50 billion for the quarter, compared to analyst estimates of $21.01 billion. Walt Disney had a net margin of 3.87% and a return on equity of 7.20%. The firm's quarterly revenue was up 26.5% compared to the same quarter last year.
During the same quarter in the previous year, the business posted $0.80 earnings per share. Equities research analysts anticipate that The Walt Disney Company will post 3.97 EPS for the current fiscal year.
The result has provided a jump in the stock, moving shares up about 13% for the past week.
Disney+ streaming service grew more than expected. Also, the company's theme park segment saw revenue soar 70% year over year in its third quarter. Overall revenue grew 26% year over year in the quarter and 28% over the last nine months.
On the company's conference call with investors, CEO Bob Chapek called the performance of its domestic theme parks "outstanding." Internationally, Disney's parks are all now open, so there could be more promising results to come for investors.
Disney added more than 14 million subscribers just for its Disney+ offering since the previous quarter. That brings Disney's total paid subscribers to over 221 million including ESPN+ and Hulu services. That's now more than Netflix reported as of June 30.
Disney still reported a loss from its streaming segment, but that wasn't unexpected. The company estimates it will turn profitable by late 2024. Investors were cheering the subscriber growth, though.
Streaming.....
Streaming has become a central pillar of Disney's growth strategy, and the House of Mouse easily surpassed expectations for Disney+ subscriber growth in Q3. The company added 14.4 million new subscribers in the quarter to close out the period with 152.1 million members, up roughly 31% year over year and blowing past average analyst expectations for 147 million subscribers at the end of the period. The business posted wins in other key segments as well.
Disney's Parks.....
With pandemic-related pressures easing, revenue for Disney's parks and experiences business nearly doubled year over year to reach $6.21 billion in the third quarter. That performance also represented roughly 12% growth from the $5.55 billion in sales that the segment posted in the pre-pandemic 2019 quarter. Not only has the parks business recovered, it seems to be back in growth mode.
Film Studio.....
While theatrical distribution revenue for the period came in far below pre-pandemic highs, sales increased roughly 343% year over year to reach $620 million. Disney's theatrical release slate has continued to be relatively light compared to pre-pandemic times, so there's still room for significant recovery as the company shifts back to releasing major movies in cinemas.
Content Budget.....
"Cash content spend across the company is now expected to total approximately $30 billion for fiscal 2022," Disney Chief Financial Officer Christine McCarthy said during the second-quarter-earnings call.
"This estimate is slightly lower than our previous guidance, largely due to timing changes. And we expect annual cash content spend over the next couple of years to be roughly in the low $30 billion range as well."
That's a lot of films, Disney+ shows, and content for Disney's other platforms. The big budget, however, comes with far fewer risks per dollar spent than its rivals face.
Yes, Disney has a big budget, but it also gets more for its money than its rivals and that should help the company gain on Netflix while building its lead over Comcast/Universal.
Disney Cruise Line.....
The Disney Cruise Line website has made a change to its covid policies that will go into effect on Sept. 2. From that date forward, only guests age 12 and older will be required to be fully vaccinated to sail.
However, the site also states that Disney Cruise Line highly recommends that guests 11 and younger be fully vaccinated before boarding.
It is worth noting that all Disney cruises still require potential guests to provide proof of a negative covid test taken two days prior to the cruise in order to board. If that test is not provided, guests will be required to test before they embark.
Disney Cruise Line is still riding the wave of being named "Best Large-ship" cruise by Travel & Leisure Magazine for 2022, and surely the company will see an influx of new passengers eager to try out its cruises because of it.
China's Economy.....
Worries over the strength of China's economy – and a surprising central bank move there – weighed on stocks in early trading Monday, though the major indexes managed to bounce back as the session wore on.
Overnight, a round of data was released that showed economic growth in the mainland slowed in July. The reports included worse-than-expected readings on retail sales and industrial output, as well as a sharp rise in the youth unemployment rate, which hit 19.9% last month – its highest level since the data was first published in 2018.
"The economic data from China overnight was very disappointing, to put it mildly," says Craig Erlam, senior market analyst at currency data provider OANDA. "Combined with the lending figures on Friday, it does not paint a good picture of domestic demand or the growth outlook. It seems the reopening boost was both uninspiring and short-lived." In reaction to the weak data, the People's Bank of China unexpectedly cut two key lending rates to help spark growth.
Analysts.....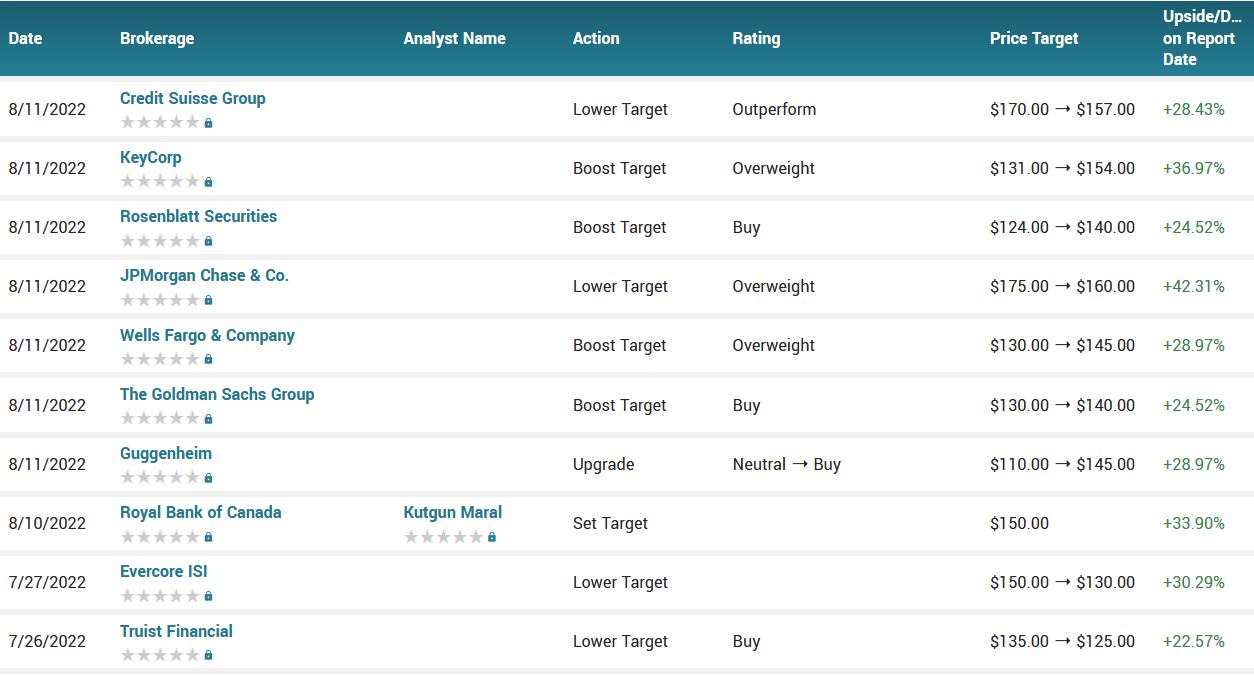 According to the issued ratings of 24 analysts in the last year, the consensus rating for Walt Disney stock is Moderate Buy based on the current 4 hold ratings and 20 buy ratings for DIS. The average twelve-month price prediction for Walt Disney is $151.48 with a high price target of $229.00 and a low price target of $120.00.
Summary.....
Disney has done an admirable job of rapidly building and attracting subscribers to Disney+ streaming, and it's clear that the service is putting significant pressure on Netflix.
Disney's content doesn't just drive its broadcast platforms; it brings customers to theme parks and other parts of the business.
The Walt Disney Company has a fifty-two week low of $90.23 and a fifty-two week high of $187.58. The company has a debt-to-equity ratio of 0.48, a current ratio of 1.02 and a quick ratio of 0.97. The firm has a market cap of $226.21 billion, a PE ratio of 70.68, and a price-to-earnings-growth ratio of 1.54 and a beta of 1.25. The stock has a fifty day simple moving average of $100.56 and a 200-day simple moving average of $119.48.
Therefore…..
For future trades, join us here at Weekly Options USA, and get the full details on the next trade.