Why the Profit on Urban Outfitters Stock?
Urban Outfitters, Inc. (NASDAQ: URBN) continues to feel the effects of inflation as it manages rising costs along the supply chain and excess inventory.
The group — which counts Urban Outfitters, the Anthropologie Group, Free People, Terrain and Bhldn, among its brands, in addition to rental subscription service Nuuly and a food and beverage business under the greater company umbrella — revealed quarterly earnings results Tuesday afternoon, improving on top-line sales across all channels, but fell short on profits thanks to continued price hikes along the supply chain. The retailer's shares fell more than 3 percent in after-hours trading as a result.
Urban Outfitters came out with quarterly earnings of $0.64 per share, missing the Consensus Estimate of $0.67 per share. This compares to earnings of $1.28 per share a year ago. These figures are adjusted for non-recurring items.
The Profits Explained.....
Entered the Urban Outfitters stock trade on Wednesday, August 24, 2022 at $0.61.
Exited the trade Thursday, August 24, 2022 for $1.10, for a potential profit of 80%.
Don't miss out on further trades – become a member today!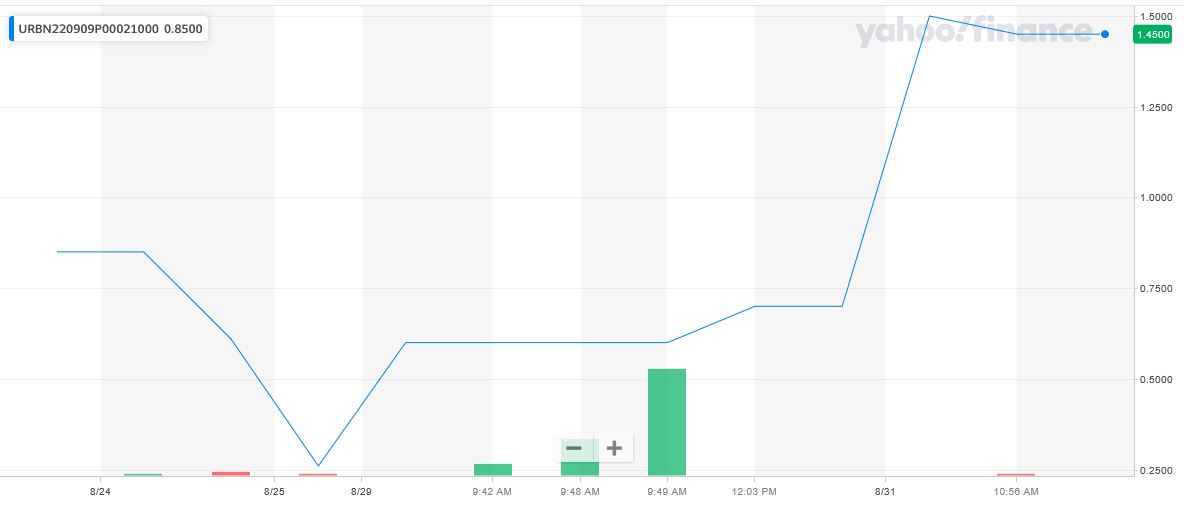 Why the Initial Weekly Options Call Trade on
Urban Outfitters Stock.....
Prelude.....
The last quarterly report represents an earnings surprise of -4.48%. A quarter ago, it was expected that this clothing and accessories retailer would post earnings of $0.42 per share when it actually produced earnings of $0.33, delivering a surprise of -21.43%.
Over the last four quarters, the company has surpassed consensus EPS estimates just once.
Shares of Urban Outfitters, which closed down 0.82 percent Tuesday to $21.84 apiece, are down 36.7 percent, year-over-year.
About Urban Outfitters.....
Urban Outfitters, Inc. engages in the retail and wholesale of general consumer products. The company operates through three segments: Retail, Wholesale, and Nully.
It operates Urban Outfitters stores, which offer women's and men's fashion apparel, activewear, intimates, footwear, accessories, home goods, electronics, and beauty products for young adults aged 18 to 28; and Anthropologie stores that provide women's casual apparel, accessories, intimates, shoes, and home furnishings, as well as gifts, decorative items, and beauty and wellness products for women aged 28 to 45.
The company also operates Bhldn stores, which offer heirloom quality wedding gowns, bridesmaid frocks, party dresses, assorted jewelry, headpieces, footwear, lingerie, and decorations; and Terrain stores that provide lifestyle home products, garden and outdoor living products, antiques, live plants, flowers, wellness products, and accessories.
In addition, it operates Free People retail stores, which offer casual women's apparel, intimates, activewear, shoes, accessories, home products, gifts, and beauty and wellness products for young women aged 25 to 30; restaurants; and women's apparel subscription rental service under the Nuuly brand name.
The company serves its customers directly through retail stores, Websites, mobile applications, catalogs and customer contact centers, franchised or third-party operated stores, and digital businesses.
As of January 31, 2022, it operated 261 Urban Outfitters, 238 Anthropologie Group, and 173 Free People stores in the United States, Canada, and Europe; and 10 restaurants, as well as two Urban Outfitters and one Anthropologie franchisee-owned stores. The company is also involved in the wholesale of young women's contemporary casual apparel, intimates, activewear, and shoes under the Free People brand; and home goods through department and specialty stores worldwide.
The company was founded in 1970 and is based in Philadelphia, Pennsylvania.
Further Catalysts for the URBN Weekly Options Trade…..
Headwinds.....
The biggest headwinds came from increased transportation costs and pricey fuel charges in the three months ending July 31. Inventory also grew during the quarter by more than $214 million, or 44.4 percent, year-over-year. By segment, retail inventory rose 42 percent, while wholesale inventory surged 64 percent, year-over-year. The company said it planned earlier receipts to "protect against the volatility of the supply chain," which also drove up costs.
In addition, SG&A expense was up for the quarter by 7.2 percent, or $19.3 million, driven by increased store payroll costs. The company said the need for higher wages to retain workers, coupled with rising store traffic at some brands, caused payroll expenses to rise.
In the end, the company logged just $59.4 million in profits for the quarter, down from more than $127 million last year.
Moving Ahead.....
Richard A. Hayne, chief executive officer of Urban Outfitters Inc., said "If inflation and market volatility continue through the back half of the year, he expects the Urban brand to comp negatively for the year."
Analysts.....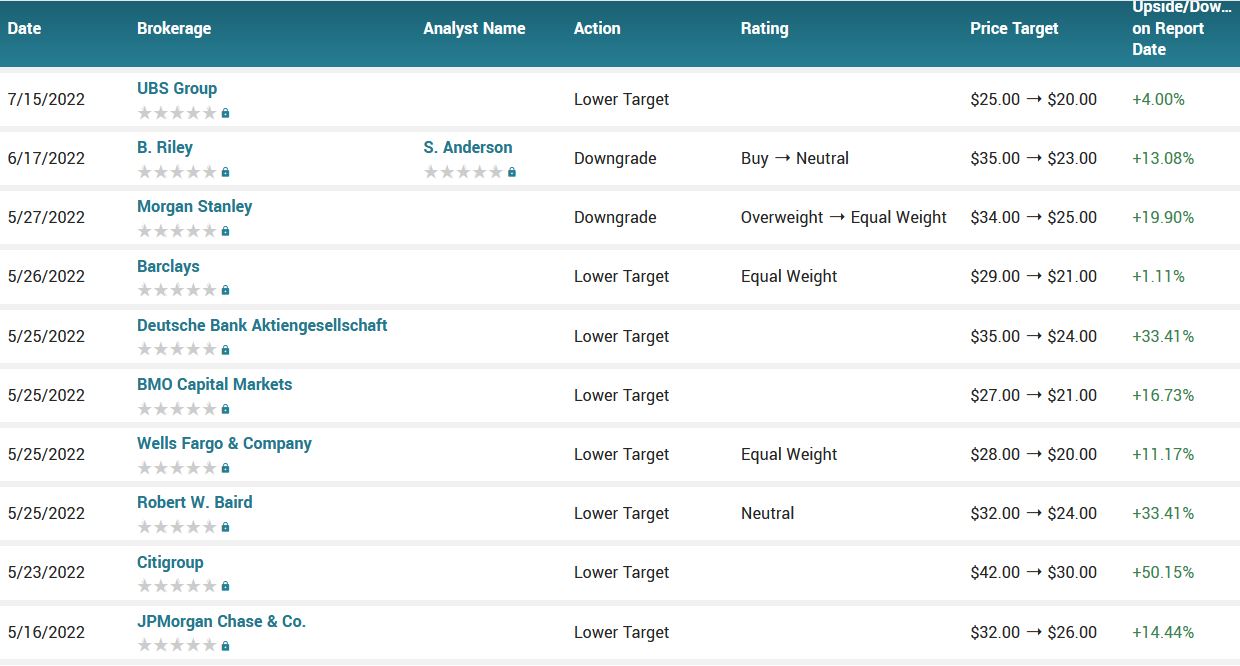 According to the issued ratings of 13 analysts in the last year, the consensus rating for Urban Outfitters stock is Hold based on the current 10 hold ratings and 3 buy ratings for URBN. The average twelve-month price prediction for Urban Outfitters is $28.00 with a high price target of $49.00 and a low price target of $20.00.
Summary.....
Shares of URBN traded up $0.58 during midday trading on Tuesday, reaching $22.60. 55,499 shares of the company were exchanged, compared to its average volume of 2,023,226. The business's fifty day moving average is $20.61 and its two-hundred day moving average is $23.29. Urban Outfitters has a one year low of $17.81 and a one year high of $41.03. The stock has a market cap of $2.09 billion, a PE ratio of 7.57, and a price-to-earnings-growth ratio of 0.58 and a beta of 1.41.
Therefore…..
For future trades, join us here at Weekly Options USA, and get the full details on the next trade.