In the past week, sector heavyweight United Airlines Holdings Inc (NASDAQ: UAL) reported earnings for second-quarter 2023. Results were aided by upbeat air travel demand and declining fuel costs. Driven by the upbeat air-travel demand scenario, UAL lifted its earnings per share view for the current year.
United Airlines reported second-quarter 2023 earnings per share of $5.03, which outpaced the Consensus Estimate of $3.99 and improved more than 100% year over year.
Operating revenues of $14,178 million beat the Consensus Estimate of $13,927.1 million. UAL's revenues increased 17.1% year over year due to upbeat air travel demand. The year-over-year increase in the top line was driven by a 20.1% rise in passenger revenues. UAL expects 2023 earnings per share in the band of $11-$12 (prior view: $10-$12).
 Why the UAL Weekly Options Trade was Executed?…..
Since the beginning of the year, airline stocks have signaled the industry is recovering from the Covid pandemic. Earnings reports suggest airlines are getting back to pre-pandemic levels, with air carriers seeing strong demand for air travel.
So far in 2023, the number of people traveling by airplane is on par with pre-pandemic levels, according to Transportation Security Administration data. As people return to the skies, airline stocks are also taking off.
United Airlines Holdings Inc (NASDAQ: UAL) has advanced 48% on the year.
Also, United Airlines hit a new 52-week high during mid-day trading last Thursday after Argus raised their price target on the stock from $58.00 to $65.00.
As well, United Airlines will report its Q2 2023 results on Wednesday, July 19.
And, UAL shares moved higher pre-market after reaching a weekend labor agreement with pilots that includes significant wage increases.
The UAL Weekly Options Trade Explained.....
** OPTION TRADE: Buy UAL AUG 11 2023 55.000 CALLS - price at last close was $1.60 - adjust accordingly.
Obviously the results will vary from trader to trader depending on entry cost and exit price that was undertaken.
Entered the UAL Weekly Options (CALL) Trade on Monday, July 17, 2023, for $1.92.
Sold the UAL Weekly Options contracts on Friday, July 21, 2023, for $4.00; a potential profit of 108%.
Don't miss out on further trades – become a member today!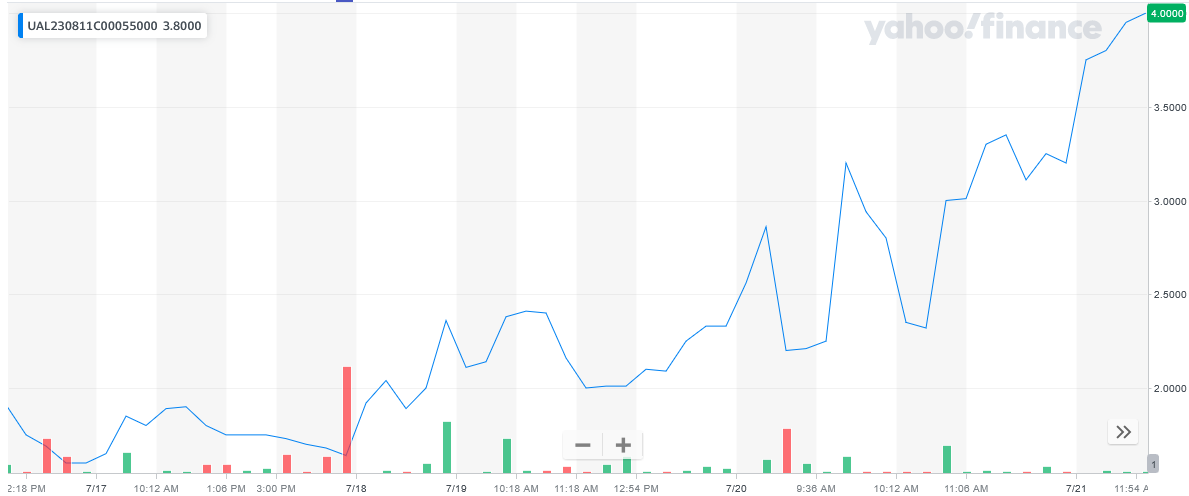 Further Catalysts for the UAL Weekly Options Trade…..
United Airlines is confirmed to report earnings on Wednesday, July 19, 2023 at approximately 4:05 PM ET. And, an earnings beat is expected!
The consensus earnings estimate is $3.99 per share on revenue of $13.93 billion, representing 15.0% year-over-year revenue growth, but the Whisper number is higher at $4.26 per share. The company's guidance was for earnings of $3.50 to $4.00 per share.
Overall earnings estimates have been revised higher since the company's last earnings release.
The company will likely continue to benefit from the robust travel demand. It should see a continued rise in total available seat miles, and the passenger load factor will likely remain strong. However, it will be a tough comparison with the prior-year quarter, which saw a record travel demand. The average ticket price has also cooled this year while overall capacity has expanded. Looking at Q1 2023, United Airlines' revenues were up 51%, led by a 62% rise in passenger revenue. While the ASMs were up 23% in Q1, passenger revenue per available seat mile surged 31% to 15.63 cents.
Looking at the bottom line, United Airlines reported a $0.63 loss per share on an adjusted basis in Q1, compared to a $4.24 loss per share in the prior-year quarter. The average fuel price for the company stood at $3.33 in Q1, and it should be lower in Q2 vs. its prior-year figure of $4.18. The average U.S. Gulf Coast Kerosene Jet fuel price per gallon fell from $3.90 (end of June last year) to $2.20 now. Now that fuel prices have cooled compared to last year, the company will likely see a positive operating margin and earnings. It has guided for $3.50 to $4.00 earnings in Q2.
Other Catalysts.....
United Airlines shares moved higher in pre-market trading after the carrier reached a weekend labor agreement with pilots that includes significant wage increases. 
The Air Line Pilots Association, which rejected a contract offer from United last year that would have given its 14,000 members a 14.5% pay increase, said the weekend agreement -- which still needs to be ratified -- will lead to pay increases of between 34.5% and 40.2% over the next four years.  
The deal follows a similar agreement between Delta Air Lines DAL and its pilots' union earlier this year and just ahead of United's second quarter earnings later this week
"We're pleased to have reached an agreement with ALPA," said CEO Scott Kirby. "The four-year agreement, once ratified, will deliver a meaningful pay raise and quality of life improvements for our pilots while putting the airline on track to achieve the incredible potential of our United Next strategy. 
Analysts.....

According to the issued ratings of 13 analysts in the last year, the consensus rating for United Airlines stock is Moderate Buy based on the current 1 sell rating, 3 hold ratings and 9 buy ratings for UAL. The average twelve-month price prediction for United Airlines is $59.20 with a high price target of $80.00 and a low price target of $35.00.
Summary.....
United Airlines has a current ratio of 0.91, a quick ratio of 0.86 and a debt-to-equity ratio of 4.13. The company has a market capitalization of $17.49 billion, a price-to-earnings ratio of 9.16 and a beta of 1.44. The company has a fifty day moving average of $52.28 and a 200-day moving average of $47.66.