Why the TSLA Weekly Options Trade was Executed?…..
Tesla Inc (NASDAQ: TSLA)'s second-quarter deliveries rose 83% from a year ago after the company cut prices several times on its four electric vehicle models and buyers took advantage of U.S. government tax credits.
The Austin, Texas, producer of EV, solar panels and batteries said Sunday that it sold a record 466,140 vehicles worldwide from April through June, nearly doubling the 254,695 it sold during the same period a year earlier. The vast majority of the sales were Tesla's popular Model 3 and Model Y versions.
But the price cuts, both for special orders and on existing inventory, raised questions from analysts who expect the cuts to reduce Tesla's profit margins when it announces second-quarter earnings on July 19.
Tesla's sales were better than Wall Street expectations. Analysts polled by data provider FactSet expected deliveries of 445,000 for the quarter.
The company produced 479,700 vehicles from April through June, about 13,000 more than it sold, indicating that inventories may be building.
The second-quarter sales bring Tesla to nearly 900,000 vehicles for the first half of this year. The company sold 422,875 vehicles from January through March.
CEO Elon Musk has predicted that sales will grow about 50% per year for the near future. To reach that number for the full year, the company would have to sell 1.97 million vehicles. Analysts expect Tesla to fall a little short, delivering 1.82 million vehicles for the year.
The stock has skyrocketed 1,000% in the past five years and 3,600% in the past 10. And in 2023, it's up 114% through the first six months of the year, largely on news that General Motors and Ford are joining the company's charging network. Shares rose 2% to 261.77 last week.
Tesla stock jumped 6% in premarket trading.
As of June 30, Tesla had a market cap of $826 billion, making it one of the most valuable companies in the world.
Despite macroheadwinds, Tesla continues its blistering pace of growth. Revenue during the first three months of 2023 increased 24% year over year to $23.3 billion. While this does represent a marked slowdown from previous quarters, it's still healthy growth nonetheless. Tesla was able to beat Wall Street expectations with that top-line figure. 
The TSLA Weekly Options Trade Explained.....
** OPTION TRADE: Buy TSLA JUL 14 2023 280.000 CALLS - price at last close was $5.10 - adjust accordingly.
However, the pre-market trading has pushed the stock price up by about 6.0%, therefore, the price and/or strike price may need adjusting accordingly.
Entered the TSLA Weekly Options contract on Monday, July 03, 2023, at 9:35, for $10.00.
SOLD the TSLA weekly options contracts on Monday, July 03, 2023, at 9:48, for $13.50; a potential profit of 35%.
NEW TRADE
Re-bought the TSLA Weekly Options (CALL) Trade on Monday, July 03, 2023, at 11:45, for $7.70.
Don't miss out on further trades – become a member today!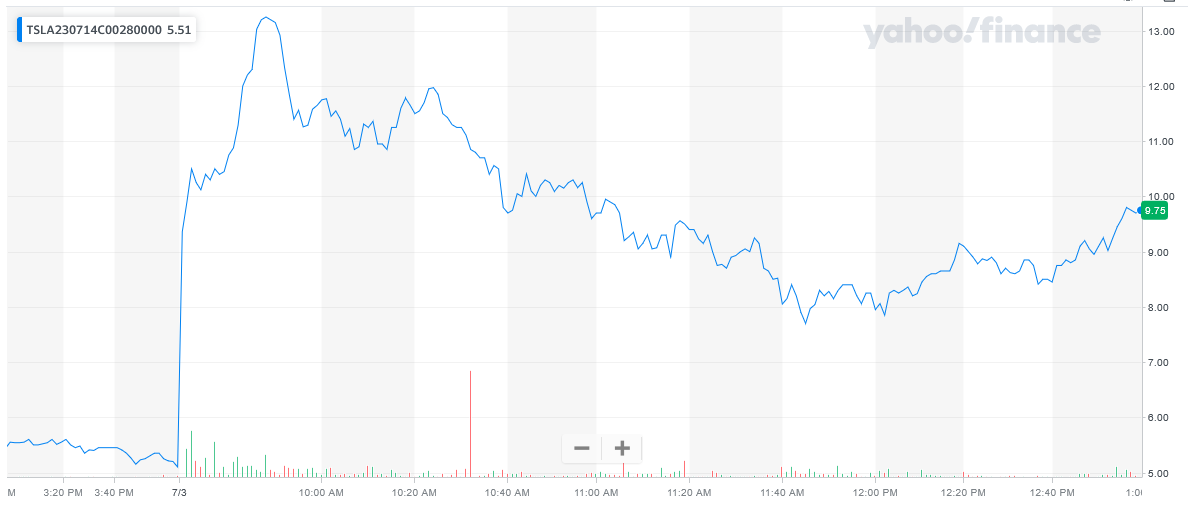 About Tesla.....
Tesla, Inc. is the world's leading manufacturer of electric vehicles. With more than 26% of the market share in 2022, the company's leadership position is all but assured for the coming decade if not longer. While specifically an EV manufacturer, however, the company is also engaged in many related and unrelated ventures that could produce significant results for shareholders.
Tesla, Inc. was first incorporated in 2003 in California as Tesla Motors, Inc but later changed its name. Founded by Martin Eberhard and Marc Terpening, Elon Musk became the company's largest shareholder in 2006 and then its CEO in 2008. Tesla went public via IPO in 2010 making it the first American automobile company to do so since Ford back in 1956. The company reached a half million in annual vehicle sales in 2020 and crossed over the 1 million mark in 2022.
Under Musk's guidance, the company was reborn and moved away from the high-end sports-car segment and into a line of cars geared toward a larger audience. The first model, the Roadster, was soon eclipsed by the Model S which is the top-selling plug-in EV car to this day. Follow-on models include the Model X SUV in 2015, the Model 3 sedan in 2017, and the Model Y crossover in 2020.
Tesla, Inc.'s name change came in 2017 shortly after then and current CEO Elon Musk agreed to acquire SolarCity and expand the company's product line. Tesla is now headquartered in Austin, Texas, and operates global manufacturing capacity through a network of Gigafactories. The company has 5 Gigafactories in key locations around the world with a 6th planned. The Gigafactories are noteworthy for multiple reasons including their size, end-to-end production capability, and non-reliance on grid-supplied power.
Tesla's automobile segment designs, develops, manufactures, leases, and sells electric vehicles in the U.S., Europe, Asia, and internationally. This segment offers a line of luxury Ev s equipped with industry-leading features. The company also generates revenue by selling excess EV credits to the business at large. The Energy Generation and Storage segment designs, manufactures, sells, and installs, solar energy generation and energy storage products for residential, commercial, and industrial customers as well as electric utilities.
One of Tesla's related products is the Tesla Powerwall and Tesla Powerpack battery packs. The Powerwall and Powerpack are stationary lithium-ion battery packs for home or industrial use. The power packs can store solar or other green-generated powers for later use or backup power in emergency situations. This segment of the business was merged with Solarcity to form the Energy Generation and Storage segment. Among the many technologies worked on by the company are self-driving/autonomous vehicles, AI, and glass along with EV motors and batteries.
Further Catalysts for the TSLA Weekly Options Trade…..
Tesla cut U.S. prices at least four times during the quarter for vehicles ordered by customers. Larger price drops emerged on store inventory toward the end of the quarter in mid-June. The company trimmed prices on some Model 3 cars by more than $3,000. Model X SUV price cuts reached over $10,000, and the company threw in three years of free charging for the S and X. The Model S sedan saw cuts of about $7,500.
Prices even were reduced on inventory of the Model Y small-SUV, Tesla's top seller, by as much as $1,570 in a late June push to move vehicles.
But sales were almost certainly boosted by a $7,500 U.S. government tax credit from the Inflation Reduction Act that was available on nearly all Tesla models during the second quarter.
Other Catalysts.....
With its position at the frontier of cutting-edge technology, Tesla naturally aligns with the investment philosophy of Cathie Wood and her firm, Ark Invest. Known for its focus on innovative companies capable of disrupting established business models, Ark Invest holds Tesla as a substantial portion of its portfolio, accounting for over 8% of its total holdings, the most of any company.
Confidence in Tesla's-long term success stems from its prowess in the electric vehicle (EV) industry as well as its embrace of artificial intelligence (AI).
In mid-June, the EV giant began offering customers who ordered a Model 3 between June 14-30 three months of unlimited free supercharging, according to the company's website.
In China, Tesla once again offered insurance subsidies on Model 3 vehicles. Costumers in China who buy and complete delivery of an inventory Model 3 rear-wheel drive vehicle before the end of June will be eligible for an insurance subsidy of about $1,120.
Tesla also got all Model 3 vehicle trims eligible for the full $7,500 tax credit under the Inflation Reduction Act (IRA) in early June. Tesla's Model 3 and Model Y vehicles all qualify for the $7,500 tax credit.
Analysts.....
Wedbush Analyst Dan Ives said price cuts in boosted sales, especially in China, but there will be a price to pay in reduced profit margins. He expects Tesla's margins to hit bottom during the next two quarters, recovering to normal levels next year.
"We're going to likely see the price cuts have weighed on margins," Morningstar analyst Seth Goldstein said.
Tesla's automotive gross profit margin (excluding regulatory credit revenue), the company's gross profit compared to revenue, was as high as 30% early last year. But as interest rates rose, Tesla began cutting prices last year, and the margin fell to 19% in the first quarter. Analysts expect 16.9% from April through June, according to FactSet.
Ives said Tesla's U.S. inventory is starting to grow. "That's going to be a bit of an overhang going into the second half of the year," he said.
Deliveries, he said, aren't the whole Tesla story. With General Motors, Ford, Rivian and Volvo announcing that they'll join Tesla's charging network and start using its plug, Tesla will get millions in charging revenue.
"I do believe investors are starting to appreciate the sum of the parts story," Ives said.
Goldstein expects that Tesla to ramp up production at new factories in Austin, Texas, and in Germany, further reducing the company's fixed costs. "I think we're likely looking at the bottom in the first half of this year, and then margins will slightly recover from there," he said.
According to the issued ratings of 36 analysts in the last year, the consensus rating for Tesla stock is Hold based on the current 5 sell ratings, 17 hold ratings and 14 buy ratings for TSLA. The average twelve-month price prediction for Tesla is $210.95 with a high price target of $333.33 and a low price target of $33.33.
Summary.....
Even after its fantastic growth over the past decade, there is a lot to get excited about for the future. It is estimated that EVs only accounted for less than 10% of overall car sales in 2022 in the U.S. So there is clearly still a huge runway ahead as the industry continues on its path to electrification. Tesla, which generated 48% of its overall revenue in its home country in Q1 2023, is in the top position to benefit from this shift, as it has leading market share domestically by a long shot. 
Tesla announced it would be releasing second quarter earnings results after the bell on July 19th.
Tesla has a market capitalization of $829.68 billion, a P/E ratio of 76.99, a PEG ratio of 3.59 and a beta of 2.00. The company has a current ratio of 1.57, a quick ratio of 1.04 and a debt-to-equity ratio of 0.03. The firm's 50 day moving average is $205.81 and its 200 day moving average is $182.06. Tesla, Inc. has a 12 month low of $101.81 and a 12 month high of $314.67.