The Actual Recommended Taiwan Semiconductor Weekly Options Trade.....
** OPTION TRADE: Buy TSM DEC 10 2021 120.000 CALLS at approximately $1.90.
 (Actually bought for $1.69)
Taiwan Semiconductor Weekly Options Trade Call Success Explained.....
Monday, November 29, 2021
Wednesday, December 01, 2021
Total Potential Profit is 177%
It is very likely that a new Taiwan Semiconductor Weekly Options trade, if recommended, will be also successful.
Join us and see what we are proposing!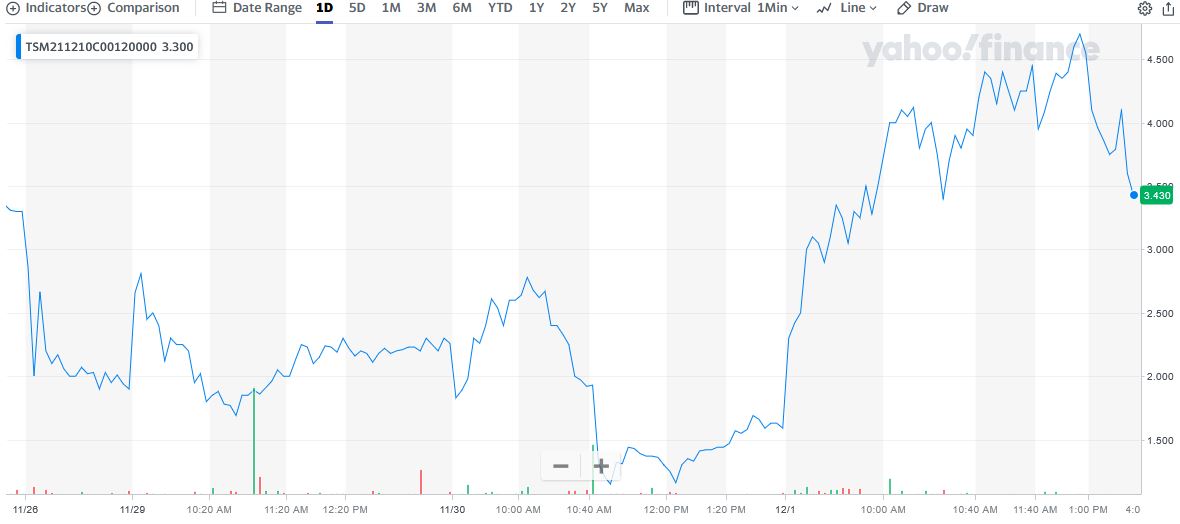 The Original Major Catalysts for the Taiwan Semiconductor Weekly Options Trade…..
Prelude.....
A global shortage in semiconductor chips has been wreaking havoc on the tech sector, automotive industry, consumer electronics industry, and everything in between thanks to massive supply chain snarl ups. The global Covid-induced supply crunch for chips has badly hurt production across a number of industries, ranging from cars to consumer appliances, smartphones and personal computers.
The trade war between the United States and China has only served to make a bad situation worse.
But whereas the global chip shortage has been a nightmare for businesses that make cars and home appliances as well as people who buy them, semiconductor stock investors are hardly complaining as they continue to see outsized gains on their investments.
Taiwan Semiconductor Mfg. Co. Ltd. (ADR)(NYSE: TSM), the world's largest 3rd party chip manufacturer, counts tech heavyweights such as Apple Inc. (NASDAQ:AAPL), Nvidia and Qualcomm as its clients. In fact, TSMC is so dominant that it accounted for 54% of total foundry revenue globally last year as per TrendForce data.
About TSM…..
Taiwan Semiconductor Manufacturing's has obtained lead in advanced semiconductor manufacturing over the past few years, and that lead only seems to be getting bigger. Last month, rival Intel, one of the last chipmakers that manufactures its own chips, admitted that it had run into a design flaw for its 7 nm manufacturing process, and would be falling some 12 months behind schedule. Intel had already ceded the leading-edge node lead to TSM in 2018, and that lead only seems to be getting bigger.
Advanced chip manufacturing is hard, but TSM's years of experience making a wide variety of semiconductors has given it a knowledge and process lead that other manufacturers are struggling to match. In fact, rival GlobalFoundries threw in the towel on competing with Taiwan Semi on the leading edge back in 2018. Intel itself even hinted that it may outsource some manufacturing going forward, likely to TSM. The U.S. government also recently subsidized TSM to build a new fabrication plant in Arizona on national security grounds.
It seems TSM has built itself a formidable moat in chip manufacturing.
The Major Catalysts for the Taiwan Semiconductor Weekly Options Trade…..
1. Japanese Approved Funding.....
The Japanese government approved 774 billion yen ($6.8 billion) in funding for domestic semiconductor investment, backing up Prime Minister Fumio Kishida's commitment to make the nation a major global provider of essential computer chips.
Tokyo will spend part of the 617 billion yen package on a planned semiconductor plant by Taiwan Semiconductor Manufacturing Co. and Sony Group Corp. in Kumamoto prefecture. While the Ministry of Economy, Trade and Industry haven't elaborated on the exact amount that will be used for the project, it has said it would pay "up to half" of the total investment needed for a project in this category. For legacy chip production, aid for up to one-third of the total capital expenditure will be provided, the ministry said.
2. Co-operation With Eastern European Nations.....
Taiwan is looking at cooperating with three Eastern European countries on semiconductors, a minister said on Thursday, a move likely to find favour in Brussels which has been courting Taiwanese semiconductor firms to manufacture in the bloc.
Kung Ming-hsin, who heads Taiwan's National Development Council, told reporters following his visit to Slovakia, the Czech Republic and Lithuania last month that all three countries had mentioned they wanted to work on chips with the island.
3. Wedgewood Partners Comments…..
TSMC manufactures some of the most advanced chips for fabless tech companies that do not own their own foundries. Last month, Wedgewood Partners, an investment management firm, had this to say about TSMC:
"Taiwan Semiconductor Manufacturing detracted from performance as the market attempted to price in a downturn in the semiconductor cycle. Although there are some signs that memory markets might be somewhat oversupplied, we have yet to see any tangible signs that logic semiconductors – particularly at the leading-nodes where the Company dominates – are in anything but short supply. In addition, and as a result of this strong demand, the Company should be able to pass through price increases to help fund very attractive returns on the rare leading-edge capacity that serves this demand."
4. Price Increases…..
TSMC is reportedly raising prices by 10% for advanced chips, while less advanced chips–used commonly by automakers--would cost 20% more.
5. Analysts Thoughts.....

Investment bank JPMorgan is recommending that investors pursue trends in the semiconductor space that are more structural than cyclical. Structural trends tend to be longer-term, permanent changes in an industry whereas cyclical trends are influenced by the business cycle and tend to be short-lived.

JPM recommends investing in very high-end computing segments, noting there's ongoing disruption in high-end computing globally, which used to be very monolithic but is now being fragmented as more companies enter the space.

JPMorgan also recommends investing in semiconductor companies that focus on legacy, long-tail technologies, such as TSM. This company manufactures a variety of less advanced chips in areas like power management, microcontrollers, sensors and other consumer-related segments.