Prelude…..
On Monday, July 12, 2021, a Taiwan Semiconductor Weekly Options trade was recommended to our members based on several catalysts.
READ Details of Original Taiwan Semiconductor Weekly Options Recommendation Further Below.....
The Earnings Report Which Affected The Taiwan Semiconductor Weekly Options Trade
Taiwan Semiconductor Manufacturing, on Thursday, met earnings expectations for the second quarter. It also guided higher for sales in the third quarter. But TSM stock dropped on profit margin concerns.
Taiwan Semi earned 93 cents per U.S. share in the June quarter, up 18% year over year and in line with analyst estimates. The company's sales rose 28% to $13.29 billion in the second quarter.
"Our second-quarter business was mainly driven by continued strength in HPC (high-performance computing) and automotive-related demand," Chief Financial Officer Wendell Huang said in a news release.
He added, "Moving into third quarter 2021, we expect our business to be supported by strong demand for our industry-leading 5-nanometer and 7-nanometer technologies, driven by all four growth platforms, which are smartphone, HPC, IoT (Internet of Things) and automotive-related applications."
In local currency, Taiwan Semi's sales increased 19.8% year over year while earnings rose 11.2%.
For the third quarter, Taiwan Semi forecast revenue of $14.6 billion to $14.9 billion. The midpoint of $14.75 billion topped Wall Street's consensus estimate of $14.57 billion. Its sales in the year-earlier period were $12.4 billion.
The chipmaker now expects sales to grow more than 20% this year, which is up from the 20% target announced earlier in the year. Looking beyond 2021, Taiwan Semi raised its revenue target for 2020-2025 to a compound annual growth rate of about 15% from the previous 10% to 15%.
The Recommended Taiwan Semiconductor Weekly Options Trade.....
** Taiwan Semiconductor Weekly Options Trade: Buy TSM JUL 23 2021 121.000 CALLS at approximately $2.55.
 (Actually bought for $2.11)

Taiwan Semiconductor Weekly Options Trade Call Success Explained.....
On Monday, July 12, 2021, "Weekly Options Members," entered the Taiwan Semiconductor Weekly Options trade mentioned above for $2.11.
On Tuesday, July 13, the Taiwan Semiconductor Weekly Options trade had reached a high of $5.50 – up 160%.
After the report Thursday morning, before the market opened, the Taiwan Semiconductor Weekly Options trade declined dramatically – displaying a sound reason to exit stocks before earnings where profit is high – particularly in this unreliable market climate.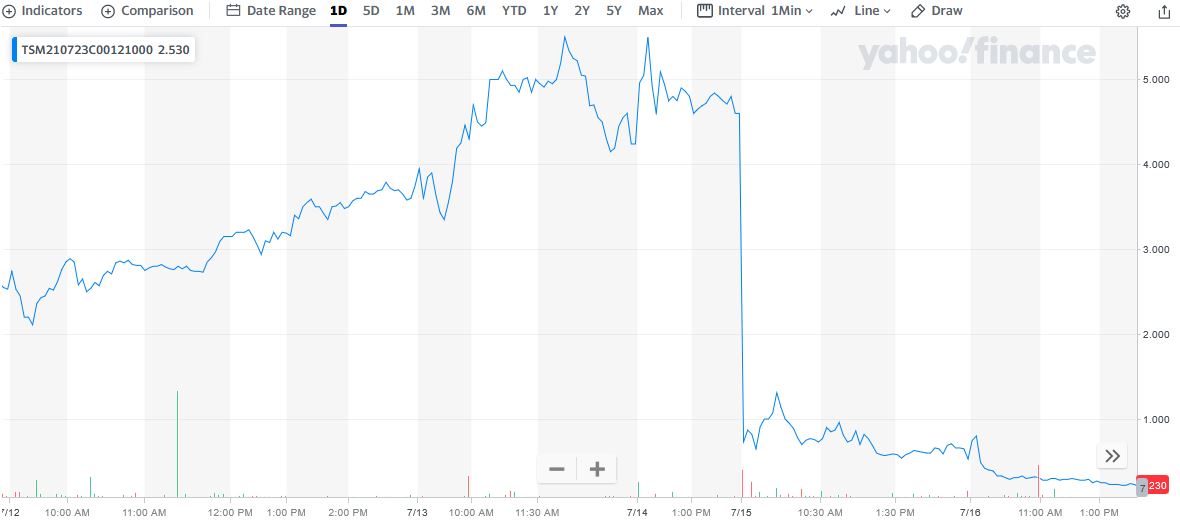 The biggest stock market gains are usually from growth stocks, which plow all of their earnings back into big market opportunities.
One fascinating sector today is the semiconductor manufacturing sector, companies that can be thought of as the "picks and shovels" to the "gold rush" that is the competition for leading-edge chips.
Semiconductors are now at the heart of many electronic devices that we use regularly, be it personal computers ("PCs"), laptops, smartphones, and the like. The automotive industry is also a major user of semiconductors as chips are an important component of vehicles.
Although semiconductors, and therefore their manufacturers, are thought of as cyclical companies, over the long term, their clear growth trend is up and to the right.
Despite the strong past performance, chip-reliant technologies such as artificial intelligence, 5G, and the Internet of Things aren't slowing down anytime soon. Yet semiconductor manufacturing is becoming more difficult and capital intensive, and the semi equipment sector has consolidated and matured.
That has led to fat profit margins for leading semi equipment companies and foundries – and Taiwan Semiconductor Mfg. Co. Ltd. (ADR)(NYSE: TSM), the biggest semiconductor manufacturing company in the world, is certainly at the forefront.
Taiwan Semi isn't an equipment manufacturer, but it is the world's leading pure-play foundry, where other companies turn to get their leading chips made. Thanks to its foundry-only business model, Taiwan Semi has recruited many of the top tech companies in the world to use TSM as their main foundry. Garnering expertise across many types of chips, from Apple's M1 chip to Qualcomm's cellular modems to NVIDIA GPUs, Taiwan Semi has cemented itself as not only the largest but also the most capable foundry in the world.
Taiwan first surpassed Intel in the race to a 7nm chip several years ago, and has only cemented and extended that lead. After its 5nm chips first made it into the first 5G iPhone last year, Apple is already sampling Taiwan Semi's 3nm process, which should be ready some time in 2022, according to the Nikkei Asia.
About TSM…..
Taiwan Semiconductor Manufacturing's has obtained lead in advanced semiconductor manufacturing over the past few years, and that lead only seems to be getting bigger. Last month, rival Intel, one of the last chipmakers that manufactures its own chips, admitted that it had run into a design flaw for its 7 nm manufacturing process, and would be falling some 12 months behind schedule. Intel had already ceded the leading-edge node lead to TSM in 2018, and that lead only seems to be getting bigger.
Advanced chip manufacturing is hard, but TSM's years of experience making a wide variety of semiconductors has given it a knowledge and process lead that other manufacturers are struggling to match. In fact, rival GlobalFoundries threw in the towel on competing with Taiwan Semi on the leading edge back in 2018. Intel itself even hinted that it may outsource some manufacturing going forward, likely to TSM. The U.S. government also recently subsidized TSM to build a new fabrication plant in Arizona on national security grounds.
It seems TSM has built itself a formidable moat in chip manufacturing.
1. Earnings to Back the Taiwan Semiconductor Weekly Options Trade…..
Taiwan Semiconductor Manufacturing is confirmed to report earnings at approximately 6:00 AM ET on Thursday, July 15, 2021. The consensus earnings estimate is $0.89 per share on revenue of $12.96 billion; but the Whisper number is higher at $0.96 per share.
Consensus estimates are for year-over-year earnings growth of 14.10% with revenue increasing by 24.80%.
2. Better Than Expected June Sales.....
TSMC, on Friday, announced better-than-expected June sales. The news bodes well for the chipmaker's second-quarter earnings report next week. TSM stock rose on Friday.
TSMC said its sales last month rose 22.8% year over year in local currency to the equivalent of $5.35 billion. And its sales jumped 32.1% from May. TSMC reports financial results in New Taiwan dollars.
Year-to-date through June, TSMC's sales are up 18.2% from the same period last year.
"The strong finish to the quarter fits with our view that: 1) foundry capacity remains tight, and 2) TSMC is likely realizing the initial benefits from shipments of silicon for Apple's next generation of iPhones," Wedbush Securities analyst Matt Bryson said in a note to clients. He rates TSM stock as outperform.
"TSMC's better pricing power on the back of the capacity tightness should largely offset the margin pressure it is seeing from the massive capex spending. Meanwhile, TSMC's technology/productivity breakthrough in EUV should enlarge its technology gap with peers and insure a better cost structure for leading edge technology nodes," Citi analysts Roland Shu and Grant Chi wrote in a recent note.
3. Dominance…..
Even Intel is now sampling TSM's 3nm process, even though Intel is competing with TSM in process technology and has ambitions to be a foundry for third parties itself. Intel just announced yet another delay to its 10nm Sapphire Rapids server chip, which will now be ready in early 2022 rather than 2021. Intel's 10nm process is roughly equivalent to Taiwan Semi's 7nm, but since TSM is already manufacturing 5nm and will soon have 3nm in production, Intel is falling further behind. So even Intel will probably be using TSM's services as it looks to claw back lost market share against Advanced Micro Devices, a TSM client, while it aims to catch up with its own capabilities.
While others like Intel are spending big in an attempt to catch-up, TSM recently announced its own $100 billion three-year spending plan to cement its lead and meet soaring demand for leading-edge chips. For perspective, TSM spent $17.2 billion on capital expenditures last year, so it's essentially doubling that figure over the next three years. With that much spending, investors can be pretty confident growth will follow. Meanwhile, TSM's 1.5% dividend should follow on that long-term growth path along with revenue and profits.
4. COVID-19 vaccine deal.....
Taiwan's Foxconn and TSMC said on Monday they had reached deals to buy 10 million doses of Germany's BioNTech SE's COVID-19 vaccine, putting the total cost of the highly politicised deal at around $350 million.
Taiwan's government has tried for months to buy the vaccine directly from BioNTech and has blamed China, which claims the self-ruled island as its own territory, for nixing an agreement the two sides were due to sign earlier this year. China denies the accusations.
Last month, facing public pressure about the slow pace of Taiwan's inoculation programme, the government agreed to allow Foxconn's founder Terry Gou, as well as Taiwan Semiconductor Manufacturing Co (TSMC), to negotiate on its behalf for the vaccines.
BioNTech's Chinese sales agent Shanghai Fosun Pharmaceutical Group Co Ltd said on Sunday that an agreement had been signed, but did not give details of a delivery timeframe.
Gou wrote on his Facebook page that he was "gratified" the deal had been completed, which will see Foxconn and TSMC each buy 5 million doses, to be donated to the government for distribution.
5. Benefiting From Apple.....
"The strong results in the month of June give us additional confidence in our projection for a significant sequential uptick in sales in Q3 and through the second half of 2021 as TSMC should continue to benefit from Apple's ramp of iPhone 13 production as well as typical seasonal strength," Bryson said. Apple is on track to announce its iPhone 13 handsets in September.
Meanwhile, Apple stock hit an all-time high of 145.65 in intraday trading on Friday. It ended the regular session Friday up 1.3% to 145.11.
TSMC should continue to benefit from strong pricing and margins because of tight foundry capacity, Wedbush Securities analyst Matt Bryson said.
6. Vehicle Demand…..
In recent times there has been a shortage of semiconductors. When the coronavirus broke out last year, people were compelled to stay at home and work remotely. This led to a surge in demand for devices like laptops and PCs. Demand for gaming also skyrocketed as people turned to at-home forms of entertainment and bought gaming consoles as well as gaming hardware for their PCs. This, in turn, shifted the supply of semiconductors to consumer electronics as automotive factories were shut when COVID-19 intensified. But when the restrictions began to gradually ease, demand for vehicles made a solid comeback as people preferred to buy their vehicles and not travel via public transport to avoid coming in contact with the virus.
As semiconductor supply had already shifted, automotive manufacturers started facing a shortage of chips. Even though the shortage mostly affected the automotive segment, other industries like consumer electronics began to face the crisis too as demand for such items remained high.
Glenn O'Donnell, a vice president research director at Forrester stated that factors like growth in cloud computing and cryptocurrency mining will also bolster the demand for chips, cited the article.
But this ongoing supply-related concern should bode well for chip manufacturers and also for companies that manufacture equipment for chip making. Semiconductor sales have remained robust in 2021 and per a report by the Semiconductor Industry Association ("SIA"), global semiconductor industry sales rose 26.2% in May, on a year-over-year basis, and reached $43.6 billion. The report further stated that semiconductor sales increased 4.1% in May compared to April.
The International Data Corporation ("IDC") also predicted that the semiconductor market is set to continue its solid growth this year. Per a report published by the IDC on May 6, the worldwide semiconductor market is estimated to grow 12.5% this year and reach $522 billion, following a rise of 10.8% in 2020.
7. Analysts' Opinions.....
Taiwan Semiconductor Manufacturing was upgraded by equities research analysts at Susquehanna from a "negative" rating to a "neutral" rating in a report issued on Wednesday. The brokerage presently has a $105.00 price target on the semiconductor company's stock, up from their previous price target of $85.00. Susquehanna's price objective points to a potential downside of 11.33% from the stock's current price.
TSM has also been the subject of a number of research reports.....
Argus began coverage on shares of Taiwan Semiconductor Manufacturing in a research note on Tuesday, June 22nd. They set a "buy" rating and a $150.00 price target on the stock.

Atlantic Securities began coverage on shares of Taiwan Semiconductor Manufacturing in a research report on Monday, April 19th. They issued a "neutral" rating on the stock.
10 Wall Street analysts have issued ratings and price targets for Taiwan Semiconductor Manufacturing in the last 12 months. The range between the high target price and low target price is between $177 and $105 with the average target price sitting at $140.62. There are currently 4 hold ratings and 6 buy ratings for the stock, resulting in a consensus rating of "Buy."