Influencing Factors for Taiwan Semiconductor Earnings
TSMC Sales.....
Taiwan Semiconductor Manufacturing Co. reported a sixth straight quarter of record sales, buoyed by unrelenting demand by Apple Inc. and other customers for chips produced by the world's largest foundry.
Revenue for the December quarter jumped 21% to NT$438.2 billion ($15.8 billion), according to monthly figures released by TSMC Monday. That compared with the NT$436.2 billion consensus estimate and the company's own forecast of sales of as much as $15.7 billion.
Taiwan Semiconductor earnings report for 4Q may show revenue above $15.6 billion, a new record for quarterly sales and at high end of its $15.4-$15.7 billion guidance. This is supported by a larger sales mix of its most advanced 5-nanometer (nm) node process amid strong demand for smartphone and high performance computer chips.
Robust sales also point to full capacity utilization and better gross margin of about 52%, and could push 4Q operating profit up as much as 14.6% to NT$180 billion.
Previous Taiwan Semiconductor  Earnings Report.....

Taiwan Semiconductor earnings report was last issued on Thursday, October 14th.

The semiconductor company earnings reported showed $1.08 earnings per share (EPS) for the quarter, beating the consensus estimate of $1.05 by $0.03. The firm had revenue of $14.88 billion for the quarter, compared to analyst estimates of $14.89 billion. Taiwan Semiconductor Manufacturing had a return on equity of 29.08% and a net margin of 37.93%.

On average, sell-side analysts forecast that the next Taiwan Semiconductor earnings report will post 4.16 earnings per share for the current year.

Great Moat.....
TSM has one of the largest moats in the market right now. TSMC is the largest chip manufacturer in the world. Basically, every electronic thing that you touch, whether you're talking about changing your thermostat up or down, you're talking about your iPhone, your laptop that you're using, everything has been touched by TSM in some form or way because there are so many semiconductor chips and everything that we're using every single day that's electronic.
Some of their largest customers include NVIDIA (NASDAQ: NVDA), AMD (NASDAQ: AMD), and Apple (NASDAQ: AAPL), and they have over 500 employees and 10,000 different chips that they're making.
They have a lot of variety, and they also have a ton of pricing power because they are pretty much the only one that has the infrastructure to build out a lot of these chips.
Other Factors Affecting The Taiwan Semiconductor Earnings.....
Taiwan is full of a lot of engineers. TSMC has amazing engineers, and a lot of them have been working for years on end.

TSM also have 56 percent market share in global chip manufacturing. They have a ton of pricing power, and nobody's going away from TSM. They're not leaving because their customers love them.

Oversupply should not be a concern, particularly for a leading semiconductor foundry like TSMC. From a geopolitical perspective, the situation appears more contentious, as Taiwan is stuck in a tug of war between China and the US.

Despite China's increasing military presence and confidence, an invasion is unlikely in the near future. One reason is the difficulty of such a military advance - Taiwan's "highly defensible" terrain includes a lack of decent landing spots for ships given the rocky, mountainous east coast and just 14 potential beach landings. Taiwan's entire national defense strategy is specifically targeted at defeating such an invasion.

But an even greater deterrence is the prospect of the United States intervening in response to a move that would shake up a global supply chain. Both the US and China are heavily dependent on TSMC for chip manufacturing, and an acute move from either country is likely to draw serious political consequences.

TSM Major Customers…..
Here are TSMC's top 10 revenue contributors with Apple shown as their number one customer by a wide margin which will influence the outcome for the Taiwan Semiconductor earnings report.
The graph below reveals that Apple is the main source of revenue for the semiconductor manufacturing company, accounting for over 25% of the revenue.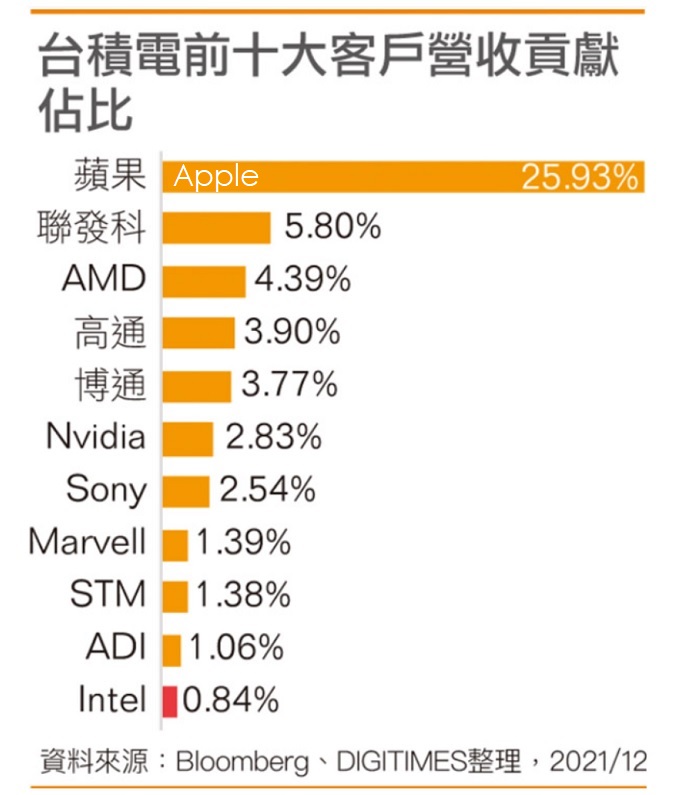 Further Growth.....

TSM has plans to increase its manufacturing capacity. Taiwan Semiconductor is planning to spend $10 billion in the next three years to make this happen. And that's on top of the $28 billion the company has spent this year to meet the rising demand. This included building a plant in Arizona.
Some investors may be concerned that such a dramatic increase in capital expenditures may impact profitability, particularly as the company has just closed what is typically its strongest quarter in terms of revenue. But with the chip shortage likely to last through 2021 at least, it makes sense to continue to bet on the quality that comes from a leader in the sector. 
Analyst Thoughts.....