Monday, November 29, 2021
by Ian Harvey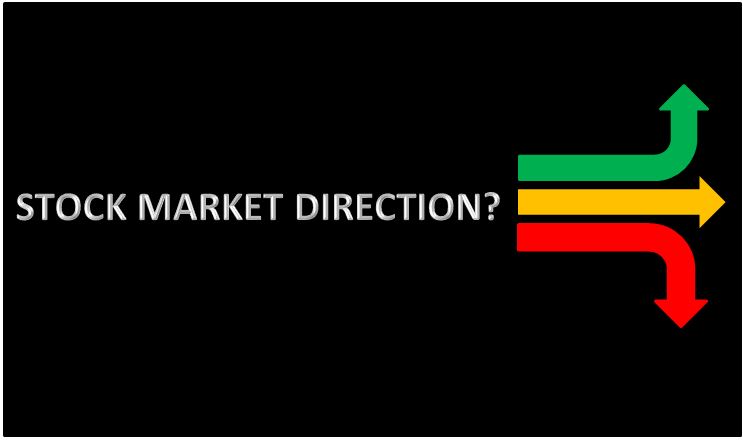 Last week saw the stock market direction with undertones of bearishness with the Dow Jones Average falling 2%, the S&P 500 Index losing 2.2% and the Nasdaq Composite down 3.5% for the week.
On Friday alone, the Dow Jones Average fell 2.5%, the S&P 500 Index last 2.3% and the Nasdaq Composite was down 2.2% on the day.
The Friday selloff was sparked by a new, potentially more vaccine-resistant Covid-19 variant which was found in South Africa. This created a massive selloff -- especially in the travel sector -- as investors flocked to safety.
This was the worst day for the Dow in 2021, and has now suffered its third-straight weekly loss.
The stock market direction for the future, after the market selloff and the commensurate flight to assets that investors hope will perform better amid fresh mobility restrictions, helped to overshadow the usual focus on retail, on a day associated with heavy consumer spending ahead of the Christmas holiday.
Friday's downturn also offered a crystal clear reminder that the path of the market and economy hinges on the course of COVID.
What isn't clear is whether the latest coronavirus development will do lasting harm to the complexion of the market. Omicron comes at a fragile time for optimistic investors, with bears pointing to.....
lofty stock market valuations,
inflation worries and
global economic growth concerns.....
.....as reasons to expect a drawdown in equities that have managed to avoid a decline from a peak of more than 5%.
In theory, Friday's post-Thanksgiving environment is traditionally lightly traded and therefore more susceptible to outsize price swings.
This was the worst day for the Dow in 2021, and has now suffered its third-straight weekly loss offering a sign as to the future of the stock market direction.
Meanwhile, the stock market's "fear gauge," or Cboe Market Volatility Index (VIX), marked its highest close since Feb. 25 and best week since February 2020.
Some analysts say that there are legitimate reasons for unease as to the stock market direction.....
"The fact that this variant seems to be spreading much faster than previous versions (including the Delta variant) bears very careful monitoring," wrote Michael Strobaek, global chief investment officer at Credit Suisse, in a research note.

Analyst at Jefferies led by analyst Sean Darby note that risk-appetite was already edging lower before Black Friday and the selloff may have been a "tipping point" in favor of caution and risk moderation.

Analysts at Citigroup also said that "we would buy into any dip," noting that its bearish checklist doesn't indicate significant red flags. "Valuations look stretched, but other factors (credit spreads, fund flows) are not yet especially extended," Citi writes.

Greg Bassuk, CEO at AXS Investments in Port Chester, NY says that the end-of-week selling may have resulted in a Black Friday sale for stock-market investors.
So, does this mean the end of the longest, in stock market history, "BULL" market that has basically been running since 2009?
After plunging as a result of the 2008 financial crisis, the S&P 500 bottomed out in March 2009 and then proceeded to climb until early 2020 when the COVID-19 pandemic sent stocks crashing.
Trading on Monday will help determine whether bullishness persists or if a bearish phase is crystallizing.
So, what do you think is the stock market direction for the future?
(All appropriate comments will be added to this article)
understanding stock market direction
Usually, a bull market marks a 20% rise in stock prices, which follows a previous 20% decline and is followed by another 20% decline.
There are several things that tend to accompany a bull market……
they generally happen during periods when the economy is strong or strengthening,

are often accompanied by gross domestic product (GDP) growth and falling unemployment,

companies' profits will be on the rise,

there is rising investor confidence,

and

there is a tendency to see higher levels of initial public offering, or IPO, activity in bull markets.
Obviously, the opposite of a "bull market" is a "BEAR MARKET."
A bear market is typically defined as stocks falling by 20% or more from a recent peak. Bear markets are often accompanied by…..
recessions,

falling investor confidence, and

declines in corporate profits.
So, what is the stock market direction for the coming week?