Prelude…..
On Thursday, July 29, 2021, a Square Weekly Options trade was recommended to our members based on several catalysts.
READ Details of the Original Square SQ Weekly Options Recommendation Further Below.....
Also, Here Are The New Catalysts Propelling The Stock Growth.....
1. Earnings Report.....
Square unveiled second quarter earnings of 40 cents per share, up from a loss of 3 cents per share over the same period last year and firmly ahead of the Street consensus forecast of 30 cents.
Square SQ recorded revenue of $4.68 billion in the second quarter, up from $1.92 billion a year prior, while analysts were expecting $5.03 billion. The company saw total gross profit nearly double to $1.14 billion from $596.8 million. Roughly half of the quarter's total came from the Cash App, which brought in $546 million in gross profit.
The company saw $2.72 billion in bitcoin revenue, but $2.67 billion in bitcoin costs during the quarter.
Square has seen strong growth from midmarket sellers in its Seller ecosystem. Midmarket sellers generate more than $500,000 in annualized gross payment volume. Investors could find this bullish, as midmarket sellers use more products and are therefore a bigger revenue generator for Square.
In the long term, Square is focusing on making Cash App a culturally relevant brand. It hopes to achieve this goal through partnerships with celebrities and organizations. Cash App recently partnered with Miley Cyrus and Megan Thee Stallion to increase awareness of stock investing. Square is focused on expanding its brand internationally for the Seller ecosystem, with Ireland being its most significant push this quarter.
Square SQ noted that it expects "strong gross profit growth" for the month of July relative to a year ago, and it also expects seller gross payment volume to be up more than 45% on a year-over-year basis. For the third quarter, Square anticipates adjusted product development, sales and marketing, and general and administrative expenses to be up by about $150 million compared with what was seen in the second quarter of 2021.
"Square and Afterpay have a shared purpose," Square CEO Jack Dorsey said in a press release. "We built our business to make the financial system more fair, accessible, and inclusive, and Afterpay has built a trusted brand aligned with those principles."
2. Afterpay Takeover.....
Square SQ shares surged higher Monday after the Twitter backed payments group unveiled a $29 billion takeover of Australia's Afterpay.
Square said Sunday it will pay A$126.21 each, or around $92.65 per share, for Afterpay in an all-stock deal that values the 'buy now; pay later' payments group at around $29 billion. The deal is expected to closed in early 2022, both groups said, and will start adding to Square' bottom line in the first year.   
"This deal makes a lot of sense for Square, especially insofar as it enabled the company to expand significantly, both in terms of product line and globally by using its stock as an acquisition currency," BTIG Managing Director Mark Palmer.
Bank of America analysts previously noted that the BNPL model is "attacking and disrupting the traditional credit card business." And while the amounts spent are comparatively smaller, "the sector is rapidly gaining share."
In a new note, BofA analysts called the deal a "bold acquisition," adding: "We believe the Street will react positively to the deal from a strategic perspective, in that Afterpay fits snugly into SQ's two-sided ecosystem of merchants and consumers."
"In terms of the strategic rational," Wedbush Analyst Moshe Katri noted, "this is a transaction that significantly expands the number of active users on the consumer side of the business."
Afterpay has more than 11 million customers who operate with 64,000 merchants. 
The company is one of the leaders in an industry that has seen tremendous demand amid the pandemic.
The Recommended Square SQ Weekly Options Trade.....
** OPTION TRADE: Buy SQ AUG 06 2021 265.000 CALLS at approximately $7.00.
 (Actually bought for $6.00 or $4.80 depending on the time the trade was executed)
 Square SQ Weekly Options Trade Call Success Explained.....
On Thursday, July 29, 2021, "Weekly Options Members," entered the Square SQ Weekly Options trade mentioned above for $6.00 or $4.80 depending on the time the trade was executed, shortly after the market opened.
On Monday, August 02, 2021, the price of the option hit $17.78 – up 270% or 196% according to the entry prices.
It is very likely that a new Square SQ Weekly Options trade, moving forward, as the catalysts listed above will probably continue to push Square SQ stock higher.
Join us and see what we are proposing!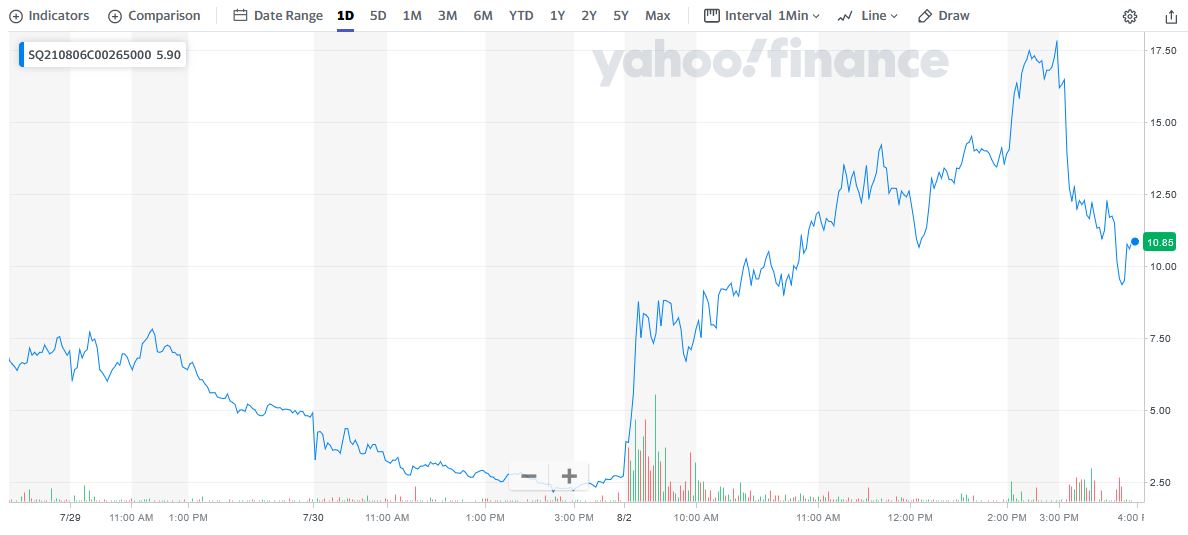 1. Earnings on Thursday, August 05, 2021.....
Square, Inc. is expected to report earnings on Thursday, August 05, 2021 after the market closes. The report will be for the fiscal Quarter ending Jun 2021. Based on 10 analysts' forecasts, the consensus EPS forecast for the quarter is $0.05. The reported EPS for the same quarter last year was $-0.02.
In Q1, Square SQ reported total net revenue of $5.06 billion versus an estimated $3.36 billion and earnings per share of $0.41 versus an estimated $0.16. The current estimate for this quarter is for earnings per share of $0.30. I expect Square to beat earnings across the board due to the economy's reopening, which will help the seller side of the ecosystem.
Gross profit of $964 million was up 79% year over year. The company reported adjusted EBITDA of $236 million, seller gross profit of $468 million, up 32% year over year, and Cash App gross profit of $495 million, up 171%. 
2. Cash App.....
The company's Cash App continues to deliver outstanding growth. Gross profit from Cash App soared 171% year over year in the first quarter to $495 million. Square has expanded its Cash App ecosystem to include the popular Cash Card credit card, support for buying and selling Bitcoin, and allowing users to send Bitcoin to their friends and family.
3. CREW.....
Last week, the company announced it has acquired Crew, a frontline employee platform for consolidating and streamlining the day-to-day operations of hourly workforces. Think of it as Slack but designed for workers who are always on the go. Another great addition to the Square ecosystem. 
4. "Open Developer Platform".....
Also, last week Jack Dorsey tweeted that Square SQ will open a new business focused on creating an "open developer platform" to make it easier to provide noncustodial, decentralized financial services. That will be Square's fourth business, joining Seller, Cash App, and Tidal.
5. Square SQ Banking.....
Square launched a new free banking service that connects to the payment and point-of-sale products the company already offers to small businesses. Square Banking combines checking accounts, savings accounts, and Square's existing small business loans (now called Square Loans) into a package that the company claims is both fair and accessible.
In terms of features, Square's new savings account can automatically set aside money from every sale made on Square's platform. Square Savings will also let users create custom folders for saving toward specific goals. Funds in a Square Checking account will be instantly available to use for payroll and other payments using a Square debit card, and Square says its accounts have no account minimums, overdraft fees, or recurring fees.
Square SQ says Square Loans are offered based on a small business owner's previous sales history through its platform rather than their credit score. The company hasn't made any dramatic changes to its loan service (formerly Square Capital), but users will be able to pay off their loan with a percentage of each sale on Square, and Square says in the future loans will be available immediately in a Square Checking account once approved.
6.Bitcoin.....
Square doesn't really make that much of a profit from Bitcoin. Last quarter Bitcoin's gross profit was only $75 million, or approximately 2% of its revenue.
Last Wednesday, CEO Jack Dorsey shared his vision for Bitcoin. "My hope is that it creates world peace or helps create world peace," Dorsey said during an online event called "The B Word."
Dorsey has long been a vocal advocate for Bitcoin and the societal benefits it could bring about. Square gave users of its popular Cash App the ability to buy and sell Bitcoin back in 2018. The next year, the company launched Square Crypto, which funded a small team of developers and designers to help strengthen Bitcoin's network. Now, Square wants to build a new business tasked with accelerating the growth of decentralized financial services, or DeFi, built upon Bitcoin's network.
7. Growth.....
Square's P/E ratio would be typical for a company that's expected to deliver very strong growth, and importantly, perform much better than the market.
Retrospectively, the last year delivered a decent 11% gain to the company's bottom line.Still, EPS has barely risen at all in aggregate from three years ago, which is not ideal.Accordingly, shareholders probably wouldn't have been overly satisfied with the unstable medium-term growth rates.
Shifting to the future, estimates from the analysts covering the company suggest earnings should grow by 25% each year over the next three years. This is a lot better than the 14% per year forecast for the broader market, but probably not enough to justify such a high multiple.
8. Competitive Advantage…..
While companies like Stripe and PayPal are coming for Square's lunch, Square offers a level of consolidation not previously seen in the finance industry.
Banks have offered brokerage services for years. However, Square SQ has built on that by adding business functionality. In the past, businesses had to buy from NCR for cash management systems and ADP to manage payrolls. Today, Square offers those services in-house. Moreover, now that Square has launched its own bank, businesses can handle all of their financial needs within Square's ecosystem.
Square has also helped to change personal finance through its Cash App. Thanks to its ability to handle transactions, buy and sell stocks, and trade cryptocurrency, Cash App can manage most personal banking functions. Additionally, Square's move into business banking could lead to consumer banking later, which would make it a one-stop-shop for finance.
Furthermore, Square SQ only operates in six developed countries when counting its recent move into Ireland. Since Ireland is Square's first market that uses the euro, it could point to a move into other European Union (EU) countries. This leaves it with tremendously more expansion potential than PayPal, which currently operates in over 200 countries.
9. Analysts Opinions.....

Mizuho Securities' Dan Dolev thinks there is currently one great opportunity investors should take note of.

"We believe Cash App may be en route to becoming the ultimate neo-bank and the money center bank of the future," the analyst said. "This could make buying Square (SQ) analogous to buying J.P. Morgan in 1871."

Square provides a variety of financial services, but as with Dolev's take, almost every bullish Square SQ thesis involves its star offering - the peer-to-peer Cash App. Following a "detailed analysis" of potential Cash App products, which includes tax services, insurance and home equity lending, Dolev thinks there's a clear runway for the app's current average revenue per user (ARPU) of $40-50 to reach ARPU between $150-200. This is 3-5x higher than current levels.

For some context, even then, that figure is still far below those at consumer banking giants JPM, WFC, and Charles Schwab, where Dolev estimates ARPUs sit somewhere in the $400-700 range.

Dolev also believes the US bank account TAM (total addressable market) is 400 to 500 million accounts. As Square currently counts 30-40 million active users, this potential user base represents more than a tenfold increase on the size of Cash App's current active users.
What's more, with the potential upside to ARPU and users, over the coming years, Dolev believes Cash App's gross profit could increase by 4x to 8x to reach a "medium-term gross profit potential" of roughly $12 billion. 1Q21's gross profit run-rate stood at ~$2 billion.

Dolev reiterated a Buy rating on SQ shares and sticks to a $380 price target. Should his thesis play out, a potential upside of ~54% could be in the cards.

A number of research firms have recently issued reports on Square SQ.....

DA Davidson raised the price target for the Square Inc. (NYSE:SQ) stock to "a Buy". The rating was released on June 24, 2021.

On April 13, 2021 Needham reiterated a price target of $310 for SQ stock.

In their research brief published February 25, 2021, Guggenheim analysts upgraded the Square Inc. stock from Neutral to Buy with a price target of $288.

BMO Capital Markets boosted their price target on shares of Square from $237.00 to $269.00 and gave the company a "market perform" rating in a report on Monday, May 10th.

Moffett Nathanson restated a "buy" rating and set a $300.00 price target on shares of Square in a report on Friday, July 9th.

Barclays boosted their price target on shares of Square from $330.00 to $340.00 and gave the company an "overweight" rating in a report on Tuesday, April 20th.

Finally, JPMorgan Chase & Co. boosted their price target on shares of Square from $250.00 to $300.00 and gave the company an "overweight" rating in a report on Friday, May 7th.
37 Wall Street analysts have issued ratings and price targets for Square in the last 12 months. Their average twelve-month price target is $284.11. The high price target for SQ is $380.00 and the low price target for SQ is $114.00. There are currently 3 sell ratings, 10 hold ratings and 24 buy ratings for the stock, resulting in a consensus rating of "Buy."