The Actual Recommended Trade…..
** OPTION TRADE: Buy CRM MAY 28 2021 220.000 CALLS at approximately $5.70.
 (actually bought for $3.60)
The Days Trading Explained…..
Weekly Options Members" entered a Salesforce weekly options trade on Monday, May 17, 2021 at 12.30pm – the low point for the day due to the pullback - for $3.60.
On Tuesday, May 18, the price of the option was already up to $4.99 – a profit of 39%.
However, on Wednesday May 19, after the upgrade, Salesforce option trade climbed to $7.32 – an excellent profit of 103%.
A new options trade may be considered as the catalysts still apply and are being added to!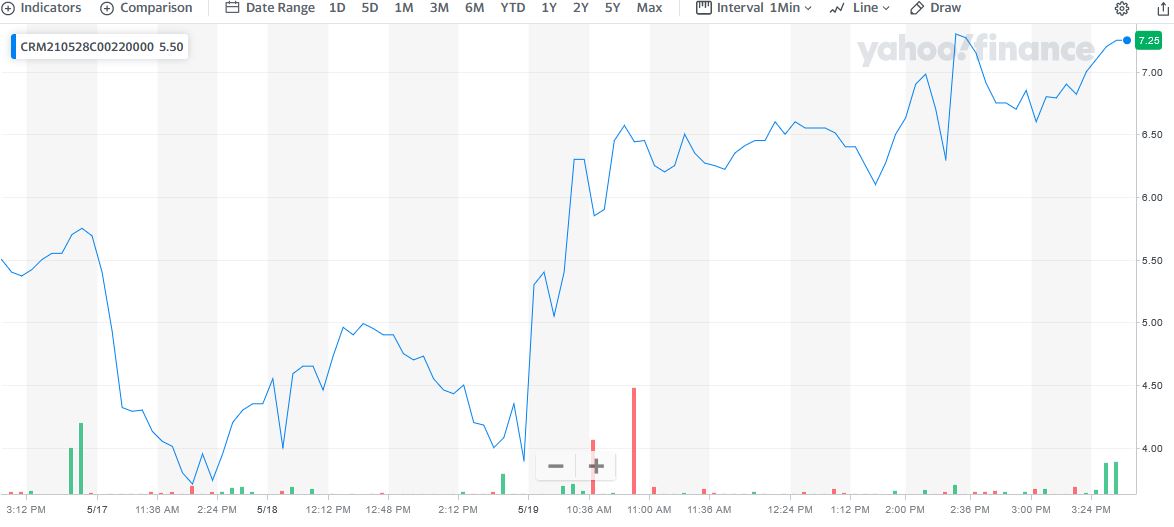 Why The Trade Recommendation On Salesforce?
Salesforce stock is down, but is certainly not out. Since the start of the year tech stocks have taken two legs down, in late February and now, in early May. CRM stock has joined the party both times. It's down 3% on the year, while the average S&P stock is up 11%.
The performance is almost identical to that of Apple, the market's largest company, only slightly more pronounced.
It's due to investors rotating out of expensive stocks and into those benefitting from the end of the pandemic or Biden's Administration's infrastructure plans. Even with this latest fall, Salesforce stock sells at 49 times earnings.
When the pandemic was on, investors piled into the few names that were making money, and cloud application stocks like Salesforce were among those names. CRM stock peaked at $281.25 per share in late August into early September. Over the last year you're still up 32%.
The Major Catalysts for The Trade on salesforce.....
1. Earnings on Thursday, May 27, 2021.....
CRM is projected to report earnings of $0.88 per share, which would represent year-over-year growth of 25.71%. Meanwhile, the Consensus Estimate for revenue is projecting net sales of $5.88 billion, up 20.9% from the year-ago period.
For the full year, the Consensus Estimates are projecting earnings of $3.44 per share and revenue of $25.7 billion, which would represent changes of -30.08% and +20.94%, respectively, from the prior year.
2. Polen Capital, an investment management firm.....
Polen Focus Growth Fund, in its Q1 2021 investor letter, mentioned Salesforce, and shared their insights on the company. salesforce.com, inc. is a San Francisco, California-based software company that currently has a $195.3 billion market capitalization. Since the beginning of the year, CRM delivered a -4.79% return, while its 12-month gains are up by 23.66%. As of May 13, 2021, the stock closed at $211.86 per share.
Here is what Polen Focus Growth Fund has to say about Salesforce in its Q1 2021 investor letter:
"We opportunistically increased our weighting in Salesforce.com. After management announced the company would acquire Slack for approximately $28 billion, a high purchase price, shares came under significant pressure.
We believe the Salesforce-Slack strategic vision is on point, and although the purchase price is high in absolute dollars, it represents less than 15% of Salesforce's market capitalization. We maintain an optimistic view of Salesforce's business, its competitive positioning within enterprise software, and the rationale behind the Slack acquisition. We expect continued earnings and free cash flow growth many years into the future."
3. Continued Growth.....
Although estimates vary, the consensus is that CRM remains a double-digit growth opportunity. CRM software is used by consumer-facing businesses to handle the logging of customer information, oversee online marketing campaigns, address service issues, and can even predict which customers might purchase new products and services. CRM is a logical choice for retail and service-based companies, but is finding a home in areas you might not expect, such as healthcare and financial companies.
4. Dominant Position......
Salesforce is absolutely dominant when it comes to providing cloud-based CRM solutions. An IDC report showed that it held almost a 20% share of global CRM revenue in the first-half of 2020. Its four closest competitors don't even add up to salesforce's share on a combined basis.
5. Acquisitions.....
Salesforce is in the midst of acquiring enterprise communications platform Slack Technologies in a $27.7 billion cash-and-stock deal. Assuming the deal closes, Slack will provide Salesforce with a jumping-off point to cross-sell its CRM solutions to small-and-medium-sized businesses.
6. Digital 360 for Industries.....
Last month, the company introduced Digital 360 for Industries. The platform helps companies deliver better experiences faster with industry apps and developer tools. It can be deployed for consumer, health care, and financial services segments among others.
Analysts' Opinions.....
Zacks Investment Research lowered salesforce.com from a "hold" rating to a "sell" rating and set a $232.00 price objective on the stock. in a research note on Monday, March 1st.

Nord/LB lowered salesforce.com from a "buy" rating to a "hold" rating in a research note on Wednesday, March 24th.

The Goldman Sachs Group upgraded salesforce.com from a "buy" rating to a "conviction-buy" rating and set a $315.00 target price on the stock in a research note on Monday, March 8th.

Piper Sandler decreased their target price on salesforce.com from $242.00 to $240.00 and set a "neutral" rating on the stock in a research note on Thursday, March 4th.

Finally, Wolfe Research started coverage on salesforce.com in a research note on Wednesday, April 28th. They issued an "outperform" rating and a $270.00 target price on the stock.
One investment analyst has rated the stock with a sell rating, eight have issued a hold rating, twenty-six have issued a buy rating and three have issued a strong buy rating to the company's stock. Salesforce has a consensus rating of "Buy" and a consensus target price of $268.49.