Shares of Salesforce.com, inc. (NYSE:CRM), rose by as much as 4.7%, hitting $238.22, on Wednesday before settling back on Friday to close at $228.06.
This now leaves another opportunity for another options trade if the stock market moves back upwards this week.
Salesforce had already enjoyed a nice recovery in 2023, and the stock is now up more than 76% on the year. The leading customer relationship management (CRM) software-as-a-service player continued to add to its rally after unveiling pricing for its new generative AI tools.
Salesforce rose one day after Microsoft announced it would be making its AI CoPilot feature available within its Office software suite for an extra $30 per user per month.
Salesforce is the largest CRM company in the world, it possesses a treasure trove of proprietary data that it can bring to bear to help its clients more efficiently reach and interact with their customers, while efficiently cataloging, tracking, and making sense of their interactions.
Read "Salesforce (CRM) Is Going Strong!" for further insight.
Why the CRM Weekly Options Trade was Originally Executed?…..
Shares of Salesforce.com, inc. (NYSE:CRM), the cloud software giant, were moving higher today after the company announced a price increase across its core products.
In an announcement Tuesday morning, Salesforce said it would be increasing the list price by an average of 9% across key product lines like its sales cloud, service cloud, marketing cloud, and Tableau.
The company explained the move by saying it was its first list-price increase in seven years and that it had delivered 22 new releases since then, representing more than $20 billion in research and development. It also touted its new artificial intelligence (AI) products, including AI Cloud, Einstein GPT, and others.
Salesforce sells software under a subscription model. Its software helps businesses organize and handle sales operations and customer relationships. Also, the company has expanded into marketing, e-commerce and data analytics.
"It is worth noting the changes represent Salesforce's first list price increases in seven years, in which time the company has delivered 22 product releases and thousands of new features and enhancements, including generative AI-related developments," Truist analyst Terry Tillman said in a note to clients.
Salesforce stock climbed 3.9% to close at 221.17 on the stock market yesterday. With the gain, CRM stock has jumped 66% in 2023. Also, Salesforce holds an entry point of 225.10.
The CRM Weekly Options Trade Explained.....
** OPTION TRADE: Buy CRM JUL 28 2023 225.000 CALLS - price at last close was $3.75 - adjust accordingly.
Obviously the results will vary from trader to trader depending on entry cost and exit price that was undertaken.
Entered the CRM Weekly Options (CALL) Trade on Wednesday, July 12, 2023 for $4.06.
Sold half the CRM Weekly Options contracts on Thursday, July 13, 2023, for $8.67; a potential profit of 114%.
Now, sold the other half of the CRM Weekly Options contracts on Wednesday, July 12, 2023, for $14.18; a potential profit of 249%.
Don't miss out on further trades – become a member today!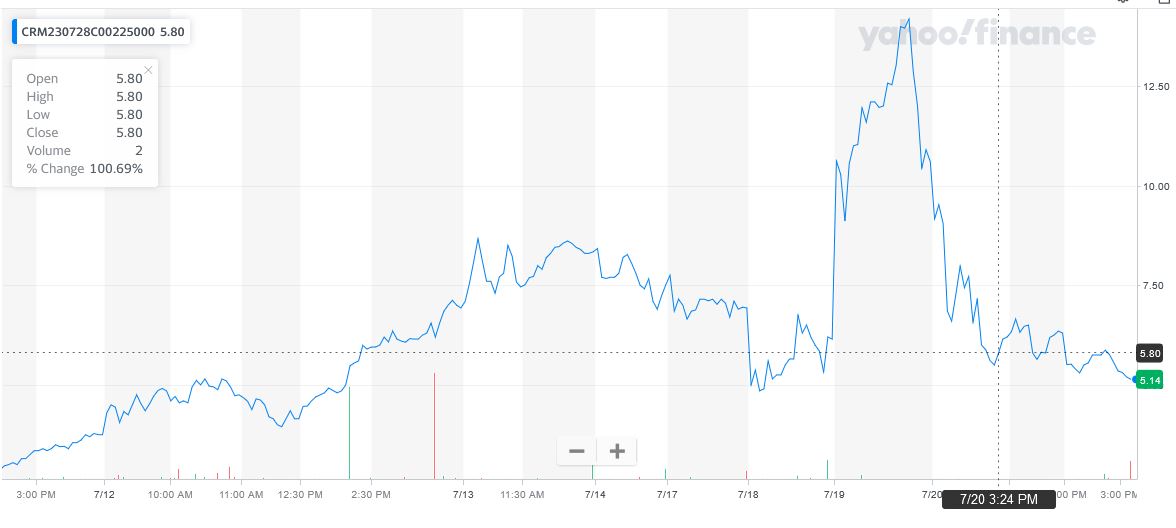 Moving Ahead.....
The biggest beneficiaries of AI will be companies that have the largest amounts of proprietary data. With the leading CRM market share and its massive $32 billion in revenue, that would put Salesforce in a good position.
In its next earnings release Salesforce.com is expected to report EPS of $1.90, up 59.66% from the prior-year quarter. Meanwhile, the latest consensus estimate is calling for revenue of $8.52 billion, up 10.41% from the prior-year quarter.
For the full year, the Consensus Estimates are projecting earnings of $7.44 per share and revenue of $34.63 billion, which would represent changes of +41.98% and +10.46%, respectively, from the prior year.