Prelude…..
After learning about the management of Rivian Automotive Inc (NASDAQ: RIVN)'s interest in partnering with Tesla, on Tuesday, shares jumped 3.9%. However, the rally ran out of steam and shares of Rivian shifted into reverse and fell 6.88% by close of yesterday's trading.
Exhibiting less optimism about the stock's potential, Vijay Rakesh, an analyst at Mizuho, reduced the price target on Rivian to $27 from $30.
Rakesh lowered the price target, in part, due to the updated expectation that Rivian will deliver 68,000 R1 vehicles in 2024 instead of the original forecast of 78,000 vehicles.
In May, Rakesh also reduced the price target from $45 to $30.
Why the RIVN Weekly Options Trade was Originally Executed?
Rivian Automotive Inc (NASDAQ: RIVN), the EV start-up, which has been going through some tough times, recently received more bad news; booted from a stock index just before last weekend.
The electric vehicle upstart made its spectacular Nasdaq debut on Nov. 10, 2021, opening at $106.75 per share after being priced at $78.
Rivian shares closed that day at $100.73, marking a nearly 30% jump from its offering price and making the company the second most valuable U.S. automaker after Tesla .
But there were tough roads ahead for Rivian, which was backed at the time by Amazon and Ford.
The company had difficulty ramping up production burned a lot of cash in the process. 
As a result, Rivian could not afford to lower its prices to compete with Tesla, because its production costs remain huge and its profit margins are already very narrow.
The carmaker, which manufactures the R1S SUV, the R1T pickup truck and the EDV van at its Normal, Ill., plant, had to halve its initial production target last year to 25,000. 
In the end, Rivian did not quite manage to meet this objective, ultimately producing 24,337 vehicles.
Ford sold its stake last year and Rivian's market cap, which reached $150 billion in mid-November 2021, was $14.23 billion on June 14.
And the stock was closed at $14.74 a share yesterday.
Now the company suffered another blow. Rivian will removed from the Nasdaq-100 index prior to the market open on June 20 and replaced by Onsemi, which designs manufactures, and supplies semiconductor products and solutions.
The RIVN Weekly Options Trade Explained.....
** OPTION TRADE: Buy RIVN JUL 07 2023 15.000 PUTS - price at last close was $1.19 - adjust accordingly.
Obviously the results will vary from trader to trader depending on entry cost and exit price that was undertaken.
Entered the RIVN Weekly Options (CALL) Trade on Thursday, June 15, 2023, for $0.98.
Sold half the RIVN weekly options contracts on Wednesday, June 21, 2023 for $1.28; a potential profit of 31%.
Holding the remaining RIVN weekly options contracts for further profit before expiry.
Don't miss out on further trades – become a member today!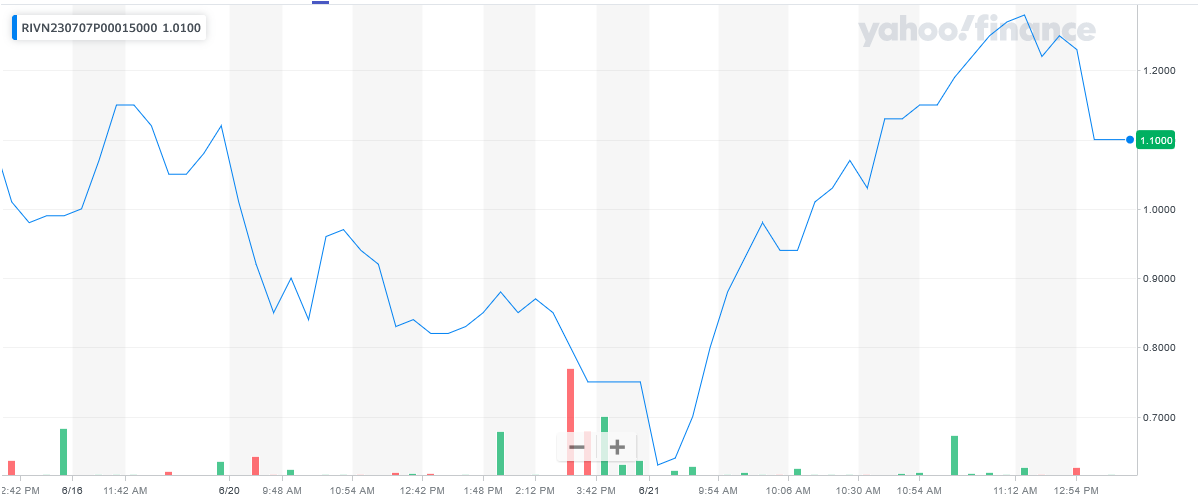 About Rivian Automotive.....
Rivian Automotive, Inc. is an OEM EV manufacturer focused on pickup trucks and SUVs. The company was founded in 2009 and is based in San Jose, California. Rivian is among the greenest of the EV makers choosing to achieve carbon neutrality well ahead of the Paris Climate Accord timeline. Rivian Automotive went public in 2021.
The company designs, develops, manufactures, and sells electric adventure vehicles and accessories through direct sales to consumers and commercial markets. The company vehicles are designed for sustainability and long lifespans across all components with repairability and reusability key to the end result. That includes engineering specifications such as easily removable batteries and batteries that can be easily recycled or repurposed into stationary power packs when their EV lifespan is spent.
The company offers five-passenger pickup trucks and sports utility vehicles under the R1T and R1S labels. The R1T is a highly configurable pickup while the R1S is an off-road capable SUV. The R1T is hailed as the world's first EV adventure vehicle, it began production in early 2021 and the first deliveries were made later that same year. By mid-2022 the company had delivered more than 8,000 vehicles with production ramping quickly.
The R1T comes with 8 different drive modes geared for offroading, city adventures, and everything in between. Among the choices is the "Drift" mode which proactively distributes power to offset traction control and increase the "fun" factor. The vehicle comes with a 240 to 400-mile range depending on the battery and motor combination and individual driving styles. In regard to its capabilities, the truck can go from 0 to 60 in 3 seconds, tow up to 11,000 pounds, and wade through 3 feet of water with no problems.
Further Catalysts for the RIVN Weekly Options Trade…..
The Nasdaq-100 consists of the largest and best-performing nonfinancial companies based on market capitalization. It's heavily allocated toward technology, consumer goods and healthcare industries.
Nasdaq announced after market hours on Friday that it was replacing Rivian in the Nasdaq-100 index, effective prior to market open on Tuesday. Its slot will be taken by specialty semiconductor company ON Semiconductor.
As its name suggests, the Nasdaq-100 is made up of 100 Nasdaq-listed companies, all of them non-financial. While not as much of a bellwether listing as the S&P 500 or other top-level stock indexes, it does carry a degree of prominence and influence.
Unlike S&P Dow Jones Indices, the company that manages its near-namesake indexes, Nasdaq does not typically provide the reasoning behind its modifications. It kept to this habit with the Rivian/ON Semiconductor announcement.

Analysts.....
According to the issued ratings of 17 analysts in the last year, the consensus rating for Rivian Automotive stock is Moderate Buy based on the current 2 sell ratings, 4 hold ratings and 11 buy ratings for RIVN. The average twelve-month price prediction for Rivian Automotive is $27.74 with a high price target of $61.00 and a low price target of $11.00.
Therefore…..
For future trades, join us here at Weekly Options USA, and get the full details on the next trade.