Rivian Automotive Inc (NASDAQ: RIVN) jumped 7.34% after a new plan was revealed that EV drivers throughout North America will soon have greater access to charging stations after an announcement by General Motors and six auto industry partners: BMW, Honda, Hyundai, Kia, Mercedes-Benz, and Stellantis.
The initiative aims to install at least 30,000 charging points in urban areas and along highways, initially, to help ensure EV drivers are able to power their batteries when they're on the road. Planning on making charging points available to U.S. drivers starting in summer 2024, the joint venture expects to install charging locations in Canada soon thereafter.
Providing access to a variety of EVs, the charging points will accommodate both Combined Charging System (CCS) and North American Charging Standard (NACS) connectors. 
The joint venture will rely on both private and public funds for the development of the charging infrastructure.
Like many EV makers in 2023, Rivian announced last month that it plans on adopting the NACS standard.
Why the RIVN Weekly Options Trade was Originally Executed?
Since breaking out over critical resistance at $16, shares of Rivian Automotive Inc (NASDAQ: RIVN) haven't looked back. The stock is up almost 87% in the last month and 106% over the previous three months. Initially fueled by production and delivery figures that crushed estimates, the move has been sustained by increasing short interest, analyst upgrades, and favorable price action for the bulls.
The RIVN Weekly Options Trade Explained.....
** OPTION TRADE: Buy RIVN AUG 25 2023 26.000 CALLS - price at last close was $2.62 - adjust accordingly.
Obviously the results will vary from trader to trader depending on entry cost and exit price that was undertaken.
Entered the RIVN Weekly Options (CALL) Trade on Tuesday, July 25, 2023, for $2.57.
Sold half the RIVN Weekly Options contracts on Wednesday, July 26, 2023, for $3.60; a potential profit of 40%.
Holding the remaining RIVN weekly options contracts for further profit before expiry.
Some Members Hit The Jackpot By Buying RIVN Weekly Options At 11:50 on Tuesday, July 25, 2023, for $0.83.
This provides a profit of 334%!
Don't miss out on further trades – become a member today!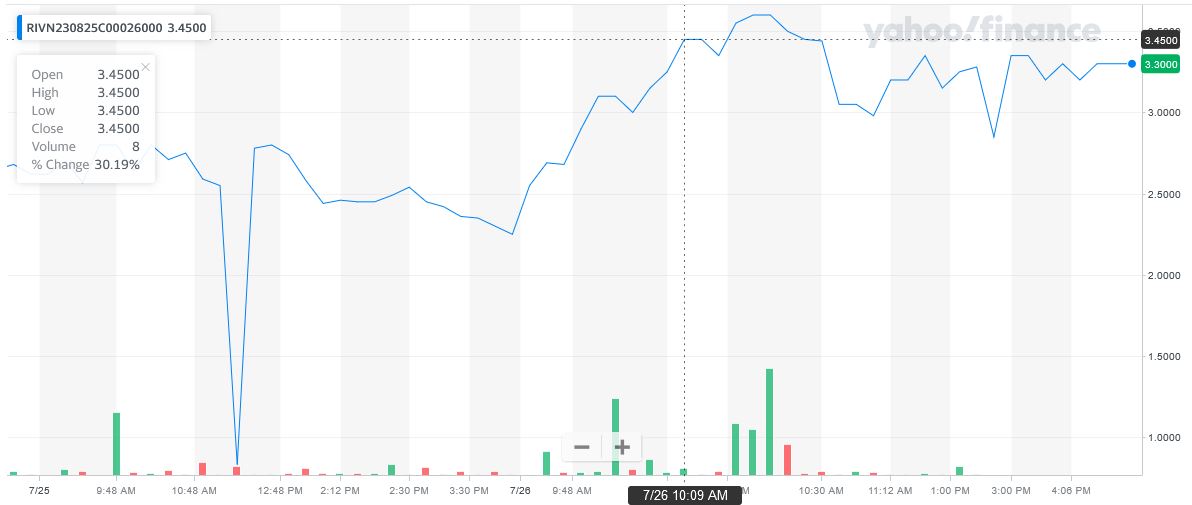 About Rivian Automotive.....
Rivian Automotive, Inc. is an OEM EV manufacturer focused on pickup trucks and SUVs. The company was founded in 2009 and is based in San Jose, California. Rivian is among the greenest of the EV makers choosing to achieve carbon neutrality well ahead of the Paris Climate Accord timeline. Rivian Automotive went public in 2021.
The company designs, develops, manufactures, and sells electric adventure vehicles and accessories through direct sales to consumers and commercial markets. The company vehicles are designed for sustainability and long lifespans across all components with repairability and reusability key to the end result. That includes engineering specifications such as easily removable batteries and batteries that can be easily recycled or repurposed into stationary power packs when their EV lifespan is spent.
The company offers five-passenger pickup trucks and sports utility vehicles under the R1T and R1S labels. The R1T is a highly configurable pickup while the R1S is an off-road capable SUV. The R1T is hailed as the world's first EV adventure vehicle, it began production in early 2021 and the first deliveries were made later that same year. By mid-2022 the company had delivered more than 8,000 vehicles with production ramping quickly.
The R1T comes with 8 different drive modes geared for offroading, city adventures, and everything in between. Among the choices is the "Drift" mode which proactively distributes power to offset traction control and increase the "fun" factor. The vehicle comes with a 240 to 400-mile range depending on the battery and motor combination and individual driving styles. In regard to its capabilities, the truck can go from 0 to 60 in 3 seconds, tow up to 11,000 pounds, and wade through 3 feet of water with no problems.
Further Catalysts for the RIVN Weekly Options Trade…..
The rising short interest also plays an essential role in RIVN's ability to trade higher. As of June 30, the short percentage of the float was 13.48%, up from 13.14% as of June 15. Based on that figure, 87.9 million shares of RIVN are sold short, equalling $1.46 billion in dollar volume. As the short interest continues to increase steadily, short sellers might begin to doubt their positions and start to cover.
The consolidation over the past several weeks has created new critical levels of support and resistance that could dictate the trend and momentum of the stock once one of the levels is broken. For example, $24 has emerged as a critical level of support in the short term.
If RIVN breaks below and holds below $24, it might signal a shift in momentum, and further downside could be on the cards as investors look to take profits and short sellers gain confidence. On the flip side, if the stock can break above and hold above $27, short sellers might begin to cover, and momentum traders might go long the stock for another leg higher, resulting in a significant buy imbalance for the stock. 
Other Catalysts.....
Rivian Automotive is expected to post a loss of $1.42 per share for the current quarter, representing a year-over-year change of +24.9%. Over the last 30 days, the Consensus Estimate has changed +0.6%.
For the current fiscal year, the consensus earnings estimate of -$5.10 points to a change of +19.6% from the prior year. Over the last 30 days, this estimate has changed +0.6%.
For the next fiscal year, the consensus earnings estimate of -$3.04 indicates a change of +40.4% from what Rivian Automotive is expected to report a year ago. Over the past month, the estimate has changed -1.6%.
Revenue Growth Forecast.....
Rivian Automotive's consensus sales estimate of $932.31 million for the current quarter points to a year-over-year change of +156.1%. The $4.16 billion and $7.97 billion estimates for the current and next fiscal years indicate changes of +151.1% and +91.3%, respectively.
Last Earnings Report.....
Rivian Automotive reported revenues of $661 million in the last reported quarter, representing a year-over-year change of +595.8%. EPS of -$1.25 for the same period compares with -$1.43 a year ago.
Compared to the Consensus Estimate of $686.82 million, the reported revenues represent a surprise of -3.76%. The EPS surprise was +17.22%.
Over the last four quarters, Rivian Automotive surpassed consensus EPS estimates three times. The company topped consensus revenue estimates two times over this period.
Analysts.....
Analysts remain bullish on the stock with a consensus rating of Moderate Buy based on sixteen analyst ratings. Ten of the sixteen analysts have RIVN as a Buy, one as a Sell, and five at Hold. The consensus price target is $27.11, predicting a 7.63% upside for shares of RIVN. Most recently, Mizuho, on July 19, boosted their price target from $27 to $30, predicting a 21.5% upside on the report date. Barclays also raised their price target from $22 to $30 earlier in the month.

Summary.....
Rivian Automotive has a quick ratio of 5.08, a current ratio of 5.88 and a debt-to-equity ratio of 0.21. Rivian Automotive, Inc. has a one year low of $11.68 and a one year high of $40.86. The business has a fifty day moving average of $17.25 and a 200 day moving average of $16.32.
Therefore…..
For future trades, join us here at Weekly Options USA, and get the full details on the next trade.