Hydrogen fuel cell stock Plug Power Inc spiked Wednesday after the companymissed second quarter earnings predictions, reporting losses greater than expected. This comes after the U.S. Senate approved a sweeping spending bill over the weekend that would direct billions of dollars toward clean energy projects.
Analysts predicted Plug Power Inc would report a net loss of 20 cents per share and $161 million in revenue in Q2.
However, Plug Power Inc lost 30 cents per share and $151.3 million in revenue, a 21% increase year-over-year. The company also reaffirmed its full fiscal year sales forecast of $900 million-$925 million on Tuesday.
It appears the markets reacted to the hydrogen fuel cell specialist's second-quarter numbers, released yesterday after market close. Ironically, Plug Power missed analysts' estimates on both its top and bottom lines, and there were no surprises in its full-year guidance, either. In fact, Plug Power's numbers look so dismal that any other stock would have crashed after such an earnings report.
Yet, something the company said caught investors' attention, and several analysts were quick to bump up their price targets on the hydrogen stock on the day.
Plug Power Inc said it now has a "clear path" to its 2025 goals of hitting $3 billion in annual revenue with a gross margin exceeding 30%.
Also, on its second-quarter earnings call, CEO Andy Marsh said the company expects a "boom" in its green hydrogen and electrolyzer business thanks to the Senate's passage of the Inflation Reduction Act this week. Plug Power estimates the clean hydrogen production tax credit of $3 per kilogram of green hydrogen produced after 2022 announced under the legislation could add $500 million in incremental cash flow every year at the company's targeted production 2025 level of 500 tons per day.
As well, several analysts upgraded their price targets on Plug Power Inc stock yesterday based on its robust backlog and the growth potential under the Inflation Reduction Act, among other things. Some of the analysts and their new price targets on Plug Power stock include:
 BMO Capital's Ameet Thakkar: $29 a share.
 Susquehanna's Biju Perincheril: $35 a share.
 J.P. Morgan's Bill Peterson: $32 per share.
The Profits Explained.....
Entered the Plug Power Inc trade on Wednesday, August 03, 2022 for $1.82.
Exited the trade Wednesday, August 10 for $6.10 for a potential profit of 235%.
Why the initial Weekly Options Call Trade on
Plug Power Inc
Plug Power Inc (NASDAQ: PLUG), a leading maker of hydrogen fuel cells, is trying to rebound as momentum in renewable energy lifts shares.
On July 15, Sen. Joe Manchin revealed he would not vote in favor of an economic package that included new spending on clean-energy programs. But a week later, he changed course and now says he is in favor of a spending bill that includes climate spending, improving PLUG stock's outlook.
The company aims to produce more than half of its hydrogen energy from entirely renewable sources by 2024. It also aims to branch out from forklifts to heavy-duty vehicles to serve ports in the U.S. and Europe, as well as stationary fuel cells to power data centers and distribution hubs.
Plug Power Inc has five pedestal customers: Amazon, HomeDepot, Walmart, Stellantis and Mercedes.
Let's review several other catalysts that may push the stock price higher…..
Building Belgium plant,
European Expansion,
Walmart Deal,
Partnerships,
Expanding in the U.S., and
Diversification.
About Plug Power Inc.....
Plug Power Inc provides hydrogen fuel cell turnkey solutions for the electric mobility and stationary power markets in North America and Europe. It focuses on proton exchange membrane (PEM) fuel cell and fuel processing technologies, fuel cell/battery hybrid technologies, and related hydrogen storage and dispensing infrastructure.
The year leading up to the turn of the millennium was a big one for Plug Power. Two years after its founding in 1997 as a joint venture of DTE Energy Company and Mechanical Technology Incorporated, Plug Power hit the public markets and held its initial public offering on Oct. 29, 1999.
In addition, Plug Power Inc shipped its first fuel cell systems for stationary power applications. Now, more than 20 years later, Plug Power offers its fuel cell solutions for stationary power to a variety of industries, including data centers, railroads, telecoms, and utilities. According to its most recent count, Plug Power's GenSure stationary power solution can be found domestically in 3,000 locations in 46 states and abroad in 34 countries.
Other Major Catalysts for the Plug Power Inc Weekly Options Trade…..
Belgium Plant.....
Plug Power Inc will build a 35-tons-per-day green hydrogen generation plant at Port of Antwerp-Bruges in the heart of Europe. It signed a 30-year concession agreement to build the plant at the Belgian port, the second largest in Europe, the company said in a statement.
Plug plans to erect a 100-megawatt green hydrogen plant, using its own electrolyzer and liquefaction technology, on 28 acres of land leased under the agreement. It will produce up to 12,500 tons per year of liquid and gaseous green hydrogen for the European market.
Construction of the plant is expected to begin in late 2023. Initial production of green hydrogen is expected in late 2024, and plant commissioning will be in 2025.
European Expansion.....
Plug's previous expansion plans in Europe includes a Denmark project. On May 17, Plug said it had been awarded an order to deliver a one gigawatt electrolyzer to hydrogen company H2 Energy Europe. Planning for a green hydrogen production complex in Denmark.
On Nov. 30, 2021, Plug and Spanish energy firm Acciona Energia finalized their 50-50 joint-venture. Incorporated as AccionaPlug, the joint-venture is headquartered in Madrid and will develop, operate, and maintain green hydrogen projects throughout Spain and Portugal.
Plug announced on Sept. 14, 2021, that it's expanding operations with a European headquarters in Germany. The 70,000-square foot facility will house an innovation center with engineering labs and technical supports, among other features. The facility is expected to open at the start of 2022.
On July 14, 2021, Plug Power Inc announced it was partnering with Charlottesville, Va.-based Apex Clean Energy in a 345 MW wind power purchase agreement and a development plan to open a green hydrogen production facility. Terms of the deal were not disclosed.
On June 3, Plug and French carmaker Renault said their Hyvia joint venture to make hydrogen-powered vans was under way. The partnership plans to begin building three types of fuel-cell vans at existing Renault plants in France by the end of this year. The three models will be based on the Renault Master platform of vans and use the same electric motors that now power the all-electric version of the Master.
The project also includes the installation of hydrogen charging stations across Europe, supply of carbon-free hydrogen as well as maintenance and management of fleets.
In April, oilfield supplier Baker Hughes joined Plug Power and Chart Industries to establish a private fund that provides capital for large-scale, clean-hydrogen infrastructure projects.
Meanwhile, on Feb. 25, 2021, South Korean conglomerate SK Group closed its $1.6 billion investment into a joint venture with Plug Power to expand hydrogen energy in Asia.
The partnership will provide hydrogen fuel cell systems, hydrogen fueling stations and electrolyzers to South Korea and other Asian markets.
Walmart Deal.....
On April 19, Plug Power Inc announced an agreement with Walmart for an option to deliver up to 20 tons per day of liquid green hydrogen to power material handling lift trucks across Walmart distribution and fulfillment centers in the U.S.
This is one of the first green hydrogen supply contracts for Plug Power, the company said in a statement.
Walmart has worked with Plug Power to adopt and expand hydrogen fuel cells throughout its facilities for over a decade, beginning with a 50-fleet pilot in 2012 and expanding to a fleet of 9,500 and growing.
Partnerships.....
Plug appears focused on forging partnerships. On Dec. 15, 2021, Plug Power Inc announced an agreement with South Korea's Edison Motors to develop and market a hydrogen fuel cell-powered electric city bus in 2022. The buses will use Plug Power's ProGen fuel-cell system. The buses will be mass produced and distributed in South Korea by the first half of 2023.
On Dec. 14, 2021, Plug Power announced it will provide Certarus with up to 10 tons of green hydrogen per day to Certarus. Initial deliveries expected in Q1 2022.
Certarus' integrated logistics platform and fleet of compressed gas delivery trailers will move hydrogen directly from production locations to Plug Power's and Certarus' end users.
U.S. Expansion.....
Plug Power Inc got a regulatory green light on Feb. 7 to build a 350,000-square-foot fuel-cell factory in the towns of Bethlehem and New Scotland, outside Albany in upstate New York. Governor Kathy Hochul announced the ground-breaking of the $55 million project on March 8, 2022.
Plug Power Inc announced on Sept. 20, 2021, it would open a production facility in Fresno County, Calif. As the largest of its kind, the plant will produce 30 metric tons of liquid green hydrogen per day. The plant will serve the West Coast of the U.S., as well as Vancouver, B.C., in Canada. Plug expects to break ground for the project in 2023 and open the facility in 2024.
On Aug. 10, 2021, Plug Power Inc said it broke ground on its $84 million plant in Camden County, Georgia. The plant will produce 15 tons per day of liquid green hydrogen intended to fuel transportation applications, including material handling and fuel cell electric vehicle fleets. The plant is expected to open in 2022.
On March 30, 2021, Plug Power Inc said it planned to open a green hydrogen production plant in south-central Pennsylvania with Brookfield Renewable Partners. PLUG stock jumped 11% on the news. Construction is slated for the first quarter of 2022. The plant is expected to be online by late 2022.
Diversification.....
Plug Power Inc is making strides to diversify. On April 29, Plug Power announced a plan to integrate its ProGen fuel cell engines into BAE Systems' electric buses. The two companies will also work on developing hydrogen and refueling infrastructure to end-customers use points.
Meanwhile, automakers General Motors (GM), Toyota (TM) and Nikola (NKLA) are eager to embrace hydrogen too.
Analysts.....
J.P. Morgan estimates the overall market opportunity could exceed $200 billion. Plug Power is raising capital to finance an ambitious buildout plan and forging partnerships with key industry players.
Northland Capital announced that it has initiated coverage on Plug Power Inc with a market perform rating and a price target of $25. The price target represents potential upside of about 18% based on yesterday's closing price of $21.24. Shares of Plug Power last traded around the $25 mark in late April.
On July 23, 2021, Citigroup initiated coverage on Plug with a Buy rating and a price target of $35. Analyst P.J. Juvekar said Plug Power is "leading the way" in the nascent hydrogen economy, which is "at the cusp of a breakout."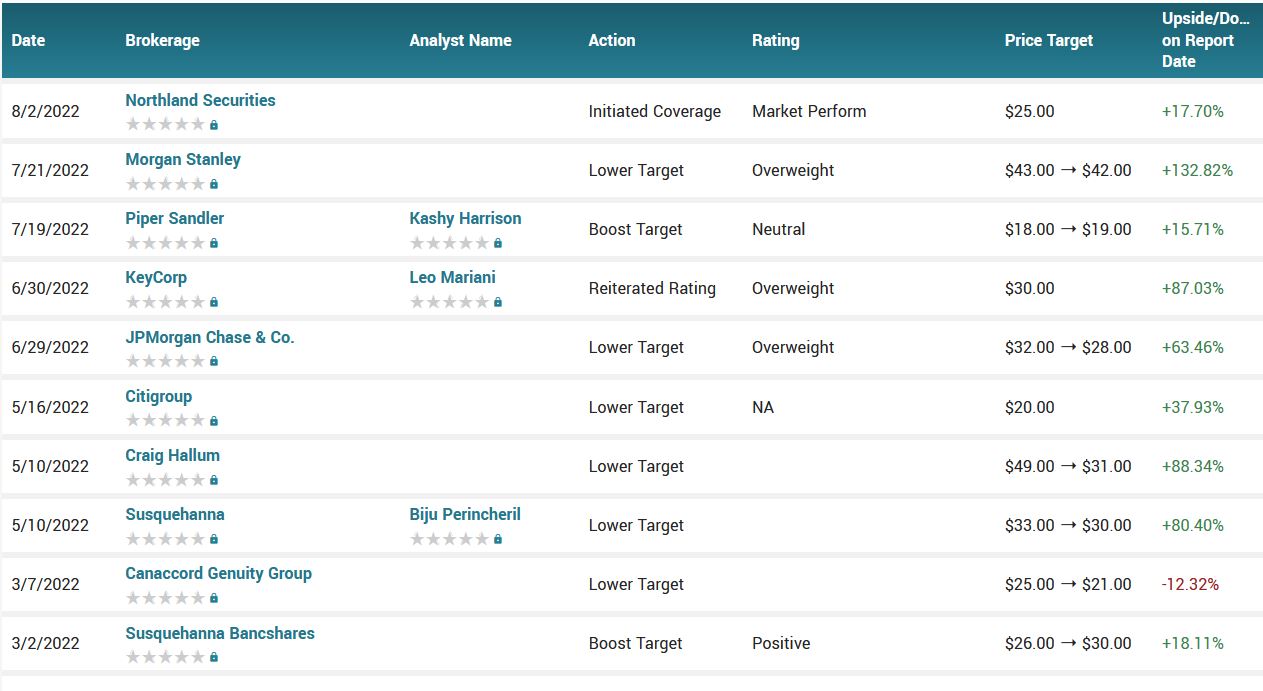 According to the issued ratings of 19 analysts in the last year, the consensus rating for Plug Power Inc stock is Moderate Buy based on the current 6 hold ratings and 13 buy ratings for PLUG. The average twelve-month price prediction for Plug Power is $32.77 with a high price target of $50.00 and a low price target of $19.00.
Summary.....
As hydrogen becomes cheaper to make, experts say it will increasingly be seen as a low-cost alternative to petroleum-based fuel and batteries. That's fueled interest in new energy stocks in recent weeks, as oil prices soar and even as investors rotate out of growth stocks amid rising intere Inc st rates.
Plug Power has a market cap of $13.43 billion, a PE ratio of -23.95 and a beta of 1.78. The company has a current ratio of 11.44, a quick ratio of 10.51 and a debt-to-equity ratio of 0.12. Plug Power has a 12 month low of $12.70 and a 12 month high of $46.50. The stock has a 50 day moving average of $17.65 and a 200-day moving average of $21.03.
Therefore…..
For future trades, join us here at Weekly Options USA, and get the full details on the next trade.