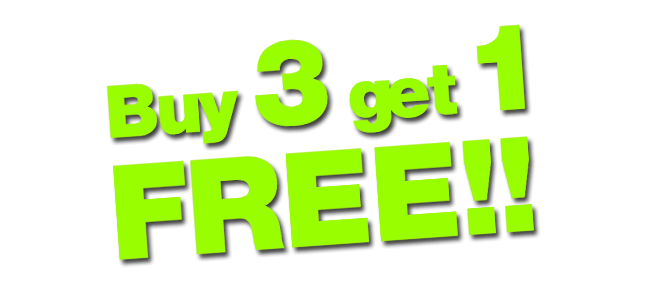 TRADER'S TRIO SPECIAL
(BETTER THAN A BAKER'S DOZEN!)
BUY THREE MONTHS OF WEEKLY OPTIONS TRADING MEMBERSHIP FOR $297 AND GET A FOURTH MONTH FREE!
Payments processed safely and securely through Paypal.
Palantir Technologies Shares Continue Their
Upward Momentum!

Members of "Weekly Options USA," Using A Weekly Call Option,
Make Potential Profit Of

512%,


After Cathie Wood's Ark Invest Purchased More
Shares Of Palantir Technologies.

Where To Now?


Shares of Palantir Technologies Inc (NYSE: PLTR) continued to move higher on Friday in reaction to Cathie Wood's Ark funds revealing that it had bought 286,704 shares of Palantir valued at $3.4 million as of Thursday's close.
This set the scene for Weekly Options USA Members to profit by 512%, using a PLTR Weekly Options trade!
 Join Us And Get The Trades – become a member today!
Saturday, May 20, 2023

by Ian Harvey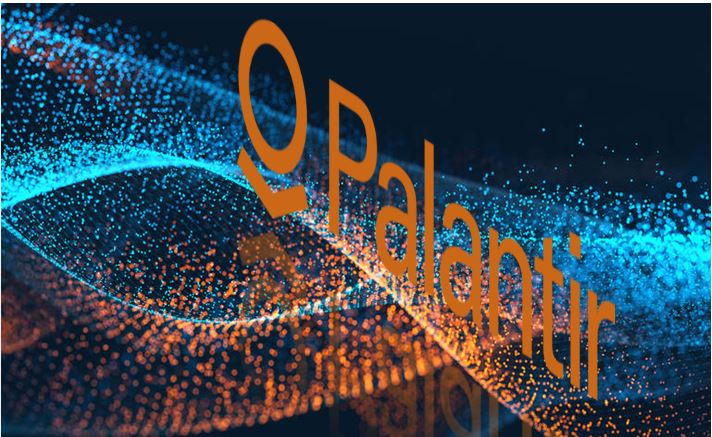 Why the Original Palantir Weekly Options Trade was Executed?
Palantir Technologies Inc (NYSE: PLTR) shares rocketed higher for various reasons that add up to 1 thing: positive GAAP cash flow and the expectations for positive cash flow to continue through the end of the year. This news is unsurprising, given the company's position as a cloud-based cyber-security data-management firm, but the 25% pop in share prices was. Based on the results from Microsoft NASDAQ: MSFT, Datadog NASDAQ: DDOG and others in the cloud industry, this is good news for Palantir and the group, which has been beaten down over the past year. The takeaway is that Palantir stock is bottoming, and the analysts' all-seeing eye forecasts higher share prices are ahead.
Palantir results are positive on all counts. The company reported $525.19 million in revenue to beat the consensus by nearly 400 basis points. The gain was driven by strength in all categories, led by strength in the US. US sales grew by 23% compared to lower rates globally, with Government spending up 20% (22% in the US) and Consumer up 15% (26% in the US).
The maker of data analytics software gave a relentlessly bright outlook as it included AI power into its projections. For the undergoing June quarter, Palantir guided for revenue of $530 million, below estimates of $537 million.
Chief Executive Alex Karp believes the software maker is well-positioned to capitalize on AI developments, stating that the engagement and demand for the new AI Platform is without precedent, as the company works its way to convert this demand into an expanded reach.  First iteration will be available to selected customers as early as this month.
The Palantir Weekly Options Trade Explained.....
** OPTION TRADE 1: Buy PLTR JUN 02 2023 10.000 CALLS - price at last close was $0.50 - adjust accordingly.
Obviously the results will vary from trader to trader depending on entry cost and exit price that was undertaken.
Entered the PLTR Weekly Options (CALL) Trade on Thursday, May 11, 2023 for $0.41.
Sold the PLTR weekly options contracts on Friday, May 19, 2023 for $2.51; a potential profit of 512%.
Don't miss out on further trades – become a member today!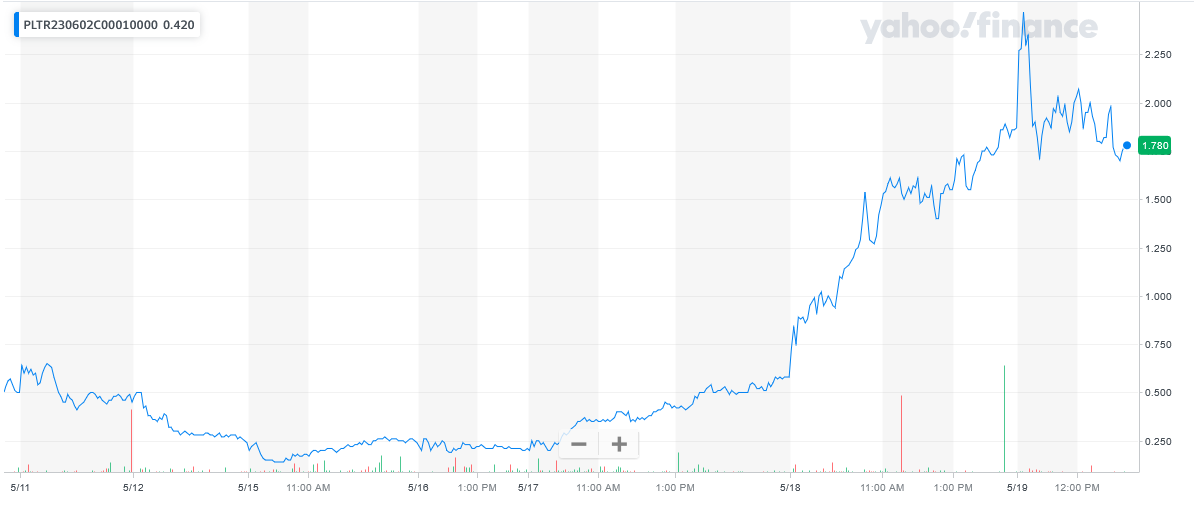 Why Palantir Shares Continue To Climb Higher…..
Shares of Palantir Technologies climbed almost 15% on Thursday. Meanwhile, the S&P 500 index was up roughly 0.6%, and the Nasdaq Composite index was up 1.2%.
On Friday, Palantir Technologies shares $12.41, which boosted the "Weekly Options Call" trade by another 151%, for members of Weekly Options USA that were still holding contracts.
The company's flagship product is Palantir Gotham, designed for use by intelligence agencies and government organizations. Palantir has drawn criticism for working with government agencies involved in surveillance and immigration enforcement in the U.S. and abroad.
Palantir stock has skyrocketed 58% since May 5 on a strong earnings report. It has climbed 82% year to date and 46% over the last 12 months. Palantir is the 23rd biggest holding in Wood's flagship Ark Innovation, rising a pace since Wednesday.
Summary……
There has been some fear that Palantir's emphasis on government clients might hold back its long-term growth. However, the company has worked to expand its corporate offerings as well. Moreover, with hopes to tap into artificial intelligence trends, Palantir is emerging as a potential favorite for AI investors as well.
Palantir still has a long way to go to earn back all of its losses since early 2021. However, the fundamentals of its business look poised to recover, which could help build further momentum in the weeks and months to come.
Therefore…..
For future trades, join us here at Weekly Options USA, and get the full details on the next trade.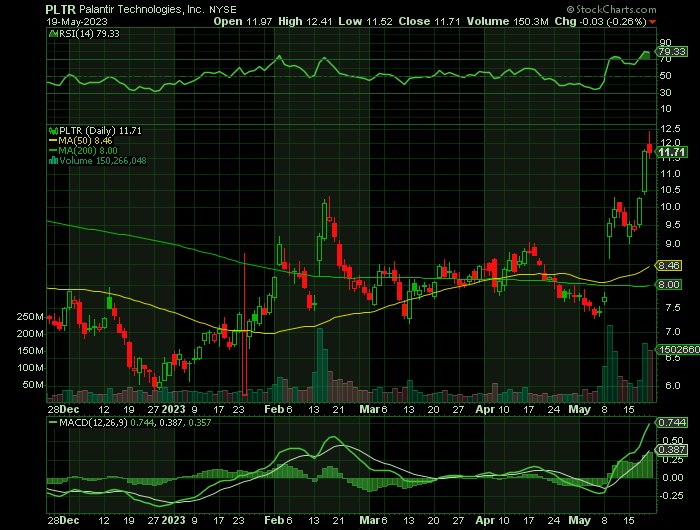 Back to Weekly Options USA Home Page from PALANTIR

Target Corporation Shares Continue To Take A Hit! But Members Now Up 530% Potential Profit Using A Weekly Put Option!

ON Semiconductor Shares Are Gaining Ground! And Members Are Up 54% Potential Profit Using A Weekly Call Option!

Stock Market Was in the Red For The Past 2 Days! But Our Weekly Options Profits Were Deep In The Green!