The Four Options Trade Winners.....
To read the full details on why these options trade winners were recommended CLICK HERE.
THE 4 Options Trade Winners
1. Option Trade – Pinterest Inc (NYSE: PINS) Calls…..
** OPTION TRADE: Buy PINS JUL 16 2021 65.000 CALLS at approximately $2.90. (actually bought for $2.40 – hit $7.10 for a profit of 200%)
The past several weeks of trading were dominated by inflation fears that heated up following April's 4.2% CPI jump. The largest 12-month climb since 2008 came on the back of ramped upped spending, government checks, supply chain setbacks, and comparisons against the coronavirus lows.
Wall Street has, however, seen buyers step in when they felt things were overdone, with the S&P 500 finding support above its 50-day moving average. The Nasdaq, which already suffered a correction in 2021 (down 10% from its highs), has regained its footing after its pullback. The tech-heavy index is once again trading above its 50-day moving average, while the benchmark index pushes back within around 1% of its records.
There appear to be multiple reasons behind the bullishness amid inflation worries. The overall earnings picture for Q1 was impressive and estimates for the second quarter and beyond keep going up. This positive bottom-line outlook helps support the possibility that U.S. GDP grows by 6.5% or more in 2021—its strongest in roughly 35 years.
Along with a booming U.S. economy, driven by the vaccine rollout, some Wall Street bulls might be focused on the likelihood that there is no alternative investing continues even if the central bank is forced to raise rates sooner than originally expected to tamp down rising prices.
But, it is important to consider adding strong, growth-focused stocks as we head into June that are still trading below their highs as the market bounces back…and, one such stock is Pinterest Inc (NYSE: PINS).
PINS is essentially a visual discovery platform. The firm allows users to find and search for products, services, and more, from planning trips and coordinating an outfit to making home-cooked meals, learnings how to remodel or decorate a room, and beyond.
PINS has become a hit with advertisers, small businesses, entrepreneurs, and do-it-yourself enthusiasts. The company has thrived in the e-commerce and digital media age as fewer people flip through magazines or catalogs for purchasing inspiration. Plus, paid content and ads fit seamlessly into Pinterest, which is vital in our digital-heavy ad world where people pay to avoid ads on Netflix NFLX and largely ignore more traditional banner ads.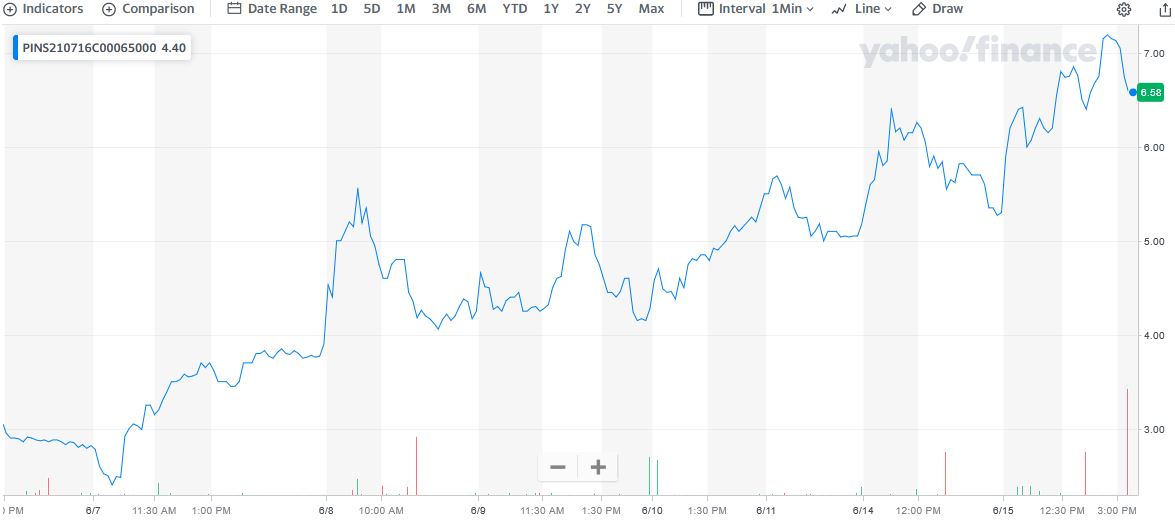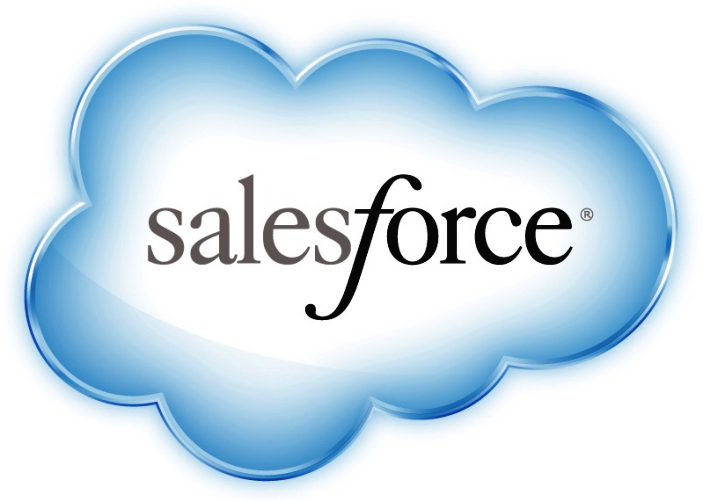 2. Options Trade – Salesforce.com, inc. (NYSE:CRM) Calls…..
** OPTION TRADE: Buy CRM AUG 20 2021 250.000 CALLS at approximately $6.30. (actually bought for $5.50 – hit $9.40 for a profit of 71%)
Last month, the iconic Dow Jones Industrial Average celebrated its 125th anniversary. After more than a century, it remains one of the most widely followed indexes.
The reason the Dow Jones is followed so closely has to do with the 30 high-caliber companies that make up the index. These diverse companies are profitable, time-tested industry leaders. In other words, these are stocks that tend to increase in value over time.
As we move headlong into June, Salesforce.com, inc. (NYSE:CRM) stock stands out with particularly intriguing values.
Salesforce provides cloud-based customer relationship management (CRM) software. In simple terms, CRM software helps consumer-facing businesses access information in real time. It can be used for logging client information, following up on service issues, managing online marketing campaigns, and predictive analysis of customer buying habits. It's software that makes obvious sense for retailers and hotels, for example, but is catching on big-time in the healthcare, financial, and industrial sectors.
When it comes to CRM software, Salesforce sits atop the mountain. According to research  estimates from the first half of 2020, Salesforce controlled almost 20% of global CRM revenue share. This was approximately four times higher than the next-closest competitor, and it's more than the Nos. 2 through 5, combined.
With Salesforce on track to hit $50 billion in annual sales in five years (it yielded $21.3 billion in sales last year), it remains one of the most-exciting mega-cap growth stocks to own.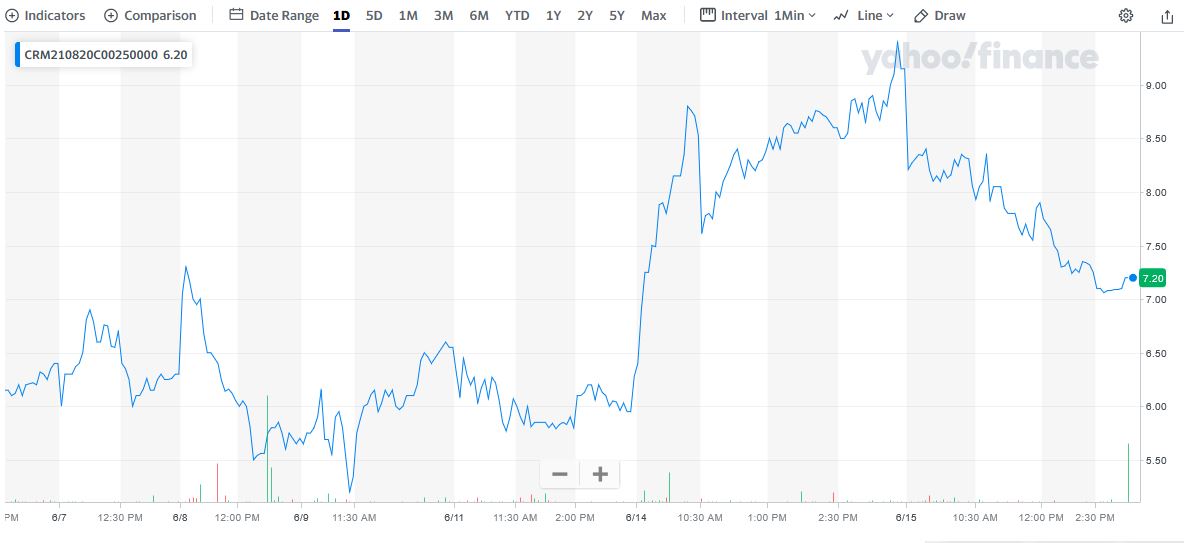 3. Option Trade – Veeva Systems Inc. (NYSE:VEEV) Calls…..
** OPTION TRADE: Buy VEEV JUL 16 2021 310.000 CALLS at approximately $4.50. (actually bought for $4.09 – hit $8.10 for a profit of 98%)
Cloud solutions provider Veeva Systems Inc. (NYSE:VEEV), a growing mid cap company within the Healthcare sector, gained 57.5% last year; and in the past three years has  provided a total return of 246%, as well as 863% in just a bit over five years.
 Veeva has been a solid growth play in the life sciences industry. It continues to impress investors with robust growth across its business segments last year, particularly with Veeva Commercial Cloud and Veeva Vault. 
On average over the last three years, Veeva Systems Inc. has grown earnings per share (EPS) by 44% each year (using a line of best fit). Its revenue is up 26% over last year.
The company has improved itself over the last few years due to the combination of strong revenue growth with medium-term earnings per share improvement.
Today, Veeva serves a vital role in the entire life sciences sector. Despite its huge potential, the drug industry is filled with time-consuming and expensive headaches; and only 9.6% of drugs scientists discover ever get approved for sale.
With such daunting data, industry leaders are on the lookout for the kinds of solutions that Veeva provides. They can really drive down the cost of discovery and shorten time to market.
Veeva offers tools to help clients manage the entire clinical suite. It covers everything from collecting and verifying data to making sure clients are ready for any government inspections.
That fact alone helps explain why more than 600 firms, many top-tier firms, are now Veeva clients.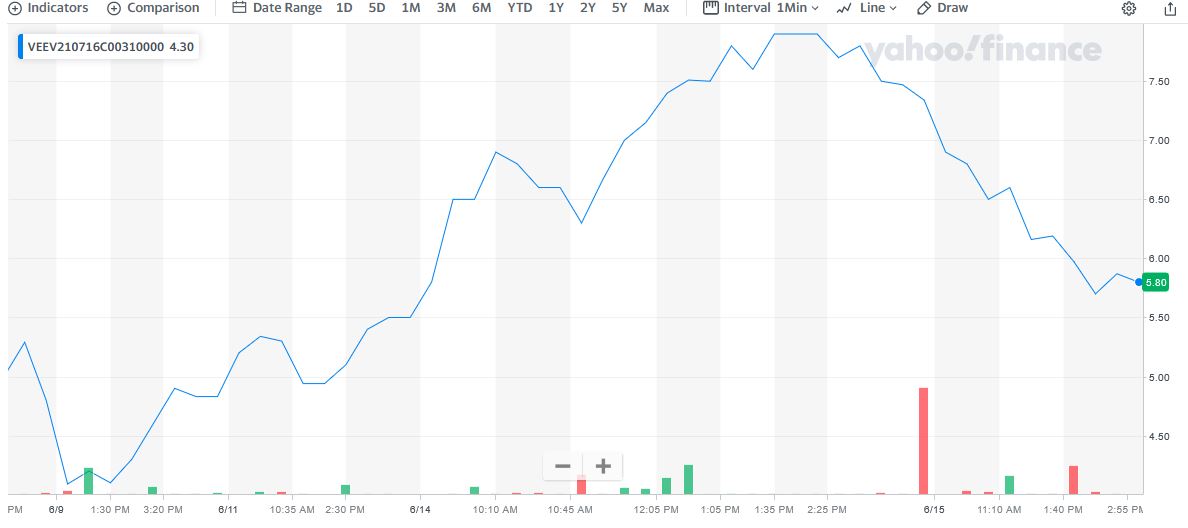 4. Options Trade – Unity Software Inc (NYSE: U) Calls…..
** OPTION TRADE: Buy U AUG 20 2021 105.000 CALLS at approximately $6.70. (actually bought for $6.90 – hit $8.10 for a profit of 37%)
Unity Software Inc (NYSE: U) is not a household name and many consumers may not know of it, however, it provides a real-time development platform for gaming on the Windows, macOS, and Linux platforms.
Now, the company has created a set of development tools geared toward virtual reality. In the Q1 2021 earnings call, CEO John Riccitiello described the transition from linear 2D to real-time 3D as a "transformative theme" that will change how creators recreate and tell their stories. Virtual reality will likely become a critical component in this transformation. Its software, initially geared for gaming, has now developed applications for industries as diverse as real estate, healthcare, and energy.
Unity also remains popular with developers. When Loup Ventures surveyed Unity developers in 2020, it found that 96% of developers will either maintain or increase their subscriptions to Unity. Roughly 63% also cited ease of use as their main reason for loyalty to the platform.
This loyalty likely played a factor in the 41% year-over-year revenue increase in the latest quarter to $235 million. However, with a near doubling of research and development expenses, its quarterly loss rose to $108 million.
Still, its proportion of customers who spend over $100,000 grew by 25%. With full-year 2021 revenue expected to rise by approximately 30% from 2020 levels, the increases also appear poised to continue.