Prelude…..
Shares of ON Semiconductor Corp (NASDAQ: ON) have added about 6.1% since reporting earnings, outperforming the S&P 500.
onsemi reported first-quarter 2023 non-GAAP earnings of $1.19 per share, outpacing the Consensus Estimate by 2% but declining 2.5% year over year.
Revenues of $1.96 billion beat the Consensus Estimate by 2% and improved 0.8% on a year-over-year basis.
Estimates have been trending upward for the stock, and the magnitude of these revisions looks promising.
Why the ON Weekly Options Trade was Executed?
ON Semiconductor Corp (NASDAQ: ON) has again proven that its refocus on automotive and industrial use cases was the right move at the right move. The Q1 results echo the news that onsemi shines. The company's automotive-oriented revenue grew by 38% in Q1 and equaled 50% of revenue. The shift drives that strength to EVs and self-driving vehicles, which will drive demand for years.
The takeaways for investors include onsemi's position within the market and its ability to produce growth where others cannot. This means that onsemi will lead the group and outperform the SOXX index in 2023.
"We continued our momentum with first quarter results exceeding expectations despite macroeconomic uncertainties … As secular tailwinds propel our business, we are prudently managing our operations to deliver consistent and predictable results in the current market environment," said Hassane El-Khoury, President and CEO of onsemi.
The ON Weekly Options Trade Explained.....
** OPTION TRADE: Buy ON JUN 09 2023 90.000 CALLS - price at last close was $1.75 - adjust accordingly.
Obviously the results will vary from trader to trader depending on entry cost and exit price that was undertaken.
Entered the ON Weekly Options (CALL) Trade on Tuesday, May 30, 2023, at 10:38, for $1.04.
Sold half the ON weekly options contracts on Thursday, June 01, 2023 for $1.60; a potential profit of 54%.
Total Dollar Profit is $160 - $1.04 (cost of contract) = $56
Holding the remaining ON weekly options contracts for further profit as the week progresses.
Don't miss out on further trades – become a member today!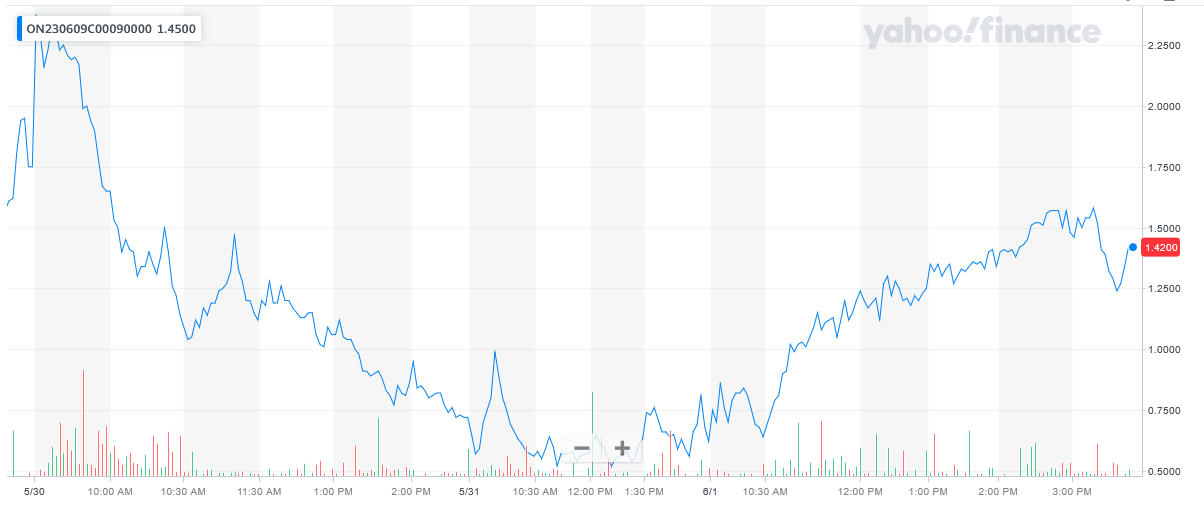 ON Semiconductor Company Profile.....
ON Semiconductor Corporation is a global leader in the semiconductor industry, providing a comprehensive range of semiconductor solutions, including power and signal management, logic, discrete and custom devices, and sensor technologies. Headquartered in Phoenix, Arizona, the company operates in a highly competitive industry, serving customers across various industries, including automotive, industrial, communication, computing, consumer, and medical. In 2021 ON Semiconductor was ranked on the Fortune 500 list of the top 500 companies. 
ON Semiconductor has a diverse and experienced executive team composed of leaders with extensive finance, operations, and engineering backgrounds. Together, they bring a wealth of experience to the table, enabling the company to stay ahead of the curve and provide innovative solutions to its customers. The company's management team is led by Chief Executive Officer Hassane El-Khoury, who was appointed to the position of President and CEO in December 2020. Before joining the team at ON Semiconductor El-Khoury was the CEO of Cypress Semiconductor, which was sold to Infineon in Q1 of 2020. Other notable team members include Thad Trent, the Chief Financial Officer, and Felicity Carson, the Chief Marketing Officer. 
In recent years, ON Semiconductor has shown consistently positive financial performance. The company has reported steady revenue growth over the past three years, with annual revenue and net profit rising yearly. Furthermore, ON Semiconductor has maintained a conservative balance sheet, with total debt significantly lower than total assets. This financial stability has enabled the company to invest in research and development, expand its operations, and pursue strategic acquisitions. ON Semiconductor trades at a price-to-earnings ratio that aligns with its industry peers. The company's stock has performed well in recent years, with a five-year return of 85% and a ten-year return of 144%. Recently the stock has seen significant growth, driven by the company's strong financial performance and the acquisition of GT Advanced Technologies.
In 2022, ON Semiconductor completed the acquisition of GT Advanced Technologies, a leader in silicon carbide materials and technology. This acquisition positions the company to capitalize on the growing demand for silicon carbide materials in high-power, high-efficiency applications.
However, the semiconductor industry is highly competitive, and ON Semiconductor faces intense competition from established players and new entrants. The industry is also subject to technological advancements and regulatory changes that can significantly impact the company's operations. Additionally, the company's end markets are subject to economic and political factors that can affect product demand.
Despite these challenges, ON Semiconductor has several growth opportunities in the coming years. The company is investing in new products and technologies, such as wireless charging and advanced imaging sensors, with significant growth potential. Furthermore, the company is expanding in emerging markets, particularly in Asia, where it has seen strong product demand.
Further Catalysts for the ON Weekly Options Trade…..
Earnings.....
onsemi had a much better quarter than Texas Instruments and produced revenue of $1.96 billion for a growth of 1.% compared to last year. The revenue beat the consensus by 150 basis points on strength in the Automotive and Industrial markets. Automotive and Industrial use accounts for 79% of the net revenue and is underpinning the company's success. On a segment basis, Advance Solutions Group was the only one to decline and fell -14% compared to last year. The Power Solutions Group grew by 3%, led by the Intelligent Solutions Group's 32% growth.   
The company reported margin contraction at all levels, but the news is better than feared. The gross margin contracted by 240 basis points and the operating margin by 450, but the GAAP and adjusted EPS were above consensus. The adjusted $1.19 in EPS is down $0.03 compared to last year and the top line growth but outpaced the consensus by $0.11 or more than 1000 basis points and led to an increase in guidance. 
Outlook.....
The company raised revenue and earnings guidance for Q2. The company expects revenue and earnings in a range well above the consensus figures, which should result in upward revisions from analysts. Based on the Q1 strength and Q2 guidance, analysts will likely raise targets for the current quarter and the year. That may also result in favorable activity regarding sentiment or share price targets.
Czech Investment.....
The Czech Industry Ministry will propose investment incentives worth 546 million crowns ($25.70 million), or around a fifth of eligible costs, for U.S.-listed group ON Semiconductor (Onsemi) to help it expand an existing facility in the country, the ministry said on Friday.
"Onsemi's investment is an important step towards strengthening the Czech chip industry, which is fundamental for future development in energy and electromobility," Czech Industry Minister Jozef Sikela.
ON Semiconductor has a production site in the east of the Czech Republic.
The country has also been trying to land a much larger ON Semiconductor project.
The company said earlier this month it was considering investing $2 billion in boosting production of silicon carbide chips that are widely used to help extend the range of electric vehicles.
Company executives said the firm was considering the expansion in either the United States, the Czech Republic or Korea.
Analysts.....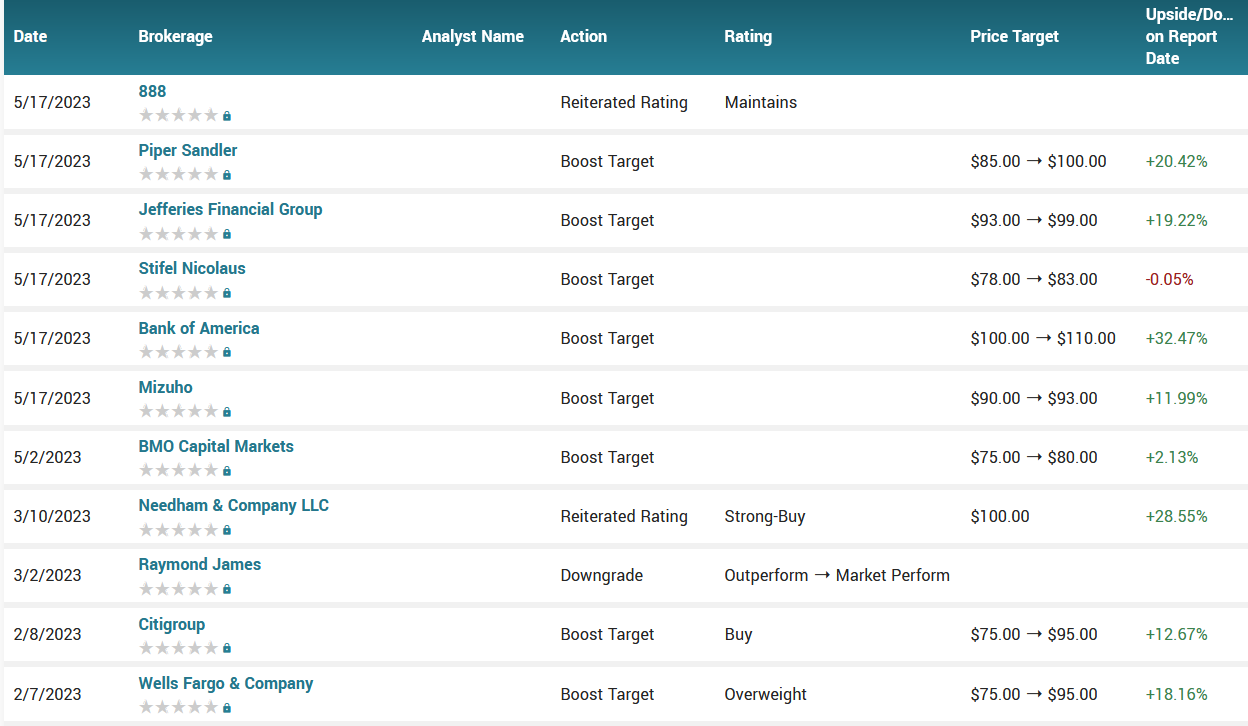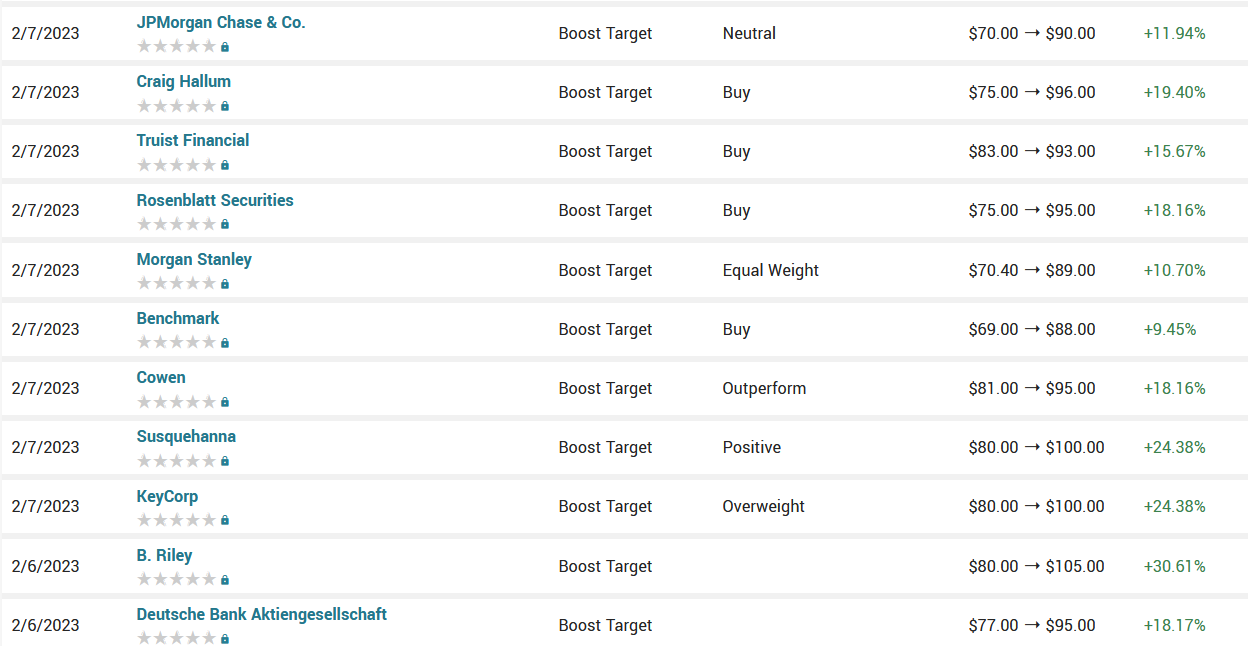 According to the issued ratings of 26 analysts in the last year, the consensus rating for ON Semiconductor stock is Moderate Buy based on the current 6 hold ratings, 19 buy ratings and 1 strong buy rating for ON. The average twelve-month price prediction for ON Semiconductor is $91.08 with a high price target of $110.00 and a low price target of $65.00.
Summary.....
Shares of onsemi are up more than 6% on the Q1 news and guidance raise. The move confirms the bounce from the $70 support level that began last week and could continue higher. The $80 and $85 levels are likely targets for resistance, but a move up to the $90 to $100 range looks likely if the stock can get above them. That would be a new all-time high. 
ON traded up $3.71 on Friday, hitting $85.71. 1,911,926 shares of the company's stock traded hands, compared to its average volume of 6,848,526. The firm has a market cap of $37.02 billion, a price-to-earnings ratio of 20.00, and a P/E/G ratio of 2.77 and a beta of 1.74. The company's 50 day simple moving average is $78.72 and its 200-day simple moving average is $74.57. The company has a current ratio of 2.22, a quick ratio of 1.51 and a debt-to-equity ratio of 0.40. ON Semiconductor Corporation has a one year low of $44.76 and a one year high of $87.55.
Therefore…..
For future trades, join us here at Weekly Options USA, and get the full details on the next trade.