It appears that NVIDIA Corporation (NASDAQ:NVDA) will have a very hot summer as it cleans up in the generative AI arms race with its performance lead in chips.
The chip giant's stock is up 3% so far in July, outperforming the Nasdaq Composite's 1.2% gain. Shares are now up a whopping 200% on the year.
Nvidia initially hit the $1 trillion market cap level on May 30.
Nvidia is viewed as boasting the pole position in the AI space due to its chips that power OpenAI's ChatGPT platform. The company has also inked high-profile generative AI chip deals with ServiceNow (NOW) and Snowflake (SNOW).
Why the NVDA Weekly Options Trade was Originally Executed?…..
Analysts at Goldman Sachs have raised their price target for NVIDIA Corporation (NASDAQ:NVDA), citing the potential for artificial intelligence to help boost the graphics card maker's performance.
In a note to clients, the analysts hiked their 12-month price target to $495 from $440 and reiterated their "Buy" rating of the stock.
In May, Nvidia predicted that it will see elevated demand for its data center chips, which play a key role in powering the generative AI technology that has seen a significant spike in popularity this year. Generative AI, which is used by tools such as OpenAI's ChatGPT, uses past data to create new content such as text, images, and programming code.
The Goldman Sachs analysts noted that this "step-function increase" in expected demand for data center chips suggests the company is on the verge of a new phase of growth driven by the "emergence and proliferation of [g]enerative AI."
They added that they are raising their estimates for Nvidia's revenue and non-GAAP earnings per share in its 2025-2026 fiscal year, arguing that there is "significant runway" for its data center business.
The NVDA Weekly Options Trade Explained.....
** OPTION TRADE: Buy NVDA JUL 28 2023 450.000 CALLS - price at last close was $5.30 - adjust accordingly.
Obviously the results will vary from trader to trader depending on entry cost and exit price that was undertaken.
Entered the NVDA Weekly Options (CALL) Trade on Tuesday, July 11, 2023 for $5.45.
Sold half the NVDA Weekly Options contracts on Wednesday, July 12, 2023, for $10.90; a potential profit of 100%.
Sold more NVDA Weekly Options contracts on Thursday, July 13, 2023, for $22.00; a potential profit of 304%.
Holding the remaining NVDA weekly options contracts for further profit before expiry.
Don't miss out on further trades – become a member today!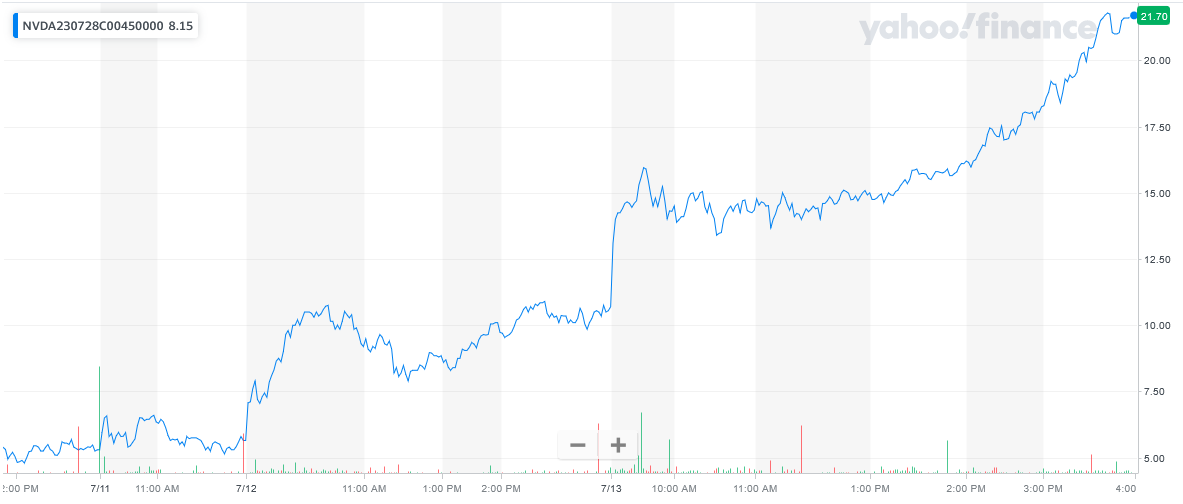 Further Catalysts for the NVDA Weekly Options Trade…..
Shares of Nvidia rallied in June, with shares climbed 12%, according to data provided by S&P Global Market Intelligence. That's nearly double the 6.5% gains of the S&P 500, compounding its impressive gains so far in 2023, with the stock up an eye-popping 189% as of market close on June 30.
Helping fuel the semiconductor giant's rally was a wave of price target increases from Wall Street, as analysts scrambled to update their models in the wake of Nvidia's exceptionally strong guidance for the current quarter.
Other Catalysts.....
The company signaled an inflection point in the evolution of artificial intelligence (AI) when Nvidia reported the financial results of its fiscal 2024 first quarter (ended April 30). The company generated revenue of $7.2 billion, a decline of 13% year over year, resulting in net income of $2 trillion, down 26%.
While that might not seem like much to write home about, it was Nvidia's blockbuster forecast that took Wall Street by surprise. For the second quarter, management is guiding for revenue of $11 billion, up 64% year over year and 53% sequentially. CFO Colette Kress cited "growing demand for generative AI" as driving its forecast higher.
Analysts.....
NVIDIA had its target price raised by Tigress Financial from $320.00 to $560.00 in a research report sent to investors on Friday.
Analysts at Morgan Stanley raised their price target on Nvidia to $500, up from $400, while simultaneously naming the stock a "top pick" in the semiconductor space. This suggests potential upside for investors of 18% -- even after the stock's nearly 200% gains so far this year. The investment bank cited growing demand for AI, suggesting that only Nvidia was in a position to "beat and raise this year," according to The Fly. 
Jefferies analyst Mark Lipacis also raised his price target to $500, citing Nvidia's stack of AI hardware and software solutions, calling the company "the compute leader by far today in the early innings of AI."
Analyst Dan Ives was among the most bullish, saying AI represents the "fourth industrial revolution," with Nvidia as one of the primary beneficiaries, citing a "long runway of growth ahead."

According to the issued ratings of 37 analysts in the last year, the consensus rating for NVIDIA stock is Moderate Buy based on the current 1 sell rating, 5 hold ratings, 30 buy ratings and 1 strong buy rating for NVDA. The average twelve-month price prediction for NVIDIA is $400.68 with a high price target of $560.00 and a low price target of $185.00.
Conclusion.....
"We continue to see upside to EPS of $10 in [calendar year 2023] for Nvidia (versus consensus $7.49), with our scenario implying growth to $30 by 2027 (at only 20% acceleration attach)," Evercore ISI analyst C.J. Muse wrote in a new client note. "Nvidia remains a top pick with beats and raises along with positive AI-related headlines driving continued momentum for shares through the year (and likely supporting the [semiconductor sector index] SOX higher as well)."