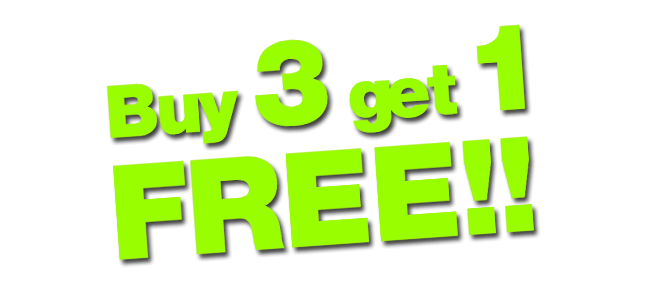 BACK TO THE GOOD OLD PRICE FOR CHRISTMAS
BUY THREE MONTHS OF WEEKLY OPTIONS TRADING MEMBERSHIP FOR $297 AND GET A FOURTH MONTH FREE!
LIMITED TIME ONLY!

Payments processed safely and securely through Paypal.
Nvidia Shares Pop
Weekly Options Provide
711%

Potential Profit!


Members of "Weekly Options USA," Using A Weekly CALL Option, Make Potential Profit Of

711%,


As Nvidia Shares Jump After Releasing Its Fiscal 2024 First-Quarter Earnings Report!

Where To Now?


Nvidia shares scream higher after releasing its fiscal 2024 first-quarter earnings report and it blew out its own most recent revenue guidance. Nvidia reported revenue of $7.2 billion compared to the $6.5 billion guidance it provided for the quarterly period.
This set the scene for Weekly Options USA Members to profit by 711%, using a NVIDIA Weekly Options trade!
 Join Us And Get The Trades – become a member today!
Thursday, May 25, 2023

by Ian Harvey
Prelude…..
NVIDIA Corporation (NASDAQ:NVDA)'s forecast for surging revenue surprised even the most bullish analysts on Wall Street, propelling the chipmaker to the cusp of a $1 trillion market capitalization and igniting a global jump in stocks linked to artificial intelligence.
The Santa Clara, California-based company gained as much as 30% in US premarket trading, on course for a record high, after saying it expects about $11 billion of sales in the three months ending July.
Why the Nvidia Shares Weekly Options Trade was Executed?
Shares of the chip giant have exploded 115% year to date, beating the Nasdaq Composite's seemingly paltry 20% gain. The company's stock is leading the pack among well-known chip-makers: AMD shares are up 63% on the year, Intel has advanced 14%, and Qualcomm shares have actually lost 3.6%.
The stock has even outperformed mighty Apple's (AAPL) 35% appreciation.
"Nvidia is trading on heroic valuations which time will tell if they are justified," quipped Deutsche Bank strategist Jim Reid in a client note Monday.
To Reid's point, Nvidia's valuation clearly puts the stock in priced-for-perfection territory.
The stock trades on a forward price-to-earnings multiple of 63 times. By comparison, the S&P 500 trades on a forward price-to-earnings multiple of 18.8 times.
In effect, investors are banking on Nvidia to grow its future earnings by more than three times the rate of the S&P 500.
Monday brought news out of Germany, where Reuters reported the company unveiled a new supercomputer in partnership with Hewlett Packard Enterprise (HPE) at a supercomputing conference. The computer — called Isambard 3 — is based on Nvidia's new high-powered Grace CPU chips.
The Grace CPU chips take aim at similar ones offered by AMD and Intel.
Meantime, OpenAI's popular generative AI platform ChatGPT was developed using Nvidia GPUs.
And at its GTC conference in March, Nvidia showed off a host of solutions for training and deploying complex models inherent to generative AI.
"We are seeing an acceleration in demand," Nvidia founder and CEO Jensen Huang said. "We're seeing an acceleration of demand for our DGX AI supercomputers. We're seeing an acceleration of demand for inference, because of generative AI."
Wall Street's read is that Nvidia is a "one-stop solution provider" for all things tied to the hot generative AI movement, potentially leading to bumper profits well into the future.
"With leading silicon (GPU/DPU/Networking), hardware/software platforms, and a strong ecosystem, Nvidia is well-positioned to continue to benefit from major secular trends in AI, high performance computing, gaming, and autonomous vehicles, in our view," JP Morgan analyst Harlan Sur wrote in a research note.
Added Sur: "Bottom line: Nvidia continues to be 1-2 steps ahead of its competitors in accelerated computing silicon/systems, software, and ecosystems."
The NVIDIA Weekly Options Trade Explained.....
** OPTION TRADE: Buy NVDA JUN 09 2023 320.000 CALLS - price at last close was $10.60 - adjust accordingly.
Obviously the results will vary from trader to trader depending on entry cost and exit price that was undertaken.
Entered the NVDA Weekly Options (CALL) Trade on Tuesday, May 23, 2023, at 2:44, for $8.80.
Sold the NVDA weekly options contracts on Thursday, May 25, 2023 for $71.40; a potential profit of 711%.
Total Dollar Profit is $7,140 - $880 (cost of contract) = $6,260
Don't miss out on further trades – become a member today!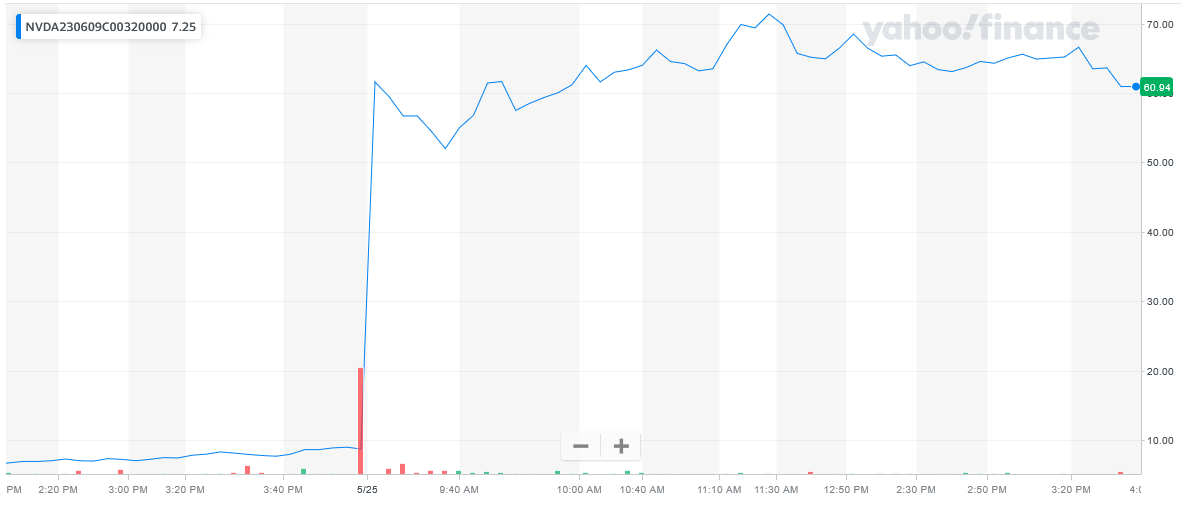 The Earnings Report.....
Nvidia reported its fiscal first quarter earnings after the bell on Wednesday, beating analysts' expectations on the top and bottom line on the strength of its data center business. The company also said it expects Q2 revenue to come in at about $11 billion, plus or minus 2%. Wall Street was expecting $7.2 billion.
Nvidia is at the center of the AI explosion thanks to its high-powered graphics cards and server products, and its stock price is soaring. Over the last year, shares of Nvidia have jumped 77%.
The main features of the report are.....
Revenue: $7.2 billion versus $6.5 billion expected
Adj. EPS: $1.09 versus $0.92 expected
Gaming: $2.2 billion versus $1.9 billion expected
Data center: $4.2 billion versus $3.9 billion expected
"The computer industry is going through two simultaneous transitions — accelerated computing and generative AI," Nvidia CEO Jensen Huang said in a statement.
"A trillion dollars of installed global data center infrastructure will transition from general purpose to accelerated computing as companies race to apply generative AI into every product, service and business process."
Nvidia's data center business continues to perform, with the company reporting 14% revenue growth for the quarter.
Trillion-Dollar Approaching..... 
Nvidia's blowout sales forecast has set the Silicon Valley company on course to become the first chipmaker to be valued at more than $1tn, as booming demand for its artificial intelligence processors drove semiconductor stocks higher on Thursday.
Nvidia, whose stock hit an all-time high in premarket trading, was set to swell its market valuation by about $189 billion to $945 billion.
With a market capitalisation of $927.2bn, Nvidia appears within reach of joining Apple, Microsoft, Alphabet, Amazon and Saudi Aramco in the elite group of companies valued at more than $1tn.
CEO Jensen Huang said a $1 trillion worth of current equipment in data centers would have to be replaced with AI chips, as generative AI is applied into every product and service.
Analysts Thoughts.....
Analysts rushed to raise their price targets on Nvidia stock, with 21 lifting their view on the idea that all roads in AI lead to the company as it provides the chips used to power ChatGPT and many similar services.
"In the 15+ years we have been doing this job, we have never seen a guide like the one Nvidia just put up with the second-quarter outlook that was by all accounts cosmological, and which annihilated expectations," said Stacy Rasgon of Bernstein.
"This Nvidia (forecast) changes the whole narrative around AI and demand looking ahead in the enterprise. Historical inflection point possibly in AI Revolution, with Nvidia the key barometer," said Dan Ives of Wedbush.
"We believe this is just the beginning of a paradigm-altering generative AI wave," Barclays analyst Blayne Curtis wrote in a note. "So far, it seems that Nvidia is the one capturing nearly all the economics."
"We've never seen a quarter like this, in 25 years of doing this, across any of my coverage," Morgan Stanley analyst Joseph Moore said. "Certainly, it's an expensive stock, but it's also rarified territory of the one company that can put up a number like this. It's a really impressive performance. The move, as big as it is, is consistent with just how good these results are."
Moore added that the AI-led surge is one that will last.
"The strength that we're seeing in AI is a fundamental trend that we see as having legs for multiple years," he said. "This is an important platform shift in the market. These AI investments are really the trend. And there's really one company that benefits from it. It's a very impressive growth outlook and one that doesn't appear to be a one-quarter thing."
Orders for Nvidia's A100 and H100 AI chips are "truly spectacular," said Amir Anvarzadeh, a strategist at Asymmetric Advisors Ltd. in Singapore. "More importantly for Asian equity investors, they point out that all the orders are being passed on to TSMC," which has "more than adequate" capacity to fill the orders.
Summary.....
Under Chief Executive Officer and co-founder Jensen Huang, Nvidia has positioned itself as the top provider of components for training AI software. That's helped it weather a broader slowdown in technology spending.
Jensen Huang, Nvidia's chief executive, said on Wednesday's call with analysts that 15 years of investment and expanding production capability left Nvidia in the right place at the right time when ChatGPT set off an even bigger investment cycle by the world's richest companies. "When generative AI came along, it triggered a killer app for this computing platform that's been in preparation for some time," he added. "With generative AI becoming the primary workload of most of the world's data centres generating information, it is very clear now that . . . the budget of a data centre will shift very dramatically towards accelerated computing, and you're seeing that now."
Therefore…..
For future trades, join us here at Weekly Options USA, and get the full details on the next trade.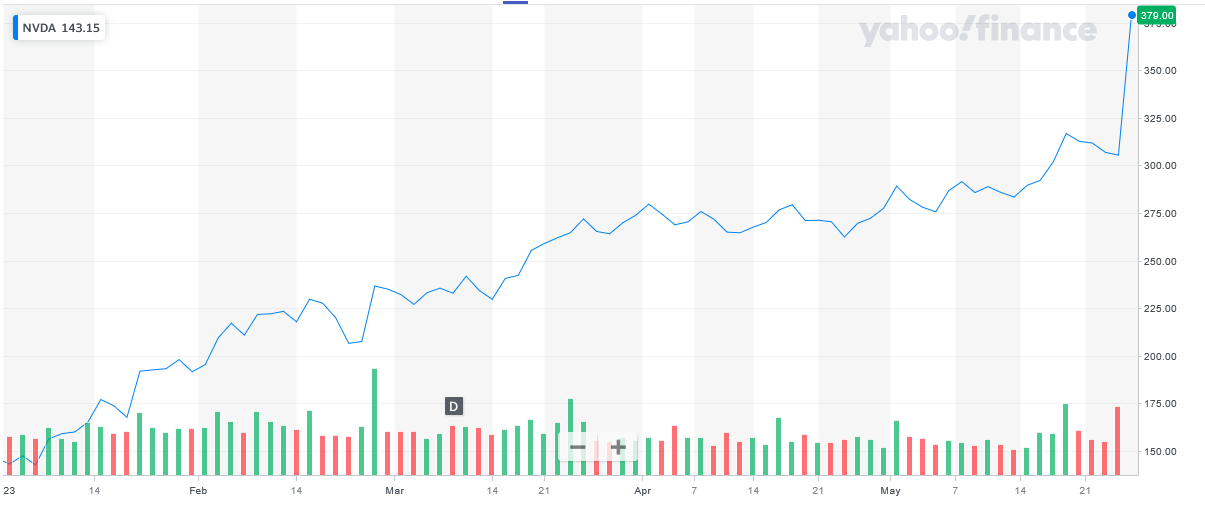 Back to Weekly Options USA Home Page from NVIDIA

The results from recent trades offered through our membership service are listed on this page.

Boeing Stock Switches From Toxic To Great! Weekly Options Members Are Up 191% Potential Profit Using A Weekly Call Option!

Delta Air Lines (DAL) Gains Analyst Support! Weekly Options Members Are Up 108% Potential Profit Using A Weekly Call Option!