Prelude…..
On Monday, August 02, 2021, a Nvidia NVDA Weekly Options trade was recommended to our members based on several catalysts.
READ Details of the Original Nvidia Weekly Options Recommendation Further Below.....
Updated Information.....
In 2021 Nvidia NVDA has rallied over 50%, creating new highs and quickly reversing any dips. And, this week has been very positive for Nvidia shares of reaching close to all-time highs.
On August 2 Nvidia NVDA announced the availability of its Base Command Platform, a product aimed at enterprise companies that want instant access to powerful computing. The service is a subscription-based model starting at $90,000 a month with a three-month minimum contract. 
Nvidia NVDA has seen increased price target hikes even though its earnings are scheduled for August 16, 2021. Analysts may be bullish for Nvidia after AMD reported a strong quarter. 
On Wednesday, Rosenblatt raised its price target on Nvidia NVDA stock 25% to $250 -- that's incidentally about 25% above where the stock was trading on the day.
Rosenblatt cites Nvidia's earnings power on "best-in-class AI" and its opportunities in next generation networking and data processing as well as autonomous driving software, and apparently believes even the company's 94-times-earnings valuation currently is not too much to pay for Nvidia NVDA stock.
The analyst admits there's some pessimism surrounding Nvidia NVDA right now, based on a (well-founded) belief that U.K. antimonopoly regulators will prevent Nvidia from acquiring ARM Holdings from Softbank, as the company had planned. (Further information below in the catalysts). "Nonetheless," argues Rosenblatt, "the stock will work" because it has a "Plan B" to simply partner with ARM to produce supercomputing chips for a wide array of customers including Amazon, Marvell, and others.
And that's on top of the company's graphics and other semiconductor businesses.
The Recommended Nvidia NVDA Weekly Options Trade.....
** OPTION TRADE: Buy NVDA AUG 13 2021 195.000 CALLS at approximately $5.30.
 (Actually bought for $4.60)
Nvidia NVDA Weekly Options Trade Call Success Explained.....
On Monday, August 02, 2021, "Weekly Options Members," entered the Nvidia Weekly Options trade mentioned above for $4.60 shortly after the market opened.
On Tuesday, August 03, 2021, at 9:46am the price of the option hit $10.00 – up 117%.
On Tuesday, August 03, 2021, at 11:24am the option price had declined and was again bought for $4.45.
On Thursday, August 05, 2021, at 9:35am the option price was sitting at $13.17 – another potential profit of 196%.
It is very likely that a new Nvidia Weekly Options trade, moving forward, will be also successful.
Join us and see what we are proposing!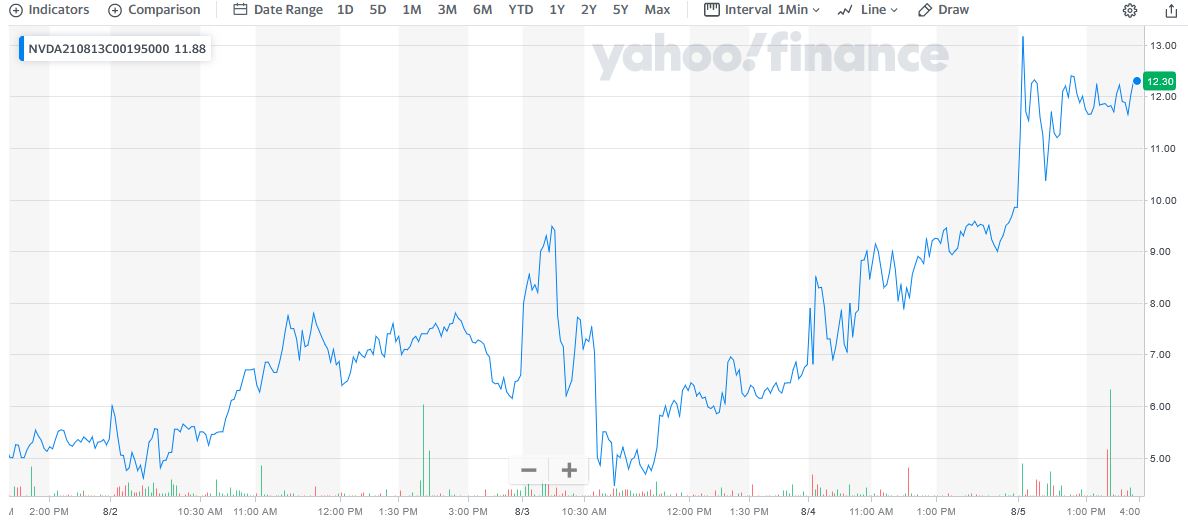 1. Stock Split Effect.....
Nvidia NVDA announced a four-for-one stock split in May, which began trading on July 20. The shares were to begin trading on a split-adjusted basis, which meant the price per share should fall to somewhere around $200.
While stock splits change the per-share price, they have no actual impact on the underlying value of the company or its share value. Because they alter none of the company's fundamentals, splits should have no effect on the long-term prospects of the business at all. 
With a four to one stock split, investors in the company simply end up owning four shares for every one they owned pre-split. But the actual value of their investment hasn't increased despite having more shares.
However, this can be a bullish catalyst for a stock.
According to research performed by The Wall Street Journal, "the stocks of companies that split their shares have significantly outperformed their benchmark over the subsequent months, earning an average of 1 percentage point more than the benchmark over the six months after the split." Given this statistic and the fact that NVIDIA's stock split provides more liquidity in the market and could allow new investors to add shares of this cutting-edge company at lower prices, expect that there is more upside for shares in the near term going forward.
2. ARM Holdings Acquisition.....
NVIDIA's planned acquisition of ARM Holdings for $40 billion could be another very positive catalyst for the stock price if the deal closes. ARM Holdings is a strong chip designer whose CPU chips are used to power over 95% of the world's smartphones, and the acquisition could deliver strong synergies and top-line growth for NVIDIA. The acquisition would also help the company expand AI computing globally.
3. Graphics Processing Units or GPUs.....
The fabless chipmaker pioneered graphics processing units, or GPUs, to make video games more realistic. It's expanding in AI chips, used in supercomputers, data centers, drug development and driverless cars.
For example, it will supply the chip that acts as the "brain" for the Nio (NIO) ET7, which will be Nio's first autonomous driving model when it arrives in Q1 2022. And Nvidia already supplies Amazon (AMZN) Web Services with chips for data centers.
It's hard to overstate Nvidia's dominance of the gaming space with its cutting-edge graphics processing units (GPUs). The company commands an 81% share of the discrete desktop GPU market and is the processor of choice among hardcore gamers.
Last September, Nvidia NVDA unveiled new GeForce gaming GPUs, touting a generational leap in performance. In April, Nvidia unveiled its first CPU, called Grace, which uses chip designs from U.K.-based Arm for high-end computing and AI applications.
Nvidia's GPUs act as accelerators for central processing unit, or CPUs, made by other companies. With its own CPU, Nvidia will offer a more complete system for data centers, directly challenging processor giants Intel (INTC) and Advanced Micro Devices (AMD).
4. Past Earnings.....
In Q1, Nvidia earnings rocketed 103% as sales jumped 84%. The year-over-year improvement on both the top and bottom lines was the highest in four quarters. Gaming chip revenue soared 106%. Data-center chip sales jumped 79%, due in part to the Mellanox purchase last year. In addition, Nvidia guided revenue higher for the current quarter.
5. Future Earnings.....
NVIDIA NVDA is expected to report earnings on August 18, 2021 after the market closes. The report will be for the fiscal Quarter ending Jul 2021.
The company is expected to report EPS of $1.02, up 85.45% from the prior-year quarter. Meanwhile, the latest consensus estimate is calling for revenue of $6.34 billion, up 64.1% from the prior-year quarter.
NVDA's full-year Consensus Estimates are calling for earnings of $3.97 per share and revenue of $24.93 billion. These results would represent year-over-year changes of +58.8% and +49.53%, respectively.
6. Research and Development…..
Nvidia NVDA pioneered the GPU (in its current form) and continues to spend heavily on research and development (R&D) to create the next generation of state-of-the-art processors. Don't take my word for it. In its fiscal 2022 first quarter (ended May 2, 2021), Nvidia spent $1.15 billion -- more than 20% of its total revenue and 31% of its gross profit -- on R&D.  The company is that serious about maintaining its technological advantage.
Nvidia's financial results show that its strategy is sound, as already mentioned above with past earnings. History shows that there will be peaks and valleys in demand for gaming chips, but Nvidia's continue to be the most highly sought after.
7. Cloud Computing.....
While processors for gaming represent the bulk of Nvidia's business, the company's data center segment is catching up fast. The GPU's super power is parallel processing -- which allows it to run legions of complex mathematical computations simultaneously. This not only helps render life-like images in video games, but works equally as well routing information to and from a data center at lightning speeds.
Nvidia's GPUs are the unheralded workhorse of the data center, the top choice of the biggest names in cloud computing. Microsoft's Azure Cloud, Alphabet's Google Cloud, and Amazon's AWS all rely on Nvidia GPUs to move data -- as do a host of other top cloud operators. 
There's another reason these cloud leaders all use Nvidia chips in their data centers. Researchers discovered that in order to train and run artificial intelligence (AI) systems, they needed the fastest processors available. The sheer number-crunching capabilities of Nvidia GPUs is unmatched, and as AI becomes a staple of cloud computing, Nvidia processors became something of a must-have.
Nvidia's results tell the tale. The company generated record data center revenue of $2.05 billion in the first quarter, up 79% year over year, and accounting for 36% of its total sales.
8. Autonomous Driving …..
Autonomous driving is another technology that requires processing done in the blink of an eye.
Nvidia NVDA has partnered with more than 370 companies in the automotive industry to take self-driving technology from the drawing board to mass production. The list includes top-shelf car and truck manufacturers, tier 1 auto suppliers, mobility services, sensor companies, and HD mapping specialists that are collaborating on its Nvidia Drive system. The system combines an open autonomous vehicle computing platform with cutting-edge software that is constantly improving and evolving.
While its auto segment currently represents just 4% of Nvidia's revenue, a breakthrough in self-driving technology could be a major catalyst to drive Nvidia to the next level.
9. Cryptocurrencies …..
This year, Nvidia began making dedicated chips for mining cryptocurrencies. Its cryptocurrency mining processors, or CMPs, launched in February and generated $155 million in sales by April.

10. AMD Report …..

A powerful earnings release from rival Advanced Micro Devices (NASDAQ:AMD) has boosted Nvidia upwards.

On Tuesday, last week, AMD wowed Wall Street with a report of $0.63 per share in pro forma profit -- earnings under generally accepted accounting principles (GAAP) were $0.58 per share -- and sales of $3.85 billion. All of those results were considerably higher than Wall Street had predicted. Further encouraging semiconductors investors was the fact that AMD guided for even higher sales in the third quarter ($4.1 billion, "plus or minus $100 million"), and a repeat of the second quarter's robust 48% gross profit margin to boot.

All of which sounds pretty propitious for Nvidia's own earnings release. Responding to the bullish sentiment, investors bid up Nvidia stock more than 2% early in the day, and the stock closed Wednesday trading up 1.5%. 

11. Assets and Liabilities…..
Its rapid growth isn't preventing it from increasing its cash position or paying down its existing liabilities. As of the first quarter, the company reported total assets of about $31 billion, with approximately $13 billion in cash, cash equivalents, and marketable securities. Nvidia also reported total current liabilities (obligations due within the coming 12 months) of a far lower $4 billion.
12. Analysts Opinions.....

"After taking a fresh look at our thesis on Nvidia, we are raising our moat rating to wide from narrow, thanks to intangible assets related to the design of graphics processing units (GPUs)," said Morningstar analyst Abhinav Davuluri. Essentially, this means the research company believes Nvidia is widening its lead in GPU technology, which, in turn, is strengthening its competitive advantages over its rivals.

Citigroup analyst Atif Malik reiterated his buy rating on Nvidia's stock and boosted his price forecast from $180 to $223. If declining cryptocurrency prices lead to a sell-off in the chipmaker's stock price, Malik believes investors should pounce on the chance to scoop up shares at a discount ahead of the release of Nvidia's new GPUs next year.

Also, Argus analyst Jim Kelleher lifted his price target on Nvidia from $175 to $230. Kelleher also argued that Nvidia's stock is a buy, based on the strong demand for its chips in markets like gaming and data centers, as well as its attractive growth opportunity in autonomous vehicles.

Out of 29 analysts covering NVDA stock, 28 rate it a buy, one has a hold and none has a sell.

Analysts are understandably growing more bullish on Nvidia's growth prospects. The tech giant's GPU technology is best-in-class -- at a time when demand for these chips is soaring in a wide array of industries.