The Actual Recommended NVIDIA Corporation Weekly Options Trade.....
** OPTION TRADE: Buy NVDA NOV 26 2021 310.000 CALLS at approximately $9.00.
 (Actually bought for $8.55)
NVIDIA Corporation Weekly Options Trade Call Success Explained.....
This trade could have been played out in three (3) separate parts…..
Trade 1: Thursday, November 11, 2021
Trade 2: Friday, November 12, 2021
Bought at 9:52 for $7.50

Sold at 11:26 for $12.07

Profit is 61%
Trade 3: Monday, November 15, 2021
Total Potential Profit is 354%
It is very likely that a new NVIDIA Corporation Weekly Options trade, if recommended, will be also successful.
Join us and see what we are proposing!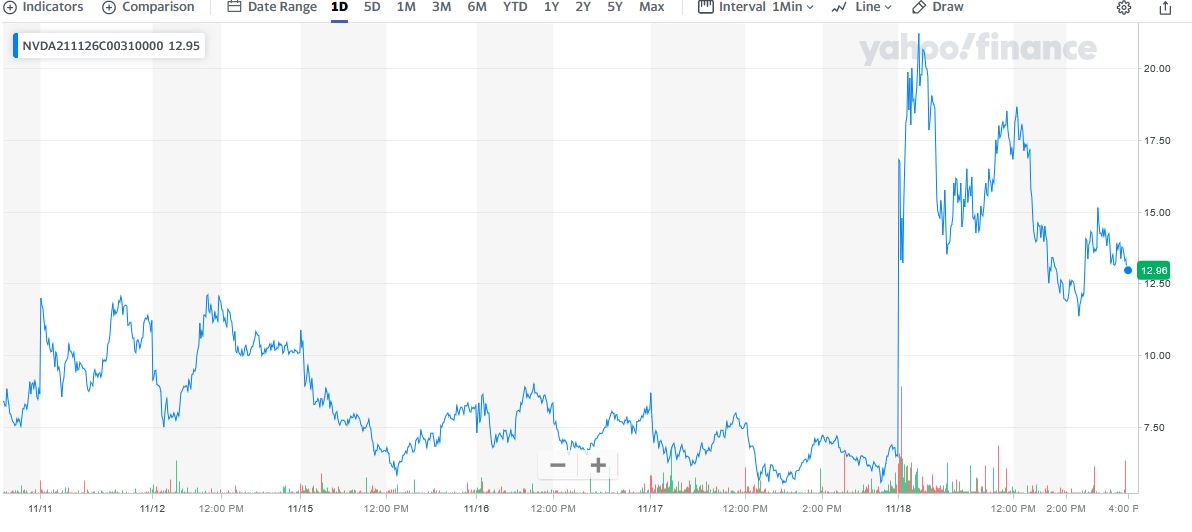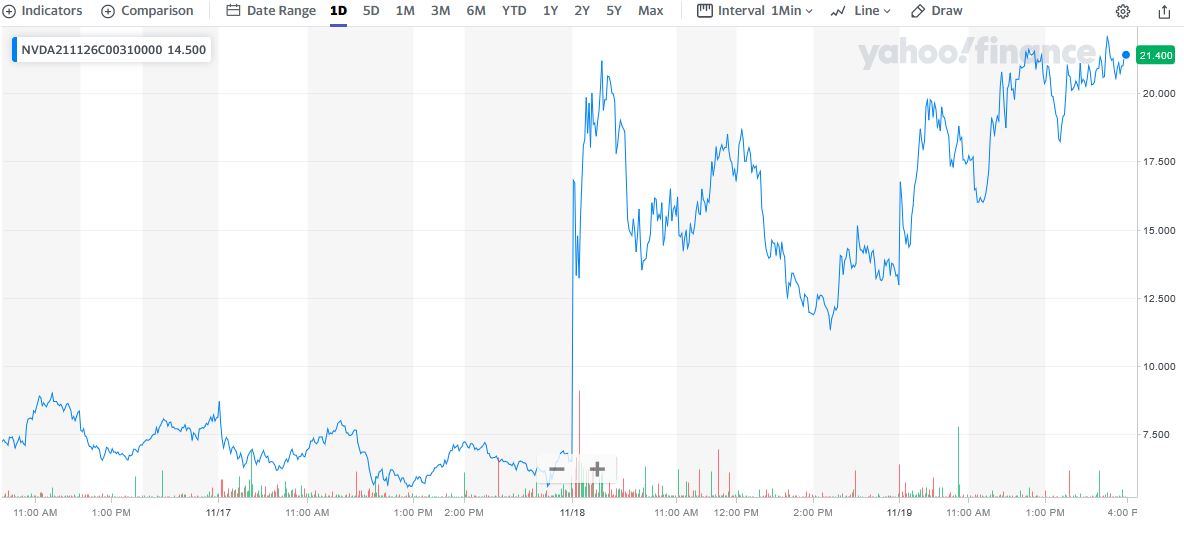 The Original Major Catalysts

for the

NVIDIA Corporation

Weekly Options

Trade…..
1. Upcoming Earnings…..
NVIDIA Corporation is expected to report earnings on November 17, 2021 after the market closes. Nvidia is expected to deliver a year-over-year increase in earnings on higher revenues when it reports results for the quarter ended October 2021.
This maker of graphics chips for gaming and artificial intelligence is expected to post quarterly earnings of $1.11 per share in its upcoming report, which represents a year-over-year change of +52.1%.
Revenues are expected to be $6.83 billion, up 44.5% from the year-ago quarter.
For the last reported quarter, it was expected that NVIDIA Corporation would post earnings of $1.01 per share when it actually produced earnings of $1.04, delivering a surprise of +2.97%.
Over the last four quarters, the company has beaten consensus EPS estimates four times.
2. Omniverse.....
NVIDIA Corporation is launching new technology to expand its reach in the automotive industry, including a virtual driving assistant that can park a standard car and a system to speed up the training of autonomous vehicles.
As part of its fall new product event, centered around its "Omniverse" simulation technology, Nvidia Chief Executive Jensen Huang said the company will begin offering automakers a system called Drive Concierge. It uses Nvidia hardware and artificial intelligence software to provide a variety of services, including an autonomous driving function that allows a human-driven vehicle to park itself.
Another extension of the Omniverse strategy will be a system called "Omniverse Replicator" that will simplify and speed up the tasks required to create a virtual world for training automated vehicles.
NVIDIA Corporation, the world's biggest maker of graphics and artificial intelligence chips, has been pushing for years to expand technology originally developed for computer gaming and graphics into the auto industry.
Now, Nvidia is looking to capitalize on the intense competition among automakers to develop vehicles that can drive themselves and deliver sophisticated entertainment and information to the humans on board.
The firm is working to put high-powered chips and software into vehicles, and also sell technology that can create a highly detailed simulation of a factory to help manufacturers cut costs when building new plants, or an artificial universe for a robotaxi or self-driving truck to learn how to drive.
A number of automakers, including Daimler AG's Mercedes-Benz luxury vehicle brand, Volvo Car AB and Nio, have partnered with Nvidia to catch up with Tesla Inc's lead in software-driven features.
Mercedes and NVIDIA Corporation announced in June 2020 a partnership to develop a new generation of Mercedes vehicles with Nvidia's Nvidia Drive Orin AGX platform engineered in to provide autonomous driving and other functions. The first of those Mercedes vehicles is planned to launch in 2024.
2. Improved Intelligent Vehicle Stack.....
With the additions of DRIVE Chauffeur, DRIVE Concierge and DRIVE Hyperion 8 at NVIDIA GTC, the company looks all-in on improving the safety, efficiency, and experience of driving in an autonomous vehicle. It isn't a single solution that radically changes the autonomous vehicle experience, but rather when you gather a combination of hardware and software solutions together to craft a better user experience. That is what NVIDIA is doing with its new announcements.
NVIDIA Corporation keeps adding more features and capabilities to its autonomous vehicle stack, and it's great to see. It is enabling autonomous vehicle developers with the hardware and software needed to develop future vehicles, and it takes a deep commitment and many dollars to do that.
3. Benefiting…..
NVIDIA Corporation also benefits by selling full-on supercomputers for AI applications, which can go for hundreds of thousands of dollars.
What's more, NVIDIA Corporation benefits from largely working only with GPUs. Unlike AMD, it doesn't sell both CPUs and GPUs, and unlike Intel, it isn't reentering the discrete GPU market. The company is set to launch its own CPU code named Grace to ensure it can provide its customers with its own CPU — but so far it's been able to focus all of its efforts on GPUs.
"Nvidia has had that part of the market to itself. It has the resources to invest into the markets, both gaming and the data center, which has helped it build its business," Priestley said. "It has one product GPUs, basically."
4. Luminar…..
Luminar stock soared after the lidar startup won a deal with Nvidia that could bring driverless or self-driving cars to market faster.
Announcing the NVIDIA Corporation partnership Tuesday, Luminar Technologies (LAZR) said its Iris lidar sensors will be used in the chip giant's DRIVE Hyperion autonomous vehicle platform.
That platform accelerates the "development of autonomous consumer vehicles with planned production starting in 2024," the release said.
Tuesday's release suggested the companies plan to license the technology to global automakers.
"By offering automakers a qualified, complete sensor suite featuring Luminar's lidar solution, on top of NVIDIA's centralized high-performance compute and AI software, DRIVE Hyperion provides everything needed to develop production autonomous vehicles," it said.
Lidars, or light detection and ranging systems, emit laser beams to help driverless or self-driving cars "see" objects on the road, even in poor light and weather, thus avoiding accidents.
Nvidia will use one forward-facing, long-range Luminar Iris lidar to enable highly autonomous driving on highways.
According to the chip giant, Luminar's automotive lidar hardware and software technology is both unique and scalable, making it a suitable complement for Nvidia's DRIVE Hyperion platform.
"Our collaboration with Luminar bolsters the [Nvidia] ecosystem of companies that are focused on building best-in-class technologies for enabling autonomous driving functionalities," Gary Hicok, Nvidia's senior vice president of engineering, said in Tuesday's partnership announcement. "Luminar is pioneering a unique, scalable solution that complements the [Nvidia's] platform."
5. Analysts Thoughts.....

The company kicked off its 2021 GTC conference on Tuesday and Rosenblatt analyst Hans Mosesmann is effusive in his praise following CEO Jensen Huang's keynote.
 "Nvidia has planted the seeds of accelerated computing triangulating the major parties to create a secular movement: gamers, scientists, auto industry, operations optimization, robotics, and creators," the analyst said.
Huang made the bold claim that the company is basically the leader in "accelerated" computing, which is key to practically all AI/ML from now on in. Nvidia keeps on broadening its full stack coverage of the space, which now includes CUDA compiler technologies, accelerated specialized libraries, and a software suite that covers the entire data center "at scale."
Jensen's keynote also touched upon the company's Omniverse platform, which forms the "structural foundation" for Meta's Metaverse vision. And here Mosesmann doesn't hold back either, noting Nvidia is "so, so far ahead of any chip company in virtual world dynamic it's not even close."
While Jensen also announced the Quantum-2 networking platform which incorporates the Quantum 2 InfiniBand switch, Bluefield, and CX7 NICs (network interface cards), Mosesmann stresses that the main takeaway is that Nvidia's announcements are "largely software-centric" which serve to make Nvidia's existing hardware "so much more valuable."
There's no end to Mosesmann's superlatives, who concludes, "Nvidia is a company that is moving into another level entirely that we see as moving more and more into a software IP-centric play."
To this end, Mosesmann reiterated a Buy rating for the tech behemoth and attached a Street-high price target of $400. This implies upside of 35% from current levels.
As well, NVIDIA Corporation had its target price hoisted by equities researchers at Truist Securities from $257.00 to $360.00 in a report issued on Wednesday. The brokerage presently has a "buy" rating on the computer hardware maker's stock. Truist Securities' price target would suggest a potential upside of 20.24% from the company's current price.