Why the Netflix Weekly Options Trade was Executed?
Netflix Inc (NASDAQ: NFLX)'s recently launched ad-supported tier reaches nearly 5 million active users per month, executives said on Wednesday in a pitch that emphasized the breadth of its programming to potential advertisers.
The streaming video pioneer launched a $7-per-month option with commercials last November in 12 markets, including the U.S., as an alternative to ad-free plans that start at $10 a month. It was designed to attract more customers and add a new revenue stream as competition for online viewers intensified.
On Wednesday, Netflix made its first presentation to advertisers at the annual ritual known as the upfronts, where networks aim to lock in ad commitments for upcoming shows. Walt Disney Co, Comcast Corp and other companies also are vying for digital ad dollars.
"The signals are promising: engagement on our ads plan is similar to our comparable non-ads plans," Netflix co-CEO Greg Peters said at the streaming giant's first-ever Upfront event yesterday (May 17), where it shared these numbers and more. "That's critical because it all starts and ends with consumers."
While it's just a sliver of the 232.5 million global subscribers Netflix boasts, "Basic with ads" has potential. Plus, the $6.99 plan, which launched with 720p video quality and just single-device viewing, recently got an upgrade that includes higher 1080p video quality and allowance for two concurrent streams.
The Netflix Weekly Options Trade Explained.....
** OPTION TRADE: Buy NFLX JUN 02 2023 350.000 CALLS - price at last close was $4.30 - adjust accordingly.
Obviously the results will vary from trader to trader depending on entry cost and exit price that was undertaken.
Entered the NFLX Weekly Options (CALL) Trade on Thursday, May 18, 2023, at 9:51, for $8.25.
Sold the NFLX weekly options contracts on Thursday, May 18, 2023, AT 12:04 for $28.60; a potential profit of 247%.
About Netflix.....
Netflix is a digital technology and media company and company that put streaming on the map. Begun as an easy way to get DVDs through the mail, Netflix ended the era begun by Blockbuster and ushered in a new age with the advent of streaming media. Today, the company provides a complete range of digitized media content and its services are available through most types of media devices. Netflix, Inc. is headquartered in Los Gatos, California, and went public in 2002.
Netflix was founded on August 29, 1997, by partners Reed Hastings and Marc Randolph. The two met after their previous projects merged together and came up with the idea while carpooling to work. The idea was to find a category of goods akin to Amazon's dominance with books and make them available over the Internet in a similar fashion.
The pair had already discounted the idea of renting VHS tapes over the mail when they heard about DVDs which first became available in 1997. After a test run to be sure a DVD could be mailed and delivered intact, the pair jumped into the multi-billion dollar movie rental business head first. Along the way, the company will make many innovations including a tool that makes personalized movie suggestions for each member. In 2006 membership will top 5 million then later, in 2007, the company will enter the streaming market where it will quickly dominate too.
Netflix entered the original content market in 2012 with the release of Hemlock Grove. Hemlock Grove is a supernatural drama that was followed up by Orange Is The New Black. Orange Is The New Black was a groundbreaking series for viewers and led to a series of other successes including Stranger Things. In March 2021 Netflix Studios was the most nominated at the Academy Awards.
Today the company has approximately 222 million paid members in 190 countries and offers services in more than 62 languages. Subscribers can choose from a variety of plans but all include unlimited access to all the content on the site. The difference in plans is in how many screens or devices can be used at a single time which allows subscription-sharing among family and friends.
The company has also moved on from a pure-play on rentals to making its own content and has a growing portfolio of brands to its credit. At one point in the company's evolution, Jeff Bezos offered to acquire the company for Amazon for about $15 million but Hastings turned him down. The company was valued at a market cap of $99.42 BILLION in late 2022.
Further Catalysts for the NFLX Weekly Options Trade…..
Netflix executives stressed the company's wide range of programming, from sci-fi hit "Stranger Things" to Korean drama "Squid Game" and upcoming action movie sequel "Extraction 2."
"No other entertainment company aspires to create great movies and shows across so many genres in so many countries, and for such a broad, diverse audience," said Bela Bajaria, chief content officer for Netflix.
Jeremi Gorman, Netflix's president of worldwide advertising, said that global monthly active users had reached 5 million. Monthly active users count all adult profiles used on one account with ads. Children's profiles do not run commercials.
Netflix reported 232.5 million paying subscribers around the world as of the end of March.
Executives said they wanted to work with advertisers to create new types of advertising that could only be done on a digital service. For instance, a 30-minute commercial could play out over several days, with a story unfolding each time a viewer watches a show on Netflix, co-Chief Executive Ted Sarandos said.
"You can't do that in linear TV because people don't live on one channel," Sarandos said.
Netflix had planned to make the ad presentation live in New York but switched to a virtual event to avoid protests from striking members of the Writers Guild of America.
Upfront.....
At Upfront, Netflix announced brands are getting two new sponsorship opportunities to get in the game, including sponsoring "some of Netflix's most popular series on Netflix at launch," as well as "featuring their campaigns within local holidays (e.g. Valentine's Day) and key brand moments (e.g. Sustainability Stories)." The opportunities will be available first in the US, with other countries to follow.
Netflix also said its platform offers opportunities to get more creative with ads. For instance, co-CEO Ted Sarandos suggested that a 30-minute commercial could be created, playing out over several days in short bursts as viewers start and stop viewing. "You can't do that on linear TV because people don't live on one channel. Now, this isn't going to happen next week, maybe not even next year. And it's just one idea," he said at the event.
Analysts.....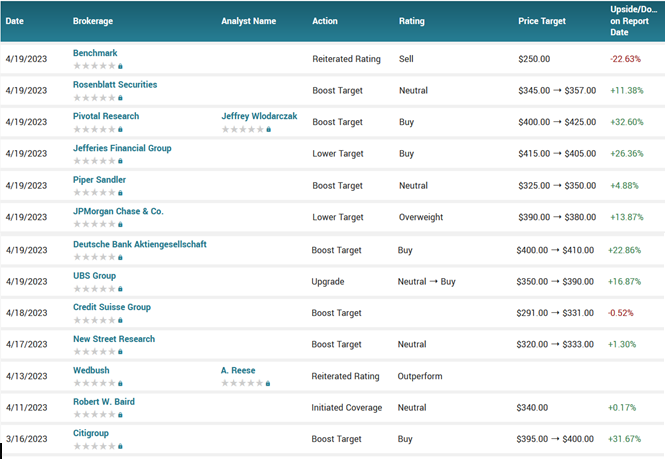 According to the issued ratings of 37 analysts in the last year, the consensus rating for Netflix stock is Moderate Buy based on the current 3 sell ratings, 10 hold ratings and 24 buy ratings for NFLX. The average twelve-month price prediction for Netflix is $347.78 with a high price target of $440.00 and a low price target of $215.00.
Summary.....
"We treat our ads with the same care we treat our incredible content: serving them locally; seamlessly transitioning between shows and ads with no latency; and implementing industry-leading frequency caps with an ad load of four to five minutes per hour."—Jeremi Gorman, president of worldwide advertising at Netflix, speaking at the Upfront event.
Shares of Netflix traded up $3.84 during midday trading on Wednesday, reaching $337.59. The company's stock had a trading volume of 1,501,959 shares, compared to its average volume of 7,187,337. Netflix, Inc. has a fifty-two week low of $164.28 and a fifty-two week high of $379.43. The company has a market capitalization of $150.07 billion, a P/E ratio of 35.89, a P/E/G ratio of 1.35 and a beta of 1.27. The company has a debt-to-equity ratio of 0.64, a current ratio of 1.26 and a quick ratio of 1.26. The business's fifty day simple moving average is $325.34 and its 200-day simple moving average is $319.01.
Therefore…..
For future trades, join us here at Weekly Options USA, and get the full details on the next trade.