The Actual Recommended Microsoft Corporation Weekly Options Trade.....
** OPTION TRADE: Buy MSFT NOV 26 2021 345.000 CALLS at approximately $2.00.
 (Actually bought for $2.19)
Microsoft Corporation Weekly Options Trade Call Success Explained.....
This trade could have been played out in two (2) separate parts…..
Trade 1: Friday, November 19, 2021
Bought at 9:32 for $2.19

Sold at 10:04 for $3.36

Profit is 53%
Trade 2: Friday, November 18, 2021
Total Potential Profit is 255%
It is very likely that a new Microsoft Corporation Weekly Options trade, if recommended, will be also successful.
Join us and see what we are proposing!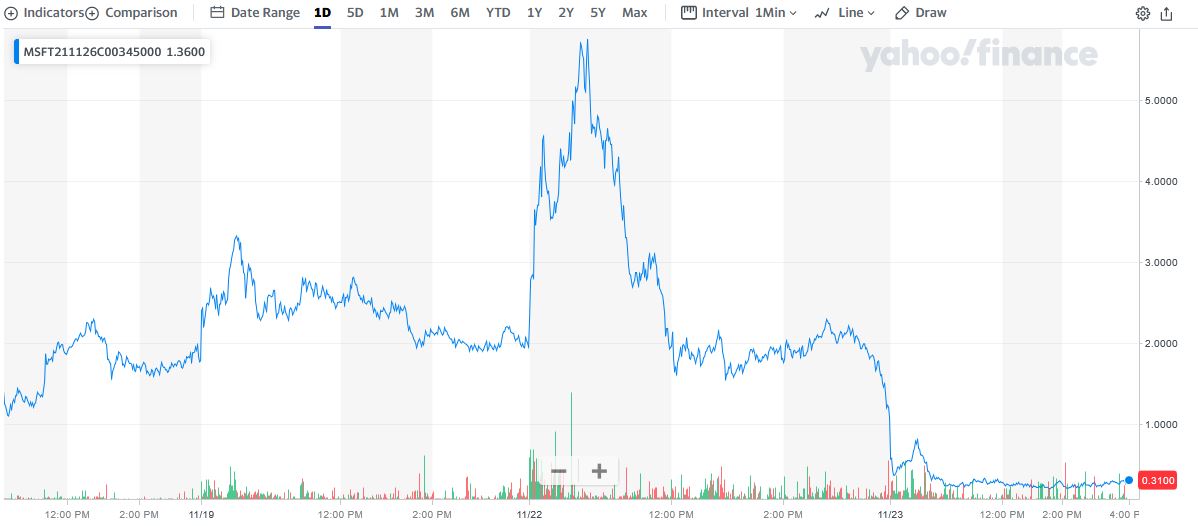 The Original Major Catalysts

for the

Microsoft Corporation
Weekly Options
Trade…..
Prelude.....
Another quarter and another stellar earnings report from the world's largest software company Microsoft Corporation (NASDAQ:MSFT). The company continues to see impressive growth in its Microsoft Cloud business, which generated $20.7 billion in revenue for Q1, up 36% year-over-year. Investors should be confident that trends like the digital transformation of enterprises will continue benefitting this area of the company over the long term, as we are likely only in the early innings of the widespread adoption of hybrid cloud services. Other compelling areas of Microsoft's business include successful productivity and business process software like Microsoft Office, the latest Xbox Series X video game system, and digital advertising services.
Microsoft has been one of the best performing mega-cap technology stocks this year, yet the rally might have more gas left in the tank after the company's flawless Q1.
Microsoft is currently the largest public company in the world, slightly edging out its longtime rival in the consumer products space, Apple. It's also one of the most recognizable brands in the world, with its Windows 10 operating system active on over 1.3 billion devices, and its Office 365 document suite a staple among households and businesses alike.
Its roaring success in software hasn't stopped it from innovating in other areas. Microsoft owns the Xbox gaming platform, and the much newer Surface line of notebooks and tablets, both of which are billion-dollar consumer hardware brands in their own right. It also owns LinkedIn, the professional network that delivered 42% revenue growth in the fiscal first quarter, with record user engagement.
Also, a further boost to Microsoft Corporation is that it is one of the two beneficiaries of a Pentagon cloud computing contract to modernize IT systems. The government agency is soliciting bids for its Joint Warfighting Cloud Capability (JWCC) program, a replacement to the $10 billion Joint Enterprise Defense Infrastructure (JEDI) initiative from 2019.
Spending on cloud computing by federal agencies has surged in the past couple of years. They spent $6.6 billion on cloud computing in fiscal 2020, a marginal increase from the $6.1 billion in 2019. The pace is expected to pick up in the coming years. The Department of Defense (DoD) itself has committed to spending a total of $798 million on cloud capabilities in 2022, with a majority of that budget earmarked for commercial cloud versus developing in-house capabilities.

The Major Catalysts for the Microsoft Corporation Weekly Options Trade…..
1. Cloud Computing.....
Cloud computing is where the company is really shining. Microsoft Azure is a cloud services platform that caters to businesses, and it's the second largest in the industry behind Amazon Web Services. It hosts over 40 different solutions, including an innovative artificial intelligence product that can be used for speech and image recognition.
Azure revenue has consistently outperformed Microsoft's total revenue, and in the first quarter delivered 48% growth year over year.
Spending on cloud computing globally is expected to grow at an annual rate of 18% through 2026, so Azure's outsize performance hints at a future with increased market share for Microsoft, which should translate to a buoyant share price.
From a risk perspective, investors are buying a highly profitable business with a suite of brands that are very difficult for new competitors to disrupt. Microsoft's dominant market position, while also playing a leading role in innovation, makes it a bankable stock to beat the market next year. Its price has soared 465% over the last five years compared to the S&P 500's 114% gain. 
2. Digital Tools for Agriculture…..
Bayer AG and Microsoft Corp. are collaborating on new internet-based products aimed at helping farmers and industries tied to agriculture become more efficient and sustainable.
Bayer is partnering with the U.S. software giant to develop digital tools and data science capabilities for agricultural businesses and associated industries, the German company said in a Wednesday statement. The effort is designed to help startups to global businesses in areas including farming operations, sustainable sourcing, manufacturing and supply-chain improvement as well as measuring environmental, social and governance efforts.
"This is a chance to accelerate some really important work in the industry, and we think that this is what's needed given the societal demands that are increasing to make our business more sustainable," said Jeremy Williams, head of climate corporation and digital farming for Bayer's crop science division.
3. Videogames…..
The craze for videogames is far from over and gamers have been aggressively spending on content, hardware and software. Many had predicted that the gaming market would slow down once outdoor entertainment and recreation joints open, but that hasn't been the case.
Spending on videogames has been on the rise, with October turning out to be a great month yet again in terms of sales.
Microsoft Corporation is one of the leading videogame makers and manufacturers of hardware and accessories. MSFT has been expanding its footprint in the industry and recently announced that it will be acquiring videogame maker ZeniMax Media.
Microsoft is a pioneer in consoles andon Nov 15, its flagship Xbox turned 20 years. The other MSFT launches include Xbox 360 (2005), Xbox One (2013) and the latest Xbox Series consoles (2020).
7. Analysts Thoughts.....