Shares of Merck & Co., Inc. (NYSE:MRK) have gained +22.5% over the past year.
The company beat Q2 estimates for earnings and sales. Products like Keytruda and Gardasil have been driving sales. With continued label expansion into new indications, particularly earlier-line launches, Keytruda is expected to remain a key top-line driver.

Animal health and vaccine products are core growth drivers. Merck boasts a strong cancer pipeline, including Keytruda, which should drive long-term growth.
Merck is investing in M&A activity to strengthen its pipeline.
Why the MRK Weekly Options Trade was Originally Executed!
Merck & Co., Inc. (NYSE:MRK) Merck reported earnings and upgraded its 2023 guidance Tuesday, as demand slows for COVID products and its $10.8 billion acquisition of biotech Prometheus Biosciences negatively impacted the company.
Merck & Co raised its full-year revenue forecast as second-quarter sales of its top-selling products, cancer immunotherapy Keytruda and human papillomavirus (HPV) vaccine Gardasil, sailed past Wall Street estimates.
Merck said Keytruda sales for the quarter jumped 19% to $6.3 billion, surpassing analysts' average estimate of $5.9 billion.
CEO Rob Davis said Keytruda's strength is coming from within the United States and internationally, and that the drug is increasingly being used prior to other treatments.
Merck announced revenues of $15 billion, or a 3% increase year over year. Revenue from its COVID-19 treatment molnupiravir declined 83%. Revenue from other products grew 14%, and Merck upgraded its guidance by $800 million for the year.
The MRK Weekly Options Trade Explained.....
** OPTION TRADE: Buy MRK SEP 01 2023 105.000 CALLS - price at last close was $3.15 - adjust accordingly.
Obviously the results will vary from trader to trader depending on entry cost and exit price that was undertaken.
Entered the MRK Weekly Options (CALL) Trade on Wednesday, August 02, 2023, for $3.15.
Sold the MRK weekly options contracts on Tuesday, August 22, 2023 for $6.93; a potential profit of 120%.
Don't miss out on further trades – become a member today!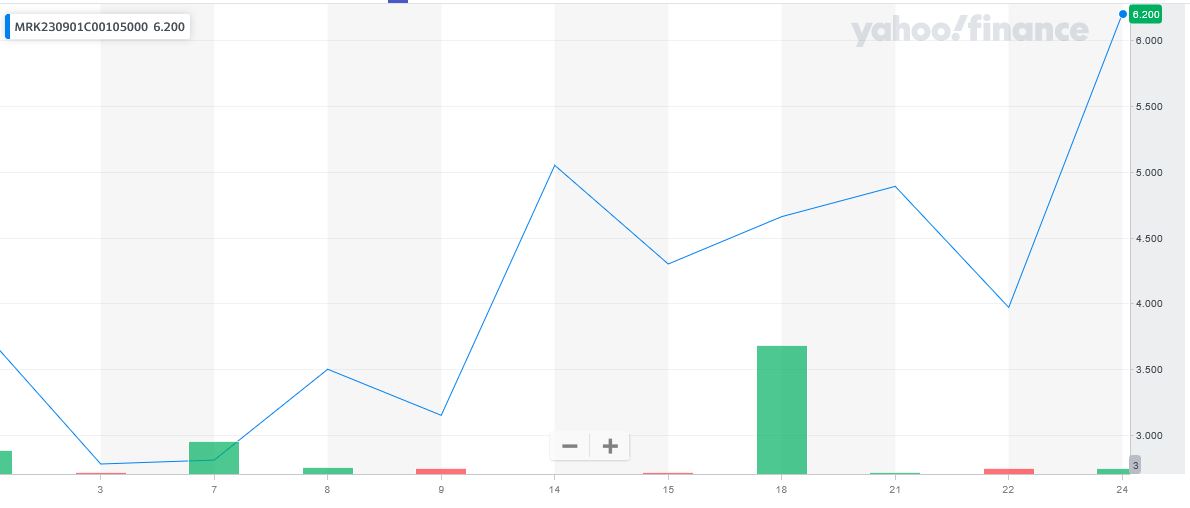 Further Catalysts for the MRK Weekly Options Trade…..
Keytruda is a key driver for Merck's continued growth, even as it faces patent expiry in 2028.
The company is preparing for competition from biosimilars, but doesn't expect it will grow at the current pace. Merck, like other big pharmaceutical companies, has been dealing with the impact of patent expirations in the past few years.
The company sees upside for two new drugs in 2024: sotatercept, a drug it gained from its $11.5 billion acquisition of Acceleron Pharma in late 2021, and a second approval attempt for gefapixant, a chronic cough treatment. Both are in various stages of FDA review.
Other Catalysts.....
Merck is one of a handful of large pharmaceutical companies that have independently sued the US Health Department (HHS) over the Medicare drug pricing powers in the Inflation Reduction Act (IRA).
Merck called the law unconstitutional, citing similar concerns as other plaintiffs: that the government is setting prices without allowing any recourse for companies.
During the earnings call Tuesday, CEO Robert Davis addressed the lawsuit saying the company isn't entirely against the law itself.
"We've consistently communicated our support for elements of the law that improve patient affordability and access, such as the Medicare Part D reform, but which do so without damaging the very promising long-term innovation potential of the biopharmaceutical industry," Davis said.
He added that Merck believes the drug pricing negotiations "amount to unconstitutional price setting that violates several provisions of the US Constitution. This misguided policy does not strike the right balance between incenting investment in innovation and improving affordability and access."
Margin.....
Adjusted gross margin was 76.6%, up 190 basis points year over year, driven by the favorable impact of product mix and lower sales of Lagevrio, a low-margin product.
Adjusted selling, general and administrative (SG&A) expenses were $2.6 billion in the reported quarter, up 8% year over year due to higher administrative costs and higher promotional spending.
Adjusted research and development (R&D) spending was $13.3 billion, compared to $2.8 billion in the year-ago period, due to a one-time charge of $10.2 billion related to theacquisition of Prometheus Biosciences.
Moving Ahead.....
Merck raised its sales outlook for 2023. The company expects revenues to be in the range of $58.6-$59.6 billion in 2023 compared with $57.7-$58.9 billion previously. The Zacks Consensus Estimate is pegged at $58.7 billion.
Lagevrio is expected to generate $1.0 billion in sales in 2023, a significant decline from $5.7 billion in 2022.
The adjusted gross margin is expected to be approximately 77% (maintained).
Following the completion of the $10.2 billion acquisition of Prometheus Biosciences in June, the company updated its operating expense and earnings per share (EPS) guidance for the full year.
Adjusted EPS is now expected to be between $2.95 and $3.05 after accounting for a charge of $4.02 per share incurred by Merck for the Prometheus acquisition. Prior to the acquisition completion, the company expected adjusted EPS to be between $6.88 and $7.00. The Zacks Consensus Estimate is pegged at $2.89 per share.
Adjusted operating costs are expected to be in the range of $34.0 to $34.6 billion versus the prior expectation of $23.3 to $24.1 billion. The adjusted tax rate is now expected to be approximately 30.5% to 31.5% (previously: 17% to 18%).
Development.....
Merck has also made meaningful progress in its pipeline in the past year. Alongside partner Moderna MRNA, Merck initiated a phase III study last month evaluating its personalized cancer vaccine mRNA-4157/V940in melanoma indication. The initiation of this study was based on positive data from a phase IIb study, which previously achieved its primary endpoint of recurrence-free survival. This June, Moderna/Merck reported that additional data from this study which showed that treatment with mRNA-4157 led to a statistically significant and clinical improvement in distant metastasis-free survival, a key secondary endpoint of the study.
Following the Prometheus acquisition, Merck added PRA023, a humanized monoclonal antibody, to its pipeline. PRA023 is currently being developed in mid-stage studies for the treatment of immune-mediated diseases, including ulcerative colitis, Crohn's disease and other autoimmune conditions.
Analysts.....
Bank of America Securities analyst Geoff Meacham maintained a Buy rating on Merck & Company Monday and set a price target of $130.00. The company's shares closed yesterday at $106.65.
In addition to Bank of America Securities, Merck & Company also received a Buy from Truist Financial's Robyn Karnauskas in a report issued on July 25.

According to the issued ratings of 20 analysts in the last year, the consensus rating for Merck & Co., Inc. stock is Moderate Buy based on the current 5 hold ratings and 15 buy ratings for MRK. The average twelve-month price prediction for Merck & Co., Inc. is $123.53 with a high price target of $135.00 and a low price target of $99.00.
Summary.....
Merck's second-quarter results were better than expected as it beat estimates for earnings as well as sales. Strong sales of key products cancer drug, Keytruda and Gardasil vaccine drove the top line in the quarter. Merck also raised its full-year sales profit outlook, citing strong global underlying demand for its key products.
Merck & Co., Inc. has a fifty-two week low of $84.52 and a fifty-two week high of $119.65. The company has a debt-to-equity ratio of 0.60, a quick ratio of 1.19 and a current ratio of 1.44. The business's 50-day moving average price is $110.24 and its 200-day moving average price is $110.37. The company has a market cap of $267.19 billion, a P/E ratio of 20.83, a PEG ratio of 4.46 and a beta of 0.35.