Taiwan Semiconductor, better known as TSMC, saw its second-quarter 2022 earnings report indicating chip spending is still very healthy, especially as businesses update their operations for cloud computing and AI. TSMC said its Q2 sales increased 37% year over year (in U.S. dollars), and provided an outlook for another 36% increase for Q3.
With demand still on the rise for enterprise hardware, semiconductor companies with a focus on cloud and AI, such as Marvell Technology Group Ltd. (NASDAQ:MRVL) are poised to report healthy growth in Q2 and beyond.
Data management and networking leader Marvell Technology Group was the first chip company to introduce an entire platform of chip designs utilizing Taiwan Semi's 3nm process. It secured priority access to this new fab technology, which means Marvell could have some of the first chips on the market using the latest and greatest manufacturing tech. Marvell is already a leader in supplying data processing and networking equipment for cloud data centers and 5G mobile network infrastructure, so these new chips could help it extend its lead.
The Profits Explained.....
Entered the Marvell Technology trade on Wednesday, July 20, 2022 at 9:37am for $1.90.
Exited the trade at 12:09pm, after 2.5 hours, for $2.80 providing a potential profit of 47%.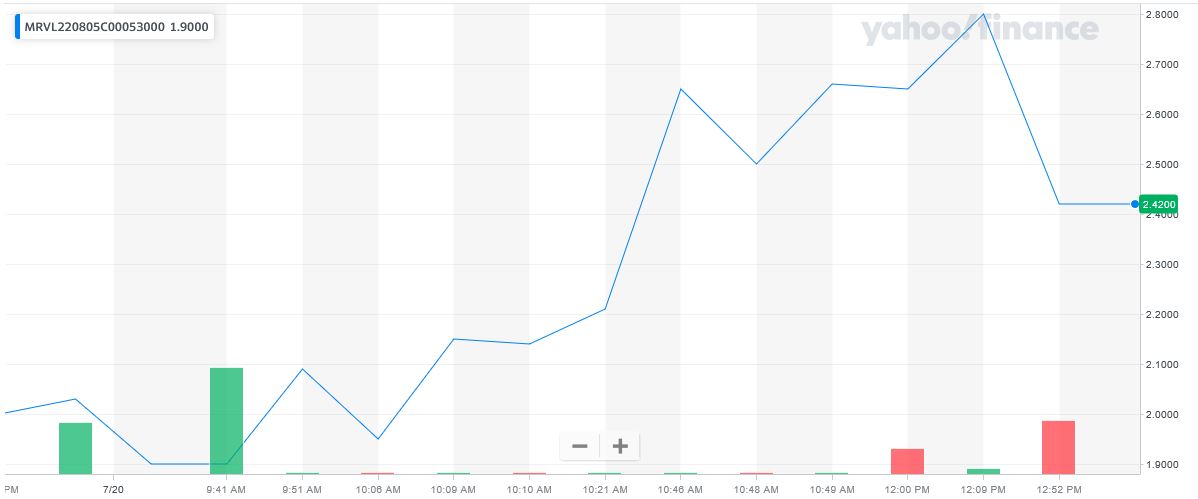 Why the Weekly Options Call Trade on Marvell Technology
This trade is a continuation from the situation we encountered Tuesday with Nvidia - the semiconductor subsidy bill currently before Congress and its effects on certain stocks.
The bill, which holds the promise of some $52 billion worth of subsidies for the US semiconductor industry, was stalled in the Congressional processes for several months but last week got a boost from House Speaker Nancy Pelosi.
The semiconductor chip bill has bipartisan support, and while its path through the Senate is rocky, it's expected to pass – and that will mean an infusion of cash into the US semiconductor industry. While the chip segment is hurting now, $52 billion will open a lot of opportunities, up and down the semiconductor supply chain, and a weekly call option is looking good at this stage.
Marvell Technology Group Ltd. (NASDAQ:MRVL) one of the chip industry's light heavyweights, has seen its stock price fall 45% year-to-date, however, the company still boasts a market cap of more than $40 billion, and brought in $4.46 billion in revenues in its last fiscal year.
Marvell Technology produces chips and chipsets for a wide range of applications, including automotive systems, data centers, ethernet networks, storage accelerators, and SSD controllers.
On the subject of new products, Marvell Technology recently announced the introduction of a generation of ethernet switches, the most advanced secure managed switch for automotive applications.
Heading into this year, Marvell Technology was in a solid position regarding revenues and earnings. The company's fiscal 2022 revenue was solid, and both the top and bottom lines were trending upwards. That has continued in the company's current fiscal year. Fiscal 1Q23 results were released in May, and showed $1.45 billion at the top line, up 74% from the year-ago quarter. In earnings, Marvell Technology brought in 52 cents per share in non-GAAP diluted EPS, up 79% year-over-year.
Other Major Catalysts for the Marvell Technology Weekly Options Trade…..
Future Earnings.....
Analysts are expecting Marvell's earnings to increase at such a terrific pace.
Marvell Technology is projected to report earnings of $0.56 per share, which would represent year-over-year growth of 64.71%. Meanwhile, the Consensus Estimate for revenue is projecting net sales of $1.51 billion, up 40.78% from the year-ago period.
MRVL's full-year Consensus Estimates are calling for earnings of $2.33 per share and revenue of $6.19 billion. These results would represent year-over-year changes of +48.41% and +38.61%, respectively.
Chip Designs.....
Marvell's design wins -- which means its chips that have been selected for use by customers -- indicate that the chipmaker should be able to sustain its momentum. In the data center market, for example, the design wins secured by Marvell Technology over the past year and a half could help it clock incremental revenue of $400 million next year and $800 million in the following year. That points toward a nice bump in the data center segment as it generated $640 million in revenue in the first quarter of the current fiscal year, or an annual revenue run rate of $2.5 billion.
Growth.....
Marvell Technology sells a wide range of data center chips ranging from data processing units (DPUs) to ASICs (application-specific integrated circuits) to ethernet adapters to switches to networked storage for hyperscale data centers. Given that the demand for data center accelerators such as ASICs and data processing units is expected to grow at an annual pace of 44% through 2027, Marvell Technology has a solid secular growth opportunity ahead of it.
Business Spending.....
Though consumers are tapping the brakes, business spending on Marvell's end markets is in high demand right now. Cloud computing and AI, 5G mobile, and self-driving cars require the frequent movement of increasingly large amounts of digital data. Marvell Technology is a top provider of DPUs (data processing units) that help with this task, and it has a complementary portfolio of networking and photonics circuitry it has been cross-selling with its DPU bread-and-butter.
Acquisitions.....
Marvell Technology got itself into this top position via acquisitions as well. Marvell has been patching together smaller chip designers for years. In 2018 and 2019 it purchased three small outfits focused on application-specific processors. And in 2021 it bought Inphi and Innovium to bolster its portfolio of optical networking and data switching components.
Analysts.....
Matthew Ramsay, analyst covering MRVL for Cowen, notes four key points driving the company's success....."We believe Marvell continues to benefit from secular growth opportunities, including.....
the bandwidth upgrade cycle of electro-optical links to PAM4 inside and between data centers, particularly as it just announced new 400G and 800G DSP platforms;
5G infrastructure builds globally, ex-China;
ADAS-enabled and battery electric vehicles requiring faster Ethernet connections and more compute; and
the transformation and growth of system architectures toward tailored workloads rather than general-purpose workloads."
Ramsay puts an Outperform (i.e. Buy) rating on MRVL shares, along with an $85 price target.
Cowen is hardly the only firm to take a bullish look at Marvell Technology. Of the stock's 20 recent analyst reviews, 18 are to Buy against just 2 to Hold, for a Strong Buy consensus rating. The stock is selling for $52.08 and its $78.55 price target implies an upside of ~62% from current levels.
Summary.....
Marvell Technology derives most of its revenue from data centers, 5G mobile network infrastructure and other telecom deployments, and industrial and automotive equipment.
Lucrative end markets such as data centers, 5G wireless infrastructure, automotive, and storage are driving impressive growth at Marvell.
The stock currently trades for 46 times trailing 12-month free cash flow, and management thinks revenue will continue to grow at a double-digit percentage pace for the rest of this year.
Therefore…..
For future trades, join us here at Weekly Options USA, and get the full details on the next trade.