Why the JETS Weekly Options Trade was Originally Executed!
Airline stocks are going through some turbulent times.
The US Global Jets ETF (NYSEARCA: JETS), which tracks a range of airline operators and manufacturers, is down 30% over the last three months. The index's almost 30% rally in the first half of the year has been wiped out.
Third quarter results show the industry is facing choppiness amid labor negotiations and higher jet fuel costs.
The JETS Weekly Options Trade Explained.....
** OPTION TRADE: Buy JETS NOV 10 2023 15.000 PUTS - price at last close was $0.36 - adjust accordingly.
Obviously the results will vary from trader to trader depending on entry cost and exit price that was undertaken.
Entered the JETS Weekly Options (PUT) Trade on Monday, October 23, 2023, for $0.31.
Sold HALF the JETS weekly options contracts on Friday, October 27, 2023 for $0.51; a potential profit of64.5%.
Don't miss out on further trades – become a member today!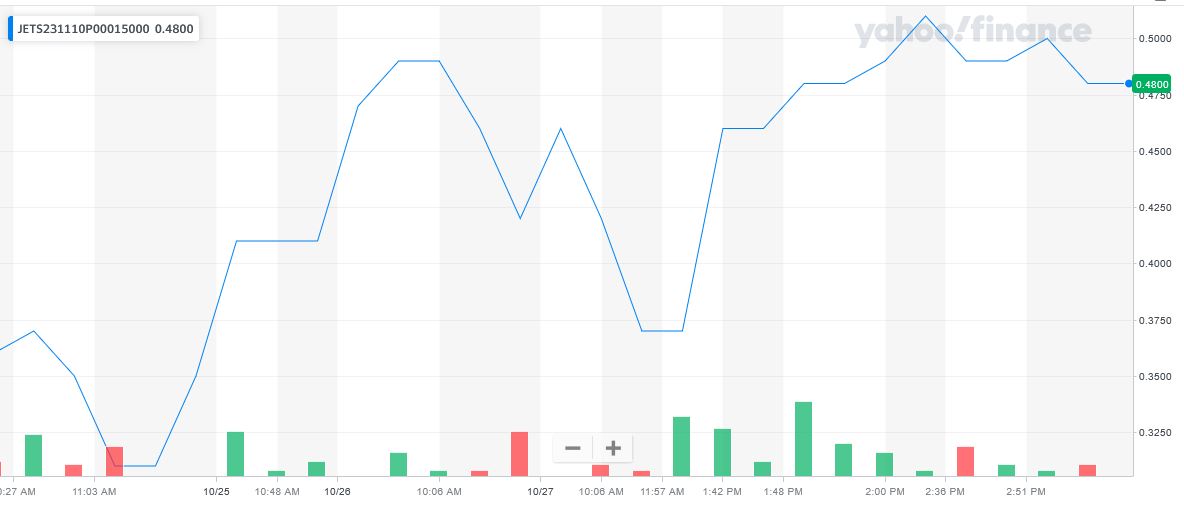 About U.S. Global Jets ETF.....
The U.S. Global Jets ETF (JETS) is an exchange-traded fund that is based on the Stuttgart US Global Jets (USD) index. The fund invests in both US and non-US airline companies. This concentrated portfolio is weighted towards domestic passenger airlines. JETS was launched on Apr 28, 2015 and is managed by US Global.
Further Catalysts for the JETS Weekly Options Trade…..
On Thursday United stock sank 9% after the major carrier cut its forecast, citing the impact of flight disruptions to Tel Aviv amid the Israel-Hamas war and higher fuel costs.
"Fuel remains volatile and worked against us in the quarter. Our average fuel price for the quarter ended $0.30 higher than the midpoint of our July expectation and more than accounts for the entirety of the reduced outlook for the third quarter," Michael Leskinen, chief financial officer of United, said during the company's earnings call.
On Thursday American's stock rebounded from a three-month low after the carrier's profit solidly beat Wall Street expectations, but its forecast came in soft due to higher fuel costs and demand trends.
Higher labor costs are also an overarching challenge this year, as carriers negotiated contracts amid an industry pilot shortage.
While all carriers are grappling with higher costs, domestic, low-cost carriers appear to be getting hit the hardest.
Other Catalysts.....
Traveler trends have a lot to do with the relative performance among the carriers. Domestic travelers took shorter trips amid the pandemic in 2021 and 2022. This year, strong demand for cross-border flights is now a tailwind for international carriers, and a headwind for lower-cost US operators.
Even the pilot shortage appears to be impacting domestic low-cost carriers more than the bigger flight operators.
"The big winners in the pilot shortage are the network [international] carriers. The network carriers can pay more than the low-cost carriers and they fly larger planes, which is attractive to pilots" according to Third Bridge's Raite.
Summary.....
Travel stocks often decline during times of war due to several factors, including security concerns and uncertainty about safety. That's particularly true of regions affected by war, which explains cancellations of flights to Tel Aviv.
Additionally, wars can disrupt transportation infrastructure, causing wider cancellations and delays. Wars can also result in economic instability and higher fuel costs. This was a factor in early 2022 when Russia invaded Ukraine and appears to be a factor again. 
For all those reasons, investors often sell off travel stocks in times of geopolitical strife.