Why the Profit on Intel Corporation Stock?
The Dow Jones Industrial had been rolling right along this summer.
From its lows on June 17 (first day of summer: June 21) at 29,888 to a short-term peak of 34,152 on Aug. 16, the Dow had rallied about 14% as traders dialed back expectations on a faster pace of rate hikes from the Federal Reserve. Economic data from jobs to retail sales, meanwhile, didn't paint a picture of an economy tipping into a recession.
However, we then had Fed chief Jerome Powell recommitted to stomping out inflation on Aug. 26, promising to do whatever it takes to bring price levels throughout the economy down. Investors took Powell's tough talk as interest rates are headed higher well into 2023.
The Dow cratered more than 1,000 points last Friday, slashing its gains this summer to 5.7%.
"The equity markets should prepare to be disappointed by Jerome Powell's speech," Comerica Wealth Management chief investment officer John Lynch wrote in a note to clients. "Stock investors have embraced a strategy based on hope that the Fed and inflation have peaked these past several weeks."
But even before Powell's hawkish speech, several Dow components, and Intel Corporation (NASDAQ:INTC) in particular, were having a rough go of it amid a combination of lackluster earnings days and economic uncertainty.
The Profits Explained.....
Entered the Intel Corporation stock trade on Wednesday, August 31, 2022 at $0.96.
Exited the trade Thursday, September 01 for $1.53, for a potential profit of 59%.
Don't miss out on further trades – become a member today!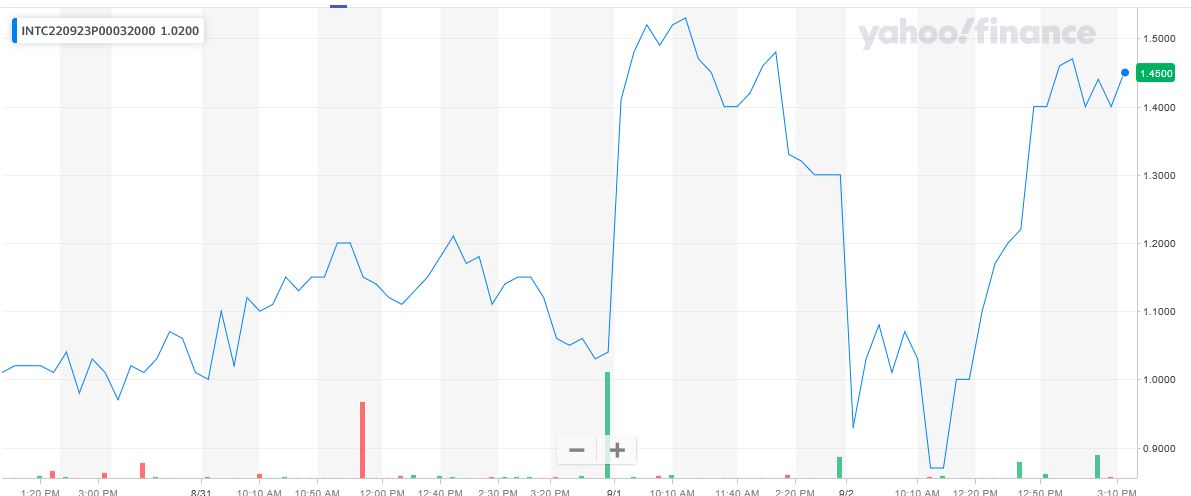 Why the Initial Weekly Options Call Trade on
intel corporation Stock.....
Prelude.....
With big top- and bottom-line misses and downward guidance revisions, Intel's second-quarter performance was very disappointing, and the company has an uncertain outlook despite occupying a prominent position in an essential industry.
Intel is facing softer demand and declining margins. With current headwinds facing the business and the likelihood that the chip giant will need to make huge investments in order to get its technologies up to speed with competitors, there's a risk the company will wind up cutting its dividend. Slashing the dividend would likely cause Intel's stock price to plummet, but choosing to maintain it could mean that the company shies away from making sufficient investments to shore up its long-term competitive position.
The importance of the semiconductor industry along economic and national security lines is prompting the U.S. to subsidize the growth of the industry domestically, and Intel is poised to benefit. The semiconductor giant has the advantage of already operating a large chip fabrication operation to complement its chip-designing component, but the company has been coming up short when it comes to delivering designs that outperform the competition.
About Intel.....
Intel Corporation is among the world's leading manufacturers of microchips and microchip-enabled products and services. The company engages in the design, manufacture, and sale of computer products and technologies to original equipment manufacturers, original design manufacturers, and cloud service providers. The company was incorporated in 1968 and is headquartered in Santa Clara, California, and is widely regarded as having put the "silicon" in "Silicon Valley".
Intel was originally a PC-centric semiconductor company but has branched out over its more than 50-year history. The company is now engaged in global digital transformation and is working to provide end-to-end solutions from the largest digital clouds to the smallest IoT and Edge devices. Specifically, Intel is working to advance AI, 5G connectivity, and the digitization of everything.
The now data-centric company operates through 7 segments and is one of the most diversified publicly-traded chipmakers on the market. The company's 7 segments are CCG (client computing group), DCG (data center group), IOTG (internet of things group), Mobileye (autonomous driving), NSG (non-volatile memory group), PSG (programable solutions group), and All Other segments.
The company operates 6 wafer fabrication sites and 4 assembly test manufacturing sites to ensure the highest standards of quality. The company's products evolve on the basis of Moore's law becoming smaller, faster, and more powerful with each generation.
Intel offers platform products such as central processing units and chipsets, and system-on-chip and multichip packages meant to power computers ranging from tablets to supercomputers. Intel also offers non-platform or peripheral products that include accelerators, circuit boards and systems, connectivity products, graphics cards, and memory and storage products. The company's specialty divisions also provide high-performance computing solutions for targeted verticals as well as embedded solutions for business, industry, and healthcare.
Intel is central to the growth of data centers and the Cloud. The company once boasted a near-100% market share of cloud-based microchip demand but that figure has slipped over the years due to mounting competition. Intel's cloud solutions provide workload-optimized platforms and related products for cloud service providers, enterprise and government, and communications service providers.
Among the many technologies that Intel is working to advance are self-driving vehicles. Solutions for assisted and autonomous driving include computing platforms, computer vision, and machine learning-based sensing, mapping, and geolocation. Intel Corporation also has a strategic partnership with MILA to develop and apply advances in artificial intelligence methods for improving the search for new drug therapies and applications.
Intel Corporation is committed to corporate responsibility and environmentally sustainable practices. The company seeks to leverage its position to advance not only itself but the industry for the good of mankind.
Earnings.....
Intel last posted its earnings results on Thursday, July 28th. The company had a shocking second quarter earnings miss and profit warning earlier this month amid a broader slowdown in the consumer PC market. "This is a time for a bit of austerity," Intel CEO Pat Gelsinger said. "We had stuff we created over the last decade that needed to be cleaned up. It helps drive a more accelerated pace to the transformation we have under way."
The chip maker reported $0.29 EPS for the quarter, missing the consensus estimate of $0.70 by ($0.41). Intel had a net margin of 26.03% and a return on equity of 16.65%. The firm had revenue of $15.30 billion during the quarter, compared to analyst estimates of $17.93 billion. During the same period in the previous year, the company posted $1.28 EPS. Intel's revenue for the quarter was down 17.3% compared to the same quarter last year. Analysts forecast that Intel Co. will post 2.27 EPS for the current year.
Analysts.....
Intel received a $30.00 price objective from stock analysts at Sanford C. Bernstein in a research report issued on Tuesday. Sanford C. Bernstein's price objective would indicate a potential downside of 8.93% from the stock's current price.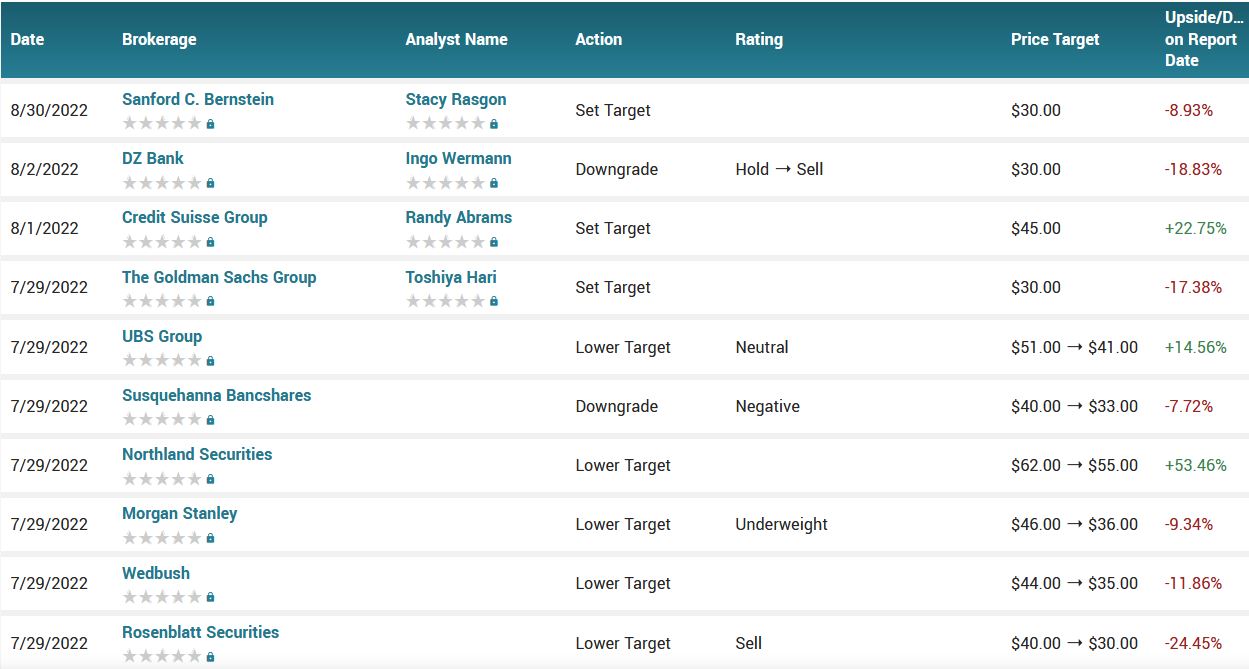 According to the issued ratings of 23 analysts in the last year, the consensus rating for Intel stock is Hold based on the current 9 sell ratings, 10 hold ratings and 4 buy ratings for INTC. The average twelve-month price prediction for Intel is $43.83 with a high price target of $72.00 and a low price target of $30.00.
Summary.....
Intel stock looks cheap on the heels of recent sell-offs, and the stock could have big long-term upside if the company gets back to delivering design wins. On the other hand, recent business performance hasn't been inspiring, and it's unclear whether the company will be able to stop competitors from gaining market share.
Shares of Intel stock traded down $0.54 on Tuesday, hitting $32.40. The stock had a trading volume of 1,188,876 shares, compared to its average volume of 39,127,512. Intel Co. has a twelve month low of $32.81 and a twelve month high of $56.28. The business's 50 day moving average is $36.93 and its two-hundred day moving average is $42.43. The company has a quick ratio of 1.41, a current ratio of 1.86 and a debt-to-equity ratio of 0.32. The stock has a market cap of $133.03 billion, a price-to-earnings ratio of 6.98, and a price-to-earnings-growth ratio of 1.96 and a beta of 0.62.
Therefore…..
For future trades, join us here at Weekly Options USA, and get the full details on the next trade.