Shares of Intel continues to rise in defiance of the overall tech sector!
It is suggested that the U.S. could next target advanced packaging equipment sales as part of its efforts to contain China's chip development.
Although Intel has fallen behind rivals in leading-edge technology nodes over the past few years, one area it has kept up its competitive chops has been in advanced packaging. Intel has two main platforms, including EMIB (embedded multi-die interconnect bridge) for 2D packaging, and Foveros, its 3D advanced packaging platform.
Intel has been on an upward trajectory lately providing positive updates. Executives have held numerous events outlining how the company remains on track to scale five nodes in four years, and catch up to rivals on advanced processes by 2025.
The company recently received a large customer prepayment for its burgeoning foundry services, and CEO Pat Gelsinger hinted the current quarter is tracking above the midpoint of guidance.
The U.S.-China tensions, while potentially harming parts of its CPU sales, could have the perverse benefit of quickly boosting Intel's foundry and advanced packaging house. That could fuel Intel's rise as a leading advanced packaging player to take on the East Asian leaders in these fields.
Why the INTC Weekly Options Trade was Originally Executed!
Intel Corporation (NASDAQ:INTC) is having a solid quarter, according to the chip incumbent's leader's encouraging remarks about its current fundamentals, causing its stock to close Thursday nearly 2% higher. That was a notably better performance than that of the S&P 500 index, which slipped by almost 0.2% on the day.
In an industry conference Thursday, Intel CEO Pat Gelsinger waxed optimistic about the company's current (third) quarter. Speaking about the guidance it offered for the period, the executive said, "Taking all of those things together at this point, we say we're above the midpoint of our guide for Q3. So we're feeling good about Q3 as that progresses."
That pronouncement came only a few days after the latest bullish development with Intel. On Wednesday, the company announced it would roll out a new data center chip, the Sierra Forest, that is far more efficient in terms of power use than its present offerings. This is sure to be a compelling new product for data center operators looking to save costs and/or make their operations "greener."
If Intel ends up doing well against its guidance for the third quarter, it wouldn't be the first instance in recent times. The tech giant's second-quarter results landed on the high side of its guidance range, one of the numerous positive developments for the company during the period.
On average, analysts tracking the stock are anticipating nearly $13.5 billion in revenue, down from almost $15.3 in the third quarter of 2022. Per-share earnings should come in at $0.21; the year-ago result was $0.59.
The INTC Weekly Options Trade Explained.....
** OPTION TRADE: Buy INTC SEP 08 2023 36.000 CALLS - price at last close was $0.79 - adjust accordingly.
Obviously the results will vary from trader to trader depending on entry cost and exit price that was undertaken.
Entered the INTC Weekly Options (CALL) Trade on Friday, September 01, 2023, for $1.03.
Sold the INTC weekly options contracts on Tuesday, September 12, 2023 for $3.82; a potential profit of 271%.
Don't miss out on further trades – become a member today!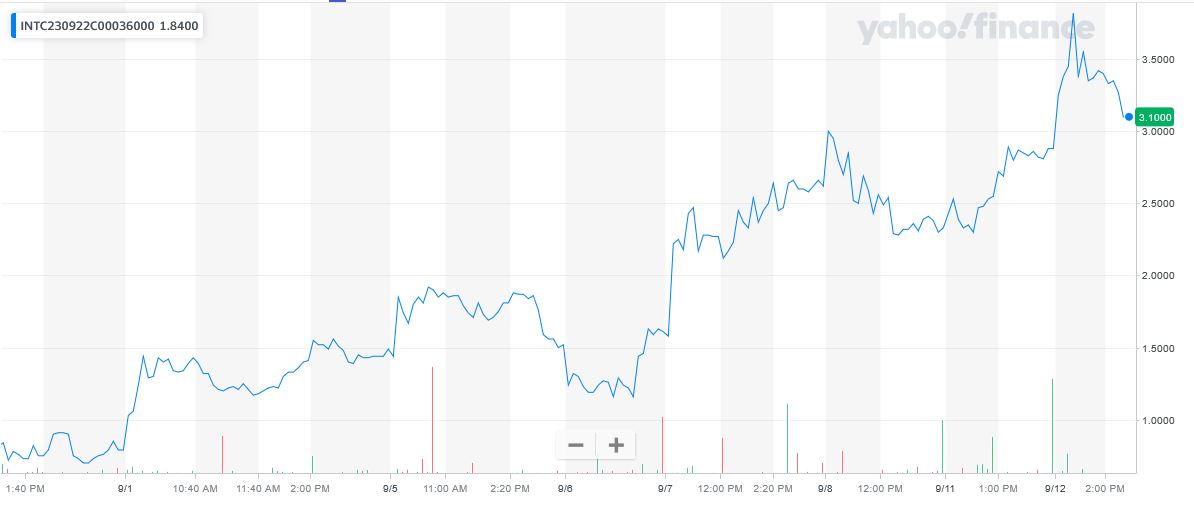 Further Catalysts for the INTC Weekly Options Trade…..
Gelsinger's comments Thursday at a Deutsche Bank technology conference…..
"At this point, we say we're above the midpoint of our guide for Q3, so we're feeling good about Q3 as that progresses," he said. "Overall, as we look at the current environment, obviously we've been through a strong bust-boom cycle."
In July, Intel projected sales in the current period will be as much as $13.9 billion, compared with an average analyst estimate of $13.3 billion at the time. While sluggish demand in China and lower orders from some large data-center owners are weighing on its server-chip unit, PC processor inventory is now back to normal, prompting customers to resume ordering.
Gelsinger emphasized that he thinks Intel is on track to meet his ambitious goals to overhaul the Santa Clara, California-based company and restore it to the forefront of an industry it once dominated.
"We're 2.5 years into the transformation. Now, it's sort of gone the way I would have expected at the time in terms of rebuilding the company," he said. "You have to be much less skeptical about our ability to pull this off."
Gelsinger conceded that rival Nvidia Corp. has done well in positioning itself to take advantage of demand for systems needed to support the rapid spread of artificial intelligence software, but said Intel will soon begin to win orders in the market for these accelerator chips.
"They're doing well. We all have to give them credit," he said. "But we're going to show up."
Other Catalysts.....
On Monday after the market open, Intel said at a tech industry conference that its Sierra Forest chip will boast 240% better performance per watt than the data center chip it presently has on the market. According to Reuters, this is the first time the company has divulged such a statistic for one of its products.
This means that Sierra Forest will be able to handle far more processing work for the power it uses than current offerings. As we're in an environment where green solutions are becoming more important than ever, this news resonated with investors. Because of their nature, data centers use vast amounts of electricity to power their operations.
Intel said the Sierra Forest will hit the market next year. It did not get more specific.
At that point it will have two data center chip lines, Granite Rapids and Sierra Forest. Granite Rapids will consume more power, but apparently will compete on performance. 
Analysts.....

According to the issued ratings of 33 analysts in the last year, the consensus rating for Intel stock is Hold based on the current 6 sell ratings, 21 hold ratings and 6 buy ratings for INTC. The average twelve-month price prediction for Intel is $33.55 with a high price target of $46.00 and a low price target of $17.00.
Summary.....
Shares of Intel traded up $0.61 during trading on Thursday, reaching $35.14. 48,133,730 shares of the company's stock traded hands, compared to its average volume of 43,026,027. The company has a quick ratio of 1.15, a current ratio of 1.60 and a debt-to-equity ratio of 0.44. Intel Co. has a fifty-two week low of $24.59 and a fifty-two week high of $37.19. The company has a 50-day simple moving average of $33.96 and a 200-day simple moving average of $31.36. The firm has a market cap of $147.17 billion, a PE ratio of -159.72 and a beta of 0.89.