The original weekly options trade was executed when analysts for UBS and Bernstein Research thought that the Alphabet Inc (NASDAQ: GOOG, GOOGL) stock's recent run left little potential upside.
However, yesterday saw Google stock price fall by more than 2.50% after an article in The Wall Street Journal sounded a warning signal about artificial intelligence (AI), as well as a major stock index that Alphabet belongs to is going to be rebalanced.
The AI article was published Monday morning in The Journal. Citing several cloud computing experts, the newspaper said that cloud infrastructure might not be sufficient to handle the rapid rise of AI functionalities.
Based on those experts' statements, the reporter, Isabelle Bousquette wrote that "today, only a small portion of existing cloud infrastructure is actually set up to support that. The rest is not."
On top of this the Nasdaq is on the cusp of rebalancing its influential Nasdaq 100 index, which is very possible that the prominence of Alphabet will be reduced.
Alphabet is among the "magnificent seven" titles that currently makes up over 50% of the index's weight.
The adjustments will be made before market open on Monday, July 24, Nasdaq has said.
Why the GOOGL Weekly Options Trade was Executed?…..
Analysts for UBS and Bernstein Research think the Alphabet Inc (NASDAQ: GOOG, GOOGL) stock's recent run leaves little potential upside, especially given some risk that advertising growth will remain sluggish in the second quarter, while increased spending on generative AI capabilities will hurt the company's bottom line. Both downgraded Alphabet to the equivalent of neutral ratings.
Tech stocks have been high-fliers this year, with the Nasdaq up about 30 percent year to date. But there are growing concerns about whether those stocks have come too far, too fast.
Paul Meeks, Independent Solutions Wealth Management Portfolio Manager, said that he is worried about the valuations of tech stocks. Meeks cites two reasons.....
First is the AI hype. Meeks notes that a lot of companies spoke about AI on their earnings calls, but analysts didn't adjust their outlooks based on those comments, with the exception of Nvidia (NVDA).
The second is interest rates. "Tech and aggressive growth stocks need low interest rates," Meeks said, so the Federal Reserve's "hawkish pause" is a "real incremental negative" to tech stocks.
When it comes to specific stocks, Meeks says the two recent Alphabet (GOOGL) downgrades are "legit," even though he likes the stock long term.
Alphabet Inc. closed the most recent trading day at $119.01, moving -0.07% from the previous trading session. This change lagged the S&P 500's 1.15% gain on the day. At the same time, the Dow added 0.63%, and the tech-heavy Nasdaq gained 7.23%.
Coming into Wednesday, shares of the company had lost 5.05% in the past month. In that same time, the Computer and Technology sector gained 1.19%, while the S&P 500 gained 3.08%.
The GOOGL Weekly Options Trade Explained.....
** OPTION TRADE: Buy GOOGL JUL 14 2023 118.000 PUTS - price at last close was $2.17 - adjust accordingly.
Entered the GOOGL Weekly Options contract on Wednesday, June 28, 2023, for $1.38.
SOLD the GOOGL weekly options contracts on Monday, July 10, 2023, for $2.52; a potential profit of 83%.
Don't miss out on further trades – become a member today!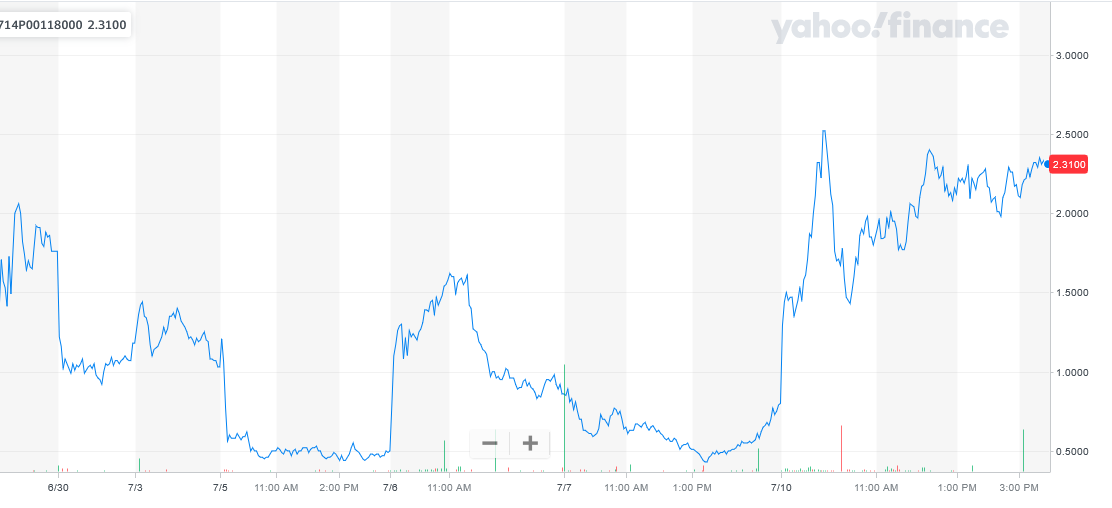 Further Catalysts for the GOOGL Weekly Options Trade…..
Despite mounting competition in artificial intelligence and internet search, Google stock has advanced 33% this year.
But UBS downgraded GOOGL stock on June 26, followed by a Bernstein Research downgrade on June 27. At UBS, analyst Lloyd Walmsley said Google's transition to internet search using generative artificial intelligence will slow advertising revenue growth.
Meanwhile, "Google's aggressive push to integrate generative AI into core search results could create a near-term air pocket on search ad pricing," Bernstein analyst Mark Shmulik said in a note to clients.
Alphabet's earnings have dropped by double-digit percentages, year over year, for the last three quarters. Also, revenue has grown only in the single digits for three quarters. The good news is that year-over-year comparisons will get easier in 2024.
Other Catalysts.....
One concern for GOOGL stock is new competition in internet search.
Google aims to counter Microsoft's (MSFT) investment in artificial intelligence startup OpenAI by making its own generative AI tools available to software developers. One big question is whether integrating chatbot AI technology into search queries will lower Google profit margins.
Antitrust Charges.....
The U.S. Department of Justice on Jan. 24 filed antitrust charges against Google, leaving open the question of whether the search giant will have to divest some of its ad business in order to satisfy regulators. The DOJ claims Google's dominance in digital advertising harms competition.
The lawsuit marks the DOJ's second antitrust case versus the internet giant in just over two years. The DOJ in October 2020 filed an antitrust lawsuit charging that Google has monopolized internet search and search-related advertising. That case is scheduled to go to trial in September.
Payment Services.....
With the Android mobile operating system built into devices sold worldwide, the Play Store has been a revenue growth driver.
A federal judge ruled in September 2021 that Apple (AAPL) must allow mobile app developers to steer consumers to outside payment methods. Google's policies also are under scrutiny.
Google in 2021 said service fees at its Play Store would drop to 15% from 30%. The move reduced revenue.
Fundamentals.....
For the March quarter, Google earnings were $1.17 a share, down 5% from the year-earlier period. Google recorded $2.6 billion in one-time charges.
Further, gross revenue rose 3% to $69.79 billion.
Analysts had predicted Google earnings of $1.08 per share on revenue of $68.9 billion. A year earlier, Google reported earnings of $1.23 a share on revenue of $68 billion.
Meanwhile, advertising revenue was roughly flat at $54.55 billion versus estimates of $53.8 billion.
Meanwhile, YouTube ad revenue dipped 2% to $6.69 billion but topped views amid lowered expectations. Analysts had estimated YouTube ad revenue of $6.6 billion.
Google said cloud-computing revenue rose 28% to $7.45 billion, slightly missing estimates of $7.46 billion. Google's cloud business posted revenue growth of 44% in the year-earlier period.
AI Interference.....
Conversational AI platforms like Bard and the popular ChatGPT also read the entirety of the web's websites in search of answers to user queries, often preventing an individual from visiting a particular website. If website owners find Google's artificial intelligence tools prevent traffic from coming to their site, they've got little incentive to continue partnering or working with the search engine giant that still handles more than 90% of the world's web queries, according to numbers from GlobalStats.
Cookies On Chrome.....
There is a looming threat that was self-initiated when Google announced plans to phase out third-party cookies on its Chrome browser in the latter half of 2024. Cookies are tiny files placed in your browser and devices by advertisers that track your browsing history so they can build a profile and send you targeted ads.
These have been privacy concerns for years, and Google is taking steps to accommodate privacy advocates. Online advertisers are upset, but privacy advocates see it as a meaningful first step to ensuring online user privacy. Is Google shooting itself in the foot with the ban?
The initial impact will likely hurt Google's ad business, making targeted advertising much harder to perform.
Analysts.....
Alphabet Inc. received another downgrade on Tuesday, with Bernstein becoming the latest firm on Wall Street to step away from the Google parent company.
Shares fell 1.5% after the cut to market perform from outperform. The stock is on track for its sixth negative session of the past seven, though it remains up more than 30% this year. Analyst Mark Shmulik wrote that the stock's narrative "has quickly caught up to fundamentals," resulting in a balanced risk profile.
The firm also noted risks related to artificial intelligence, an emerging technology that Alphabet is seen as a major player in, and which has fueled 2023 rallies in megacap stocks like Microsoft Corp. and Nvidia Corp.
Alphabet has gone "from too slow to too fast in AI" and the "aggressive push to integrate GenAI into core search results could create a near-term air pocket on search ad pricing," Bernstein wrote.
UBS downgraded Alphabet to neutral on Monday, writing that AI-related revenue "may take time to optimize," and that "it's difficult to see upside to our current high-single-digit Sites growth estimates and consensus calls for acceleration to 11%."
UBS analyst Walmsley's worry is well reasoned. We don't know how or when the rise of artificial intelligence will impact the way people find information on the web. It's undeniable, though, that it poses some degree of threat to Alphabet's dominance of the search space.
What's not clear is if the threat is large enough right now to merit a downgrade under the current circumstances.

According to the issued ratings of 38 analysts in the last year, the consensus rating for Alphabet stock is Moderate Buy based on the current 7 hold ratings, 30 buy ratings and 1 strong buy rating for GOOGL. The average twelve-month price prediction for Alphabet is $129.90 with a high price target of $160.00 and a low price target of $113.00.
Summary.....
GOOGL stock jumped 65% in 2021. But in 2022 Google shares dropped 39%.
As of June 27, Alphabet stock is extended. It trades above a buy zone. There are worries over a bubble in artificial intelligence stocks.