GE started reporting its revenues under two segments, effective from the first quarter of 2023, namely GE Aerospace and GE Vernova. The company completed the spin-off of GE HealthCare into an independent publicly traded company, retaining an approximately 19.9% stake in GE HealthCare's common stock.
Aerospace revenues jumped 28% year over year to $7,860 million in the reported quarter, driven by continued growth in demand for commercial air travel. The Consensus Estimate for the quarter was $7443 million. Organic revenues rose 28% year over year. Orders grew 37% year over year.
The GE Vernova has two subsegments, namely Renewable Energy and Power.....


The Renewable Energy segment's revenues totaled $3,849 million, up 24% year over year. The Consensus Estimate for the quarter was $3,241 million. Organically, the same increased 27%. Results benefited from higher equipment revenues across all businesses, most notably in Onshore Wind, Grid and Offshore Wind. Orders increased favorably year over year on a reported basis.
The Power segment's revenues were down 1% year over year to $4,152 million. The consensus estimate for the quarter was $4,169 million. Organic revenues decreased 2%. Lower aeroderivative shipments and a reduction in steam power equipment due to the ongoing exit of new build coal hurt its performance. Orders grew 7% on a reported basis year over year.
Why the GE Weekly Options Trade was Executed?…..
General Electric Co (NYSE: GE) stock price has momentum, having jumped by over 107% in the past 12 months. It has risen by over 66% this year.
General Electric stock price has had a spectacular growth in 2023 as investors cheer the company's turnaround and strong demand in its aviation business. The shares ended the first half of the year at $110. This means that the shares have outperformed the S&P 500 and Nasdaq 100 indices.
General Electric, a giant manufacturing company, has been implementing a major turnaround. Earlier this year, the company took GE Healthcare public. Today, that company has a market cap of over $36 billion.
GE also launched GE Vernova, a company that houses its energy products. The remaining company will see the company focus on civil and defense aviation. It will primarily compete with the likes of Rolls-Royce Holdings, Safran, and Pratt & Whitney.
GE stock price has soared this year as investors reflect on the rising demand for jet engines. Most of these engines are narrow body aircrafts, where GE has a leading market share. Demand for these aircraft has also risen this year.
The GE Weekly Options Trade Explained.....
** OPTION TRADE: Buy GE AUG 25 2023 110.000 CALLS - price at last close was $4.00 - adjust accordingly.
Obviously the results will vary from trader to trader depending on entry cost and exit price that was undertaken.
Entered the GE Weekly Options (CALL) Trade on Monday, July 24, 2023, for $4.10.
Sold the GE Weekly Options contracts on Tuesday, July 25, 2023, for $9.05; a potential profit of 121%.
Don't miss out on further trades – become a member today!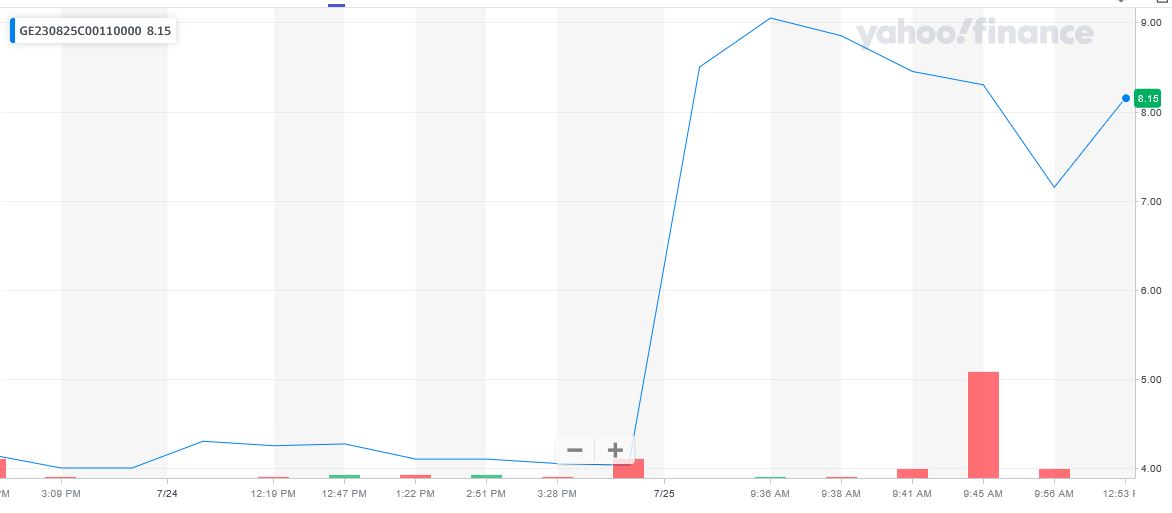 About General Electric.....
GE is a multi-national conglomerate that was originally incorporated in 1892. The company was founded by Thomas Edison as the Edison General Electric Company and shortened its name to General Electric following a merger with two other early electric pioneers. The name was later shortened again to GE. The company is headquartered in Boston, Massachusetts but has operations on a global scale. One of the original 12 Dow stocks, the company was a component of the index for 122 years until its ousting in 2018.
Originally intended to make and market Edison's incandescent lamp and following products, the company grew over the years through mergers, acquisitions, and natural expansion into newly created fields. Among the many early accomplishments is the creation of RCA and NBC which will both become forces of their own. Other major innovations include the world's first turbine superchargers, industrial gas turbine engines, and the first jet engine. In the field of computing, General Electric Company is credited as being one of the 8 major computer companies of the 1960s and shares responsibility for today's digital world. In regard to its employees, two were awarded the Nobel Prize for their work with the company.
Today GE operates as a high-tech industrial company in Europe, China, Asia, the Americas, the Middle East, and Africa. The company operates through four segments including Power, Renewables, Aerospace, and Healthcare although there are plans in the works to split the company into three separate entities. The three new companies would be GE Vernova (power and renewables), GE Health, and GE Aerospace. The spin-offs are expected to be completed by 2025.
The Power segment offers a variety of turbine engines for power production as well as the full range of services from plant construction to retrofit and refit. The Renewables segment is focused on solutions for renewable energy including wind and hydro and the technology to operate them. The Aviation segment manufactures aircraft engines of all varieties and the Healthcare segment offers technology for imaging, monitoring, diagnostics, and drug discovery to health and medical facilities.
General Electric is committed to helping the world transition to a greener way of life and is exiting the new-build coal-fired power industry. Instead, its advancements in wind, grid efficiency, and natural gas are being deployed around the world helping to reduce emissions and generate cleaner energy for businesses, industry, and communities. The company is targeting 2030 for its own carbon neutrality and 2050 for net zero emissions.
Further Catalysts for the GE Weekly Options Trade…..
Strength was seen in the company's first-quarter results. It orders jumped by 26% as the LEAP engine continued doing well. It doubled its operating profit and significantly reduced its debt load. Its free cash flow came in at $102 million. The management expects that its free cash flow will be between $3.6 billion and $4.2 billion.
In 2022, GE earnings surged 53% as revenue grew 3%, according to the company's 2022 Annual Report. On April 25, GE's first-quarter earnings crushed estimates.
After the GE HealthCare Technologies spinoff, GE's two remaining businesses focus on aerospace and energy, including renewable energy.
For aerospace and energy combined, GE management projects earnings will more than double to $1.70-$2 per share for full-year 2023, up from 77 cents in 2022.
Free cash flow (FCF) is a closely watched metric. In 2023, GE management expects FCF to grow as much as 35% to $4.2 billion at the combined aerospace and energy businesses. That would be up from $3.1 billion in 2022.
GE earnings for the second quarter are due on July 25.
Other Catalysts.....
The chart below shows that the GE share price has been in a strong bullish trend in the past few months. This stock moved above the important resistance point at $90.16, the highest point on March 15th, June 1st, and November 15th last year. 
The shares moved above the 50% Fibonacci Retracement level. Also, the shares have seen the 200-week and 50-week moving averages have formed a golden cross pattern. This pattern is one of the most bullish signs.
Therefore, the shares will likely continue rising as buyers target the next key resistance point at $124.30, the 61.8% retracement level. A break above this level will see it rise to the key level at $150 (78.6% retracement level).
Major News.....
The industrial giant plans to spin off its energy business as GE Vernova in early 2024. That will allow the "new GE," GE Aerospace, the company's jet-engine business, to emerge as a stand-alone company.
The aerospace unit is benefiting from a recovery in commercial air travel.
Its health care spinoff, GE HealthCare Technologies (GEHC), debuted on the Nasdaq in January. General Electric had announced a three-way breakup — into independent power, health care and aviation companies — in 2021. Prior to that, it shed a series of assets, from lighting to locomotives.
GE Aerospace.....
The aerospace segment — sometimes called GE's "crown jewel" — makes jet engines and aviation systems for plane makers including Boeing. GE Aerospace also runs a lucrative aftermarket business for engine repair and maintenance.
During the pandemic, travel restrictions to halt the spread of Covid-19 negatively affected aircraft deliveries and orders.
Aerospace suppliers also struggled to deliver parts and equipment on time, due to pandemic-fueled shortages of semiconductor chips and plastics. Costs of aluminum and steel also rose.
For GE Aerospace, many of those headwinds have eased.
Analysts.....

According to the issued ratings of 14 analysts in the last year, the consensus rating for General Electric stock is Moderate Buy based on the current 2 hold ratings and 12 buy ratings for GE. The average twelve-month price prediction for General Electric is $109.63 with a high price target of $130.00 and a low price target of $84.00.
Summary.....
In all, General Electric stock has more upside as the company's turnaround continues.
General Electric has a 12-month low of $48.06 and a 12-month high of $112.15. The business has a 50-day moving average of $106.16 and a two-hundred day moving average of $94.60. The company has a debt-to-equity ratio of 0.61, a quick ratio of 0.92 and a current ratio of 1.25. The stock has a market capitalization of $120.14 billion, a PE ratio of 14.38, a price-to-earnings-growth ratio of 7.81 and a beta of 1.27.