Prelude…..
Shares of Fortinet Inc (NASDAQ: FTNT) rallied 2.95% to $73.59 Thursday.
This was the stock's fourth consecutive day of gains.
Fortinet Inc. hit a new 52-week high, surpassing its previous peak of $71.63, which the company achieved on June 5th.
Gregg Moskowitz, an analyst from Mizuho, has reiterated a Neutral rating on Fortinet and set a price target of $74 as of June 15, 2023. This marks an increase from the previous price target of $68. However, earlier this year in January 2023, Mizuho had downgraded Fortinet to Neutral from Buy due to some challenges that the company was facing. Despite this, on April 17, 2023, Mizuho maintained coverage of Fortinet with a Buy recommendation.
As well, AllianceBernstein L.P. continues to increase its holdings in Fortinet, Inc., according to the company's most recent filing with the Securities and Exchange Commission (SEC). During the fourth quarter, AllianceBernstein raised its ownership by 15%, purchasing an additional 3,467,035 shares of the software maker's stock. The fund now holds 26,607,677 shares of FTNT.
In terms of financial performance for Q1 2021 earnings season, Fortinet demonstrated impressive results. On May 4th the firm released data revealing that they had generated $1.26 billion during the quarter versus analysts' expectations of $1.20 billion – while earning $0.34 per share (EPS) which topped market projections by $0.05 to deliver a solid outperformance against predicted benchmarks.
Both earnings reports from last year as well as current projections for FY2022 suggest ongoing strong forward momentum within this segment of technology driven business verticals. Such predictions indicate a substantial expansion phase driven primarily by increased adoption rates fueled due largely via digital transformation endeavours across all sectors amidst an ongoing pandemic-affected marketplace.
Fortinet's net margin for Q1 was 20.46% along with an expected Return on Equity measure that currently sits at negative 282%. The company has also seen substantial growth since last year, delivering a 32.2% year over year improvement in quarterly earnings.
Why the FTNT Weekly Options Trade was Originally Executed?
Fortinet Inc soared above its 50-day moving average on May 5 after the security software leader reported another quarter of bottom-line and top-line growth. Earnings growth accelerated for the fourth straight quarter, jumping 79% to 34 cents a share.
"Revenue growth in Q1 was 32% due to strong growth in both product and service revenue. With 35% product revenue growth, we continue to gain market share while being a leading product revenue company in the cybersecurity industry. Service revenue grew over 30% for the first time in a quarter in six years. We believe we have a significant opportunity to continue to grow service revenue by upselling value-added security services to our large installed base of customers," said Ken Xie, Fortinet founder, chairman and CEO.
The FTNT Weekly Options Trade Explained.....
** OPTION TRADE: Buy FTNT JUN 23 2023 72.000 CALLS - price at last close was $1.48 - adjust accordingly.
Obviously the results will vary from trader to trader depending on entry cost and exit price that was undertaken.
Entered the FTNT Weekly Options (CALL) Trade on Tuesday, June 06, 2023, for $0.90.
Sold half the FTNT weekly options contracts on Thursday, June 15, 2023for $2.45; a potential profit of 172%.
Total Dollar Profit is $245 - $90 (cost of contract) = $155
Holding the remaining FTNT weekly options contracts for further profit before expiry.
Don't miss out on further trades – become a member today!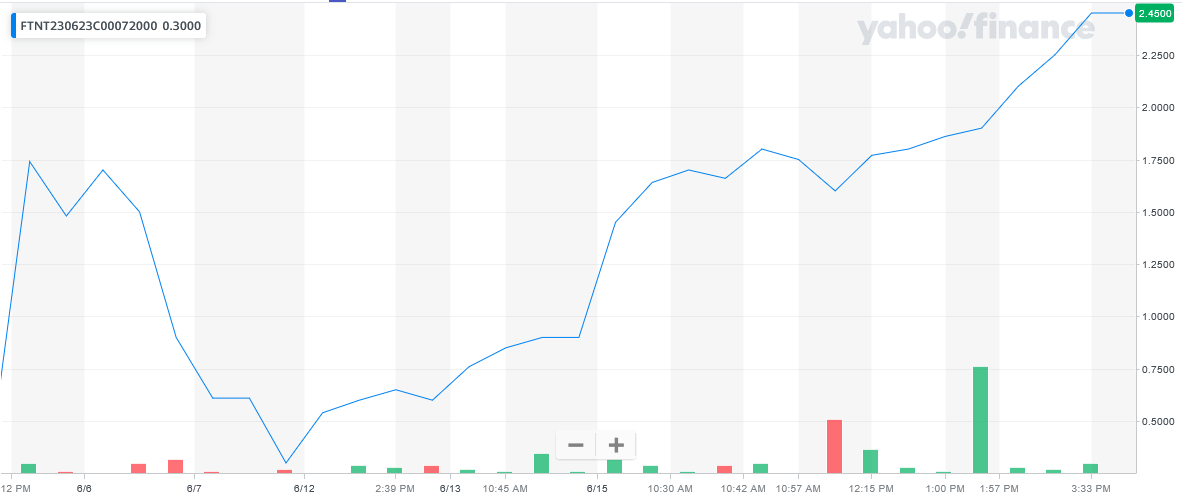 About Fortinet.....
Fortinet Inc. is a leading provider of cybersecurity solutions for businesses, governments and service providers. The company's products and services help organizations protect their networks, data and applications from cyber threats. Fortinet was founded in 2000 and is headquartered in Sunnyvale, California. The company has offices in more than 40 countries and a customer base across industries.
Fortinet's solutions include network security, firewalls, VPNs, intrusion prevention systems and endpoint security, including antivirus and anti-malware protection. The company also offers cloud security, which helps customers secure their cloud environments and application security, which includes web application firewalls and API security solutions. Fortinet's products are designed to work together as a cohesive security system, providing customers with a comprehensive approach to cybersecurity.
Ken Xie is the founder, board chairman and CEO of Fortinet. He has over 25 years of experience in the networking and security industries and is widely recognized as a thought leader in cybersecurity. Other key management team members include Keith Jensen, who has been with Fortinet since 2014 and has nearly 30 years of experience in cloud-based software systems. 
Fortinet has been consistently profitable over the past few years, with revenue growing steadily. The company's net income has also been increasing steadily since 2017. Fortinet's profit margin has remained steady, at around 16% over the past few years. The company has a healthy balance sheet with nearly three times more assets than liabilities. Fortinet's price-to-earnings and price-to-book ratios outpace the industry average by approximately 25%. While Fortinet's valuation metrics are higher than the industry average, this is likely due to the company's strong growth prospects and market position. Fortinet's stock price has shown strong growth over the past few years, with the share price increasing from around $40 in early 2017 to a daily average of between $60 and $80 per share. The company's market capitalization has grown from approximately $6 billion in 2017 to over $60 billion in 2022. Fortinet's trading volume has also increased, reflecting growing investor interest.
The cybersecurity industry is growing rapidly, driven by the increasing threat of cyberattacks and the growing awareness of the importance of cybersecurity among businesses and individuals. Fortinet faces significant competition from other cybersecurity vendors, including Check Point Software Technologies, Palo Alto Networks and Cisco Systems. However, the company's broad range of solutions and a strong reputation for quality and reliability give it a competitive advantage.
The cybersecurity industry is also subject to various regulatory and political issues, including data privacy regulations and concerns over state-sponsored cyberattacks. Fortinet has proactively addressed these issues, working closely with governments and industry organizations to develop best practices and standards for cybersecurity.
Fortinet has invested heavily in research and development, focusing on developing innovative solutions to address emerging threats.
Further Catalysts for the FTNT Weekly Options Trade…..
Fortinet boasts outstanding fund sponsorship. Fidelity Contrafund (FCNTX) has increased its position substantially in FTNT stock in recent quarters. At the end of Q3, Contrafund owned 700,000 shares. But that number swelled to 2.15 million at the end of Q1.
Last month, Fortinet shares briefly pulled back after Microsoft said a state-sponsored threat actor based in China carried out malicious activity, getting around a Fortinet system. Nowinski said the company would likely release a patch for the operating system.
But he didn't expect much of an impact on FTNT stock, which he rates as overweight with an 80 price target.
William Blair's Ho remained positive on FTNT stock following the Microsoft news.
Fortinet's chief marketing officer, John Maddison, laid out the use cases for Fortinet's technology in a recent deep dive with Ho.
"As cloud adoption has grown, it has been fairly contrary to what many industry participants had anticipated: Firewalls still need to play a role in network infrastructure," he said.
Vendors prefer a platform that has a suite of capabilities. Fortinet's systems can segment networks and protect the edges of data systems. The company also has cloud-based products, firewall-as-a-service and industrial firewalls.
"The company appears to have a sound strategy for providing a cohesive approach for packaging these capabilities in its broadening solution suite," he said.
Ho has an outperform rating on FTNT stock.
All of this is showing up in Fortinet's financial reports. In the first quarter, adjusted profit rocketed 79% to 34 cents per share. Sales surged 32% to $1.26 billion.
TD Cowen analyst Shaul Eyal noted that service revenue grew above 30% for the first time in six years. Eyal has an outperform rating and 85 price target on FTNT stock.
In the current quarter, analysts call for Fortinet to earn 34 cents a share on $1.31 billion in sales, up a respective 42% and 27%, according to FactSet.
Other Positive Catalysts.....
For years, the cybersecurity sector has been closely monitored by growth investors, given its increasing importance in the global economy. When Russia invaded Ukraine in February of last year, the cybersecurity sector made headlines as it was revealed that Russia attacked Ukraines key digital infrastructure weeks before the invasion. Many cybersecurity stocks have had a stellar run in the market since this revelation, and Fortinet Inc. is no exception.
So far this year, the stock is up 46% and is one of the few stocks that have delivered positive returns over the last 12-month period too. On the back of this stellar market performance, Fortinet is now valued at a forward price-earnings ratio of 46, which suggests the company is not cheaply valued anymore.
The cybersecurity sector does not get the same attention as the consumer staples sector, but could be one of the most resilient business sectors during an economic downturn. According to data compiled by CXOToday, during the 2008 recession, revenue, operating income and many other financial performance metrics of cybersecurity companies improved compared to previous years, in complete contrast to many other tech industries that saw their financials deteriorate due to a sharp decline in consumer discretionary spending. Investing in Fortinet is likely to help investors generate alpha returns in the long term and also stabilize investment returns in the short term if the U.S. economy enters a recession.
Fortinets revenue has grown in double digits in each of the last 10 years, and the company has been profitable in all these years as well. In 2022, the company reported a net profit of $857.3 million, an increase of 41% from 2021. This improved profitability boosted free cash flows to $1.44 billion in 2022. Over the last four years, free cash flows have grown at a stellar CAGR of 27%, which is a testament to how Fortinet has converted revenue growth into cash flows. As a cash-rich company with promising growth prospects, Fortinet will be able to utilize free cash flows to fund capital investments in the coming years without having to tap into capital markets unnecessarily.
Analysts.....
The Sunnyvale, Calif.-based cybersecurity company is known for its firewalls, and is expanding into other markets, William Blair analyst Jonathan Ho said in a recent note to clients. That includes hybrid and multicloud environments, "zero trust" and endpoint security, and device markets.
Fortinet is eyeing a $180 billion market expected to hit $249 billion by 2026, Ho said.
Though Microsoft recently reported vulnerability in Fortinet's systems, FTNT stock has jumped back into a buy zone. Wells Fargo analyst Andrew Nowinski says the Microsoft news serves as further proof of the need for cutting-edge cybersecurity technology.
"Nation-stage activity from the likes of China, Russia and others is still rampant," Nowinski said in a note. "That is the main reason why spending on cyber defense cannot slow, despite the ongoing macro challenges. Attackers do not care if the U.S. is heading toward a recession or negotiating a debt ceiling raise. Attacks will likely continue unabated."

According to the issued ratings of 32 analysts in the last year, the consensus rating for Fortinet stock is Moderate Buy based on the current 7 hold ratings and 25 buy ratings for FTNT. The average twelve-month price prediction for Fortinet is $72.30 with a high price target of $82.00 and a low price target of $62.00.
Summary.....
Fortinets integrated platform approach offers security capabilities across local networks, wide-area networks, various endpoints and the cloud. This expansive portfolio of security solutions has enabled the company to build competitive advantages over time, which are now helping it earn economic profits. Across these use cases, Fortinets total addressable market is currently estimated at $180 billion, which is expected to swell to $280 billion by 2026. To penetrate this market, the company is investing in both software and hardware-based technologies.
The highly diversified nature of Fortinets business is another appealing characteristic. With recession risks continuing to loom on the horizon, investors need to ensure that the companies they are considering for investment are not reliant on one business sector.
Fortinet stock traded up $2.82 during trading hours on Monday, hitting $70.95. The company had a trading volume of 6,089,667 shares, compared to its average volume of 4,988,387. The company has a 50-day moving average price of $66.31 and a two-hundred day moving average price of $58.64. Fortinet, Inc. has a 1 year low of $42.61 and a 1 year high of $71.63. The firm has a market cap of $55.71 billion, a P/E ratio of 56.21, a P/E/G ratio of 3.19 and a beta of 1.15. The company has a debt-to-equity ratio of 86.92, a quick ratio of 1.24 and a current ratio of 1.34.
Conclusion…..
Fortinet is well-positioned to benefit from the growing demand for cybersecurity solutions. The company's broad range of products and services gives it a competitive advantage.
Therefore…..
For future trades, join us here at Weekly Options USA, and get the full details on the next trade.