First Solar, Inc. (NASDAQ: FSLR), will surely benefit from the Inflation Reduction Act of 2022 which was authorized by the U.S Senate on August 7, with the deciding vote being cast by Vice President Kamala Harris.
While momentum for the climate bill had stalled earlier this summer, the legislation overcame a significant hurdle last weekend, gaining Senate approval and moving to the House. The Inflation Reduction Act provides $369 in funding to shore up America's energy security.
As well, several analysts provided a positive take on First Solar.....
On August 11, KeyBanc analyst Sophie Karp upgraded First Solar to 'Overweight' from 'Sector Weight' with a $145 price target. The manufacturing tax credit for locally made solar panels makes First Solar, Inc. (NASDAQ:FSLR) the most direct beneficiary of the Inflation Reduction Act in her coverage, the analyst contended.
Despite comparative outperformance since the IRA became public, the analyst sees additional upside, particularly due to First Solar's success towards scaling larger operations and reducing input costs. The analyst estimates that First Solar could be eligible for about $400 million in tax credits, and should achieve at least a 20% gross margin by 2025 on over $3 billion in revenue.
Also, on Monday....
JPMorgan upgraded the stock to overweight from neutral and lifted the price target to $126 from $83, and
Guggenheim upgraded the stock to buy from neutral, setting a $135 price target. "Of all the names in our coverage, we believe First Solar appears positioned to benefit the most from the provisions of the Inflation Reduction Act that passed the Senate. Investors have not fully digested how transformational the IRA could be for FSLR's business," Guggenheim's Joseph Osha has written in a note to clients.
The Profits Explained.....
Entered the First Solar trade on Tuesday, August 09, 2022 for $6.23.
Exited the trade Thursday, August 11 for $11.45 for a potential profit of 84%.
Don't miss out on further trades – become a member today!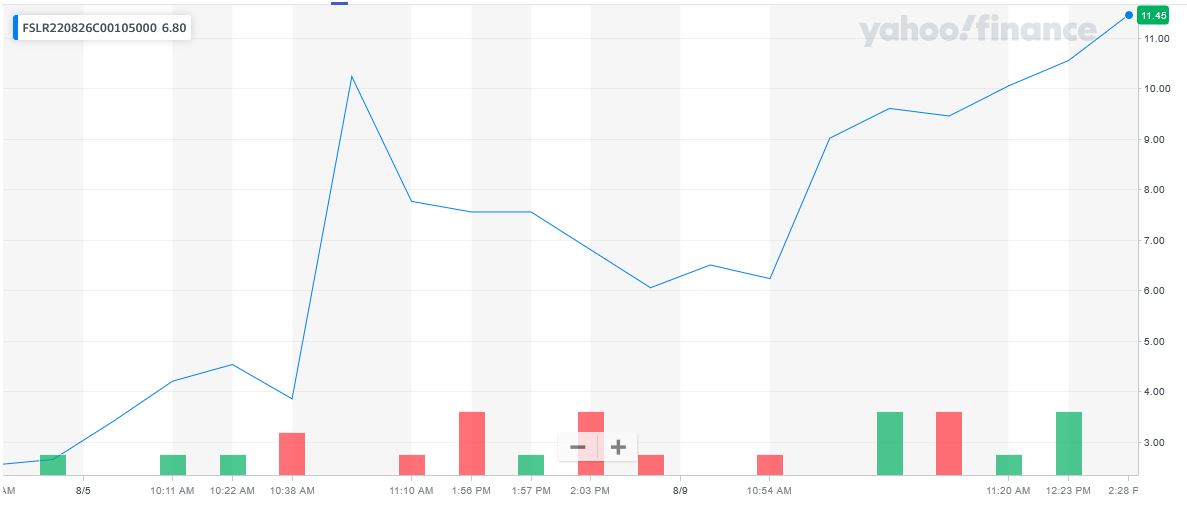 Why the Initial Weekly Options Call Trade on First Solar.....
Prelude.....
Sweeping climate and health care legislation unveiled by Democrats last week would lead to significant cuts in energy costs for American households, according to a new analysis.
A report by non-profit group Rewiring America found that the tax incentives included as part of the $369 billion dedicated to climate initiatives in the Inflation Reduction Act would save the average household $1,800 per year on energy bills.
The Senate passed the Inflation Reduction Act on Sunday, and the legislation is being hailed by the CEO of a residential solar power provider as perhaps the most important climate bill in modern times.
"We're sitting on the precipice of what could be the most impactful climate legislation of our lifetimes," SunRun CEO Mary Powell said. "We're really excited about it. We really see it as fundamentally accelerating this customer-led revolution to a much more sustainable, independent, resilient, and affordable energy system for Americans."
If passed, the $369 billion deal would be a major breakthrough for clean energy efforts in the U.S. And although some provisions for the oil and gas industry have received pushback, many have cheered the bill as a significant step forward in tackling climate change.
According to a preliminary analysis by independent research provider Rhodium, the Inflation Reduction Act would reduce greenhouse gas emissions by 31% to 44% from 2005 levels by 2030. That pushes the U.S. closer toward the Paris Agreement goal of limiting global warming to 1.5 degrees Celsius. The earth already warmed by about 1.1 degrees in the last century.
Most of the reduction in U.S. emissions would come from tax credits for clean energy producers. The proposed legislation also aimed to invest in clean technologies such as carbon capture that have yet to scale. There are also provisions aimed at increasing domestic manufacturing for batteries, solar, and offshore wind.
"Make no mistake," Powell said, "part of what this does is provide stability for the industry in terms of the work it's already doing for customers."
Another notable feature of the legislation focuses on making green technology more affordable for consumers.
And Now.....
Renewable energy stocks were poised to open higher Monday, rallying a day after the U.S. Senate passed a bill that unlocks nearly $370 billion to spur the transition to clean energy.
Climate change funding was a key element in the Democrats' Inflation Reduction Act, which passed the Senate in a party-line vote on Sunday. The measure includes a series of tax credits and grants that would funnel billions of dollars into the clean energy industry, with some experts estimating it could trigger private investments that soar into the trillions.
And, First Solar, Inc. (NASDAQ: FSLR) will be one of the beneficiaries.
About First Solar.....
First Solar, Inc. provides photovoltaic (PV) solar energy solutions in the United State, Japan, France, Canada, India, Australia, and internationally.
The company designs, manufactures, and sells cadmium telluride solar modules that converts sunlight into electricity. It serves developers and operators of systems, utilities, independent power producers, commercial and industrial companies, and other system owners.
The company was formerly known as First Solar Holdings, Inc. and changed its name to First Solar, Inc. in 2006. First Solar, Inc. was founded in 1999 and is headquartered in Tempe, Arizona.
Further Catalysts for the FSLR Weekly Options Trade…..
First Solar already has a solar module factory in Ohio, and it's building another, large solar module plant in the state. The latter facility will have a capacity of 3.3 gigawatts. As a result of its large U.S. manufacturing footprint, First Solar will uniquely benefit from the manufacturing tax credit.
Also noteworthy is that First Solar develops and builds solar power plants, and it has launched a significant number of them in the U.S. First Solar is likely to build many more highly profitable solar plants in America.
Additionally, the company's global power plant business should get a big lift from the proliferation of electric vehicles. This is because EVs should raise the demand for and the price of electricity in many regions of the world.
Insider Buying.....
Georges Antoun, Chief Commercial Officer of the company, spent a US$1m on stock at an average price of US$101. Aside from being a solid chunk in its own right, the deft move also saw their holding increase by some 36%.
That implies that an insider found the current price of US$102 per share to be enticing. While their view may have changed since the purchase was made, this does at least suggest they have had confidence in the company's future.
Earnings.....
First Solar continues to churn out solid results year after year, which is why it's one of the best-performing solar manufacturers in the world. The company's differentiated thin-film product continues to get better, and potential subsidy changes in the U.S. could give the company tailwinds for years to come.
Understanding First Solar's second-quarter results isn't straightforward. On the surface, a slight decline in revenue to $621.0 million and a negative 4% gross margin seems bad. But the final net income figure was $56 million, or $0.52 per share, and there were some important caveats in the results.
An impairment on the Luz del Norte project in Chile had a negative nine-percentage-point impact, and sales freight reduced gross margin by a whopping 16 percentage points. So without the one-time Chile impairment or shipping costs, gross margin would be a fairly impressive 21%.
First Solar did record a $245 million gain on selling its Japan platform business in the second quarter, but management expects to record a $0.38 to $0.52 loss per share on selling the Luz del Norte project in 2022. This kind of volatility is one reason First Solar is getting out of the development business.
Future Results.....
First Solar really shined for future projected results. Management said the company's 10.4 GW of bookings since the first-quarter earnings call had an average sale price of $0.301, which is strong pricing and an increase from commodity solar panels selling for around $0.20 per watt as early as 2020. Those bookings also stretch out to 2026, so any cost reductions the company can generate in the meantime will help margins.
Management has also begun including adjustments for shipping costs and pricing panels to be picked up at the factory.
Analysts.....
First Solar was upgraded by analysts at JPMorgan Chase & Co. from a "neutral" rating to an "overweight" rating in a report issued on Monday. The brokerage presently has a $126.00 price target on the solar cell manufacturer's stock, up from their prior price target of $83.00. JPMorgan Chase & Co.'s price target indicates a potential upside of 23.65% from the stock's current price.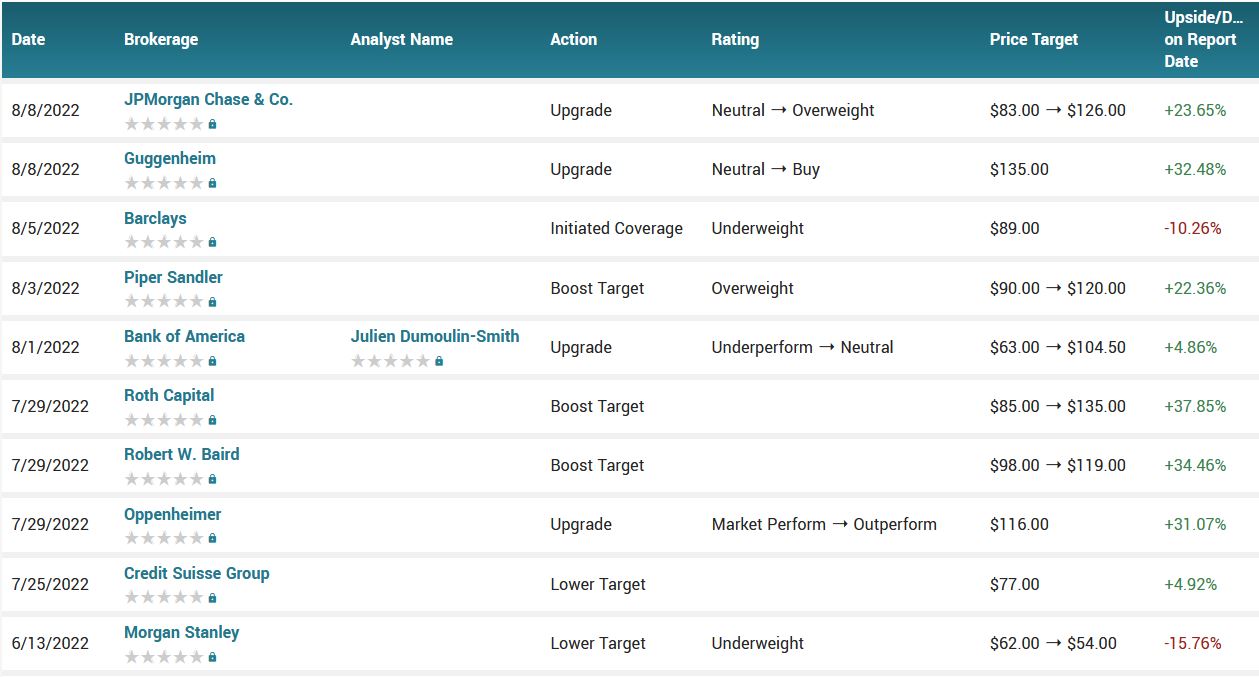 According to the issued ratings of 22 analysts in the last year, the consensus rating for First Solar stock is Hold based on the current 3 sell ratings, 10 hold ratings and 9 buy ratings for FSLR. The average twelve-month price prediction for First Solar is $99.39 with a high price target of $140.00 and a low price target of $54.00.
Summary.....
First Solar continues to operate efficiently, and it's going to see some very impactful changes in the next few years. Most importantly, the rapid reduction in solar panel prices seems to have subsided, which will make it easier to plan for growth and generate sustainable profits. The company is also benefiting from U.S. manufacturing and technology differentiation, which are leading to multiple years' worth of backlog. As two new production facilities are completed that could double production, First Solar has a lot of growth ahead in solar.
First Solar has a 12-month low of $59.60 and a 12-month high of $123.13. The company has a current ratio of 4.21, a quick ratio of 3.20 and a debt-to-equity ratio of 0.03. The firm has a 50-day moving average price of $73.43 and a 200-day moving average price of $73.62. The firm has a market capitalization of $10.86 billion, a PE ratio of 57.90 and a beta of 1.49.
Therefore…..
For future trades, join us here at Weekly Options USA, and get the full details on the next trade.