Why the Profit on FedEx Corporation Stock?
Besides the catalysts mentioned in the initial recommendation – found further below in this article – the stark warning from FedEx Corporation (NYSE:FDX) on Thursday on how business conditions continue to deteriorate, and then withdrawing its full-year guidance while CEO Raj Subramaniam warned that global volumes "significantly worsened" and are likely to decline even further.
Wall Street analysts were greatly disappointed with FedEx Corp.'s forecast for the current quarter and its withdrawal of full-year guidance.
Researchers at Deutsche Bank AG said it's the worst report they've seen in two decades.
"FedEx preannounced last night the weakest set of results we've seen relative to expectations in our ~20 years of analyzing companies," the bank's analysts including Amit Mehrotra said in a note to clients.
The package delivery giant said in a statement Thursday night that it expects first-quarter earnings, excluding some items, to be $3.44 per share, or roughly 33% below the average analyst estimate of $5.10. In addition, FedEx withdrew its earnings forecast for 2023, saying macroeconomic trends have "significantly worsened," both internationally and in the US, and are likely to deteriorate further, fueling fears of a broad-based earnings decline.
Several analysts covering the stock lowered their recommendations on FedEx Friday, as the stock sank as much as 24% before finishing the day down 21%. Robert W. Baird & Co. analyst Garrett Holland summed up the opinions, calling it an "ugly quarter." The bleak outlook pushed shares of rival United Parcel Service Inc., e-commerce giant Amazon.com Inc. and European delivery companies well into the red.
"The FedEx warning came as a slap. It's a solid sign that the economy started slowing," said Ipek Ozkardeskaya, a senior analyst at Swissquote. "This is certainly the first in a series of warnings that we may see for the quarters to come."
Bank of America Corp.'s Michael Hartnett said in a note Friday that an earnings recession will likely drive US stocks to new lows, while Deutsche Bank strategists have said that company profits are set to drop, putting the S&P 500 at risk of a much deeper selloff.
Also on Friday, the University of Michigan sentiment index showed inflation expectations for the next 12 months were the lowest since July 2021.
Markets have begun to write off a 75-basis point hike as an inflation-fighting measure when the Federal Reserve meets next week. Investors now see a 83% chance of a 75-basis-point hike vs. a 17% likelihood the Fed will boost rates by a full percentage point.
The Profits Explained.....
Entered the FedEx Corporation stock trade on Tuesday, September 07, 2022 at $7.70.
Exited the trade Friday, September 17 for $44.73, for a potential profit of 481%.
Don't miss out on further trades – become a member today!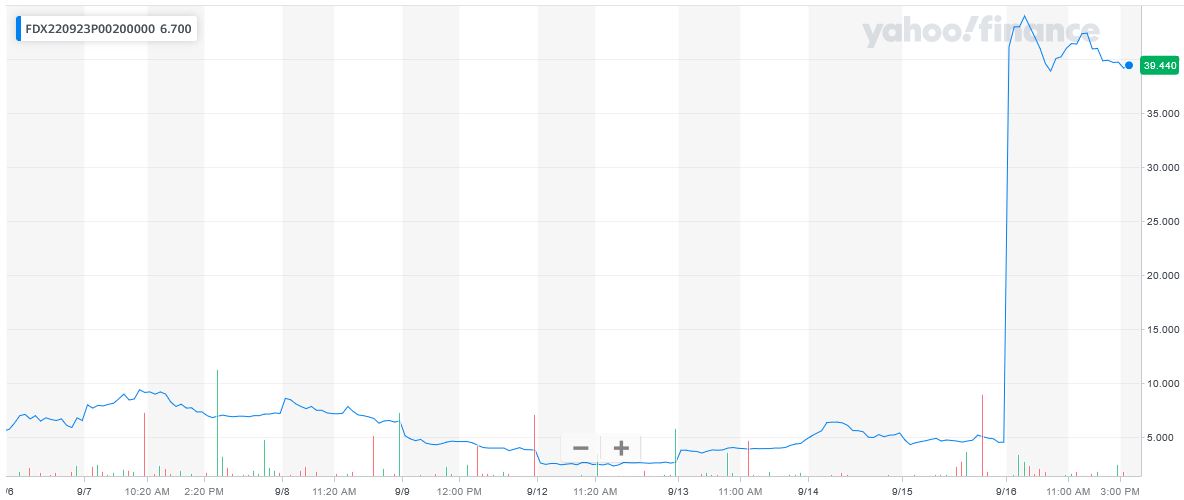 Why the Initial Weekly Options Call Trade on
FedEx Corporation Stock.....
Prelude.....
U.S. stocks sank lower in a choppy post-Labor Day session Tuesday as traders remained on edge ahead of the Federal Reserve's next policy move later this month.
The benchmark S&P 500 fell 0.4%, while the Dow Jones Industrial Average declined by 0.5%, or about 170 points. The tech-heavy Nasdaq Composite led the declines, tumbling 0.7%. The moves come after three straight weeks of losses for the major averages.
The Nasdaq marked its seventh-consecutive loss as tech slipped, marking its longest losing streak since 2016.
Also, FedEx Corporation (NYSE:FDX) was downgraded by analysts at Citigroup Inc. from a "buy" rating to a "neutral" rating. They now have a $225.00 price target on the stock, down previously from $270.00. This represents a 9.7% upside from the current price of $205.07.
Losses across equities resumed following the release of fresh data that showed U.S. services activity gained momentum in August, a sign to investors that Fed officials may proceed with a heftier rate increase of 75 basis points September 21.
The Institute for Supply Management reported its non-manufacturing PMI rose to a reading of 56.9 last month from 56.7 in July, the second straight monthly increase ofter a three-month decline.
About FedEx.....
FedEx Corporation provides transportation, e-commerce, and business services in the United States and internationally.
The company's FedEx Express segment offers express transportation, small-package ground delivery, and freight transportation services; time-critical transportation services; and cross-border enablement, technology, and e-commerce transportation solutions.
Its FedEx Ground segment provides day-certain delivery services to businesses and residences.
The company's FedEx Freight segment offers less-than-truckload freight transportation services. As of May 31, 2022, this segment had approximately 30,000 vehicles and 400 service centers.
Its FedEx Services segment provides sales, marketing, information technology, communications, customer service, technical support, billing and collection, and back-office support services.
The company's Corporate, Other and Eliminations segment offers integrated supply chain management solutions, specialty transportation, customs brokerage, and global ocean and air freight forwarding services; and document and business services, as well as retail access to its customers for its package transportation businesses.
FedEx Corporation was founded in 1971 and is based in Memphis, Tennessee.
Further Catalysts for the FedEx Corporation Weekly Options Trade…..
Analyst's Recommendation Causes Problems.....
Citi's Christian Wetherbee recommended a so-called "pair trade," whereby investors buy UPS and short FedEx. In other words, even if UPS stock falls, FedEx will likely fall even more, and investors will still make money from the trade.
Wetherbee's rationale is that the deteriorating macroeconomic environment will lead to weakening volumes at FedEx and UPS, and the latter is better positioned to deal with it.
There's logic to the argument that UPS is better positioned than FedEx. After all, UPS is already being more selective about its deliveries. As a result, the company is generating more revenue and profits even as its volume is falling.
However, the point that concerns investors about the analyst's note is the commentary on a weakening economy.
No-Confidence Vote.....
A former FedEx Corp delivery contractor on Tuesday called for a no-confidence vote by contractors against FedEx Ground Chief Executive John Smith, escalating a conflict with the parcel delivery firm.
Last month, Patton ratcheted up pressure on FedEx to boost compensation for contractors after company actions made it even harder for them to wring out a profit in a downshifting, inflationary economy.
FedEx, in response, filed a suit against the contractor and severed ties with him. In its lawsuit, the company alleged that Patton was disparaging its Ground business through a series of false and misleading statements about its commercial activities.
Patton, who was one of the largest delivery contractors for FedEx, said contractors, would be asked to anonymously answer a couple of questions and the data will be reviewed by an independent global advisory firm.
"Under Smith's leadership, small business owners operating FedEx Ground's network have been increasingly burdened by extreme inflation costs and forced contract changes," Patton said.
More than one-third of the small business contractor network has already, or will soon need to, walk away from their FedEx Ground contract as high costs squeeze profit margins, TALP said, without providing details.
Earnings.....
FedEx last announced its quarterly earnings results on Thursday, June 23rd.
The shipping service provider reported $6.87 earnings per share for the quarter, missing analysts' consensus estimates of $6.91 by ($0.04). The firm had revenue of $24.39 billion during the quarter, compared to analyst estimates of $24.28 billion. FedEx had a net margin of 4.09% and a return on equity of 22.29%.
During the same quarter in the prior year, the business earned $5.01 earnings per share. On average, research analysts predict that FedEx Co. will post 23.16 EPS for the current fiscal year.
Continued Bearishness.....
The technical environment deteriorated last week, after the SPX fell below 4,230 and the 4,160-4,170 area… To add insult to injury, Friday's action can be classified as a bearish outside day, with the SPX's intraday high above the previous day's peak and the low and close below the prior day's low... possibly the next level of potential support coming from the SPX's 50-day moving average at the round 4,000-millenium mark…Although this is an area of potential support, bulls should not ignore the fact that risk has increased amid breaks below higher levels of support amid the 'bearish island reversal' pattern last Monday and the bearish outside day candlestick on Friday.
Morgan Stanley Thoughts.....
Michael J. Wilson, the chief investment officer at Morgan Stanley, has argued that stocks are fighting a toxic combination of economic headwinds—which he calls "fire" and "ice"—that are set to keep equity prices subdued until late 2023.
The stock market's summer rally was cut short last month as investors digested a reaffirmation of the Federal Reserve's hawkish inflation-fighting stance around the same time Europe's energy crisis took a turn for the worse. But even after a roughly 9% drop in the S&P 500 since mid-August, Wilson says buyers should (still) beware.
In a Tuesday research note, the CIO noted that his fire and ice moniker has "proven to be an effective way to describe the first half of this year," and he expects that will continue to be the case through December.
U.S. Federal Reserve.....
For most of this year, Fed policy makers have been sanguine toward markets like stocks, preparing traders in advance (called "forward guidance") for upcoming changes to monetary policy. But that seems to be in the past. In July, Fed Chair Jerome Powell announced that central bankers would stop practicing forward guidance.
"It's clear the Fed wants to see tighter financial conditions, which include lower stock prices," Brian Overby, senior markets strategist at Ally, wrote in a note.
The U.S. central bank has two mandates: price stability and maximum employment. Right now, prices aren't stable, with inflation running well above the Fed's 2% goal. Meanwhile, the unemployment rate is still low and employers are adding over 300,000 jobs per month. That's great news for job seekers but, perversely, something that could fuel inflation, raising pressure on the Fed to take even stronger action.That spells potential trouble for markets like stocks and crypto.
"The Fed wants to create a reverse wealth effect and get people that own assets to rethink some of their purchase habits and maybe slow demand," said Jim Bianco, president of Bianco Research.
"It's a dangerous game," he added. "You want the market to go down, but you gotta be careful when that starts to happen because if you get everybody running for the hills because they're going to be the enemy of the market, you could turn it into a rout."
Analysts.....
As mentioned previously, a Citi analyst has downgraded shares of FedEx to neutral from Buy as he sees the potential for macro headwinds to challenge earnings growth this year.
The analyst argues that FedEx is more long-term looking and its initiatives are mostly focused on F24 and beyond. The new price target is $225, down from the prior $270.
"We believe Ground volume has been weakening through F1Q and further macro weakness (highlighted by mgmt in July and August) make DD EPS growth difficult even with better pricing through peak," the analyst said in a client note.
As far as the wider North America Transport sector is concerned, Citi analysts are concerned about the pace of freight activity. Along these lines, the analyst sees upcoming data points leaning negative.
"Our checks suggest peak TL freight is not materializing and the pace of imports is slowing into what should be a strong seasonal period. TL spot rates have also taken a recent leg lower and while rail carloads are holding steady, there is little evidence of improvement and we see risk to 4Q estimates building," the analyst concluded.
According to the issued ratings of 20 analysts in the last year, the consensus rating for FedEx stock is Moderate Buy based on the current 5 hold ratings and 15 buy ratings for FDX. The average twelve-month price prediction for FedEx is $294.75 with a high price target of $339.00 and a low price target of $225.00.
Summary.....
Looking ahead, in two weeks we have a standard expiration that occurs in the final month of the quarter and the regular quarterly expiration on September 30. These end of quarter expiration months (March, June, September and December), from experience, tend to have the biggest open interest builds relative to months where it isn't an end of the quarter. The implication is that with more put open interest on equity index and exchange-traded fund options, in periods of market weakness, there could be more selling related to big put open interest strikes. This could happen whether those puts were bought as a hedge or to speculate.
You should be on high alert for the potential of a severe, sharp decline these next two weeks as long as the SPY remains below the 400-strike. This is especially if it dips below the 390-strike
Therefore…..
For future trades, join us here at Weekly Options USA, and get the full details on the next trade.