Why the DKNG Weekly Options Trade was Executed?…..
Draftkings Inc (NASDAQ: DKNG), the sports-betting company, has seen plenty of momentum in 2023 as traction grows in newly-added states. Year to date, the stock has more than doubled - yet even so, there's still plenty of room for upside left.
The company's growth in active users has been driven by new state legalizations - at one point, the market had feared that DraftKings' pandemic-era uptick in monthly gamers and overall betting activity was due to COVID shutdowns and bored consumers making bets at home - now, however, that increased activity levels are organic and have been sustained. Also in DraftKings' favor is the fact that it has reduced marketing spend and improved gross margins, without materially impacting its growth rates.
The DKNG Weekly Options Trade Explained.....
** OPTION TRADE: Buy DKNG JUL 28 2023 25.000 CALLS - price at last close was $1.66 - adjust accordingly.
Obviously the results will vary from trader to trader depending on entry cost and exit price that was undertaken.
Entered the DKNG Weekly Options (CALL) Trade on Tuesday, June 27, 2023 for $1.67.
Sold half the DKNG Weekly Options contracts on Thursday, June 29, 2023, for $2.58; a potential profit of 54%.
Holding the remaining DKNG weekly options contracts for further profit before expiry.
Don't miss out on further trades – become a member today!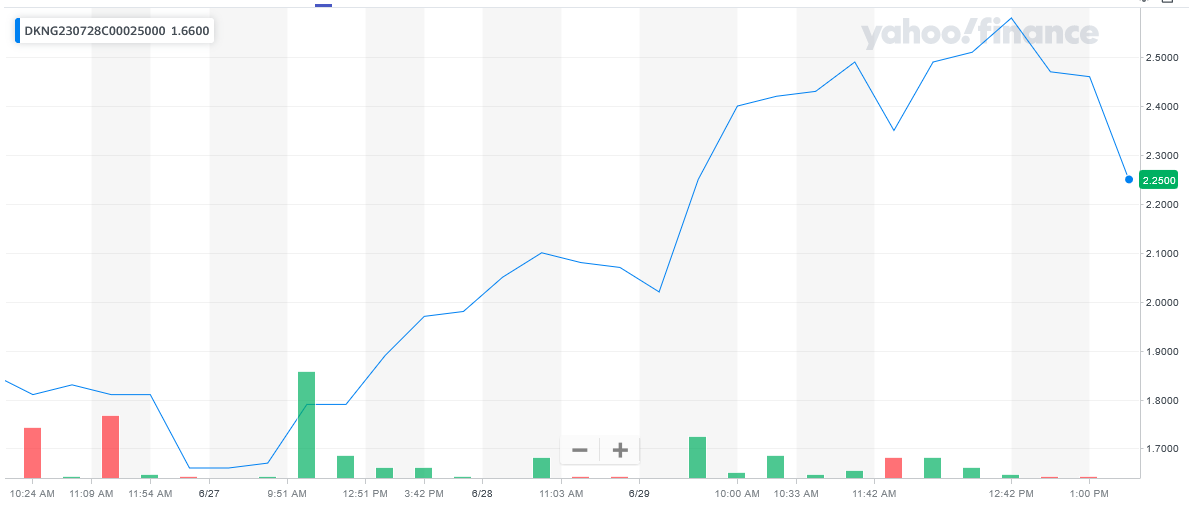 About DraftKings.....
DraftKings Inc. is a digital sports entertainment and gaming company serving industry and gamers alike. The company offers multi-channel sports betting and gaming technologies that are used by sports and gaming entertainment operators in 17 countries. In the U.S., the company operates iGaming through its DraftKings brand in 5 states, as well as operates Golden Nugget Online Gaming, an iGaming product and gaming brand in 3 states.
DraftKings is headquartered in Boston, Massachusetts, and is the only vertically integrated online gambling platform headquartered in the US and targeting US gamers. The company was founded in 2011 by three close friends and went public in 2020 with a listing on the NASDAQ stock exchange. The initial offering is noteworthy because the company went public via merger with a SPAC formerly known as Diamond Eagle Acquisition Company.
Draftkings is run by Jason Robins, Matt Kalish, and Paul Liberman. The three started as friends but turned into cofounders, entrepreneurs, and corporate executives. Robins is CEO and in charge of corporate operations while Kalish and Liberman are president of DraftKings North America and Global Technology and Product respectively. Together, they manage a team of 10 executives and a network of 14 locations including 8 outside the US.
The company began as a dream to improve fantasy sports leagues. The goal was to change the way fantasy sports were played and open the door to a host of new gaming opportunities. The product was first launched in 2012 and now the company's daily fantasy sports product is available in 6 countries internationally with 15 distinct sports categories.
Draftkings sets itself apart from the average fantasy sports provider by not only offering the widest selection of sports but the most control for the players. Players can re-draft new line-ups at will for most sports and there are daily contests within each league. The idea is for players to have a chance to win on a seasonal, quarterly, monthly, weekly, and daily basis.
DraftKings Sportsbook is live with mobile and/or retail betting operations in the United States pursuant to regulations in 18 states. The Sportsbook connects sports fans with legal sports betting operations in states with legalized gambling.
DraftKings expanded its offering with the launch of DraftKings Casino. DraftKings Casino is home to all the favorite table and slot-machine games but in a digital format. The Casino games are available on desktop and mobile like all of DraftKings offerings making them easily accessible to players.
In addition to gaming and sports betting, DraftKings is banking on the cryptocurrency revolution with DraftKings Marketplace. DraftKings Marketplace is a digital collectibles ecosystem designed for easy use that offers curated NFT drops and secondary-market transactions.
DraftKings SPAC merger included the addition of SBTech, a sports betting technology platform. DraftKings sports betting and casino technologies are available as a white-lable for businesses through this platform. SBTech offers an end-to-end solution including the gaming platforms and back-office services.
DraftKings also owns Vegas Sports Information Network (VSiN), a multi-platform broadcast and content company. Vegas Sports Information company can be accessed online or screened on live TV featuring world-renown sports commentators, players, and coaches.
Further Catalysts for the DKNG Weekly Options Trade…..
Stock gains for DraftKings picked up steam after the company released Q1 earnings and updated its outlook for the year.
DraftKings' revenue surged 84% y/y to $769.7 million, dramatically beating Wall Street's expectations of $697.5 million (+67% y/y) by a huge seventeen-point margin. Revenue growth also accelerated versus 81% y/y in Q4. In a macro climate where most companies, especially tech companies, are reporting recession-driven deceleration, it's especially encouraging to see that DraftKings is virtually seeing no impact at all.
The quarter's strength was driven in part by early-2023 launches in Ohio and Massachusetts. Since launching in January and March in these states, respectively, DraftKings has attracted 7% and 6% of these states' total adult populations onto its platform.
Strength in recent trends has pushed DraftKings to boost its full-year guidance to $3.185 billion in revenue (+42% y/y) and -$315 million in adjusted EBITDA; the latter being a 21% reduction in loss expectations for the year. This was driven by a combination of factors including improved hold rates, Q1 sports outcomes that favored the house (DraftKings), and most importantly, much better player engagement.
Other Catalysts.....
Customer acquisition costs in the first quarter declined -27% y/y (while new customers still grew 57% y/y), which helped DraftKings bring its pro forma gross margins up by six points y/y to 38%.
This, in turn, has helped to slim down DraftKings' adjusted EBITDA losses by ~23% y/y.
DraftKings' focus has turned to profitability and efficiency, and the company expects to generate $150 million in adjusted EBITDA profit in the fourth quarter of this year - a huge turnaround from current levels.
CEO Jason Robins' remarks.....
"At the same time, achieving efficiency remains a relentless focus. Our mantra of revenue growth and cost efficiency is gaining even more momentum throughout the organization. Due to both our strong revenue growth and our ongoing efforts to capture efficiencies, primarily within external marketing and our fixed costs, we are on the cusp of achieving profitability on an adjusted EBITDA basis. We expect to be approximately breakeven on an adjusted EBITDA basis in the second quarter, and we expect to achieve nearly $150 million of positive adjusted EBITDA in the fourth quarter. For the full year, we are improving our adjusted EBITDA guidance to a range of negative $290 million to negative $340 million or an increase of 21% at the midpoint versus our February full year guidance."
"White Whale".....
In early 2022, DraftKings landed its "white whale" among state legalizations - New York State. Now, the company's sports betting is live in 42% of the U.S. population. Other major states like California and Texas are still major holdouts. The key observations here: A) the benefits from the New York launch still haven't impacted DraftKings' financials yet, and B) more momentum is underfoot, with 12 states representing an additional 24% of the U.S. having open bills for legalization in upcoming elections.
Velocity.....
Given that it's already a known national brand with fantasy sports operations live in most states, DraftKings isn't starting from scratch every single time it launches in a new state. Data from recent state launches shows that sign-ups and betting activity immediately ramp from the time DraftKings launches.
Variety.....
DraftKings has something for everyone. Though anchored by big sports like football, DraftKings also has other sports, including golf, NASCAR, basketball, and MMA. DraftKings also has fantasy formats as well as direct online sports betting where legal, as well as offerings in casino gaming.
Diversification.....
DraftKings has designs on diversifying itself beyond simply sports. Through acquisitions, the company is now a casino gaming operator, and its new marketplace business has tossed DraftKings into the high-growth arena of NFTs. DraftKings notes that recent NFT offerings have been over-subscribed.
Analysts.....
Wall Street analysts have given positive ratings to DraftKings following its strong quarterly performance. In June, BTIG Research and Jefferies Financial Group raised their price targets for the stock to $31 and $35, respectively. The recent price target raise is given by Wells Fargo.  On June 23, Wells Fargo increased the price target for DraftKings from $24 to $28. The stock's closing price on June 23 was $25.03; thus, with a new target price of $28, it has an upside potential of 12%.
In its Q1 2023 investor letter, Baron Funds, an asset management firm, highlighted a few stocks and DraftKings was one of them. Here is what the fund said:
"We re-initiated a position in former Fund holding DraftKings Inc. (NASDAQ:DKNG), a leading online sportsbook, digital casino, and daily fantasy sports operator. DraftKings' mobile applications offer consumers the ability to wager on a wide variety of sporting events and play hundreds of real-money casino games. The company has spent the past three years building a proprietary technology stack that improves the customer experience and delivers best-in-class breadth of bet types (such as parlays, same-game parlays, and player props). State-level online sports betting (OSB) and iCasino legalization, along with a multi-year consumer adoption timeline in active states, has supported a 90% revenue growth rate for DraftKings since 2020. The opportunity for OSB legalization remains significant, with under 50% of the U.S. population currently having legal mobile sports betting. We expect 65% to 80% of the population will eventually have access to OSB. ICasino is currently legal in just seven states representing roughly 13% of the population. ICasino product adoption in legalized states has been robust, with the average user spending twice as much as a sports bettor. While the pace of legalization for iCasino has been slower, we believe additional states will pass regulation in the coming years.
As U.S. states began to legalize sports betting, the DraftKings management team moved quickly to build widespread brand awareness. DraftKings is the #2 operator in both OSB and iCasino by a wide margin, and has demonstrated improving market share trends across almost all states. When a new state legalizes sports betting, DraftKings has a first mover advantage as many of its customers are converted from the DraftKings daily fantasy sports offering. The quality of their sportsbook product along with increasingly targeted promotional spending results in strong customer retention and high lifetime values. In states where iCasino is legal, DraftKings can cross-sell OSB customers. DraftKings' scale and product advantages are creating a flywheel that will enable the company to continue to out-invest the competition in acquisition marketing, retention, and research and development. The high barriers to entry are resulting in a consolidated industry that will eventually lead to a highly profitable business. This is evidenced by older-vintage state contribution margins that are already approaching 40%. Longer term, we believe DraftKings can generate EBITDA margins between 20% and 30% with strong free-cash-flow conversion."
According to the issued ratings of 29 analysts in the last year, the consensus rating for DraftKings stock is Hold based on the current 5 sell ratings, 7 hold ratings and 17 buy ratings for DKNG. The average twelve-month price prediction for DraftKings is $25.52 with a high price target of $36.00 and a low price target of $12.00.
Summary.....
DraftKings' renewed focus on profitability, its ability to dramatically grow active players and revenue while also reducing customer acquisition costs, and the momentum it has with additional state legalizations are all reasons to continue banking on upside here.
DraftKings has a 50 day moving average of $23.69 and a 200 day moving average of $18.75. The stock has a market cap of $21.53 billion, a P/E ratio of -8.68 and a beta of 1.80. DraftKings has a 12 month low of $10.69 and a 12 month high of $26.65. The company has a current ratio of 1.47, a quick ratio of 1.47 and a debt-to-equity ratio of 1.23.