The Recommended Datadog Options Trade.....
** Datadog OPTIONS TRADE: Buy DDOG JUL 16 2021 85.000 CALLS at approximately $5.50. (Max. $6.00)

Datadog Options Trade Call Success Explained.....
Last Friday, May 28, 2021, members Datadog Options Trade climbed as high as $11.70 – a potential profit of 113%.
However, the Datadog Options Trade declined to $9.26 yesterday – a potential profit of 68%.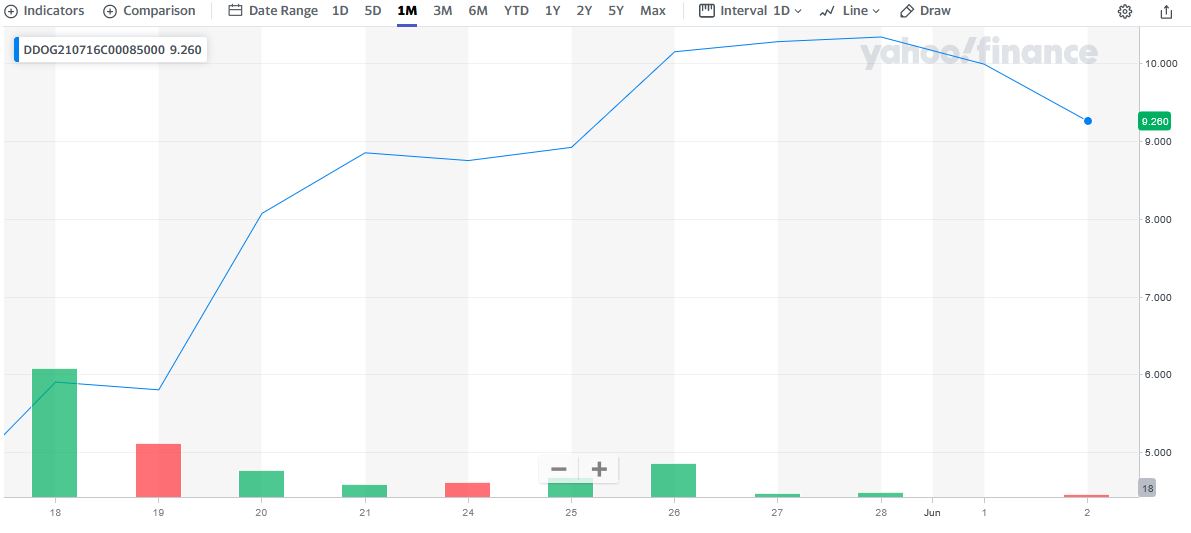 Why the Jump for the DATADOG Options Trade
Why the Jump for the Datadog Options Call Trade…..
The company's products are popular with customers. At the end of Q1, 75% of all customers are using more than one monitoring product, which is up from 63% last year. The number using four or more doubled to 25%, up from 12% a year ago. This quarter it reported notable customer wins in a variety of industries including consulting, grocery, and financial services.
Its broad set of offerings is helping customers make monitoring its information technology simpler and more powerful. This quarter, EVA, an online gaming company, went from using eight different observability tools to standardizing on DataDog's single platform for all its monitoring needs.
Also, the strong 81% growth in remaining performance obligations shows that customers are signing larger and lengthier contracts.
Datadog is firing on all cylinders with its land-and-expand strategy. The number of customers rapidly increased to 15,200 during the last quarter, up from 11,500 in the prior-year quarter. And with its consumption-based model, the company has been growing its top line as customers have been increasing their consumption of services.
Indeed, Datadog has been expanding its footprint beyond its core observability solutions to boost its business. For instance, it developed cybersecurity features last year. And following its acquisition of Sqreen in April, it will enhance its offerings for developers with extra application security capabilities.
Management showed strong execution with that strategy, as 25% of customers adopted four or more modules during the last quarter, up from 12% one year ago.