The cybersecurity stock, Crowdstrike, has established itself as a leader in cloud-based endpoint security, which is extremely relevant for just about every business, government, and organization that operates today. Demand for these services is likely to keep rising over time, and CrowdStrike is leaning into AI solutions to maintain its leadership throughout an ever-changing environment.
Its product suite gets exceptional reviews from third-party ratings organizations, and its customer data backs that up. The company boasts an exceptional net dollar retention rate above 125%, indicating that customers are pleased with its quality and value proposition. It's also clear evidence the company is able to upsell its existing customer base as it rolls out new services.
Why the CRWD Weekly Options Trade was Originally Executed!
Thwarting cyberattacks is critical in today's digital age. Not only are cyberattacks damaging to internal systems, but they can also have significant effects on how customers view a company. This makes it crucial to have top-notch cybersecurity software protecting the most vulnerable spots: network access points. These devices, like laptops or phones, can access a company's internal servers and are prime targets for attackers.
Crowdstrike Holdings Inc (NASDAQ: CRWD) stock is on a tear this year. The cybersecurity company has likely benefited from the focus on artificial intelligence (AI) as investors scrambled to capitalize on this increasingly important technology.
Crowdstrike is a leader in the endpoint protection industry and uses AI to enhance its protection. By using machine learning (ML), a branch of AI, to understand what is normal activity and what is a threat, it can pinpoint an attack quickly. After it detects what it believes to be a breach, it shuts down the intruder and prevents data loss. Once the attack concludes, CrowdStrike automatically distributes information about that threat worldwide to protect other customers from the same intrusion.
Ransomware attacks have picked up again in 2023 after slowing the past couple of years. For example, research firm Chainalysis recently said it has recorded nearly $500 million in ransomware payments through the end of September, a nearly 50% increase over the same period a year earlier.
In ransomware attacks, hackers seize control of an organization's computer system and data by installing malware. Further, they lock up a victim's computers with data-encrypting software.
"(The) cybersecurity spending environment appears to be stable-to-improving relative to the past six months, with more optimism regarding steady improvement toward the end of the year," William Blair analyst Jonathan Ho said in a report.
CrowdStrike is benefiting from the rising demand for cyber-security solutions owing to the slew of data breaches and the increasing necessity for security and networking products amid the growing hybrid working trend. Continued digital transformation and cloud-migration strategies adopted by organizations are the key growth drivers.
CRWD's portfolio strength, mainly the Falcon platform's 10 cloud modules, boosts its competitive edge and helps add users. Additionally, strategic acquisitions, like that of Humio and Preempt, are expected to drive growth for CRWD.
The CRWD Weekly Options Trade Explained.....
** OPTION TRADE: Buy CRWD NOV 10 2023 175.000 CALLS - price at last close was $5.04 - adjust accordingly.
Obviously the results will vary from trader to trader depending on entry cost and exit price that was undertaken.
Entered the CRWD Weekly Options (CALL) Trade on Monday, October 30, 2023, at 10:15, for $4.15. (some members may have entered earlier for $5.00)
Sold half the CRWD weekly options contracts on Tuesday, October 31, 2023 for $6.43; a potential profit of55%.
Don't miss out on further trades – become a member today!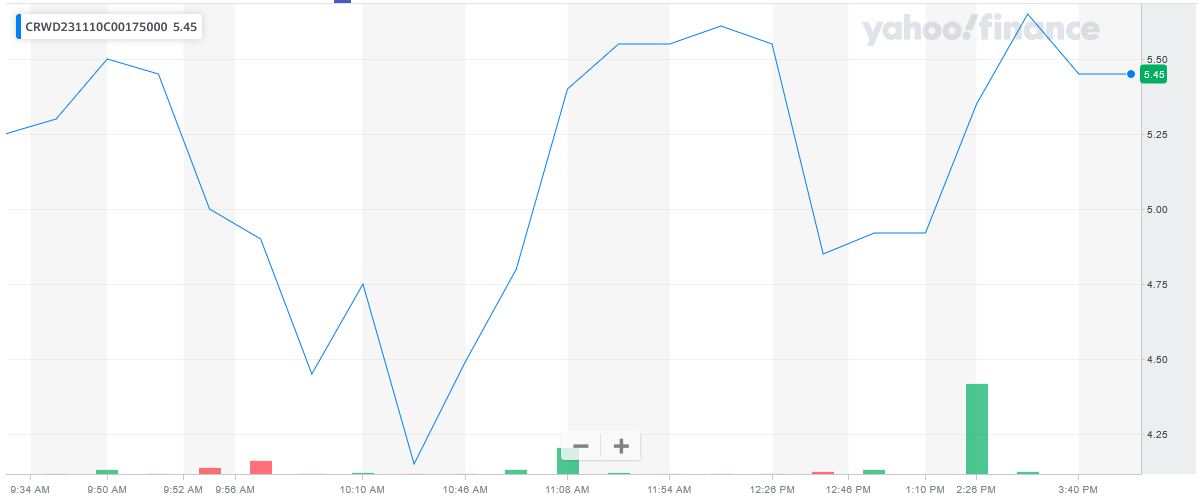 About CrowdStrike.....
CrowdStrike Holdings, Inc. is a US-based multinational cybersecurity company headquartered in Austin, Texas. The company provides security solutions for cloud-based workloads, endpoint security, threat intelligence and cyber-attack response.
Crowdstrike Holdings, Inc. was founded by three partners in 2011. They brought on a 4th in 2012, a former FBI official, to lead the newly designated Crowdstrike Services group. The group was intended to pair with existing services and provide response services for victims of cyber-crimes. The company launched its first product, Falcon, in 2013, and it is still the primary source of revenue. The company counts cloud-based giants like Google, AWS, Redhat, Salesforce.com and ServiceNow as clients, among many others.
In the time since, Crowdstrike Holdings, Inc has been at the heart of the fight against cybercrime. Its research and services have detected or been used to investigate numerous high-profile events, including the Sony Pictures hack, the DNC hack and espionage by China against the US.
Crowdstrike Holdings, Inc entered a high-growth phase around 2015 and raised funds through multiple capital raises. Google is a notable investor and one of the world's leading cloud infrastructure providers. The company maintains a high level of institutional ownership to this day.
Crowdstrike came to the public market in 2019. The company held its IPO on the NASDAQ Exchange and surprised the market with its valuation and post-IPO action. The stock first traded above the expected range and then quickly doubled in price. However, investors had to endure a brief pullback to below the IPO price in late 2019 and early 2020, which was negated by a surge in demand spurred by the COVID-19 pandemic. Total revenue in 2022 came in at $1.45 billion, up 66% from the previous year.
The company offers its services via five packages all based on the core Falcon system. The base package is called Falcon Go and is suited to smaller operations and those just getting started with Crowdstrike. The highest level is Falcon Complete which provides end-to-end security and response services. Services are classified into three groups: prevention, response and assessment/evolution of needs.
Crowdstrike is the recognized leader in endpoint security. Endpoint security focuses on securing digital endpoints such as computers, laptops and mobile devices used by a network. Gartner's Customer's Choice Award is among the many awards and recognitions, which the company has won for several years. On a category basis, the company scored 4 out of 5 stars in all five categories, with responses from more than 230 individual companies.
One of the advantages of using Crowdstrike is its unified nature. Not only can users get an end-to-end security package, but they can leverage its research capabilities as well. These capabilities are seen in the proactive threat detection and prevention tools at the cutting edge of today's cybersecurity industry. Advanced AI helps to connect the dots and provide more comprehensive protection.
Further Catalysts for the CRWD Weekly Options Trade…..
This technology has become the industry standard in endpoint protection, and CrowdStrike was named a leader in the industry by tech research firm Gartner. But CrowdStrike also has more than 20 other products that integrate with its base offering, further expanding its reach as a cybersecurity partner for businesses. With 63% of customers utilizing at least five products and 24% deploying seven, it has done a great job expanding its reach.
With the company increasing annual recurring revenue by 37% to $2.93 billion in Q3 of FY 2024 (ended July 31), it's also seeing rapid growth despite its large size. Furthermore, CrowdStrike is starting to generate profits, having posted positive generally accepted accounting principles (GAAP) net income for the past two quarters.
Other Catalysts.....
The upcoming earnings release is anticipated that the company will report an EPS of $0.74, marking an 85% rise compared to the same quarter of the previous year. In the meantime, our current consensus estimate forecasts the revenue to be $777.1 million, indicating a 33.78% growth compared to the corresponding quarter of the prior year.
In terms of the entire fiscal year, the Consensus Estimates predict earnings of $2.82 per share and a revenue of $3.04 billion, indicating changes of +83.12% and +35.56%, respectively, from the former year.
Interest in CrowdStrike's platform continues to grow. For now, 63% of its customers subscribe to at least five CrowdStrike security modules. Consequently, growth is still considerable, though it has slowed noticeably. In fiscal 2023 ended Jan. 31, revenue rose 54%.
So far, the fiscal 2024 performance has not matched that level. The company had $1.4 billion in revenue in the first half of fiscal 2024 (ended July 31). That was 39% higher than in the same period of fiscal 2023 but a slowdown from the last fiscal year.
That higher revenue led to a $35 million operating loss. But with $67 million in interest income, it covered its remaining expenses and posted $9 million in net income for the six-month period.
Investors should not expect a significant slowdown in growth. For the fiscal year, CrowdStrike forecasts just over $3 billion in revenue, which would be an increase of 36%.
Charlotte AI.....
Although CrowdStrike can address many cybersecurity threats, users know its Falcon Security Suite best for its endpoint security. An endpoint is any device that interacts with the network, such as a PC, smartphone, or server.
Despite the recent focus on AI, artificial intelligence probably is not the differentiator as some might assume. Like its peers, CrowdStrike has used the technology for years.
It uses a form of AI called machine learning. As the name implies, as computers learn more about potential threat, they automatically update the security suite to address them.
Moreover, machine learning includes generative AI, the type of AI that generates new data from existing information. The company has introduced Charlotte AI, which helps users understand the security threats confronting their organizations. It offers threat intelligence using simple prompts and automates repetitive tasks involving the collection and extraction of data.
Analysts.....

According to the issued ratings of 41 analysts in the last year, the consensus rating for CrowdStrike stock is Moderate Buy based on the current 4 hold ratings and 37 buy ratings for CRWD. The average twelve-month price prediction for CrowdStrike is $190.64 with a high price target of $235.00 and a low price target of $130.00.
Summary.....
CrowdStrike has strong growth rate, is an industry-leading technology, and a market opportunity expected to expand from $76 billion in 2023 to $158 billion by 2026.
Shares of CrowdStrike stock traded up $0.51 during trading on Friday, reaching $172.15. 315,030 shares of the stock were exchanged, compared to its average volume of 4,111,655. The company has a debt-to-equity ratio of 0.40, a quick ratio of 1.82 and a current ratio of 1.82. CrowdStrike Holdings, Inc. has a 1 year low of $92.25 and a 1 year high of $191.99. The stock's fifty day moving average is $167.55 and its 200 day moving average is $152.22.