The Actual Recommended Coinbase Global Weekly Options Trade.....
** OPTION TRADE: Buy COIN SEP 10 2021 260.000 CALLS at approximately $8.00.
 (Actually bought for $5.79)
NOTE: The actual entry and exit prices will vary among individual traders – this will depend on their risk tolerance and exit strategy. The lowest price of the recommendation at the beginning of the day was $5.79; and the exit on Friday, September 03, was the highest for the day.
Coinbase Global Weekly Options Trade Call Success Explained.....
On Thursday, August 26, 2021, "Weekly Options Members," entered the Coinbase Global Weekly Options trade mentioned above for $5.79 shortly after the market opened – 9:37am.
On Friday, September 03, 2021, at 3:00pm (approx.) the price of the option hit $21.00 – up 258%.
It is very likely that a new Coinbase Global Weekly Options trade, moving forward, will be also successful.
Join us and see what we are proposing!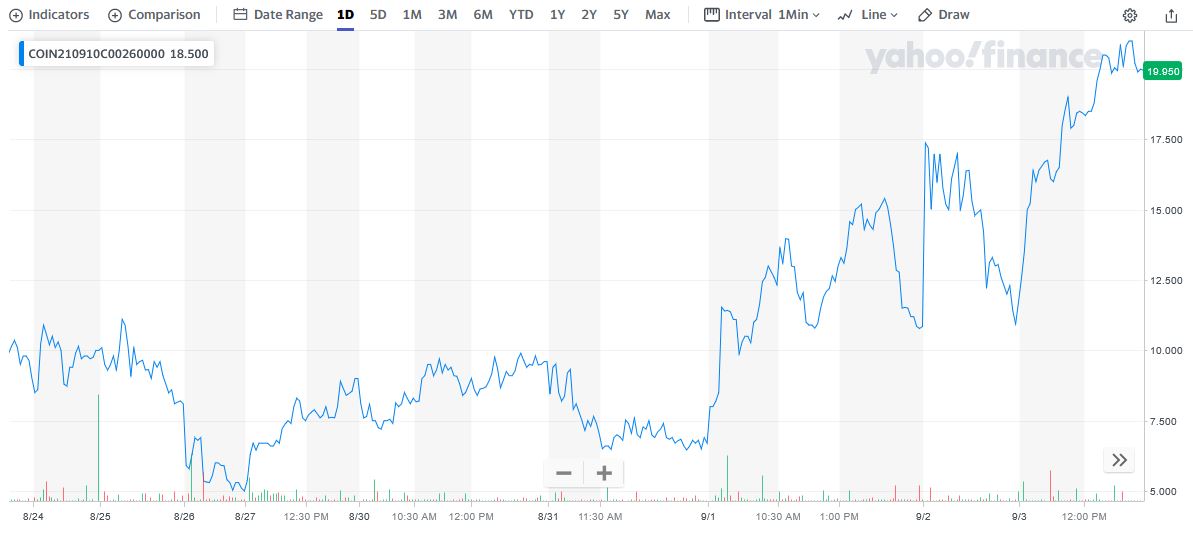 The Original Major Catalysts for the Coinbase Global Weekly Options Trade…..
1. Earnings Report August 09, 2021.....
Coinbase Global last announced its earnings results on August 9th, 2021.
In its first earnings report as a public company, Coinbase blew away second-quarter estimates.
The cryptocurrency exchange reported $6.42 earnings per share (EPS) for the quarter, beating analysts' consensus estimates of $2.26 by $4.16.
The company had revenue of $2.03 billion for the quarter, compared to analysts' expectations of $1.83 billion. Its revenue was up 1040.2% on a year-over-year basis.
Coinbase saw monthly transacting users jump to 8.8 million, up 44% from the first quarter. Trading volume increased to $462 billion from $335 billion.
While the company didn't provide guidance, it did project lower monthly transacting users and lower trading volumes during the third quarter.
2. Assets Offered.....
Coinbase's roadmap includes it releasing several yield-bearing products, and is expected to continue offering new assets for staking. This practice is described on Coinbase's website as "a way of earning rewards for holding certain cryptocurrencies." Quarter-over-quarter by its Q2 earnings release, staking revenues had increased 271%.
The growth of Coinbase's staking business allows people to earn yield on their crypto assets. This part of the business grew sharply in the second quarter and there appears to be more expansion ahead as the company adds more staking assets and other yield-bearing offerings.
COIN's opportunities in staking, custody, and interest-bearing accounts will accelerate its positioning as a one-stop shop for crypto financial services.
3. Fees.....
The relatively high fees COIN charges per transaction have not appeared to scare away its user base. Users seemingly place more priority on the quality of the platform, as well as the ability to trade a variety and availability of cryptocurrencies.
Coinbase's fees don't seem to be a concern because the non-commoditized nature of crypto exchanges differentiates them from traditional brokerage firms, where fee compression has occurred in recent years.
Institutional investors and retail traders seem most focused on factors like the availability of tokens, the reliability of a platform, and liquidity when determining where to conduct crypto activities.
4. Bullish on Bitcoin.....
The price of Bitcoin (BTCUSD) advanced beyond the $50,000 milestone on Aug. 22, 2021—the first time it has traded above this level since mid-May.

Among the factors that may be fueling bullish sentiment about Bitcoin and other cryptocurrencies such as Ethereum (ETHUSD) and Dogecoin (DOGEUSD) are supportive remarks by Elon Musk, CEO of advanced electric carmaker Tesla, Inc. (TSLA), and expectations that the U.S. Federal Reserve may continue to strike a dovish stance that will keep interest rates low, thus reducing the comparative appeal of other financial assets. Musk has indicated that he holds Bitcoin, Ethereum, and Dogecoin.

5. Mining and Processing Rebound.....
Indications are that the mining and processing of Bitcoin has rebounded from a low in July, when the Chinese government announced a crackdown. This is significant since roughly 65% of Bitcoin mining takes place in China.
Also, driving the rebound in the prices of Bitcoin and other cryptocurrencies is the growing mainstream acceptance among banks and brokerage firms.
As well, leading companies outside the financial sector—most notably Amazon.com, Inc. (AMZN) and Walmart Inc. (WMT)—have recently posted job advertisements related to the development of strategies concerning digital currencies. Online marketplace PayPal Holdings, Inc. (PYPL) has announced that it is moving toward allowing Bitcoin and other digital currencies as a form of payment.
6. Launching a Crypto Exchange Business in Japan.....
Coinbase announced last week it is launching a crypto exchange business in Japan, in partnership with Mitsubishi UFJ Financial Group.

The partnership allows users to deposit money through MUFG Quick Deposit to purchase crypto. Quick Deposit allows users to make yen deposits 24 hours a day/365 days a year through internet banking, convenience stores and ATMs.

Coinbase will initially launch retail products such as a suite of five top assets based on trading volume. Down the line, the exchange will add new products including more localized versions of advanced trading and Coinbase for institutions, he added.

7. Growth.....
Japan is only the first stop in Coinbase's international expansion strategy and Germany will likely be next.
Coinbase obtained a crypto license in Germany and its subsidiary was awarded a crypto custody and trading license from the German Federal Financial Authority.
Coinbase's international expansion strategy presents a meaningful opportunity and upside to the stock if it goes well.
8. Purchase of Cryptocurrencies.....
Last week, Coinbase announced the board had approved the purchase of $500 million in cryptocurrencies to be added to the balance sheet. Bitcoin will take its place among other crypto investments such as Ethereum, Proof of Stake assets, DeFi tokens and other cryptocurrencies. That's not where it ends, though. The company also said it intends to build a crypto assets portfolio, allocating 10% of its quarterly profits to the endeavor.
Coinbase expects to further integrate crypto into its day-to-day activities. Oppenheimer's Owen Lau notes this could eventually mean paying its vendors and employees in digital assets, among other "financial transactions." It is this aspect which Lau thinks investors should really take note of.
"Buying crypto on the balance sheet is definitely a testament, but further integration of digital assets into COIN's corporate practice has a deeper influence not just on COIN but on the whole cryptoeconomy," the analyst said. "COIN is in a good position to introduce new products (e.g., credit/debit cards) to support retail transactions in crypto and to influence crypto adoption in institutional transactions."
Lau reiterated an Outperform (i.e. Buy) rating on COIN shares, whilst sticking with a $444 price target.
9. Analysts Opinions.....
John Todaro, vice president of crypto asset and blockchain research at Needham & Co., initiated coverage of Nasdaq-listed Coinbase (COIN) with a "Buy" rating, setting a $420 price target based on opportunities beyond exchange services.
Coinbase is a market-leading crypto exchange with "significant future opportunities beyond exchange service, which include staking, custody, yield bearing products, and more," Todaro wrote in a note.
The research firm projects a 467% increase in 2021 revenue and a 9% increase in 2022.
 "We view COIN as the leading, fiat-crypto on-ramp, and expect the company's exchange business to grow rapidly and sustainably as new investors adopt its crypto assets and services," Todaro wrote. "COIN ranks as the largest crypto exchange by trading volume."
Coinbase's opportunities in staking, custody and interest-bearing accounts will accelerate its position as a one-stop shop for crypto financial services, according to the analyst.
Investor concerns over fees are misplaced, according to the note. The non-commoditized nature of crypto exchanges differentiates them from traditional brokerage firms, where fee compression has occurred in recent years.
"The Coinbase IPO is potentially a watershed event for the crypto industry and will be something the Street will be laser-focused on to gauge investor appetite," Wedbush analyst Dan Ives wrote in a note to clients. "Coinbase is a foundational piece of the crypto ecosystem and is a barometer for the growing mainstream adoption of Bitcoin and crypto for the coming years."
A number of other brokerages have recently commented on PLTR......
On April 22, Mizuho analyst Dan Dolev initiated coverage on the stock with a neutral rating and a $285 price target. "Over time, Coinbase pricing — and industry pricing in general — may face downward pressure from platforms like PayPal and Cash App," Dolev commented. "This is because PayPal and Cash App primarily use their crypto trading products as engagement tools, whereas Coinbase relies on its crypto trading products as its main source of revenue and profitability."

On May 24, Goldman Sachs initiated coverage with a buy rating and a $306 price target. Goldman analyst Will Nance said in a note to clients that Coinbase is the best way to gain exposure to cryptocurrency ecosystems.

On May 25, JPMorgan initiated coverage on Coinbase with an overweight rating and a 371 price target. In response, Coinbase stock surged 7.6%.

On June 16, Canaccord Genuity started the stock with a buy rating and a 285 price target.
Summary.....
Coinbase has done a good job of offering new assets and new products in a regulatory compliant manner, maintaining uptime, offering deep liquidity pools, and ensuring exchange reliability, as evidenced by the lack of a successful exchange hack.
With an increasing serviceable addressable market and continued crypto adoption, Coinbase is well-positioned to become an enabler of crypto innovation.