Why the CVNA Weekly Options Trade was Originally Executed?…..
Carvana Co (NYSE: CVNA)'s share price dropped slightly Thursday on Wall Street after a J.P. Morgan analyst turned bearish on the Tempe-based online used car retailer's stock, stating its valuation has "disconnected materially from fundamentals."
This price is continuing to drop pre-market this morning.
J.P. Morgan analyst Rajat Gupta changed his rating from neutral to underweight on Carvana's stock (Nasdaq: CVNA) and reinstated a price target of $10 a share.
"We are moving to Underweight from Neutral and reinstate a $10 PT on CVNA shares as we believe valuation has once again disconnected materially from fundamentals," wrote analyst Rajat Gupta in a note to investors.
Although Carvana reduced its cash burn, the company's enterprise valuation is around 35 times its expected operating profit in 2025, suggesting "shareholders are betting on a stronger than anticipated return to growth" as it faces supply challenges in the used car industry, affordability pressures and risk of moderation in gross profit per unit levels, Gupta wrote in an investor note.
"While we believe Carvana's business model is more scalable with room for continued share gains in the highly fragmented used market, we believe higher rates and pause in investments to manage profitability mean volume growth is likely to be subdued, with valuation still relatively rich," Gupta wrote. "In addition, the debt burden continues to rise, with the clock ticking on the race to profitability and tapping liquidity resources in order to manage a more severe recession."
Carvana's stock closed at $37.68 on Thursday, down 3.1% from the previous trading day. Track the stock here.
Carvana's stock has been running hot of late and gained more than 54% over the past five days and soared nearly 700% year-to-date as day traders looked to capitalize on its heavy short interest.
As of Thursday, short interest represented some 49% of Carvana's shares at the end of June, citing data from markets data provider S3 Partners.
Positive headlines this year have sent shares of the Tempe, Arizona-based company, soaring in a move reminiscent of the pandemic-era "meme craze."
The CVNA Weekly Options Trade Explained.....
** OPTION TRADE: Buy CVNA JUL 28 2023 35.000 PUTS - price at last close was $3.18 - adjust accordingly.
Entered the CVNA Weekly Options contract on Friday, July 14, 2023, at 9:39, for $2.35.
SOLD half the CVNA weekly options contracts on Friday, July 14, 2023, at 2:34, for $3.70; a potential profit of 57%.
Holding the remaining CVNA weekly options contracts for further profit before expiry.
Don't miss out on further trades – become a member today!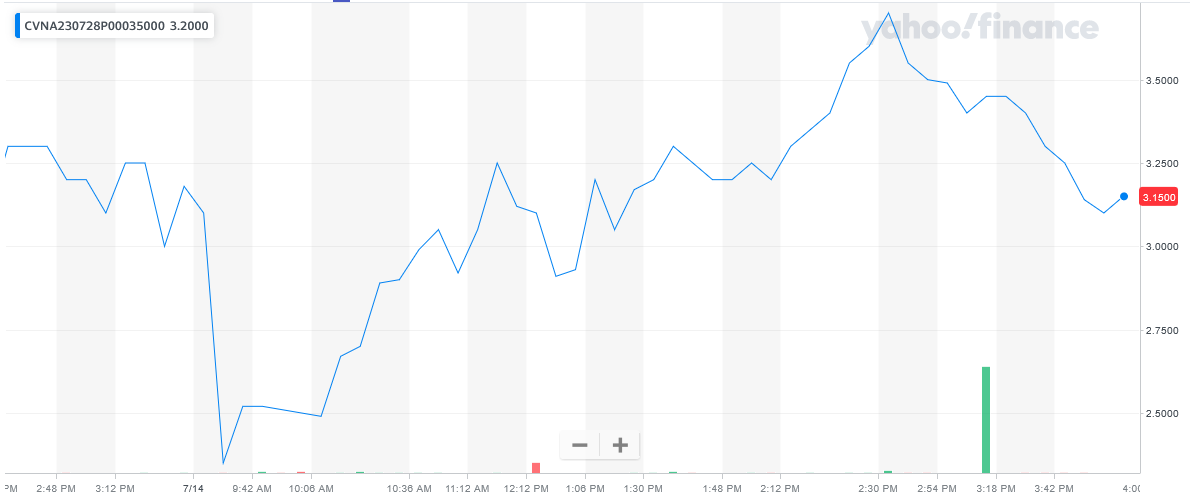 About Carvana.....
Carvana Co. was founded in 2012 by Ernest Garcia and two partners. Today Carvana is a leading used-car dealer nationwide, the fastest growing in the US and well-known for its chain of used car vending machines. The vending machines allow pre-approved buyers to pick up their purchases at one of 32 locations nationwide. Other buyers can have their vehicles delivered directly to their door or to a location of their choice. Ernest Garcia III remains as CEO as of 2022. He and his father, Ernest Garcia II, are among the company's largest shareholders.
The company operates an e-commerce platform that provides an end-to-end car buying experience without the hassles of dealers or dealerships. The platform can offer no-haggle pricing by leveraging its database of used vehicles and readily available data for local car markets. Buyers can search for and find vehicles, view them using the website's propriety technology, obtain financing and even register their new car or get insurance.
The company's rise to fame was meteoric. The first vending machine was launched in 2013, leading to the brand's rapid expansion. The 1st fully-automated vending machine was opened in 2015 and then later, in 2017, the company held its initial public offering. The company IPOd on the New York Stock Exchange and saw its share price quickly double, triple, and quadruple as used-car trends and growing brand recognition boosted sales.
The post-IPO years included major acquisitions, including vehicle-data company Carlypso and imaging firm Car360, which greatly enhanced the website and car-buying experience. In 2020, with the onset of the COVID-19 pandemic, the company initiated touchless delivery that allowed consumers to receive their vehicles with minimal interaction. Consumers can also sell their used cars to the company in exchange for cash or trade value. The trade-in business is a source of products for the company and is a key to its success.
All Carvana used cars are inspected a reconditioned by a team of industry professionals. They have no reported fire, frame or flood damage and are certified by CARFAX and AutoCheck data. Once purchased, consumers have 7 days to test drive and return the vehicle with no charge. The total number of retail units sold in F2021 topped 425,000 and resulted in $12.84 billion in revenue, or a growth of 129%. Cars that don't make the cut are sold off through the wholesale unit, which is a significant portion of the business. The company has a presence in 47 contiguous US states and is planning to deepen and expand its coverage.
Legal issues began to mount in 2021 when the first of several states filed suit against the company. Among the complaints were a failure to properly register vehicles and deliver paperwork to consumers among other violations of state and local car-buying regulations. The suits have resulted in a number of states banning the company from operating, some indefinitely.
Further Catalysts for the CVNA Weekly Options Trade…..
Gupta acknowledged in his investor note that Carvana's ADESA vehicle auction acquisition and other infrastructure investments could give the company a long-term competitive advantage, but its business model is not necessarily disruptive to the market as legacy brick-and-mortar dealers are also finding ways to grow and generate revenue.
"The primary debate on CVNA shares over the last 9 months has been less about long-term business model fundamentals and more about liquidity and ability to buy duration through a potential recession and prolonged weakness in used cars," Gupta wrote in the investor note. "During this period, SG&A cuts have been substantial, used car pricing has been resilient, ABS spreads have improved, and as a result CVNA has managed to slow cash burn materially, even though at the expense of growth."
Other Catalysts.....
While JMP Securities sees Carvana on a positive trajectory, hurdles remain.
The firm said Wednesday that the used-car industry's "upper funnel trends" — the processes that turn customer leads into actual sales — are showing signs of normalizing, though volumes remain below pre-pandemic levels.
"CVNA's website traffic remains the most pressured," declining 37% year over year in the second quarter but improving 10% quarter over quarter, Jones said.
The analyst tied that to the company's decision to reduce ad spending to prioritize profitability.
Analysts.....
Carvana stock continues to sharply divide analysts as the online used-car seller seeks growth and profits while looking to reduce a heavy debt load.
Valuations for Carvana have once again "disconnected materially from fundamentals," JPMorgan analysts warned Thursday.
That bearish take came just a day after JMP Securities doubled its price target on CVNA stock. The firm cited operational improvements at the company while the used-car industry continues to stabilize.
Summary.....
Carvana stock has a market cap of $7.12 billion, a price-to-earnings ratio of -2.66 and a beta of 3.07. The business has a 50 day simple moving average of $19.66 and a 200 day simple moving average of $12.26. Carvana has a 52 week low of $3.55 and a 52 week high of $58.05.