The embattled used car company, Carvana Co (NYSE: CVNA), is staging a turnaround. Carvana stock is up a staggering 530% year to date.
The company's stock began to skyrocket amid the COVID-19 pandemic, which increased interest in stay-at-home-related companies. Shares peaked at a whopping $370 in mid-2021. But despite the substantial rally in 2023, the stock is still down around 92% from its all-time high.
Why the Carvana Weekly Options Trade was Originally Executed!
If the market continues to hold up and can correct and consolidate over time, one stock, which is experiencing positive momentum after posting earnings and consolidating near its earnings highs is Carvana Co (NYSE: CVNA), which should benefit from this going forward.
The stock is up over 30% over the previous week and has reclaimed key Simple Moving Averages (SMA), and is looking ready to breakout with bullish momentum and should continue higher.
Carvana reported better-than-expected earnings of $3.60 per share in its latest financial results, surprising the street as analysts expected the company to report a loss. However, the company's revenue declined by 18% year-over-year and 7% quarter-over-quarter, largely attributed to lower retail prices. In the third quarter, Carvana sold 80,987 retail units, surpassing analyst predictions, but experienced a 21% decrease compared to the previous year.
Despite these challenges, the company's gross profit per unit (GPU), a key metric for the company, showed significant growth with an overall GPU of $5,952 (up 70% from the previous year), retail GPU at $2,692 (a 138% increase from the previous year), and wholesale GPU at $618 (up 38% from the previous year). Carvana's CEO, Ernie Garcia, expressed satisfaction with the strong GPU performance. 
The CVNA Weekly Options Trade Explained.....
** OPTION TRADE: Buy CVNA DEC 08 2023 30.000 CALLS - price at last close was $2.46 - adjust accordingly.
Obviously the results will vary from trader to trader depending on entry cost and exit price that was undertaken.
Entered the CVNA Weekly Options (CALL) Trade on Monday, November 13, 2023 for $1.95.
Sold the CVNA weekly options contracts on Tuesday, November 14, 2023 at $5.39; a potential profit of 176%.
Don't miss out on further trades – become a member today!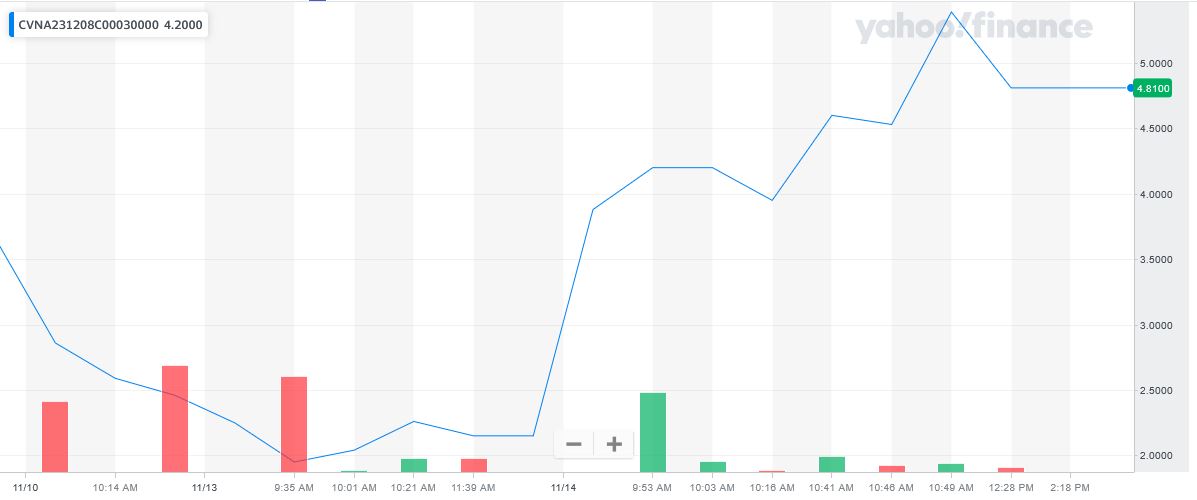 About Carvana.....
Carvana Co. was founded in 2012 by Ernest Garcia and two partners. Today Carvana is a leading used-car dealer nationwide, the fastest growing in the US and well-known for its chain of used car vending machines. The vending machines allow pre-approved buyers to pick up their purchases at one of 32 locations nationwide. Other buyers can have their vehicles delivered directly to their door or to a location of their choice. Ernest Garcia III remains as CEO as of 2022. He and his father, Ernest Garcia II, are among the company's largest shareholders.
The company operates an e-commerce platform that provides an end-to-end car buying experience without the hassles of dealers or dealerships. The platform can offer no-haggle pricing by leveraging its database of used vehicles and readily available data for local car markets. Buyers can search for and find vehicles, view them using the website's propriety technology, obtain financing and even register their new car or get insurance.
The company's rise to fame was meteoric. The first vending machine was launched in 2013, leading to the brand's rapid expansion. The 1st fully-automated vending machine was opened in 2015 and then later, in 2017, the company held its initial public offering. The company IPOd on the New York Stock Exchange and saw its share price quickly double, triple, and quadruple as used-car trends and growing brand recognition boosted sales.
The post-IPO years included major acquisitions, including vehicle-data company Carlypso and imaging firm Car360, which greatly enhanced the website and car-buying experience. In 2020, with the onset of the COVID-19 pandemic, the company initiated touchless delivery that allowed consumers to receive their vehicles with minimal interaction. Consumers can also sell their used cars to the company in exchange for cash or trade value. The trade-in business is a source of products for the company and is a key to its success.
All Carvana used cars are inspected a reconditioned by a team of industry professionals. They have no reported fire, frame or flood damage and are certified by CARFAX and AutoCheck data. Once purchased, consumers have 7 days to test drive and return the vehicle with no charge. The total number of retail units sold in F2021 topped 425,000 and resulted in $12.84 billion in revenue, or a growth of 129%. Cars that don't make the cut are sold off through the wholesale unit, which is a significant portion of the business. The company has a presence in 47 contiguous US states and is planning to deepen and expand its coverage.
Legal issues began to mount in 2021 when the first of several states filed suit against the company. Among the complaints were a failure to properly register vehicles and deliver paperwork to consumers among other violations of state and local car-buying regulations. The suits have resulted in a number of states banning the company from operating, some indefinitely.
Further Catalysts for the CVNA Weekly Options Trade…..
CVNA has successfully regained two crucial short-term moving averages following its strong earnings report. And now, the stock is trading above the 5-day and 20-day SMA, suggesting positive short-term momentum. It's noteworthy that CVNA has made multiple attempts to breach the $35 threshold but has struggled to maintain this level. Nevertheless, the stock is still near this crucial breakout point. Looking ahead, $35 assumes the role of a pivotal inflection point, and a sustained breakthrough above this mark could trigger substantial upward momentum.
Other Catalysts.....
Another factor to consider is the substantial short interest in CVNA. As of October 15, the stock has 32.2 million shares sold short, accounting for 17.04% of the float. Although the probability of a short squeeze may not be exceptionally high, it's essential to take note of this elevated short interest figure, as it can amplify the impact of a potential stock breakout.
The Results.....
Carvana swung to earnings of $3.60 per share vs. expectations for a loss. Revenue came in at $2.773 billion, down 18% year over year, and also down 7% quarter over quarter, "primarily due to lower retail average selling prices," Carvana said.
In Q3, Carvana sold 80,987 retail units, above analyst expectations but down 21% year over year.
Its total gross profit per unit, or GPU, was $5,952, up 70% vs. the year-ago quarter but down 9% from Q2 2023. Retail GPU was $2,692, up 138% vs. a year ago. Wholesale GPU was $618, up 38% vs. a year ago.
Carvana's GPU is a closely followed metric.
"For the second consecutive quarter, we delivered GPUs that far exceed our 2021 high water marks," CEO Ernie Garcia said in an earnings release.
Moving Ahead....
For the current fourth quarter, Carvana guided:
A sequential decline in retail units sold
GPU above $5,000 for the third consecutive quarter
Positive adjusted EBITDA for the third consecutive quarter
For the full year, analysts expect Carvana to lose $3.38 per share, a sharp improvement from a loss of $15.74 in 2022, FactSet shows.
Analysts.....
Despite the recent earnings surprise, analysts remain cautious on Carvana stock, with a Reduce rating based on twenty-two analyst ratings. Although the consensus analyst price target sees almost 12% upside for the stock, only one out of the twenty-two analysts have CVNA as a Buy. Sixteen have rated the stock as a Hold, and five rated it as a Sell.
The average twelve-month price prediction for Carvana is $37.00 with a high price target of $60.00 and a low price target of $11.00.
Summary.....
After a collapse in 2022, Carvana stock has surged nearly 580% year to date off a low base, amid improving business trends and a possible short squeeze.
However, in the short term, though, the setup and short interest in CVNA might be the most relevant factors that can cause the stock to trade higher, purely from a technical analysis point of view.
Carvana has a market cap of $5.83 billion, a PE ratio of -4.81 and a beta of 3.09. The stock's 50 day moving average is $38.54 and its 200-day moving average is $31.70.